In an average workweek, you'll likely host or attend several meetings. And as a manager that values employee productivity, you've probably spent time and effort creating clear meeting objectives. So the last thing you want is a no-show on the call or in the conference room. To prevent no-shows, you can send meeting reminders via email. You can do that automatically with scheduling software or keep email templates at hand to quickly send reminder emails.
Below, you'll see some email samples that you can use as meeting reminder email templates. You'll also see tips for crafting your own friendly reminders and learn why reminders are so important. You'll write better emails and know the right time to reach out.
8 meeting reminder examples
The below eight meeting reminder emails cover all kinds of scenarios. From general reminders to confirmation emails, these templates give you everything you need to communicate effectively before a meeting.

Never show up to a meeting without an agenda
Remind meeting attendees of upcoming meetings and to contribute to the agenda before the meeting begins to ensure a productive meeting. Try a tool like Fellow today!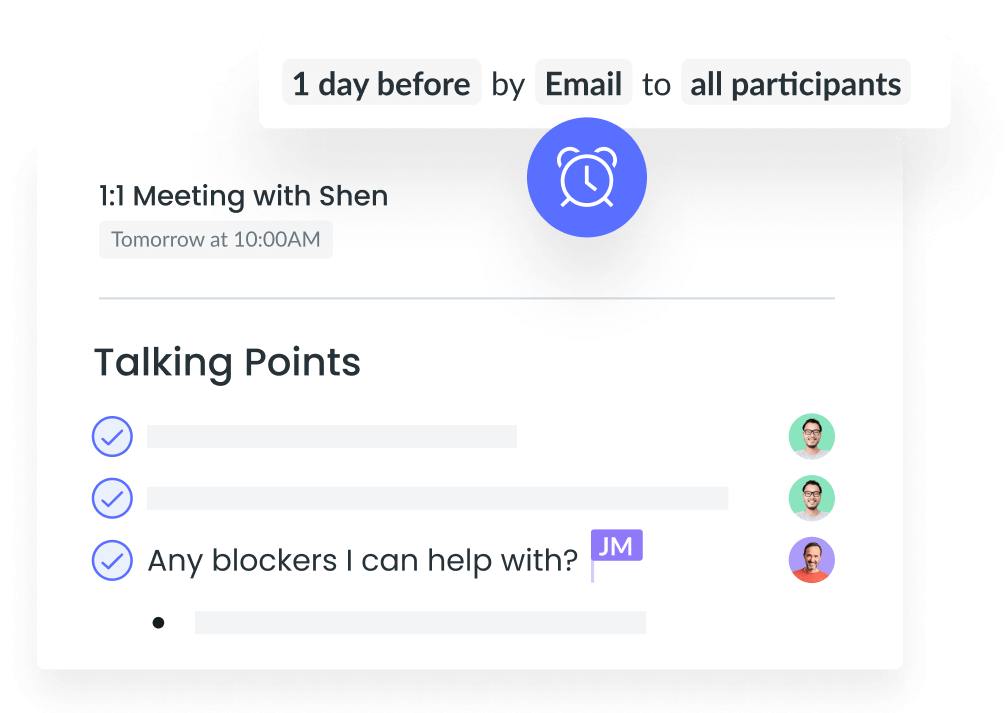 1To the point
Hi [team member's first name],
I hope all is well! This is a gentle reminder of our upcoming scheduled meeting on [insert date and time]. You'll get a calendar notification 30 minutes before the event.
I'm eager to chat with you about [insert meeting purpose]. As always, if you have any questions or concerns, you can send me an email or shoot me a text message.
Speak soon,
[your signature]
2More in-depth
Hello [team member's first name],
I trust that you received my invite for our upcoming meeting on [insert date and time]. As I mentioned earlier this week, we'll [describe your meeting purpose here].
We'll be meeting here [write your location or add a video conference link]. Below, I've included all the key details of our meeting.
[meeting title]
[meeting agenda]
[other resources or documents]
I'm excited to meet with you and [restate your meeting purpose]. Please take a moment to review the agenda and let me know if you have any questions, comments, or concerns.
Thanks,
[your signature]
3Reminder on the same day
Hi [team member's first name],
I hope your week is going well. This is a gentle reminder that we have a meeting today at [insert time]. I've included the meeting details below to ensure everything runs as smoothly as possible.
[meeting title]
[date and time]
[location or video link]
[meeting agenda]
[other resources or documents]
I'm grateful for your time, and I'm excited to hear your thoughts on everything we're discussing. Thanks and looking forward to speaking with you!
[your signature]
4Nudge a day in advance
Hello [team member's first name],
Our upcoming meeting is just around the corner – namely, tomorrow! I'm looking forward to connecting on [insert date and time] at [insert location].
I know you had some concerns you wanted to share, so I've made space for that in the meeting agenda. I've included the agenda below — please review it before tomorrow's call. Let me know if there's anything else you'd like to add.
Thanks!
[Your signature]
5Relaxed meeting reminder
Hi [team member's first name],
I know there's a lot to do this week, but don't forget! On [insert day and time], we've got that one-on-one meeting on our schedules. I'll bring the agenda and the conversation starters; you just bring yourself and your brilliant ideas.
Check out the details below so we can make the best of our time:
[meeting title]
[location or video link]
[meeting agenda]
[other resources or documents]
As always, thanks for your hard work and awesome attitude. Let me know if you have any questions or items to add to the agenda.
Thanks!
[Your signature]
6Save the date prompt (for events)
Hello [team member's first name],
Please join us next Friday [insert date and time] for [list a few key things about your event].
[Add more event details – think of this part as a brief teaser to get the person interested]
[Add the location or insert a video link]
Make sure to save the date and RSVP here [hyperlink your RSVP URL to "here"] to secure your spot. You won't want to miss this amazing opportunity. We look forward to seeing you there.
Thanks!
[Your signature]
7RSVP confirmation
Hi [team member's first name],
Thank you for registering for [insert event name here]. We can't wait for you to check out what we've put together. Every year, we work hard to present engaging events that [add a half-sentence reminding the team member what they'll get out of the event].
Here, we've included everything you'll need to join us for the event you're sure to remember.
[date and time]
[location or video link]
[additional information, if needed]
As always, we want your feedback, so afterward, we'll send a brief survey for you to share your thoughts.
We can't wait to see you soon!
[Your signature]
8Interview confirmation
Hello [candidate's first name],
Thank you for selecting a time and date that works for our initial interview.
You'll be meeting with [insert person and their title] to learn more about the position of [insert job title]. We'll send you an email reminder 15 minutes before the interview to keep everything running smoothly.
Below, we included all the meeting details to help you prepare for our brief call:
[date and time]
[additional information, if needed]
Please come prepared with your resume and cover letter.
Speak soon,
[Your Signature]
How to write a meeting reminder email
Now, you have a bunch of templates for event reminder emails, RSVP confirmations, and so much more. But what if you'd rather write your own meeting reminders from scratch? Here are some additional tips so that, when you sit down at your keyboard, you don't miss the mark.
1Make your meeting reminders personal
As you can probably tell from the templates above, you always want to send personalized reminders. Always address the recipient or your team member by their first name. Make sure your message includes the meeting subject and expectations – no one wants to walk into a meeting feeling unprepared. Sending a meeting agenda in advance is a great way to cut back on confusion.
2Write a clear subject line
On a typical workday, you probably receive quite a lot of emails. Chances are your team members experience some level of inbox insanity too, so your meeting reminders should include an exciting, informative subject line. This way, your team members know that this email is a reminder for an upcoming meeting – as in, something important to open now. They'll be more likely to flag it as a priority instead of something that can sit for a few days.
3Keep it conversational and friendly
No one wants to be nagged or feel micromanaged. When you keep your tone light and conversational, you let people know that you're sending a gentle reminder – the key word there is "gentle." Plus, everyone could use a heads up on an upcoming meeting – whose memory is perfect? No one's, that's who. Also, when your tone is casual, it gets rid of that overly stuffy and automated tone that casts you as unapproachable.
4Put the important info in the beginning
Don't bury the lede! The purpose of your message is to send a reminder for a meeting or event – no more, no less. That's why you should remind the recipient of the event details right away. Let them know all the important information right away, like the date, time, and location. You can also include that information in the subject line to cover all your bases.
5Be succinct and straightforward
Maybe you have a great opening line for an email reminder, but for these messages, you have to sacrifice wit for clarity. A reminder should be short and digestible – easily scanned for the "five W's": who, what, when, where, and why. The main goal is to avoid no-shows or waiting a little too long for a team member to arrive.
6Give appropriate meeting details
Of course, basic information such as meeting title, date, time, location, and agenda is crucial to a successful reminder. But you should steer clear of overwhelming the recipient with a lengthy email. For example, when it comes to event reminders, you shouldn't say exactly what will happen. Simply share the key details – just enough to get them in the room.
7Take note if you're sending too many reminders
Holding too many meetings can lower your team's productivity. (Yes, there can be too much of a good thing.) So as you send meeting reminders, take note if you feel like you're sending too many. If you are, then maybe you shouldn't be having some of these meetings in the first place.
Meeting reminders are also a great place to show everyone why the meetings you're having are important. They should include a well-defined objective and an agenda you send in advance. This way, your team members know that a meeting on the calendar always means business.
Is it necessary to send a meeting reminder?
Yes, it's necessary to send meeting reminders to your team members. (Do you really think we wrote this whole article for nothing?) Think about it: With so many tasks on a team member's plate, meetings can be easy to forget. When you send a friendly reminder email, you show that you understand how meetings can slip through the cracks. You come off empathetic and make meeting no-shows less likely – with just a few seconds out of your day.
With Fellow's pre-meeting reminders, it's easy to automatically remind meeting attendees to contribute to the agenda before the meeting begins. Chances are that if your team members have helped shape a meeting, they're more likely to show up when the time comes.
Keep your team in the know
It happens – that sudden sinking feeling when you realize you forgot a meeting. It happens to managers, leaders, and team members like – to err is to be human, so everyone benefits from friendly meeting reminders. You can use the templates above for inspiration when sending your next meeting reminder – you'll often see spots for a meeting objective and agenda. Fellow can help with the latter through its collaborative tools for building meeting agendas you can include in every meeting reminder. That's how you plan for success and a meeting worthy of applause.