It can be a little difficult to think about how to best conduct your end-of-year staff meeting. You want it to be the meeting of the year but that brings on a lot of pressure! Whether your goal is problem-solving or building relationships, this article is going to cover the best end-of-year staff meeting ideas for the most effective and productive one yet. All team meetings need to be engaging, but it's especially important to spend time planning for end-of-year staff meetings. When executed properly, you are going to motivate and energize your employees for the year ahead. 
Let's get into the importance of scheduling your end-of-year staff meeting and 10 ideas that will help you successfully execute the discussion with your team.
Why schedule an end-of-year meeting?
It's important to schedule a meeting at the end of the year because it's a great opportunity to go over all that you and your team members have achieved in the last year. It's a time to celebrate each person's hard work and dedication to achieving organizational goals. 
Dedicating this time to celebrate and encourage one another is going to motivate employees and build better relationships because people feel seen and heard. Their efforts have not gone unnoticed and success wouldn't have been possible without each team member. Your end-of-year meeting is also a great chance to end the year on a positive note, which will no doubt follow you into the New Year. Note that your end-of-year meeting can be conducted at your last company town hall or last staff meeting of the year. 

Pro tip
Use a meeting management tool like Fellow to easily look back on past meetings agendas and better plan for the future.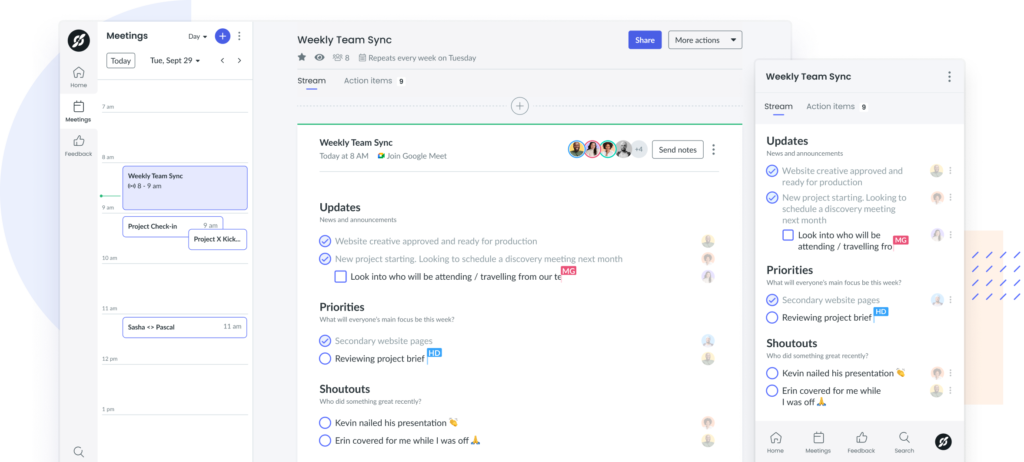 Ideas for a remarkable year-end meeting 
1 Choose a theme
Doing something out of the ordinary, like choosing a theme can actually be a lot of fun. Because people aren't usually used to seeing their co-workers out of a work context, this can make the meeting feel more friendly and personal. Whether you go for ugly sweaters, Hawaiian-themed, 80s themed, or anything else, it's bound to be pretty funny and lighten the mood. Better yet, you can ask your team to vote on themes that they bring forward so that it follows their interests. 
2 Invite leaders to run different sections
It's a great idea to get several leaders to run different sections of the meeting. This is effective because many leaders won't get the opportunity to speak with the entire team, so it's a way of unifying the company by hearing from people you don't typically have meetings with. By sharing the responsibility of owning a section of the meeting, it also allows for the leaders of the organization to collaborate, share their expertise, and come together for the greater good of all team members. 
3 Celebrate the wins
It's important to celebrate the results that you and your team have achieved over the year, and it's even more important to celebrate the individuals who helped achieve them! Rather than simply looking at the company's metrics and outputs, try to think about how these impressive results were achieved and who and what made it possible. Wins can be attributed to a lot more than metrics. It's valuable to celebrate relationships that have been built, communication gaps that have been filled, individuals who have stepped up and new ideas that have been brought forward over the course of the year.
4 Show how far the team has gone
Showing your team how far you've come is really going to motivate the group and make everyone feel proud of the hard work they put in over the last year. Showing something like a video, photos of team members who joined in the last year, how the company has evolved, new processes, projects, etc. can be very motivating. Because it feels great to see your hard work pay off, your team will feel more inclined to bring that same energy and effort into the year ahead. 
5 Recognize times your team exemplified corporate values
A great way to keep your team aligned is to recognize and appreciate situations in which your team exemplified your corporate values. Rather than talking about or addressing one person specifically, you could highlight moments or projects that exemplified what you believe in as a company. This makes the entire group feel included and feel as if they are a part of the bigger picture, including your company culture. If you're just naming one person, it may not motivate or encourage your other team members in the same way. You can also ask your team in a round table discussion how they feel like the team has aligned with your corporate values and why it's been effective. 
6 Review next year's goals
After going over all that you and your team have accomplished over the course of the year, introduce and review the company and team goals for the year ahead. It's an even better idea to ask your team members to come up with some organizational goals in advance so that they feel more involved and considered in leadership decisions. It also gives the leadership team valuable insights and an outside perspective that they may not have gathered otherwise. Discussing your goals for the year ahead is a great way to let everyone know what the company has been planning, and what kind of direction you'll be taking in the New Year. It mentally prepares and motivates everyone to achieve new and exciting goals. 
7 Reward your staff
If your organization is able to put some funding towards rewarding your team members, it's a really effective way of thanking individuals for all of their hard work over the last year. Things like gift vouchers, food deliveries, gift baskets, company swag, a staff dinner, or a staff party are all great ways that you can show your team that you appreciate them. Going over and above typical niceties is going to build more loyalty and reciprocal appreciation between you and your team members. Giving them this kind of recognition shows your team that you think they deserve to be spoiled every once in a while. 
8 Close with the "why" 
It's important to come back to your company mission and values closer to the conclusion of your end-of-year staff meeting to remind everyone of why you work as hard as you do and why achieving your goals would be impossible without everyone's contribution. Think about what the purpose is of each major goal for the year ahead and make sure you explain to your team members why these goals are being prioritized at this time. The better understanding that your team has of the assignments, tasks and responsibilities they hold, the more purposeful and impactful they'll feel as you work collaboratively towards success. 
9 Leave room for shoutouts and questions
Make sure that you're leaving some time near the end of your year-end staff meeting for your team to give each other shout-outs and to ask any questions they may have. It's a good idea to ask your team to think about which of their team members they may want to congratulate or acknowledge for a job well-done, something that they learned, something that inspired them, or something that added value for everyone! It's equally as important to give some time to your team members to ask any questions they may have about the year ahead, whether it's to clarify how you're going to achieve organizational goals or what kind of role they'll have in getting there. 
10 Ask your team for feedback!
Think about asking your team for ideas in advance of the meeting that they might like to discuss. That way, you can actually dedicate some time to these topics, knowing that it's important to your team members. After the end of year staff meeting takes place, consider sending a feedback form or survey to your team so that you can hear their thoughts about how the meeting went, what each individual liked, disliked and what they may like to have included making next year's meeting an even bigger and better success. This shows your team that you sincerely care about their opinions and want to cater to their preferences. When people feel valued and considered, they're also much more likely to feel happy and satisfied at work. 
Ready to run a year-end meeting?
Think you're ready to hit the ground running with your end-of-year meeting? To build relationships that are even stronger than the year before? To celebrate your successes? 
End-of-year staff meetings are a great way to bring everyone together, reflect on the last year and build some excitement for the year ahead. Don't forget to send your meeting agenda in advance so that your team can give you some suggestions of what they'd like to go over with the rest of the group. It's a great idea to ask your team to prepare to shout out at least one other team member and to draft some questions that can be addressed in front of the entire group. 
Planned and executed properly, this is bound to be the meeting of the year!