Over the past few months, you may have started using ChatGPT—the world's most sophisticated public chatbot—to generate ideas, automate repetitive tasks, or even develop solutions that improve client engagement. ChatGPT has become a go-to tool for teams across industries because of its ability to understand natural language queries without any prior knowledge.
While the tool is a game-changer for those looking for direct responses to commonly asked questions, it can also be used to run effective meetings. Read on to learn more about ChatGPT, see how you can use the tool to host great meetings, explore the cons of the chatbot, and see why Fellow is a better alternative.
What is ChatGPT?
ChatGPT is a natural language processing tool created by OpenAI. It's driven by AI technology, allowing users to have human-like virtual conversations with its chatbot. ChatGPT can assist users with tasks like editing an email or resume, explaining complex topics, giving personalized recommendations, acting as a writing assistant, and so much more. ChatGPT can also help users conduct more effective meetings if given the right prompts.

Experience seamless agenda creation, improved collaboration, and better meeting outcomes
Say goodbye to manually crafting agendas and welcome a more organized and focused meeting experience with Fellow's AI-powered features!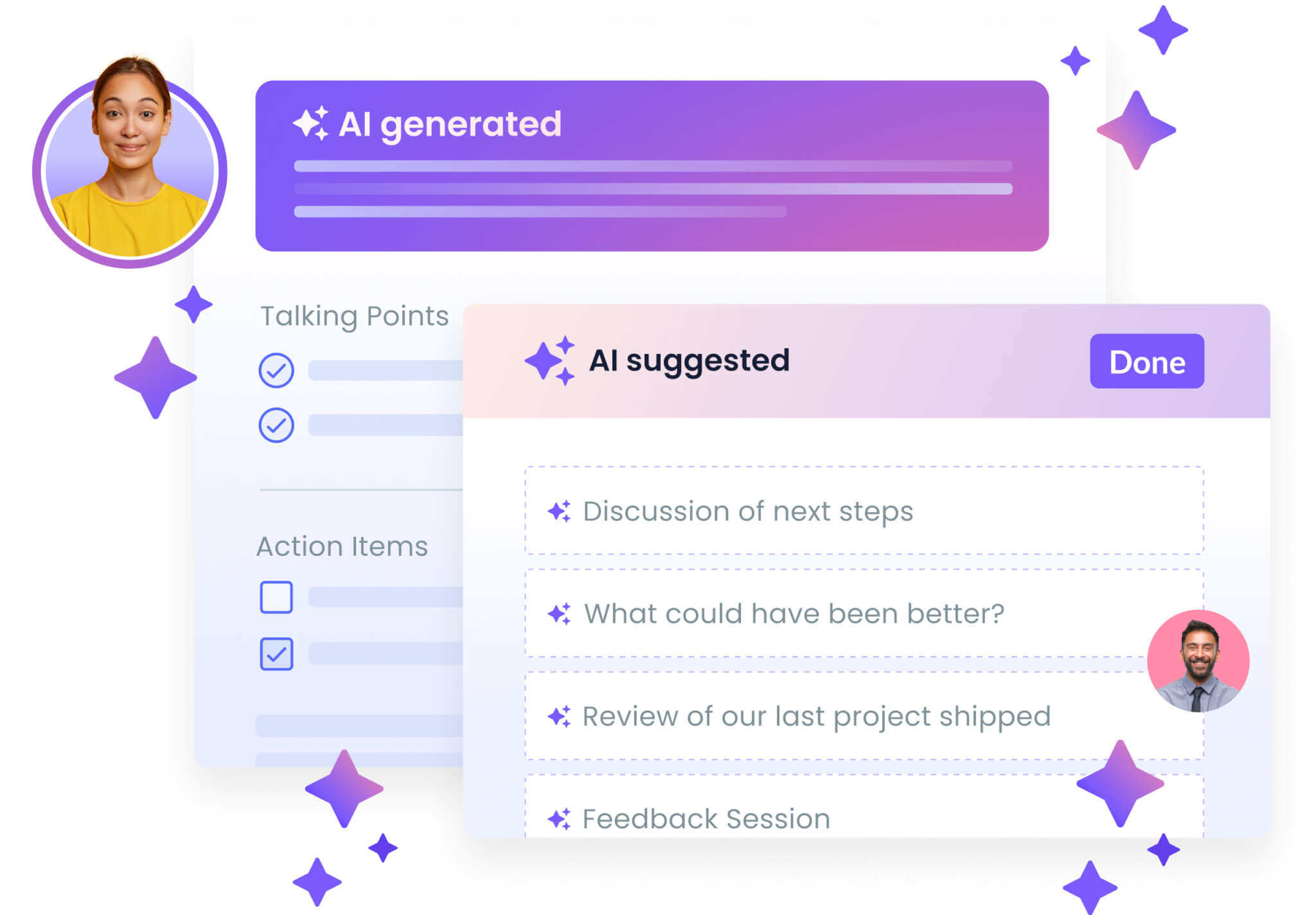 How to use ChatGPT for meetings
Here are four ways you can use ChatGPT to run smoother meetings:
1Taking meeting notes
ChatGPT can create meeting notes for your team once a meeting ends. After a virtual meeting in Zoom, Google Meet, or Microsoft Teams, access meeting transcripts and copy and paste the text scripts into ChatGPT. Then, ask the AI to summarize the meeting transcription and create meeting notes that include a list of key takeaways. ChatGPT should generate a high-level meeting summary within a few minutes.
2Summarizing decisions
ChatGPT's language processing capabilities make it a helpful tool for summarizing text. While it can't help you make important decisions, it can provide a recap of the decisions you've already made during a meeting. Once a brainstorming session, team meeting, or one-on-one ends, drop your meeting minutes or a meeting transcript into the chatbot and ask it to summarize the decisions you made during the discussion.
Additionally, your team can use the chatbot to evaluate options that guide your decision-making. ChatGPT can analyze large volumes of data such as reports and social media posts to provide insights and recommendations. The next time you have two potential decisions with similar pros and cons, use the tool to determine which one is best based on your outlined criteria.
3Identifying action items
ChatGPT can identify action items from your meeting transcript. Following each meeting, ask ChatGPT to make a list of all tasks that need to be accomplished by specific individuals or the whole group using your meeting transcript. The chatbot should be able to quickly identify who must complete what tasks by when.
4Creating meeting agendas
The chatbot can help you and your team create an agenda for your next meeting too. Prompt the chatbot to make a meeting agenda by outlining the theme of the meeting, topics to discuss, timeframes for each topic, and any other relevant information. Then, ask the chatbot to create your agenda.
Cons of ChatGPT for meetings
Lacks collaboration: Collaboration leads to more efficient processes, better communication, and improved success at work. Unfortunately, ChatGPT users can't currently collaborate on one account, so individuals have to create meeting notes and action items alone using the chatbot and distribute them to their teammates as needed.
Isn't secure: While ChatGPT isn't dangerous, the tool still presents security risks. You shouldn't include any personal or private information in your prompts, even when your meetings require you to discuss sensitive topics. For this reason, using the chatbot isn't ideal if you want to summarize a discussion regarding employee performance or other sensitive matters.
Risks mistakes: ChatGPT has its limitations—one being that it has limited knowledge of events after 2021 and can occasionally generate incorrect information. Chatbot users should always double-check the information that ChatGPT provides using a reputable source, especially before making decisions.
A better ChatGPT alternative for productive meetings
AI-generated notes lack the context and nuance required for teams to make key decisions, often leading to miscommunication and unclear expectations. At Fellow, we know that meeting notes are a powerful tool that can help align teams, keep meetings organized, and hold teammates accountable. That's why we created a tool that allows teams to work together in real time, discuss important talking points, and keep everyone on the same page.
While ChatGPT is good at summarizing discussions, notes, and action items, hosting effective meetings is easier when you use a collaborative tool. With Fellow's AI-powered features, you can take your meeting notes to the next level with suggested agendas built at warp speed for prepared, organized meetings.
However, Fellow is not just an AI-powered tool. Unlike other AI tools, Fellow takes it one step further by being your all-in-one meeting productivity tool! A great tool should also integrate seamlessly into your existing workflows. Fellow integrates with other popular tools like Slack, Google Calendar, and Microsoft Teams so you can review your agendas whenever you want and take meeting notes without ever leaving your virtual meeting space.
Our platform is purpose-built so your team can spend less time focusing on logistics and more time collaborating. Don't believe us? Check out this customer review:
"Fellow has increased my productivity and has resulted in more collaborative 1:1s and team meetings. My team loves capturing those agenda items. Getting prompted to add talking points is super handy when jumping from one meeting to the next."

– Sabrina Leblanc, Senior Director of Customer Success at SurveyMonkey.
How to use Fellow for meetings
Explore these four ways you and your team can run productive meetings using Fellow:
1Create shared meeting agendas
A great meeting begins with a great meeting agenda. Use Fellow to create a shared meeting agenda that allows you to edit your meeting notes simultaneously. Your agenda should include a clear and comprehensive list of the meeting topics, outline who the owner of each item is, and note how long each point or task should take to discuss.
Our meeting agendas empower all attendees to contribute. Before each meeting, try one of our 500+ ready-to-use agenda templates. Once you select a template, add your talking points, create a list of action items, and circulate the agenda at least 24 hours before the meeting. Encourage all participants to add their discussion points and come prepared with new ideas and questions.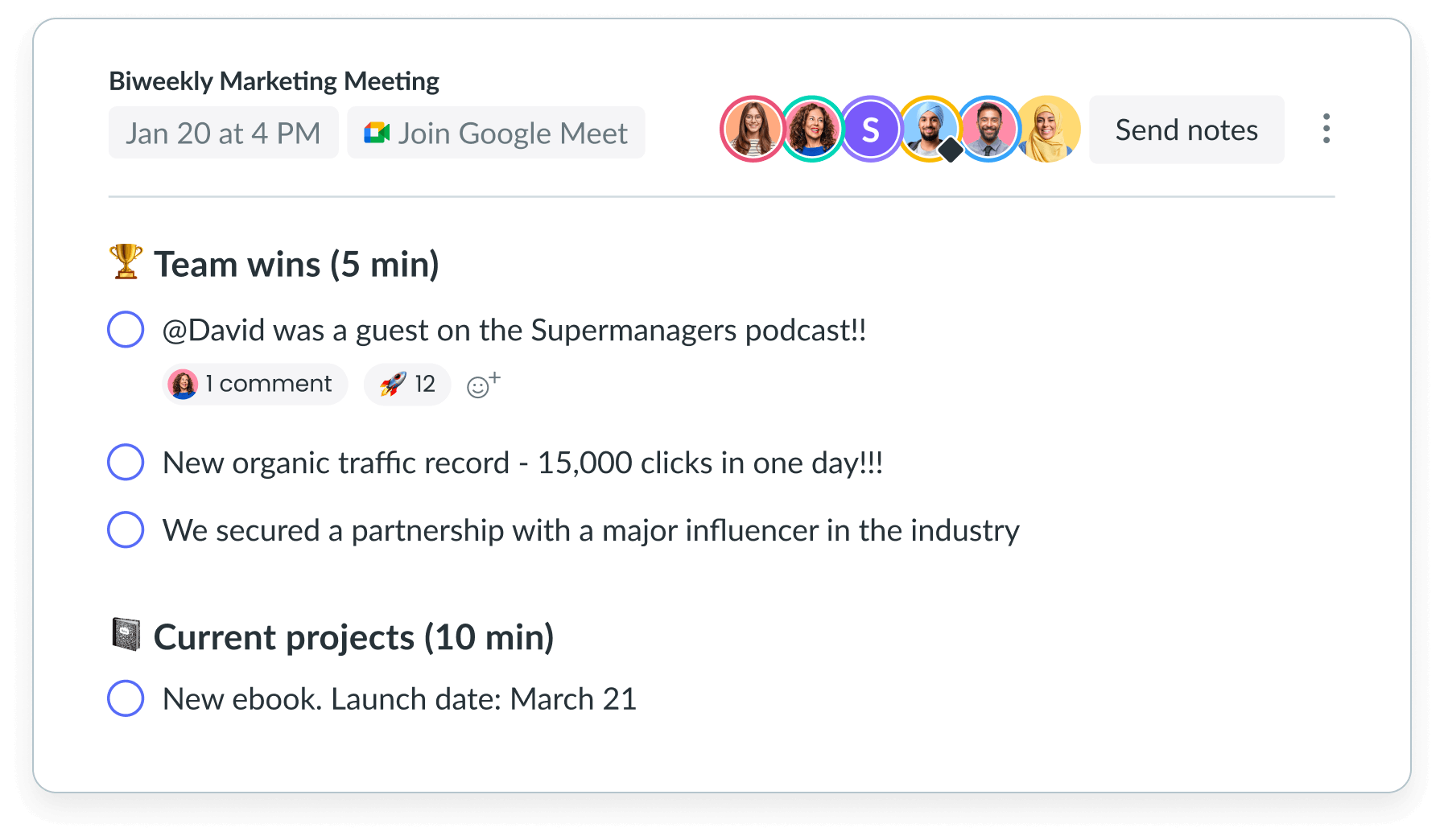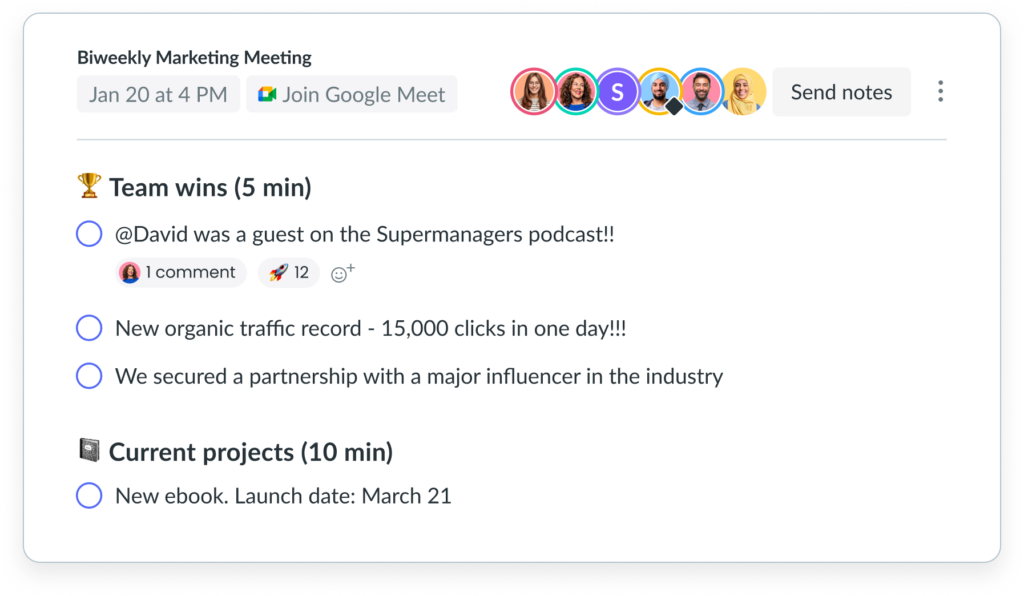 2Take meeting notes
Organized meeting notes will help your team track decisions and stay accountable! Fellow allows teams to customize meeting notes so they meet everyone's needs. Create a record of each discussion that includes the date and time of the meeting, names of participants, notes for all agenda items, action items, deadlines, and next steps for the group.
With Fellow, you can use our browser extensions for Google Meet, Zoom, and Microsoft Teams to add an intuitive overlay to your video calls. You can also cross out discussion points as the meeting evolves and use the private notes section to record your thoughts. All talking points are checkable discussion topics, so check them off as you go, add supplementary notes, and carry forward any talking points you want to the next meeting.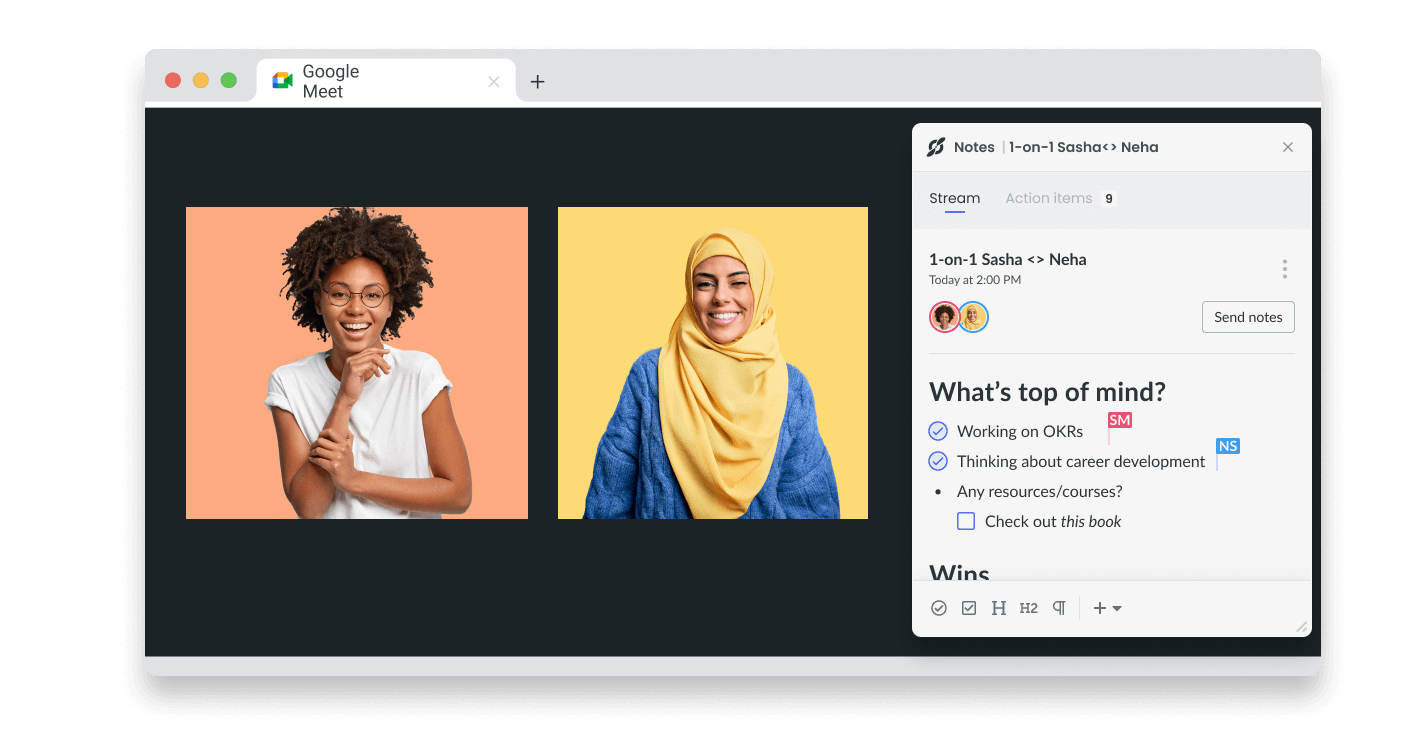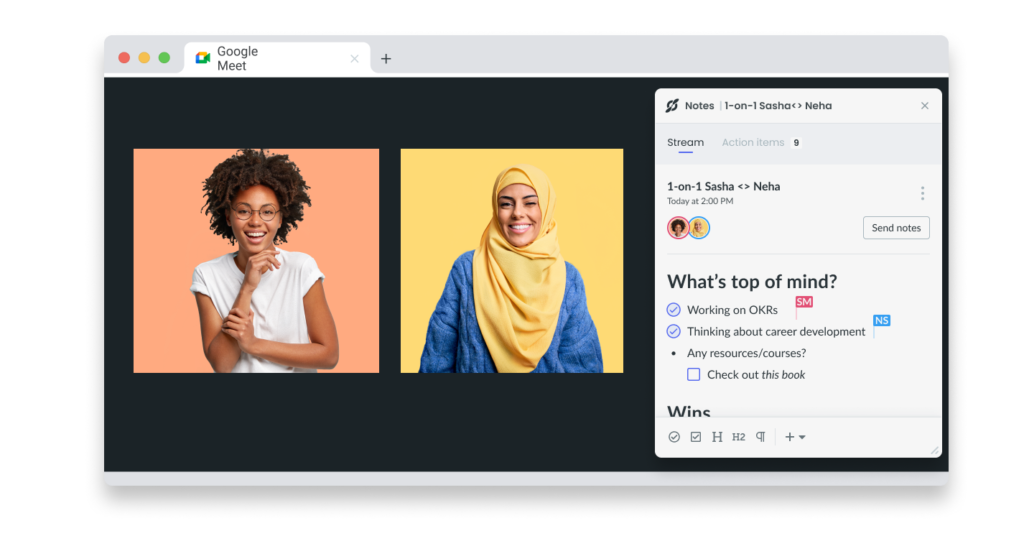 3Make decisions
Use the Tags feature in Fellow to highlight key items, organize your content, and find the information you need from your meeting to make effective decisions. Get started by pressing the pound symbol (#) and typing your tag. Create a new tag if the one you want doesn't exist or edit an existing tag by hovering over it. You can also create a tag by clicking on the pencil icon next to the tag you need under Workspace Settings in Fellow.
For example, if you want to easily search for feedback you have given and received during meetings, you can create the tag #feedback to reference at a later date.
4Track action items
Fellow makes it easy to keep the momentum going once a meeting ends. Use our tool to assign, visualize, and prioritize each meeting to-do in one place and sync them with your favorite project management tools like Asana and Jira. Check action items off your to-do list as you go to feel a sense of accomplishment. Fellow will automatically carry forward incomplete items to your next meeting so no item is forgotten.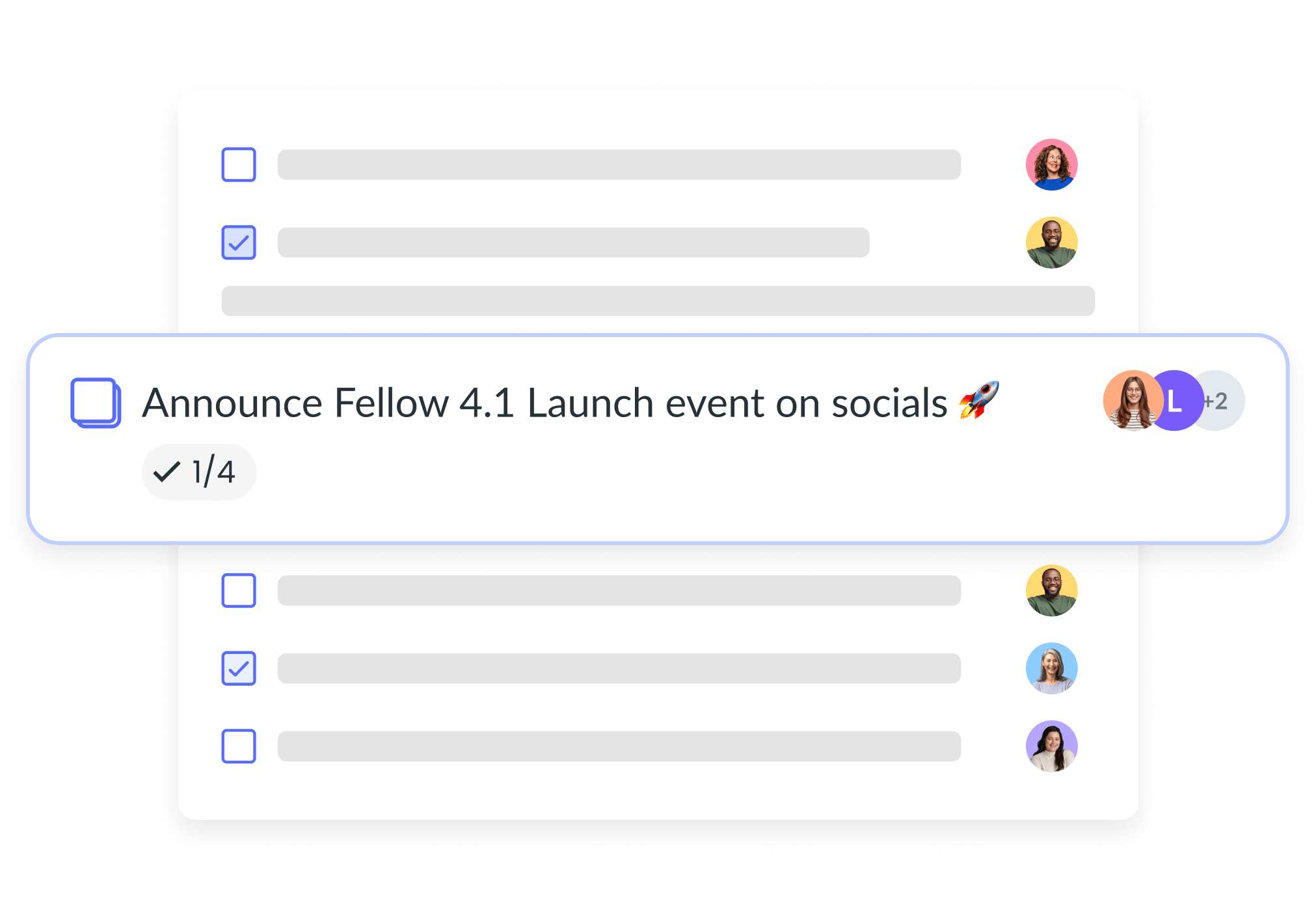 Parting advice
ChatGPT can generate ideas, give personalized recommendations, and offer a high-level overview of what happened during your team meetings and one-on-ones. However, when it comes to creating an agenda, taking effective meeting notes, making key decisions, and assigning action items, Fellow is the best tool for the job.
Try Fellow today to take your meetings from mundane to magnificent! See today why leaders across industries and in 100+ countries use our tool to run delightful meetings.