If you've been looking for a quick and easy way to save time and energy, automating your transcription efforts is the answer. If you're tired of taking meeting notes or notice your designated note-taker is struggling to keep up or engage in the conversation during meetings, it may be time to start taking automatic meeting notes. In this article, we'll dive into the benefits of automatic meeting notes in addition to covering the best-automated meeting notes tools.
What are automatic meeting notes?
Automatic meeting notes refer to the process of generating automated transcriptions, meaning your meetings are automatically transcribed or summarized and organized. These tools typically use natural language processing (NLP) technology to convert spoken word into written text, providing you with accurate records and a streamlined note-taking solution. In addition to providing you with automatic meeting notes, these tools often generate transcriptions that are formatted for readability, making your transcriptions easy to consume and circulate. As soon as your automatic meeting notes are ready, you can circulate them among key stakeholders. Depending on which automatic meeting tool you choose, it may even send your meeting notes out for you!

Revolutionize Your Note-Taking
Supercharge your efficiency by capturing informed decisions and documenting discussions all in one place. Try Fellow today!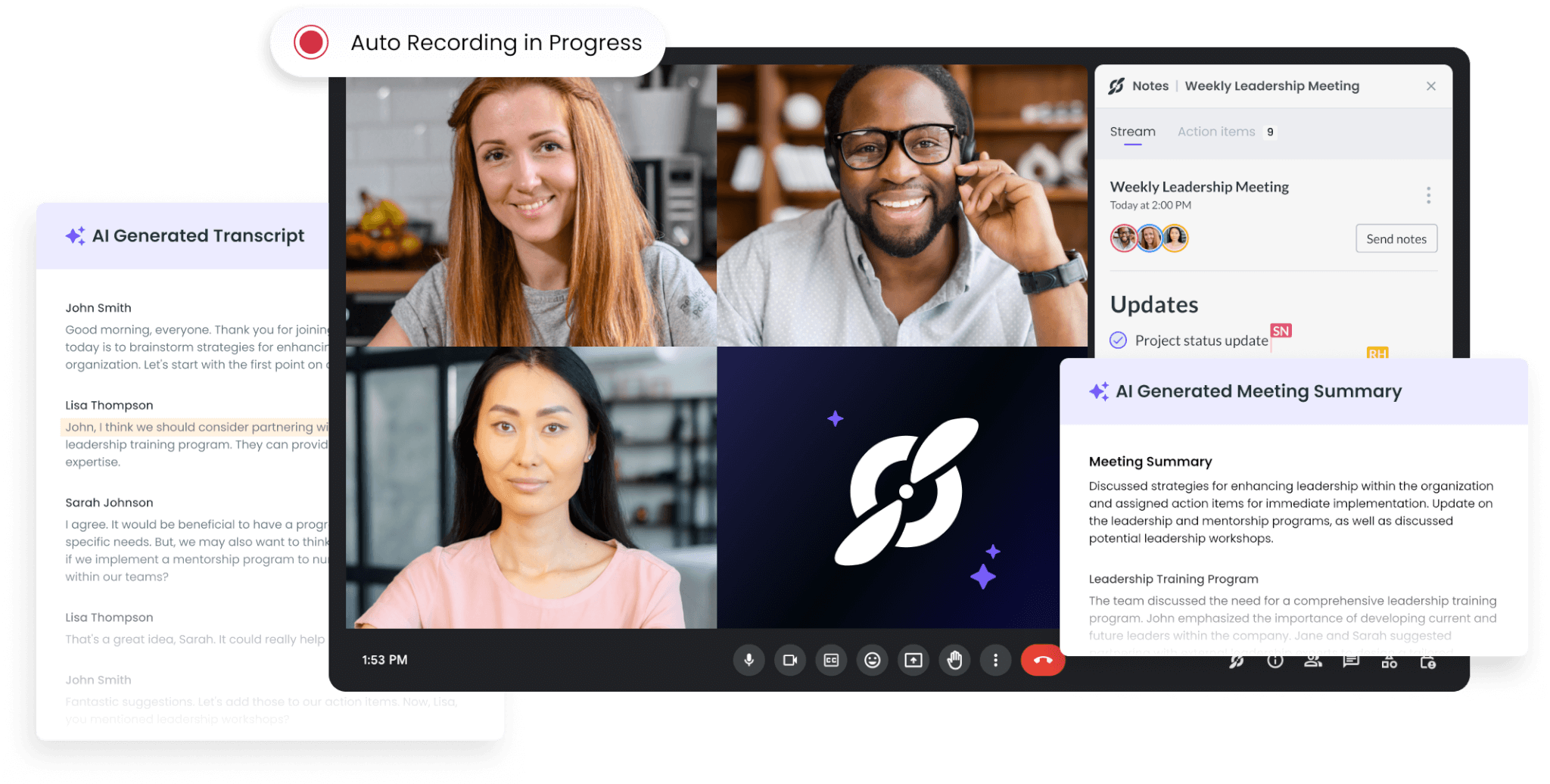 Benefits of automatic meeting notes
1Encourage collaboration
There are many ways automatic meeting notes encourage collaboration, including providing peers with shared access to information, facilitating real-time communication, integrating with collaboration platforms, tracking action items, offering search and reference capabilities, and providing version control and history. Each of these features works together to facilitate the sharing of information and real-time collaboration.
2Save time
Before automatic meeting notes were introduced, meeting notes had to be taken manually. This meant that a human had to write out each word that was being spoken, which takes lots of time, energy, and resources. Now, automatic meeting notes tools can transcribe at a much faster rate and can process large volumes of content in a fraction of the time that it would take a human assigned with the same task.
3Enhance accuracy
Human error is inevitable, especially when it comes to note-taking. Whether it be because there are distractions during the meeting that make it hard to focus or because the person assigned the task of note-taking isn't engaged or focused, relying on a human to take meeting notes can be risky. Meeting note-taking tools also offer editing and review capabilities, meaning users can make edits and revisions when applicable. This ensures that any inaccuracies are addressed and corrected.
4Improve productivity
Taking notes manually during meetings can be time-consuming and distracting, often resulting in less engagement and lost time. If you don't have to spend time taking meeting notes, editing the notes, and circulating the content, you'll have the bandwidth to focus on the meeting. These tools free up meeting participants' time and provide organized, searchable information, helping streamline more efficient meetings that lead to enhanced productivity.
8 top automatic meeting notes tools
1Fellow
Fellow is a meeting management tool with various intuitive features that make it the superior choice. The key differentiator between Fellow and other tools is that Fellow goes beyond AI-enabling your meetings, reinventing the entire practice of meeting management. With Fellow's AI-generated meeting recaps, you can get simplified meeting summaries and key points for efficient knowledge sharing. Plus, with Fellow's AI-generated meeting documentation, you can get effortless meeting recordings and transcriptions to share with your team.
Fellow also has various meeting automations, allowing the meeting organizer to automate part of the meeting workflow, including sending reminders, cancelling if there is no agenda, and sending out recaps afterwards. At Fellow, we have a saying "no agenda, no attenda". If your upcoming meeting agenda has no content waiting to be discussed, there may not be anything to talk about. With the Time Saver automation, you can do this automatically. Fellow will identify meetings with no agenda and will either automatically cancel these meetings (freeing up room in your calendar) or give attendees the option to cancel manually.
With everything else going on in your workday, it's easy to forget to prepare for a meeting. Set up automatic reminders to be sent to the meeting attendees. This will remind people to add their own thoughts and ideas. These automatic reminders can be set up to be sent via email, Slack, or MS Teams.
Fellow's robust library of 500+ meeting agenda templates ensures you never have to start your notes from scratch, so you can plan and execute your next meeting both quickly and efficiently. Plus, with Fellow's AI meeting preparation, you can get suggested agendas built at warp speed for organized meetings.
Fellow offers a free plan for teams of up to 10 people. Paid plans start at $6/user/month, billed annually. For more information on Fellow's pricing, check out here.
G2 rating: 4.7/5
2Microsoft Teams
Microsoft Teams is a derivative of the Microsoft 365 family of products and acts as an excellent internal communication tool. To take automatic meeting notes with Microsoft Teams, you will want to make sure your transcription settings are enabled. After enabling the proper settings, a tactic window will appear where you'll see the real-time transcription upon joining the meeting.
Microsoft Teams is designed for everyone, and plans and pricing vary depending on your needs—you may even qualify for the free program. If you require additional features and functions, there are a variety of plans that range in price up to $16 a month for the Microsoft 365 Business Standard package.
G2 rating: 4.3/5
3Temi
Temi is a personal assistant in robot form most commonly used to convert audio and video files into text. By leveraging automated speech-to-text algorithms, Temi is able to stitch text to your original audio and video files so they're easy to search, edit, and share. To use Temi, simply upload your audio or video file, enter your email address, and check your email or Temi dashboard to access your transcript. You can then view or edit the transcript and download it in your preferred format.
While your first file with Temi is free, everything after that costs a flat rate of $0.25 per audio minute. There are no additional transcription or service fees. Learn more about Temi here.
G2 rating: 5/5
4Google Docs
Developed by Google, Google Drive is a file storage and sharing tool that streamlines the centralization of information. To capture the actual notes, users can use Google Docs, an online word processor, to create and collaborate on online documents in real-time and from any device. Users can store files in the cloud, synchronize files across multiple devices, and share files with their colleagues. To take automatic meeting notes with Google Docs, you will want to select "Tools," followed by "Voice Typing." From there, you can begin your recording and start transcribing your audio.
While basic Google Drive storage and services are free, you may need to upgrade your storage for a fee as you scale. Click here to learn more about Google Cloud pricing.
G2 rating: Not available
5Beenote
Beenote is a meeting management tool that aims to improve the entire process of managing your meetings. With Beenote, you can organize and hold efficient meetings as well as follow up on tasks that are necessary to achieve your objectives. Similar to other tools on this list, Beenote also enables users to take automatic meeting notes.
Beenote offers flexible plans and pricing, encouraging users to build a plan that speaks to their needs. Consider comparing plans and browsing packages before making a decision.
G2 rating: 4.2/5
6Notes by Dubber
Notes by Dubber is a transcription tool that empowers users to be focused and engaged during calls and meetings. By eliminating the need to take notes manually, Notes by Dubber helps users concentrate on the task at hand. This tool leverages artificial intelligence (AI) to generate transcripts, meeting summaries, and action items.
Notes by Dubber offers flexible annual and monthly pricing with tailored solutions built for companies of all sizes. Learn more about which plan may be best for you.
G2 rating: 4.9/5
7Anchor AI
Anchor AI eliminates the need for manual note-taking. Simply invite Anchor AI to your Zoom meeting, press record, and access your streamlined, annotated meeting notes. Anchor AI's AI-powered automatic meeting notes tool will methodically capture every word so you and your teammates can be present, collaborate, and contribute to the conversation. The best part? Anchor AI is free to sign-up!
G2 rating: 5/5
8Otter
If you've been looking for a quick and efficient way to transcribe your meetings, Otter may be for you. Otter is an AI meeting assistant app that leverages artificial intelligence to transcribe audio recordings into accurate transcripts. While predominantly used in meetings, Otter can also be used during interviews and lectures in addition to any scenario that captures audio, revolutionizing the way audio is captured, stored, and shared.
Interested in learning more about this automatic meeting notes tool? Otter has a variety of plans starting at a free plan and extending to an enterprise plan. It's also important to note that you can save up to 51% when you commit to a yearly plan.
G2 rating: 4.1/5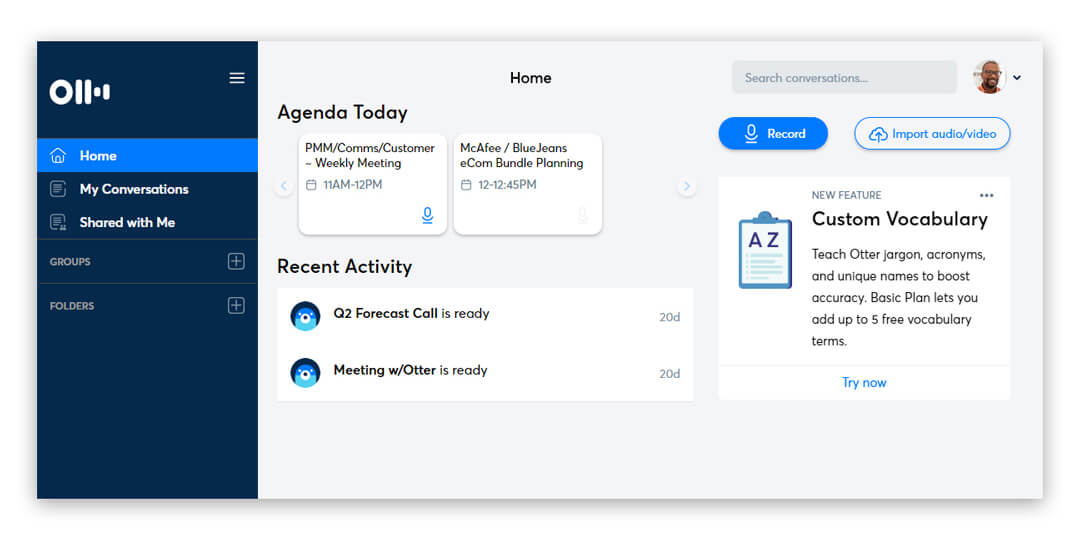 Have you narrowed down your search?
Upon reading this article, it becomes apparent that there are several automatic meeting note tools to choose from. While there are many choices, there are very few that provide an all-encompassing solution to meeting management. When choosing your next solution, consider Fellow, where great meetings are just the start.