One-on-one meeting software for managers and their teams
Fellow makes it easier for managers and their direct reports to collaborate on talking points, exchange feedback, and have engaging conversations.
Rated #1 meeting management on G2 + trusted by the world's best teams
Why are one-on-ones important?
One-on-one meetings help managers build trust with their direct reports. They are a dedicated space to coach employees on their priorities, exchange feedback, and remove roadblocks.
Pro Tip
Your one-on-ones shouldn't be status updates. Use this time to connect with your team members and fuel their growth.
A one-on-one tool can help you and your team…
Stay organized

Keep conversations with your direct reports in one place, look back on past notes, and never forget what was said.

Show up prepared

Collaborate on a meeting agenda that inspires a thoughtful two-sided conversation.

Save time

Carry over incomplete talking points and action items from previous one-on-one meetings.

Exchange feedback

Use suggested questions and templates to inspire real-time conversations about growth.
A private meeting record for agendas and notes
Show your teammates how much you value the 1-on-1 time with them by preparing in advance, following up on action items, and referencing past conversations.

Fellow offers a seamless setup from start to finish to get your 1-on-1 meetings from dull to delightful in less than a minute.
Get started with Fellow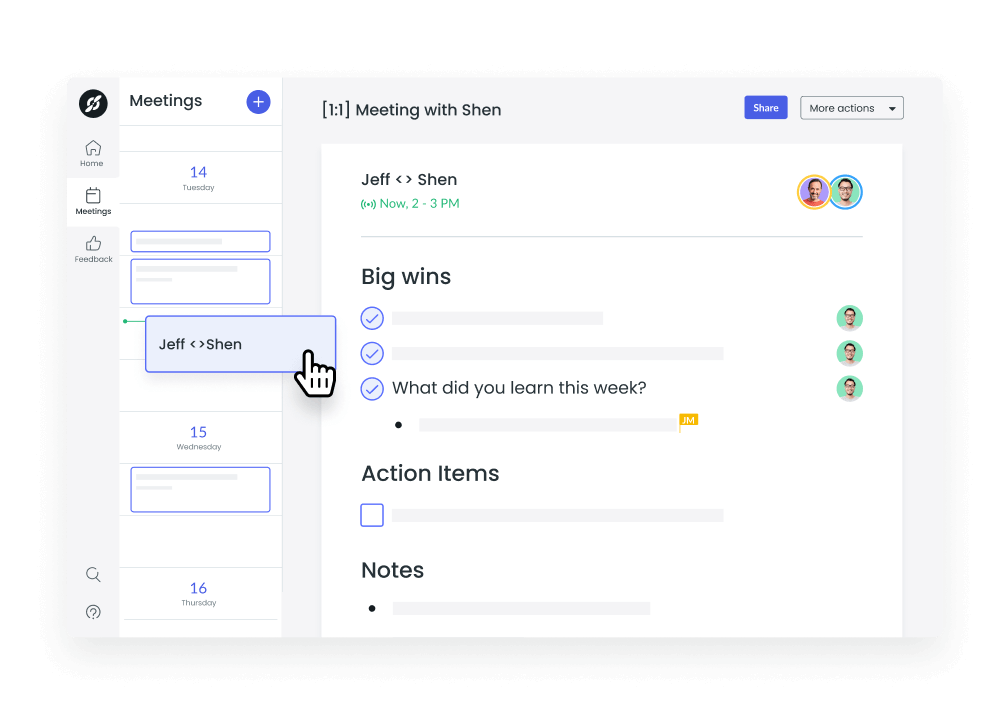 Talk about the right things
Say good-bye to awkward silences and status updates.

Fellow's library of 200+ suggested questions and pre-built templates will help you maintain consistency and spark engaging conversations.
Try Fellow for free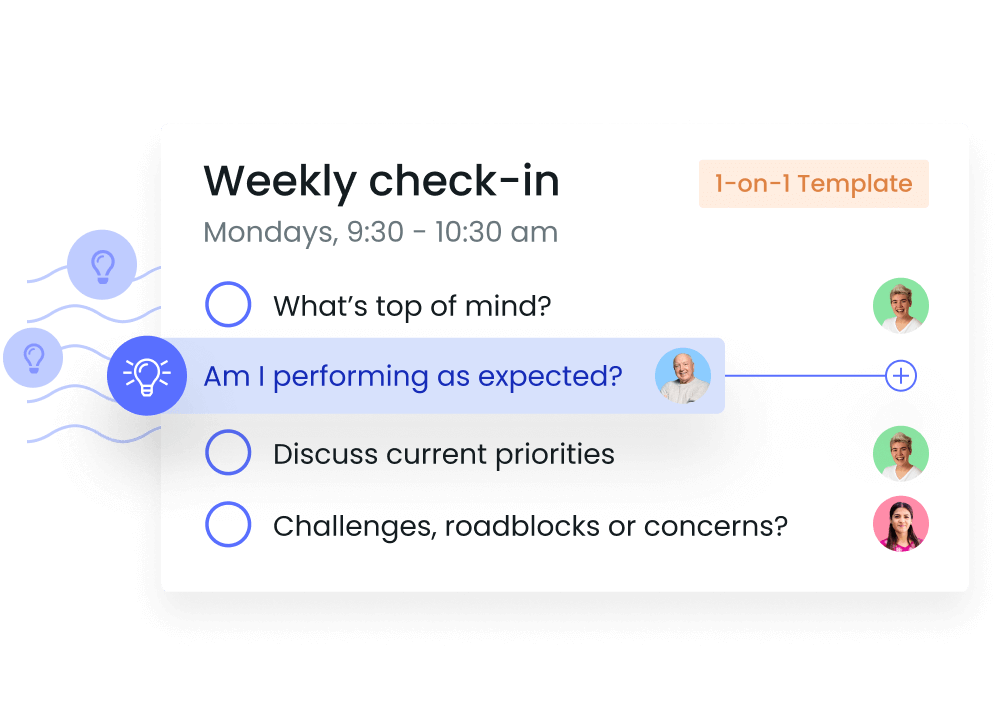 Promote a growth mindset
The world's best managers encourage ongoing learning, professional development, and real-time feedback.

Help your team achieve their goals by offering them a dedicated space to set priorities and visualize their progress.
Try Fellow for free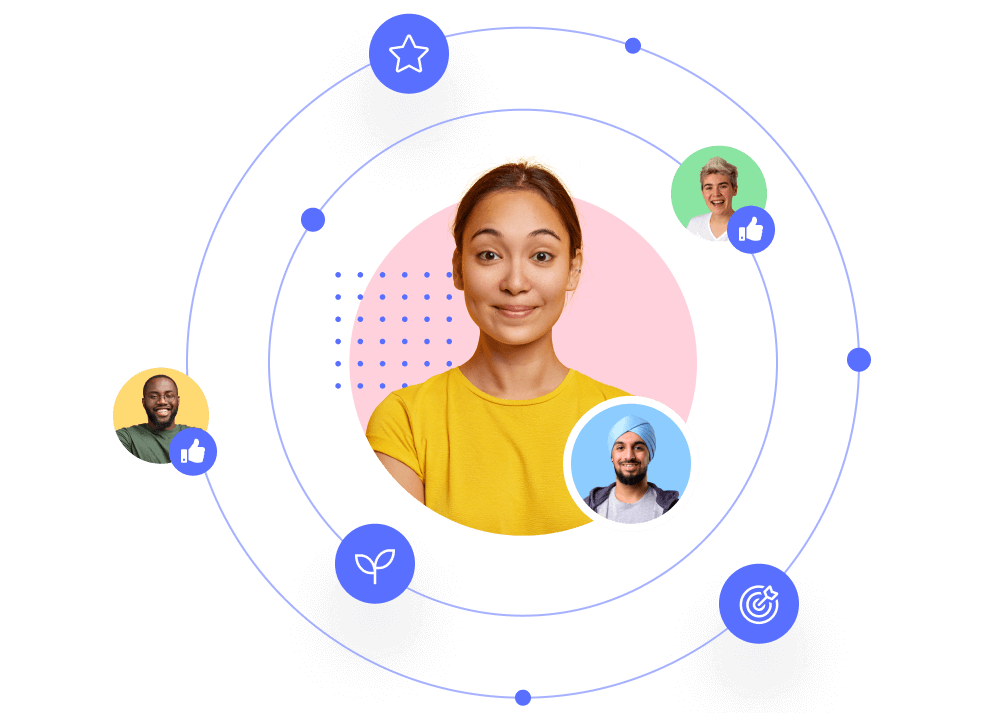 Build accountability with action items
The most productive one-on-one meetings end with next steps! These might be related to a project, a direct report's career development, or even a task that the manager plans to do before the next one-on-one.

Keep things simple by writing these action items in your meeting notes. Write, create, edit, and assign these next steps with Fellow!
Get started with Fellow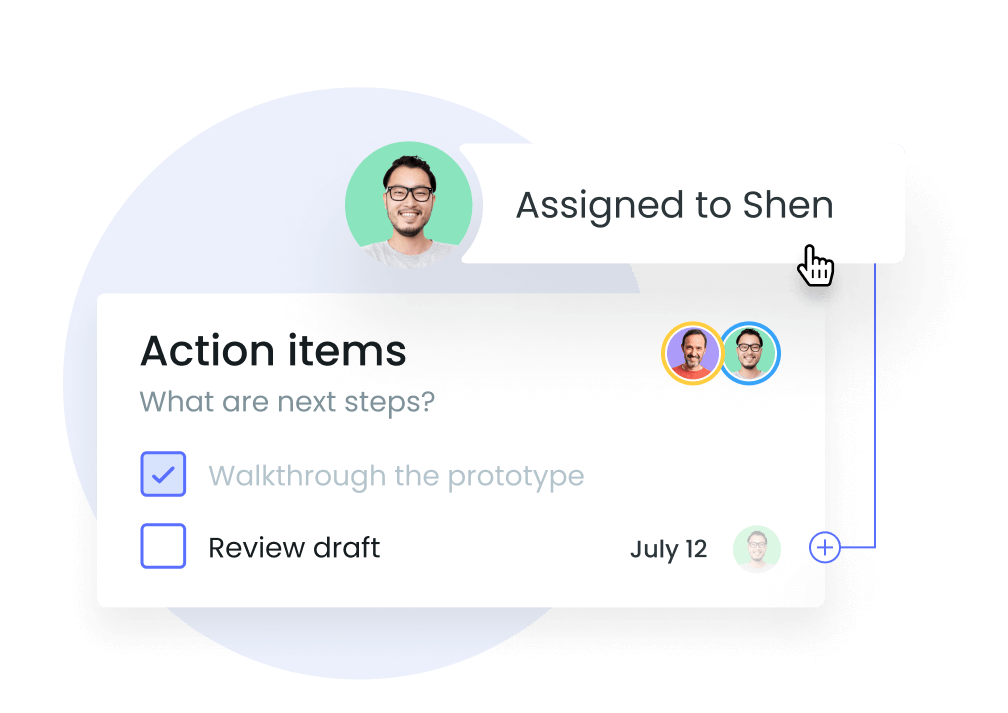 Keep all your 1:1 agendas in one place
It's easy to keep track of 1-on-1 meeting notes if you just meet with a few people. But if you have multiple one-on-ones a week, it can quickly become a nightmare trying to keep track of each set of notes.

Simplify your workflow with Fellow's 1-on-1 section. All your 1-on-1s will automatically show up in this section, making it easy to prepare for upcoming meetings or review previous ones.
Try Fellow for free
Never forget what was discussed
Show your direct reports that you care by remembering what they said during past meetings.

With Fellow, you can see a history of every 1-on-1 conversation you've had and ensure that you're staying focused on important decisions and action items.
Try Fellow for free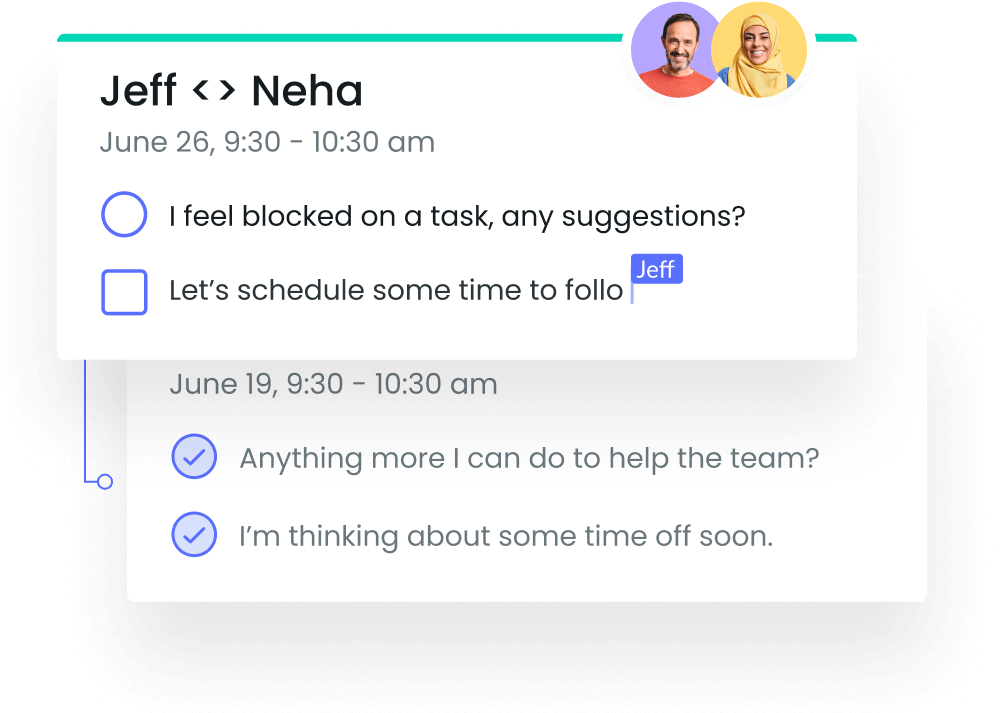 "Fellow helps my team have more collaborative one-on-one meetings. My teammates love capturing their own agenda items, and getting prompted is super handy when jumping from one meeting to the next."

Sabrina Leblanc

Senior Director of Customer Success
Run delightful one-on-one meetings with Fellow
See why leaders in 100+ countries are using Fellow for their 1-on-1s today.
Log in
Free download
The Art of the One-on-One Meeting
The definitive guide to the most misunderstood and yet powerful tool for managers. With a foreword by Lara Hogan, author of Resilient Management.
Download now