Back to Template Gallery

First One-on-One Meeting Agenda Template
One-on-One meetings are the most powerful tool a manager has to becoming better a leader. Kickoff your first 1:1 meeting with these important questions!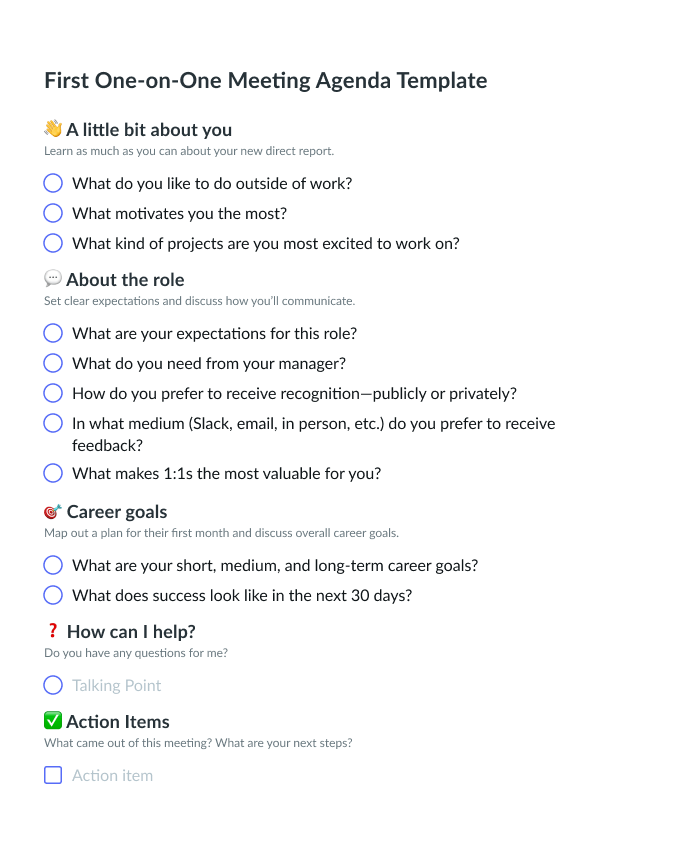 Preview template
The First One-on-One Meeting
You have your first one-on-one meeting with an employee coming up – which probably means one of the following things: You just became a manager,
You hired a new team member recently,
You got a new job and are about to start managing a new team.
Those are all great reasons to be having a first one-on-one meeting with someone, so, before we begin with the tips, we just want to say: Congrats! 👏
Why is The First One-on-One so Important?
At Fellow, we believe that the one-on-one meeting is the most powerful tool a manager has to build rapport, motivate people, and become a better leader.
The truth is first impressions matter. So if you're just joining a team or recently hired a new employee, one of the most important things you can do is schedule your first one-on-one meeting with them – and make sure that one-on-one meeting runs smoothly.
In a blog post titled Questions for our first 1:1, Lara Hogan (former VP of Engineering at Kickstarter and founder of Wherewithall) argues that having a list of questions ready for your first one-on-one meetings with direct reports can be a great way to develop a positive relationship with everyone on your team:
"Over time, I've learned that getting some particular data during an initial 1:1 can be really helpful, as I can refer back to the answers as I need to give a person feedback, recognize them, and find creative ways to support them," says Hogan.
What's inside this one-on-one meeting template:
Your first one-on-one meeting with an employee should be used to:
Learn as much as you can about your new direct report.
Set clear expectations on how you'll communicate.
Map out a plan for their first month.
Here are some of the questions we've included in this one-on-one meeting template:
Pssst. Need a template to invite your new team member to your first one-on-one meeting? Scroll down to the bottom of this page to download our email template 📩.
---
One-on-one meetings are better in Fellow
Fellow is the meeting management app that companies like Shopify, Uber, and KeepTruckin use to run effective one-on-one meetings.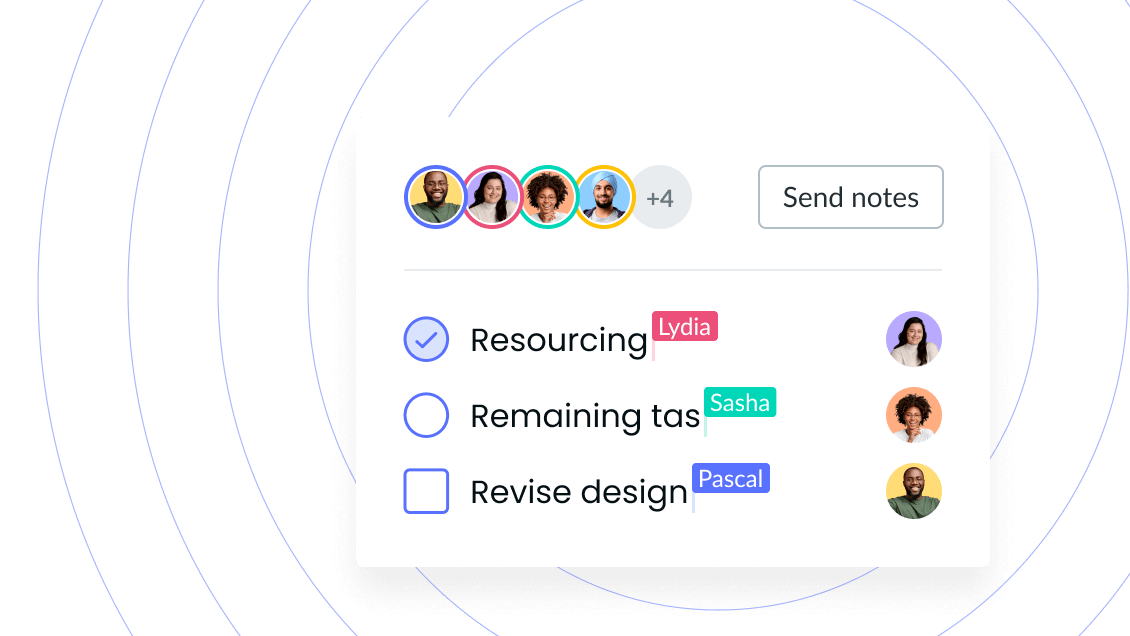 ---
New employee meet and greet questions
A little bit about you
1 What do you like to do outside of work?
Imagine walking into your first one-on-one meeting with your new boss and getting asked about metrics and work updates immediately. Wouldn't that be a shock?
As a manager, it's important to understand (and remind yourself) that everyone on your team has hobbies, interests, and people to care for outside of the office.
In the book Radical Candor, Kim Scott argues that "at the very heart of being a good boss is a good relationship…"
… and there's no better way to create a good relationship with someone than by showing you care about the things that make them, them.
"What caring means, is understanding that we are not separate people at work and at home — sometimes the personal blends into the professional, and that's ok," says Julie Zhuo in The Making of a Manager.
2 What motivates you the most?
One great way to get to know the person you'll be working with is by asking what motivates them to come to work every morning:
It could be that they really enjoy coding or that they like talking to customers every day. For some people, it could be spending time with their teammates, and for others, practicing and getting better at their craft.
Asking what motivates each person on your team will help you understand their values and give you some ideas on how to motivate them when the team's results seem to be declining or slowing down.
Asking and understanding what kind of environments, challenges, and rewards motivate each person on your team.
3 What kind of projects are you most excited to work on?
Your first one-on-one meeting with a direct report is a great opportunity to think about the projects and tasks that you can delegate to them in the future.
As Julie Zhuo argues in The Making of a Manager, the best managers master the art of delegation and are constantly looking for ways to replace themselves in the job they are currently doing:
"For the things that you do better than your reports, unless it falls into the 'most important priorities' bucket or you don't believe they are set up to succeed, you should still try to delegate as much as possible and coach them along the way," says Zhuo.
Asking your new direct report what projects and tasks they're excited to work on will give you an insight into the responsibilities this person could have, and the skills they'll need to develop in order to work on these projects.
About the role
4 What is your preferred method of communication?
This is a key question to ask in your first one-on-one meeting with a new employee.
What communication tools have they used in their previous jobs? What have they liked (and disliked) about them? Are they ok with texting, or do they prefer email? Do they know how to use Slack?
This will be a great opening question for a broader conversation about your communication expectations for the team. As Camille Fournier argues in The Manager's Path, whenever you inherit a new direct report, it's important to set clear expectations around the team's communication channels and methods of sharing information:
"This expectation setting on your part should include specifics like how often you want to meet with them, how the two of you will share information, and when and how often you'll want to review his work. If you expect them to send you a weekly summary of their progress via email, tell them," says Fournier.
On the other hand, this will also be a good opportunity to ask your teammate about their preferred method of communication for constructive feedback. In The Manager's Path, Camille Fournier suggests asking the following question:
Do you prefer to get such feedback in writing so you have time to digest it or are you comfortable with less formal verbal feedback?
It's important to ask this question at your employee's first one-on-one meeting for two reasons:
First, it will help you determine if (whenever it's time to share constructive feedback), you should write the feedback and give your report some time to think about it, before addressing it in person.
But most importantly, it lets your teammate know that feedback will be an ongoing part of your relationship – and that they should expect to receive it often, only because you want to help them grow and improve.
"Have the answers to these questions WAY before you need them," advises Lara Hogan. "Few things are harder than trying to give someone feedback; doing it in a way that you think they'll be most able to hear it is invaluable."
5 How do you prefer to receive recognition – publicly or privately?
One essential part of fostering a feedback culture is recognizing employees on an ongoing basis.
If someone did something that was awesome, make sure to tell them! This will help them know that their work is noticed and valued – and as a consequence, you'll encourage them to reinforce that great habit or behaviour.
However, one important question you should ask during your first one-on-one meeting is:
Do you prefer to receive that recognition publicly or in private?
Why? Because, as Lara Hogan argues, some people really dislike being praised in public:
"Knowing how someone wants to receive recognition helps to ensure they're able to enjoy the moment rather than feel really uncomfortable," says Hogan. "For example, for a big-deal promotion, I once gave an introverted direct report a handwritten congratulatory note and a loaf of banana bread—his favorite baked good—which he chose to share with his teammates. His celebration, his terms."
6 What makes one-on-ones the most valuable for you?
It could be that your direct report had one-on-one meetings in their previous job. (Or maybe not).
Regardless of the work environment that they come from, asking this question during your first one-on-one meeting will help you understand what they expect to get out of this time with you.
If they've had one-on-one meetings with a previous manager, you can ask them what worked for them, and what didn't. (Remember to take notes of what they didn't like so you don't repeat the same mistakes!)
Setting clear expectations during your first one-on-one meeting will help you ensure that all your one-on-ones run smoothly in the future!
Career Goals
7 What are your short, medium, and long-term career goals?
As Eric Schmidt, Jonathan Rosenberg, and Alan Eagle argue in the book Trillion Dollar Coach, people are the foundation of any company's success – and it's your primary job as a manager to help your direct reports grow and develop:
"Support means giving people the tools, information, training, and coaching they need to succeed. It means continuous effort to develop people's skills. Great managers help people excel and grow. Respect means understanding people's unique career goals and being sensitive to their life choices. It means helping people achieve these career goals in a way that's consistent with the needs of the company."
Use this section of your first one-on-one meeting to ask about your employee's professional goals. Understanding where they want to go in their professional journey and supporting them in that process will help you become a great manager, and an excellent coach.
"Most people don't spend a lot of time thinking about how they are going to make someone else better. But that's what coaches do," say Schmidt, Rosenberg, and Eagle.
💡 Pro tip: Don't spend a lot of time mapping out a career development plan during your first one-on-one meeting. The goal here is to get to know your employees and understand their motivations. You can schedule your career conversations later on.
8 What does success look like in the next 30 days?
Gallup's data shows that having realistic performance goals is a better predictor of work-life balance than having flexible work arrangements:
"Among full-time U.S. employees, workers who strongly agree that they have realistic performance goals are 2.4 times more likely to also strongly agree that they have a healthy work-life balance," says the study.
If you want a new employee to be successful in their role, it's important to specify what "success" actually means – especially during their first month. As Camille Fournier argues in The Manager's Path:

"This can include basic goals, like getting up to speed on the code, committing a bug fix, or performing a release, and is especially valuable for new hires and people transferring from other areas of the company. The more senior the hire, the more he should participate in creating this plan. You want him to have some clear goals that will show whether he's learning the right things as he gets up to speed."
How can I help you?
9 How can I help? What are some questions you'd like to ask me?
Last but not least, make sure to allocate some meeting time for all the questions that your new direct report might want to ask you.
💡 Pro tip: Ask an open-ended question such as "what are some questions you'd like to ask me" instead of saying "is there anything else you'd like to talk about?" Asking an open-ended question will make your employees think harder, and perhaps, bring up questions that they wouldn't have brought up otherwise.

And that's it!
We hope that this template helps you build rapport and kickstart a great relationship with your new direct report.
And if you're a new manager or managing a new team, the Fellow.app team would like to wish you the best of luck in your new role! 😊👋
BONUS: Email template 📩
Hi [Name],
I wanted to let you know that I'll be scheduling recurring one-on-one meetings with everyone on the team. We'll spend this time discussing priorities, sharing feedback, working on career development, and answering any questions you might not be able to ask me during the week.
These one-on-one meetings are your time with me, which means that your talking points will be the primary focus of the meeting. Here is some further information on how you can get the most from your one-on-ones: https://fellow.app/blog/meetings/one-on-ones-with-your-manager/.
I'll share the agenda for our first one-on-one meeting with you soon so you can prepare your answers in advance 🙂
Please let me know if you have any questions.
[Name]