Back to Template Gallery

One-on-One Meeting with Manager Agenda Template
Have a productive one-on-one meeting with your boss by following this agenda template. Prepare talking points before the meeting to impress your boss!
Preview template
The one-on-one meeting
Ever wondered what topics to cover in a one-on-one meeting with your manager? This one-on-one meeting template is perfect for you!
Some managers don't set a formal agenda, but since YOU (the direct report) own this meeting, it's your responsibility to make sure that nothing is left out. Having a good one-on-one meeting agenda is how you make sure you cover the right topics.
Why do you need a meeting agenda?
Setting an agenda before the meeting is essential for meeting preparation because it's impossible to have a productive conversation if you don't know what the agenda is! There's nothing as embarrassing (and career-limiting) as getting asked a question that you should've prepared for and not knowing an answer. That's a total novice move. In contrast, using a one-on-one meeting agenda is how you plan an expert-level meeting.
What's inside this One-on-One Meeting with Manager Agenda Template:
1 Personal Preamble: Build a Good Relationship with Your Manager
To be honest, a personal preamble is never on an agenda (unless you count introductions!), but it would seem weird to have a meeting without a personal check-in with your manager.
Remember that a key reason to have regular one-on-one meetings with your manager is to build an effective working relationship with them by getting to know and understand each other as people.
Of course, you're going to look a bit strange if you put "personal preamble" on your agenda. The point of adding this is here is to remind you to invest in your personal relationship. Now, perhaps you're already a very social, relationship-based, person, I'm not talking to you. I'm talking to the people who are only business/task-focused or are a little bit shy, especially if you find meeting your manager stressful.
What investing in your relationship with your manager means:
When your manager shares personal details about themselves (such as a hobby or a personal update): take note, show that you're interested, and bring it up in the future.
Understand who your manager is outside of work because this will help you understand their true nature in the office.
This is also a great time for you to share information that is personal but relevant to work. For example: are you having a bad day at work because you've been caring for a sick dependent? Other examples include: injury/sickness, family issues, leave requirements, study requirements, etc.
This doesn't have to go into the personal preamble if you prefer to discuss it in another section (e.g. the week ahead). The point is: if it's going to affect your work, let your manager know!
You're going to have to use your judgement to work out how much time to spend on a personal preamble. Remember the one-on-one is a work meeting with a tight agenda so you'll have to balance the personal with the professional.
Your personal pre-amble is your chance to set the tone of the meeting with your manager. Arrive light-hearted, confidence in your preparation and with a smile on your face and both of you will have a more enjoyable and productive meeting.
2 Your Agenda Section: Updates, Learnings, and Achievements
This is where you tell your manager what they need to know. Remember that many managers have very little idea of what you actually do on a day-to-day basis unless you actually tell them. Use this section to give a report on what's happened since you last met. A status update on what you have achieved and how things are going.
If there is something that you've done that you are proud of, then let your manager know. Many employees feel undervalued and lacking recognition, while not realizing that it's difficult to get recognition for achievements unless your manager knows what those achievements are.
---
One-on-one meetings are better in Fellow
Fellow is the meeting management app that companies like Shopify, Uber, and KeepTruckin use to run effective one-on-one meetings.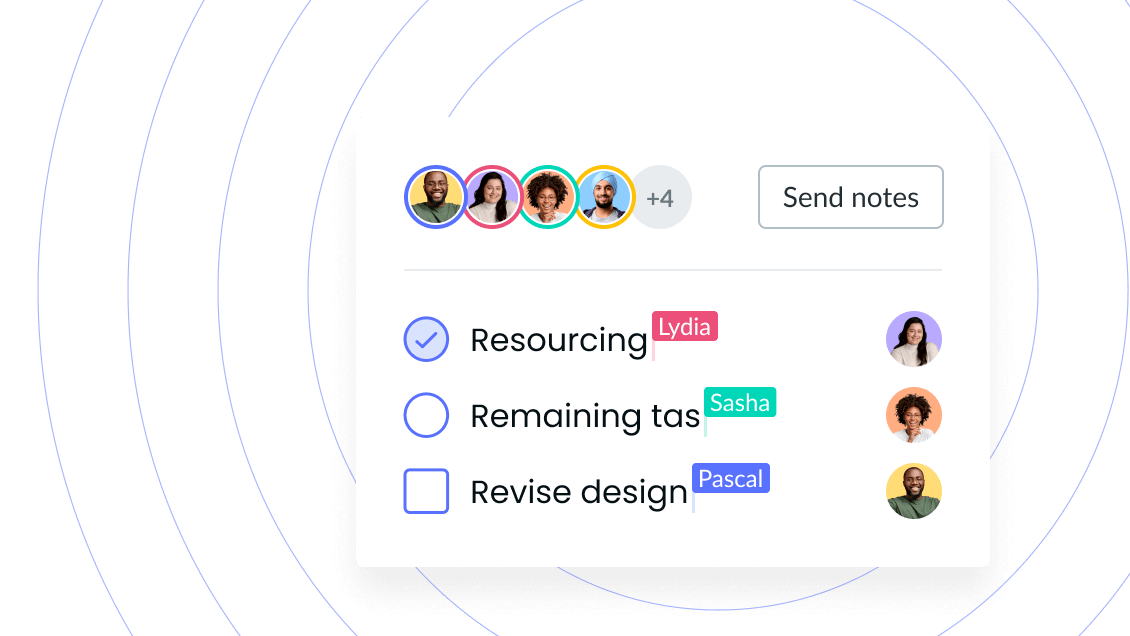 ---
3 Your Manager's Section: Cascading Information, Roadblocks, and Feedback.
Although this is your manager's section, that doesn't mean you take a passive role and hope that your manager tells you everything you need to know. Instead, I suggest you be prepared to prompt the conversation to find out what you need to know.
For example:
Is your manager not great at giving you or asking for feedback? Then specifically ask for feedback about your work, and suggest ways in which your team dynamics/processes could improve.
Don't wait for your manager to offer you help, if you need information, resources, advice or expedition then ask for what you need.
Put these items onto the agenda, because this gives your manager time to think and prepare. This could be the difference between getting an answer in the meeting or having to wait a whole week for a response.
4 The Most Overlooked Part of the One-on-One: Priorities for the Week Ahead
This is one of the most important, but overlooked parts of the one-on-one meeting. I can guarantee that your manager has a different view on priorities for you. Investing a little time every week in finding out what your manager expects of you in the week ahead is one of the best investments you can make.
In my opinion, this is perhaps the most important part of your one-on-one meetings with your manager, because this is a chance to make a decision about the future, instead of just reporting on the past.
Arriving at your meeting with your priorities mapped out is a pro move because it shows your manager that you are forward-thinking and have planned your work.
5 Development & Growth: Skills Development, Stretch Assignments, and Career Goals
An important part of one-on-one meetings is to speak about your growth and future career development. Career growth includes promotions and what your career trajectory looks like, but a little-understood part of growth is that development also includes your personal and skills growth within your existing role.
Examples include:
Taking over new responsibilities
Asking for stretch assignments
Getting coaching
Agreeing on your training requirements
You may not have a career conversation every week, but it's important not to ignore it because growth is an important part of your workplace happiness and job satisfaction.
Development isn't always about trying to climb the corporate ladder. The development includes developing the skills you need to do the job you want to do. It's rare that you're matched perfectly to a job, but you can grow into doing work that is a better match to your skills and interests. To put it simply in another way: Tell your manager what work you're good at and like doing!
---
Benefits of Owning The One-on-One Meeting
Investing the appropriate time in preparing for your one-on-one meetings with your manager will make you look like a meeting pro.
Remember that your manager is usually juggling many different priorities as well as managing multiple staff. You can't always rely on your manager to do what you want them to do. But you can rely on yourself to do what is necessary to get the job done.
When you respect your manager's time by arriving prepared, ready to move quickly through the agenda, your manager will appreciate it. Keeping the process efficient and worthwhile will encourage both of you to stick to the one-on-one meeting process.