Back to Template Gallery

All-Hands Meeting Agenda Template
Foster a culture of collaboration and open communication with this all-hands meeting template.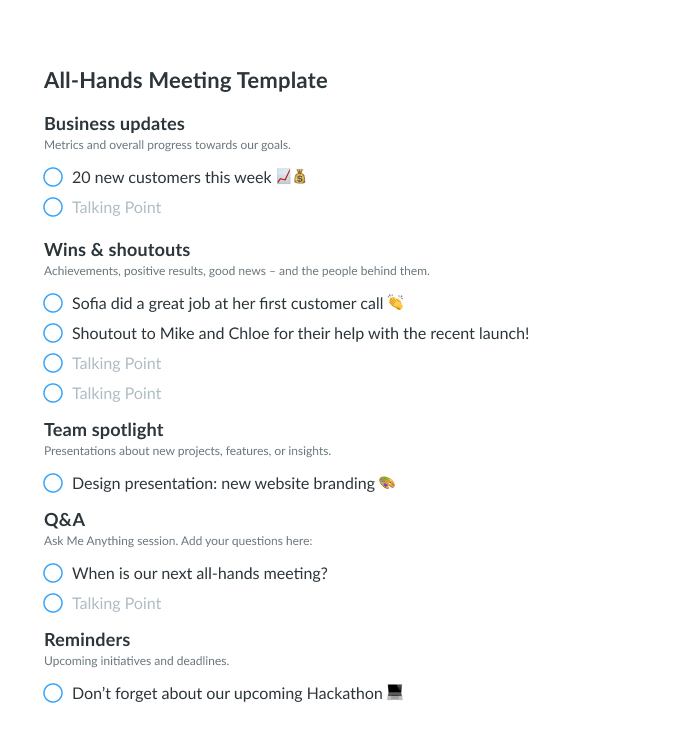 Preview template
All-Hands Meeting Agenda Template Overview
An All-Hands Meeting is occasionally referred to as a town hall. It's a regular, company-wide gathering that calls for all leaders, stakeholders, and employees to come together and discuss essential company-wide matters. You may have noticed that the term "all-hands meeting" comes from the term "all hands on deck," meaning that everyone on board (or in the company) must attend.
The all-hands meeting has a few goals. These include:
driving company-wide alignment regarding strategies and mission statements
sharing recent business updates, whether they be from the last month, quarter, or season
giving everyone a chance to ask the questions
celebrating company milestones and the people who've helped to make them happen
From major corporations to startups, it's never too early (or too late) to begin running All-Hands Meetings, and an all-hands meeting template can be of great assistance in helping you get your thoughts and talking points organized. Depending on the size and nature of your company, you might want to hold an All-Hands Meeting monthly or quarterly.
How many attendees come to your All-Hands Meeting will depend on if you choose to hold it on a departmental, regional, or company-wide level. This is another factor that the size of your company will determine.
How to Run an Effective All-Hands Meeting
Executing an effective All-Hands Meeting starts with a carefully planned All-Hands Meeting agenda. Thoroughly preparing for the meeting and giving yourself plenty of time to determine what you want to talk about will help your meeting run smoothly.
Because All-Hands Meetings tend to cover such a mass amount of information, part of the preparation is ensuring that you take notes between meeting times. When you update yourself regarding company happenings, you know what you have to bring up at the next meeting.
All-Hands Meetings provide the opportunity for everyone in the company to share information. This meeting isn't about leadership standing up and speaking without asking for employee input. Instead, this is a chance for everyone to discuss the current state of affairs and review critical metrics like revenue, sales, net retention, and more.
All-Hands Meetings should assist in fostering company culture by talking about the vision and mission for your business, emphasizing values, and discussing how things are going in terms of short and long-term goal achievement. An All-Hands Meeting invite is excellent for all team members because it lets them know that their work serves a higher purpose.
While revenue is significant to stakeholders and leadership, employees don't always feel this way. Let them know they matter by setting aside enough time to discuss how their roles shape your company.
What's inside this all-hands meeting template:
By adhering to these general meeting components, you can stick to your all-hands agenda.
1 Business Updates
Now is the time to discuss all things business-related. What's gone on since the last meeting? What goals have been met, which projects have been completed, and what are teams working on now? What you'll discuss here depends on which company members are in attendance. You'll want to set aside more time if it's every employee. On the other hand, if your All-Hands Meetings are departmental, you won't need as much time.
Start your all-hands meeting with important updates about your business strategy. Use this time to present key numbers from the past month and review how those results compare with your goals. You can also take the opportunity to talk about changes in the market, important learnings, and new initiatives that the company is embarking on.
2 Wins & Shoutouts
This part of the meeting should focus on recognizing the hard work of those who dedicate hours of their lives to making your business better. You don't have to hand out special awards; instead, take a moment or two to let those who work hard know that you see them and, most importantly, appreciate them! Employees that feel gratitude from their employees work more efficiently and with purpose.
Leverage the second part of the meeting to boost team morale and congratulate different teams for any successful projects and initiatives.
If you use a collaborative tool like Fellow, you can ask everyone in the company to write down their shoutouts in the all-hands meeting agenda.
---
All-Hands meetings are better in Fellow
Fellow is the meeting management app that companies like Shopify, Uber, and KeepTruckin use to run effective all-hands meetings.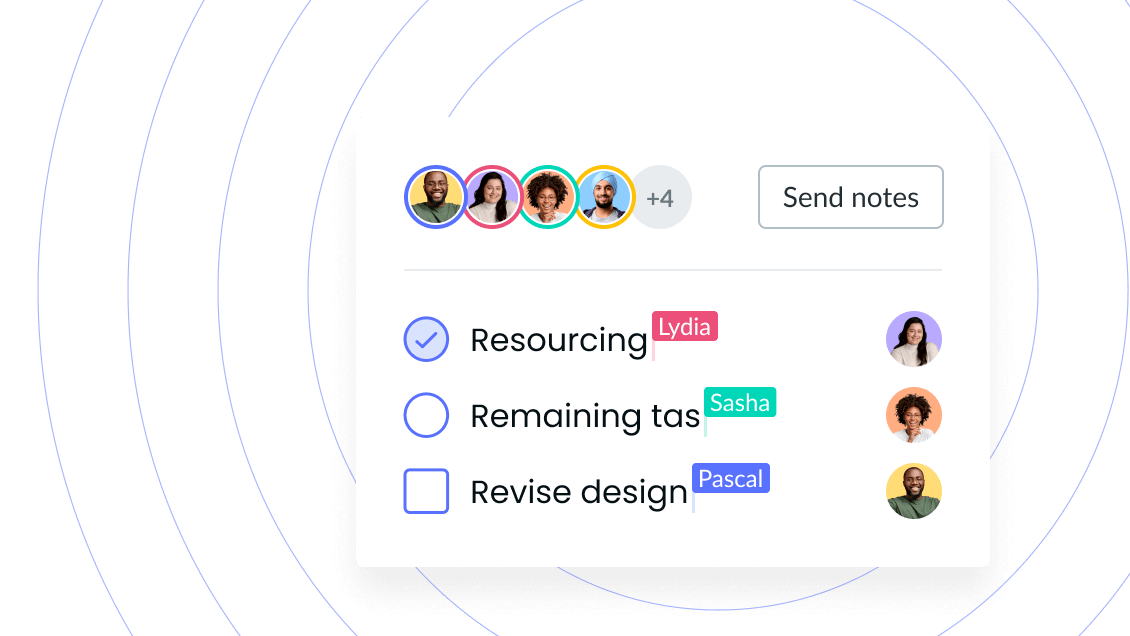 ---
3 Team Spotlight
The team spotlight section may vary depending on those in attendance. However, it can be very beneficial to take the time to acknowledge teams and team members that have helped in goal accomplishment within the last month, quarter, or year. The contribution size doesn't matter. It only matters that it happened. Don't forget to emphasize that any contribution to a business project within your company doesn't go unnoticed. Make it a part of your company culture.
All-hands meetings give you an opportunity to foster communication and collaboration across teams. That's why it's important to ask different departments to present at every meeting.
In order to make your all-hands meetings more interesting and interactive, you can invite a member of each department to present a project or important update.
4 Q&A
The question and answer section should go without explanation, but this is where you'll want to open the floor to attendees to discuss what you've just talked about and which discussions they want to open up. It's crucial to leave enough time for this, so block out a reasonable amount when making your All-Hands Meeting agenda.
One of the most important sections of your all-hands meeting agenda is the Q&A, where employees can write down questions for the CEO and anyone in the leadership team.
In order to avoid awkward silences, you can encourage employees to write down their questions before the meeting.
Collaborating on the questions for an all-hands ahead of time gives everyone a different perspective, and sometimes triggers questions that people wouldn't have thought of otherwise. It can also be a great way of making sure that the most pressing and popular questions are asked first, because everyone has had a chance to read through them all.
5 Reminders
Finally, close the meeting with reminders. You can briefly go over the main topics of the discussion and let your teams know when you'll be available to discuss it with you in detail. If the next meeting date is set, reiterate the date and time and briefly touch on what projects and goals team members should focus on the most before that time.
Last but not least, you can finish your all-hands meeting with important reminders. These can include upcoming events, launches, and any initiatives that need everyone's support.
This could also be a good moment to celebrate work anniversaries and introduce new hires!
Foster a culture of collaboration with this all-hands meeting template!