It can be easy to settle into the rhythm of your usual everyday tasks and lose sight of the loft goals you once had. Maybe you had some sort of big-time vision when you first entered your field, but you just don't feel connected to that idea anymore. If you're looking for some newfound clarity, it might be time to set some goals.
Setting goals can help you learn new skills and move closer to the vision you've always had for yourself. To get started, below are 10 examples of professional goals you can set for yourself. Feel free to use these exact examples or let them spark some new ideas.
What are professional goals?
Professional goals are objectives you want to achieve in your work. You'll also see them called "career development goals." They include the skills, positions, salaries, and certificates that you want. Whether you want to help your organization thrive or spark growth within yourself, setting professional goals can improve your professional life – and your team.

Achieve your goals
Define your goals and track your progress with OKR tools. Try a tool like Fellow to start achieving your goals!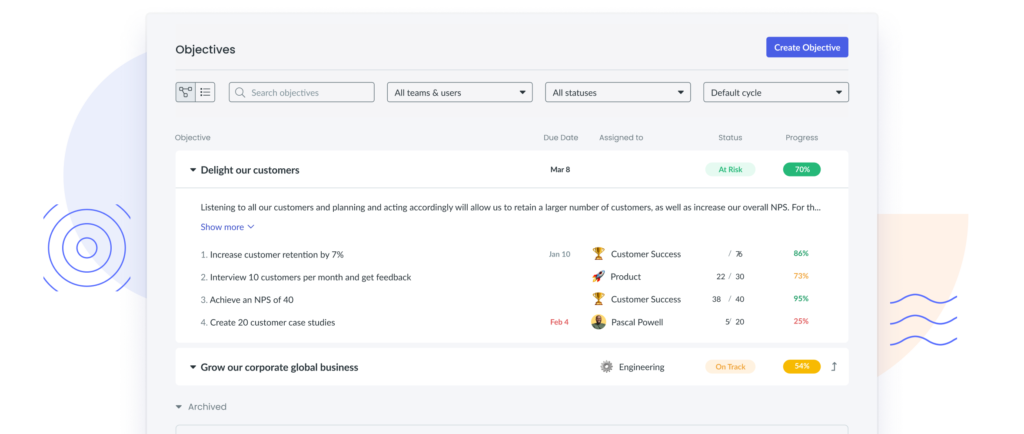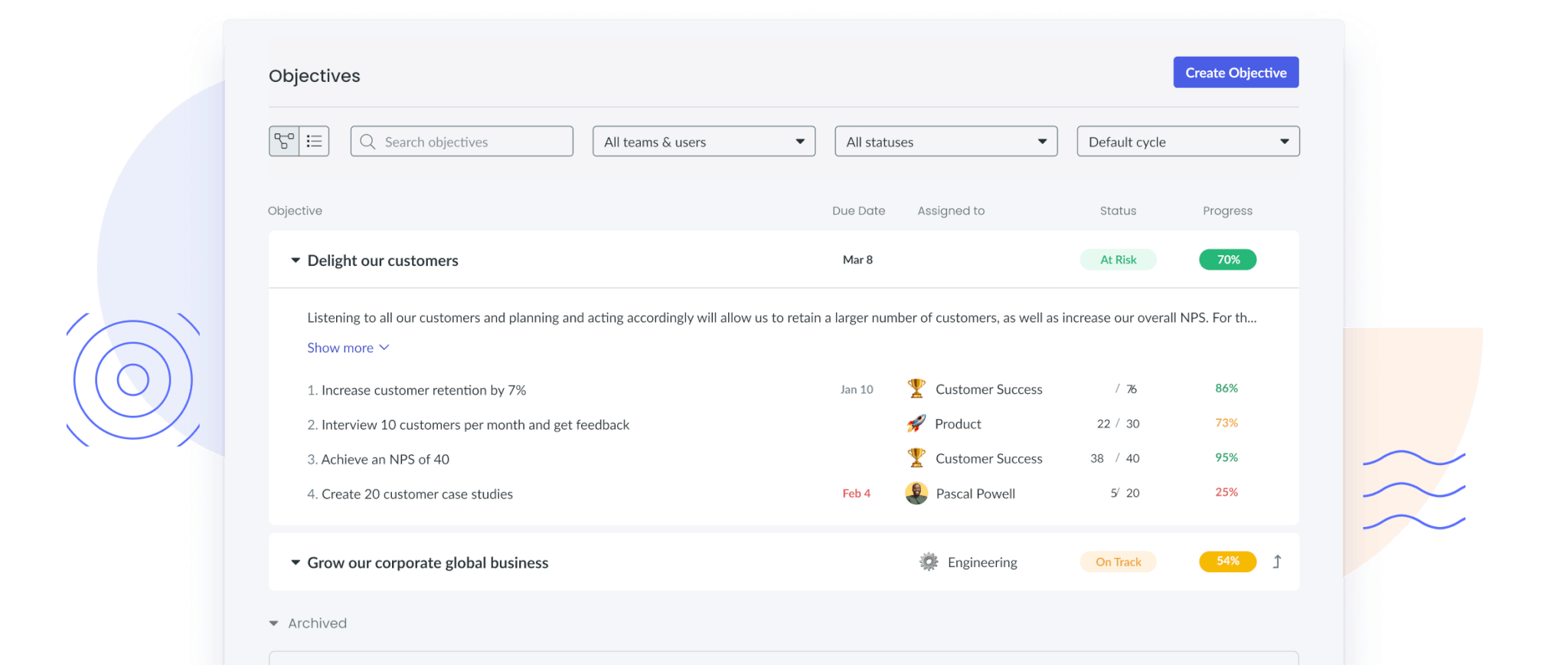 10 examples of professional goals
So, you're ready to put the pedal to the metal on your career. But maybe you aren't quite sure where to start. Don't let that hold you back! Below are 10 examples of professional goals you can use as is – or as ideas to inspire your own vision for yourself.
1Learn how to use new technology
Technology is constantly changing. With each innovation comes another chance to learn something not everyone knows that can help your career and your organization. Programming languages and data tools are great examples of software engineer goals, as is any popular new tech in your field.
Taking some time to learn a new tool can give you an edge over others in your world. Online courses, videos, books, seminars (or "webinars"), and training programs are all great ways to get yourself up to speed.
2Get better at your core skills
Core skills are the foundation of what you do, and they're what managers and leaders look for first. Getting better at all your most important professional skills makes you more valuable to your team. It also opens the door to all kinds of future opportunities.
A deep dive into the skills that make you great at your job can make you even more of an expert. It can also put you in line for management or leadership opportunities. Do some research into how you can improve your core skills, or just ask someone more experienced if they'll mentor you.
3Add more people to your professional network
You've probably heard the saying, "It's not what you know but who you know." And it's true! Getting yourself more connected can be key to helping you achieve all your other goals. Managers, industry leaders, and really any of your peers can become your mentors. Chances are everyone around you knows something – or someone – who can help you get where you're going.
Making these connections starts with a simple but maybe nerve-wracking yourself: going to professional events. Conferences, seminars, webinars, and professional social media sites like LinkedIn are great starting points. Just be your professional self and be intentional about starting conversations. You never know who you'll meet.
4Become a manager or leader
Maybe you've always wanted to lead a team and help your organization reach peak employee productivity. And maybe one of your goals is to help everyone else with their own goals. If this sounds like you, then you might want to set a goal of becoming a project manager, team leader, or department supervisor. As you climb the corporate ladder, your leadership, collaboration, and communication skills will probably improve without much effort.
To start with this goal, determine which type of management or leadership role you want. From there, you can express your interest to current managers and leaders in your organization. They'll likely respect your ambition and the clear mind you have about your goals. That means they might tell you about potential long-term opportunities and how you can prepare for them.
5Make time to read professional books
If you can think of a subject, there's probably a book about it, so there's likely no shortage of information about your career path. Reading books by thought leaders in your field can teach you lessons, industry secrets, and general tips you might not learn elsewhere.
To start, set the number of books you'll read each month. Then, visit your local library, a bookstore, or an online marketplace to get started. You can try audiobooks instead to make the most of your time while you're at the grocery store or driving to work.
6Master time management
Time management is a valuable skill at every point in your professional life. Your time management skills affect your efficiency and productivity, which are both big parts of your professional success.
To work on these skills, take some time to look at your current workflow. Are you spending each hour of the day the right way? If not, prioritize tasks, then set a schedule for your meetings. How you arrange your tasks can determine how much time you have to work on other goals.
7Start your own business
Sure, this goal might sound ambitious, but you likely already know plenty of what you need to get started. Starting and running your own organization can give you more control over your time and goals. Only you determine your schedule and salary, and only you have a big impact on your personal brand.
Of course, starting a business requires lots of work and dedication, but it can be super rewarding. The earliest steps include refining your business idea and creating a plan that lays out your entire approach. Think of both short-term goals and long-term goals to get off on the right foot.
8Win an industry award
Being recognized for your hard work is like getting a pat on the back. Winning an industry award brings attention to your success and can open the door to more opportunities. It also makes people look up to you – and when people admire you, working with them to achieve your goals becomes way easier.
Do some research on awards in your industry or organization and figure out how to qualify. From there, you can determine specific goals such as making a certain number of sales in a month. Or maybe you could create a better project management system for the team. Initiative and innovation go hand in hand here.
9Polish your public speaking skills
At some point, you'll need to stand in front of your whole team and lead the charge at a meeting. When that time comes, you'll be glad you took the time to work on your public speaking skills. Being a good public speaker means being confident while engaging your audience.
Watching videos, attending conferences, and reading books are great ways to figure out what makes a great public speaker. You can take what you've learned and get in a little practice at work too. If you typically sit back and listen during meetings without saying much, make it a point to chime in next time. Over time, you'll get more comfortable speaking in front of groups.
10Write a great resume
In many cases, your resume is your introduction. It's the first thing someone sees about you before you actually chat with them. It can help you stand out from the pack whether you're looking for new work or applying for an award. It needs to be one-of-a-kind to help you reach your goals.
Your resume should show your professional track record in a nutshell rather than your life story. It should highlight your experience, accomplishments, and skills in one organized, concise page. When you're done, check (and triple-check) your resume for typos. The goal here is for everyone to see you as a truly outstanding teammate.
Why professional goal-setting is important
When you set goals, you pave a clear path toward professional development. Below are some other benefits of professional goal-setting.
1Gives you a vision
Goals are like steps, and they can take you far. Setting career goals can help you map out where you're going and how to get there. Your goals can give you something to work toward so all your efforts make a meaningful mark.
2Makes things clear
Goals remind you what you're working toward so you don't lose sight of the big picture. As you set goals, you'll create smaller tasks that can keep you on track toward your long-term goals. As you get through these goals, you can more clearly see what to do next to get closer to the finish line. For example, if one of your goals is to build your network, then clearly, you should put some networking events on your calendar.
3Puts you in line for a promotion
Almost any professional goal will help you become a better team member. That's because, as you grow, so does your team – everyone fares better when your skills are better. So if you have your eyes set on a promotion, goals can help you qualify for – and make huge strides in – a new position. Chances are your manager will see your efforts and progress, and that's a bonus for you when they're filling open roles.
4Helps you differentiate yourself
Setting, measuring, and achieving your goals takes dedication, organization, and discipline. As you work toward your goals, you'll develop these great personality traits, which can set you apart from other people. Seriously – not everyone is as dedicated, organized, and disciplined as they'd like! Your team members might even notice your growth and go to you for advice.
Tips on how to set your own professional goals
There are a handful of ways you can set goals you'll actually achieve. Below are some tips to help put your goals within reach from the get-go – and make good on them.
1Write them down
Write down each of your goals. Committing your objectives means they're real and in front of you – you're turning abstract ideas in your head into actual words. Using a tool like Fellow will allow teams to have access to private streams in which goals and personal ideas can be safely documented.
2Share your goals
A 2019 Ohio State University study found that sharing your goals with the right people can make you more likely to achieve them. People you admire can be the perfect ears for your goals – since you care about their opinion, you'll want to hold yourself accountable to them. Having someone in your corner can also motivate you even more.
3Set a timeframe
Setting deadlines for your goals can encourage you to work harder. You might also feel more accomplished as you check off each box since you're marking the end of a chapter in your growth. You should make your timeframes – and goals – realistic so you can keep a healthy work-life balance. Achieving a goal means way less if you're burnt out at the end.
4Make your goals SMART
SMART goals are specific, measurable, actionable, relevant, and timely ("SMART" is an acronym for these five adjectives). By design, SMART goals are realistic, so as you come up with goals, run them through these criteria for best results. SMART goals are meaningful, and they leave room for action – and they're directly related to your vision.
5Figure out how your goals fit into your career path
Are you setting a goal because it's good for your career or solely because someone suggested it? Your path is yours and only yours to define, and your goals should reflect that.
As you're setting your goals, think about how each one will bring you closer to your vision. This way, you can focus on the goals that matter and weed out the ones that don't.
6Set OKRs
Objectives and key results (OKRs) break your goals into smaller steps. This way, you can track your progress and see just how close you are to checking goals off your list. Plus, they're designed for ambitious goals, – now, you can tackle those goals you once thought were out of reach. They can introduce endless possibilities to your goal-setting.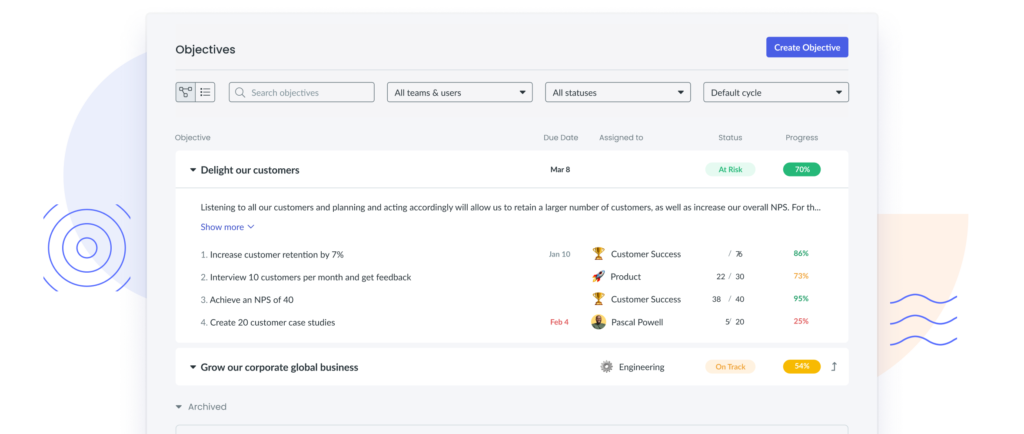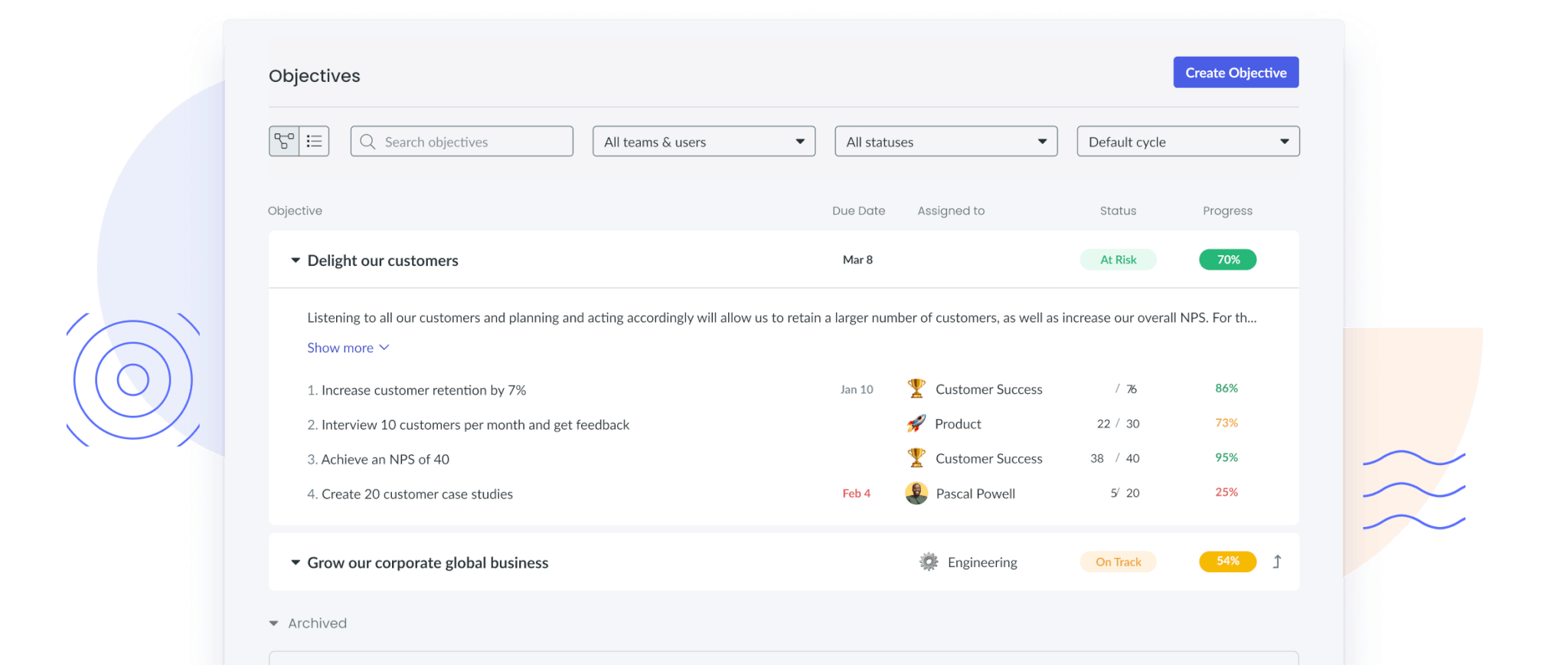 Stepping stones to success
Setting goals is the first step toward growth, no matter how early or experienced you are in your career. You can use these examples of professional goals to get one step closer to becoming even better at what you do and love. And with Fellow's OKR tools, you have everything you need to define your goals and track your progress. Who knew professional development could be this simple?