Roughly 75% of employers agree that team collaboration is a top priority in the workplace. Having the right tools in place can facilitate teamwork and keep your team aligned on the same goals. One of these collaboration tools is a shared to-do list that can be used across one or more teams! We're going to dive into some of the benefits of a shared to-do list and a few of the best tools on the market with this feature.
The benefits of using a shared to-do list
When working in a team environment, shared to-do lists bring a lot of benefits for collaboration and alignment, including:
Providing a central place to see common goals, like objectives and key results (OKRs). When team members can see what the goals are, they're more likely to correctly prioritize the tasks on the to-do list.
Making the delegation of tasks easier from a manager's perspective. When working in the same activity-tracking documents, managers can easily measure their employees' workloads and assign them new tasks as needed. They can also add additional notes on the direction of the project.
Ensuring accountability for meeting deadlines. The entire team can see what project deadlines are coming up, allowing them to reach out for support if another team member is struggling to complete a project on time.
Allowing other members to submit tasks for completion. From there, a manager can review the incoming task and directly assign it to an employee. This acts as a filter to prevent burnout from large workloads or unnecessary effort on a low-priority task.
The best features of a shared to-do list
When looking for a shared to-do list that stands out from the rest of the market, make sure to choose one that has these features:
Syncs between tools. This is important so data can seamlessly transfer between your to-do list, calendars, communication platforms, project management tools, and more! Check out a list of integrations you can expect from Fellow here.
Provides a fast experience. The app should be able to run smoothly with minimal downtime and be easy to navigate, even for beginners. This way, you can add or remove tasks, organize lists, and delegate assignments with ease.
Offers various ways to display tasks. Being able to see upcoming deadlines in various views (for example, tasks due today, this week, etc.) is essential for keeping you on top of your assignments!
Provides support on new and complex features. To help your team adjust to using a shared to-do list platform, look for an option that provides training or onboarding support. It's also great if the tool has template libraries or support documents to simplify the use of new and complex features.
8 of the best shared to-do list tools
1Fellow
Fellow is the top-rated meeting management software that helps organizations run more efficient meetings by streamlining communication to get work done faster. With Fellow, you can collaborate on meeting agendas, assign and track action items, collect real-time feedback on meetings, projects, and perfomance, and more. In Fellow, you can also assign, visualize, and prioritize all your meeting to-dos in one place. Incomplete action items can also be carried forward to your next meeting to foster accountability and transparency.
Additionally, with Fellow's Streams, digital notepads where action items and ideas come together to inspire productivity, you can create a list of shared action items to keep everyone in the know. For example, Streams are a great place to create collaborative checklists and track OKRs in one place.
Features:
Collaborate on meeting agendas
Assign action items with deadlines
Easily address unfinished action items by automatically carrying them forward in the next meeting agenda
Integrate Fellow the tools you already love using, like Google Meet
Pricing:
A free plan is available
Paid plans start at $6 per user per month

Take control of your meetings
Collaborate on meeting notes, foster accountability with action items, and grow with meaningful feedback. Try Fellow today!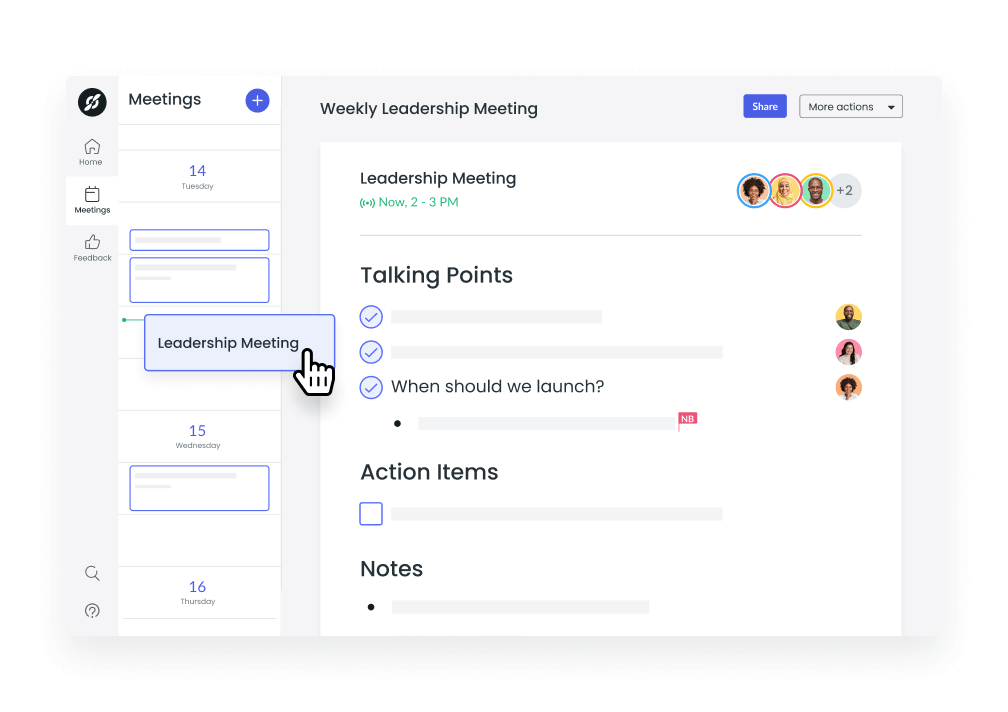 2Todoist
Todoist is a group task manager app that has a pure focus on organizing to-do lists! Rather than having pricing per user, Todoist is set up so your full team can collaborate within the same workspace—saving your budget!
Features:
Set up recurring due dates for tasks
Build subsections and subtasks for each line item
Add priority levels and reminder notifications
Assign tasks to other users in the same workspace
Pricing:
A free plan is available
Paid plans start at $5 USD per workspace per month
3Any.do
Any.do is a great shared to-do list platform for any team operating remotely. It works well for globally distributed teams because of features like its integration into WhatsApp. Other integrations with business automation and messaging tools allow you to create new tasks immediately as they're brought up in conversation!
Features:
Set up recurring due dates for tasks
Sync upcoming tasks across multiple devices
Leverage plenty of integrations, including WhatsApp, Gmail, and Slack
Benefit from project planning boards available for team collaboration (on a paid plan only)
Pricing:
A free plan is available
Paid plans start at $3 USD per member per month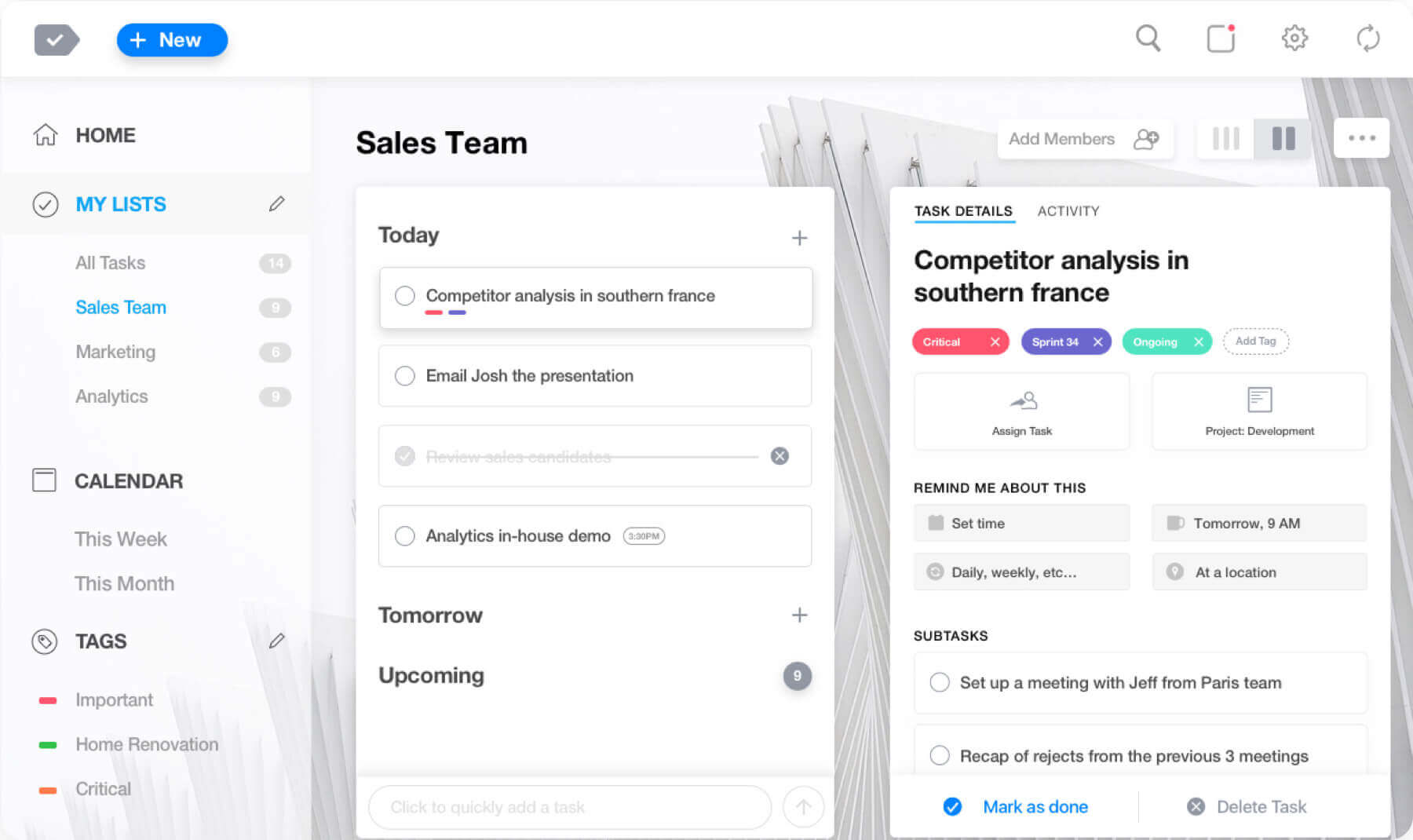 4Google Tasks
Google Tasks is ideal for any team that's already leveraging the rest of the Google Workspace—like Gmail, Docs, Sheets, or Slides. Because it's under the Google portfolio, Google Tasks allows you to sync to-do list items across the rest of Google's software lineup! It also maintains the same look and feel as the other Google products, which is great for transitioning your team to use Google Tasks.
Features:
Sync the tool across Google's software lineup and different device types (for example, mobile and web)
Easily reorder and hide tasks to keep your list organized
Leverage integrations through Zapier to extend the functionality
Pricing: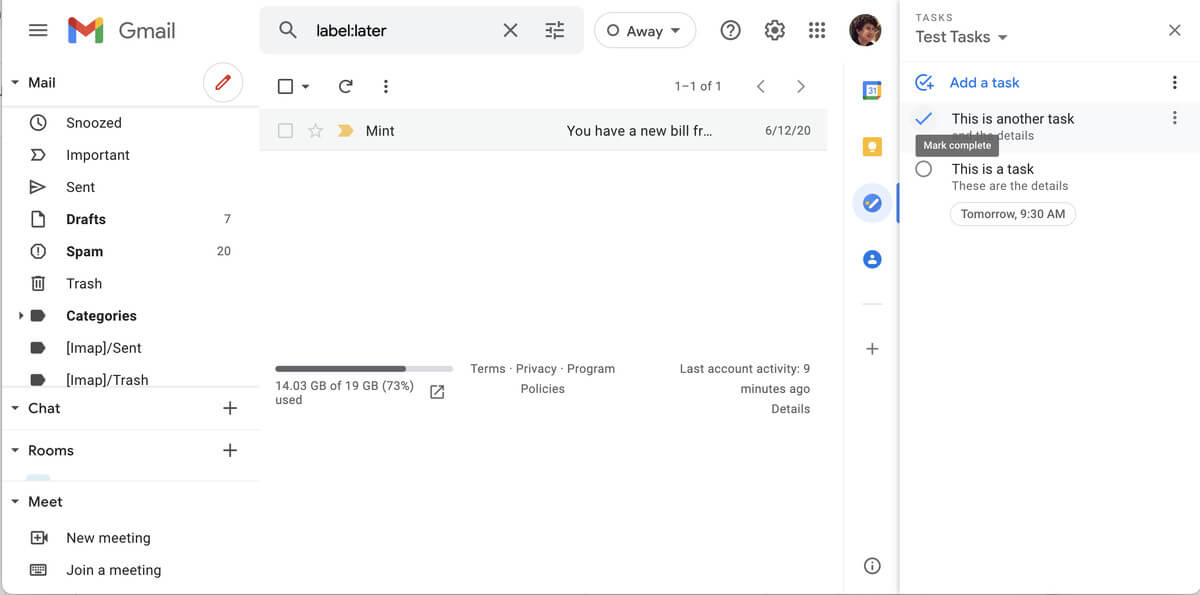 5Notion
Notion has gained a lot of popularity among technology companies because of how dynamic the platform is. When it comes to creating a shared to-do list, Notion allows teams to set up private department-level workspaces that keep the list separate from other teams—which is great for managing workloads!
Features:
Prioritize tasks and add custom labels
Create multiple views of the list like Kanban, calendar, and table views
Easily create filters to organize the list
Assign team members and due dates to tasks
Pricing:
A free plan is available
Paid plans start at $8 per member per month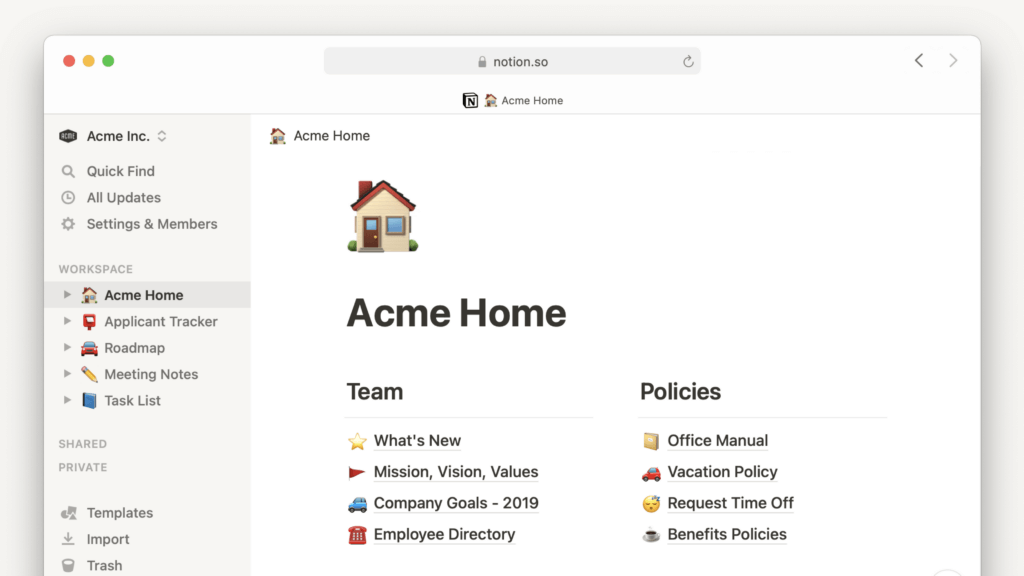 6Asana
Asana is a powerful to-do list tool that is used far and wide by marketing, customer success, and product management teams that need to oversee complex lists of tasks and subtasks. It's designed for enterprise teams that have complex business needs like the ability to add guest collaborators and have detailed oversight into task progress as well.
Features:
Create task dependencies to organize project start and end dates
Request and grant approvals on tasks
Leverage the workload overview tool for managers
Benefit from the tool's powerful integrations library to file drives, communication apps, and video conferencing tools
Pricing:
A free plan is available
Paid plans start at $13.49 per member per month
7Bear
Bear is an incredibly affordable shared to-do list tool that would be a great option for any team with a smaller budget. It offers plenty of the essential features for a to-do list app without any of the fluff, so it would also work well for any team that is new to this type of technology.
Features:
Export your to-do list into multiple file formats
Scan and upload documents to attach to tasks
Create custom tags and outline templates
Pricing:
A free plan is available
Paid plans start at $2.99 per member per month
8Habitica
If you have a team of procrastinators, Habitica might be the perfect solution! It takes a unique approach to gamifying the completion of to-do list items. Through a role-playing scenario, you and your team can collect points and earn in-game swag by completing different tasks. This would also work well for educators working with younger minds!
Features:
Stay motivated from anywhere with the tool available on desktop and mobile
Leverage plenty of gamification options
Join and compete with other groups
Create and manage multiple to-do lists at once
Pricing:
Personal plans are free
Monthly group plans are $9 + an additional $3 per member
Parting advice
Finding creative ways to get your team into alignment can be tricky, especially if you're working with a remote team or operating in various time zones. However, a shared to-do list can make collaboration easier as it grants all team members access to the ongoing activities in the department while providing a central place to store shared goals and progress. From a managerial perspective, shared to-do lists also make workload management a breeze, which prevents burnout for employees and motivates them to stay on your team for longer. Looking for more on how to manage your team's workload in a shared to-do list? Learn about the power of the most important tasks (MIT)!