Back to Template Gallery

Mentor Meeting Template
Use this template as a guide to fuel learning and growth for your next mentorship meeting!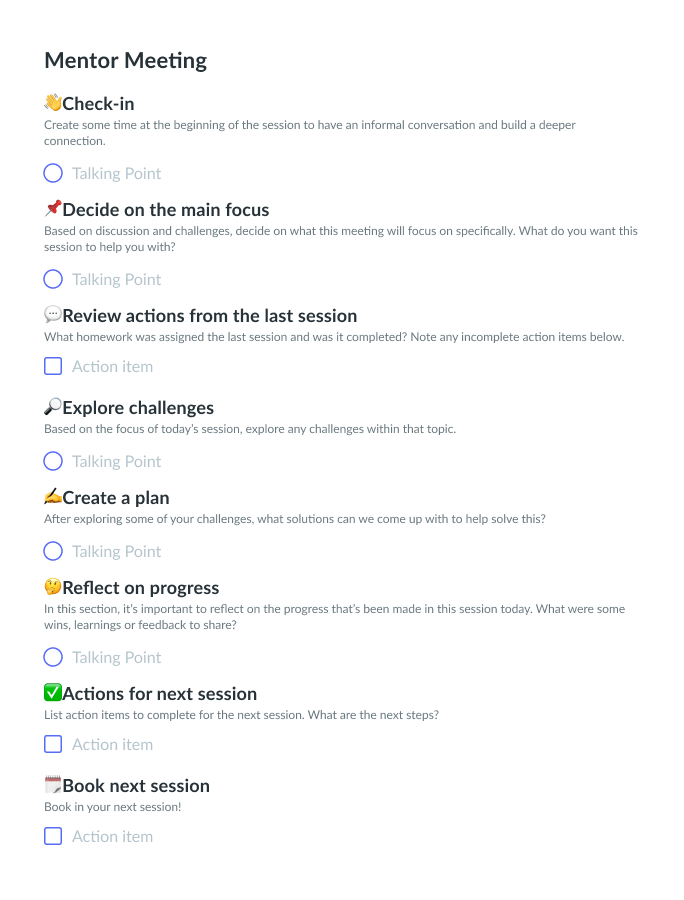 Preview template
What's inside this Mentor Meeting Template:
1👋Check-in
Create some time at the beginning of the session to have an informal conversation and build a deeper connection.
2 📌Decide on the main focus
Based on discussion and challenges, decide on what this meeting will focus on specifically. What do you want this session to help you with?
3💬Review actions from the last session
What homework was assigned the last session and was it completed? Note any incomplete action items below.
4🔎Explore challenges
Based on the focus of today's session, explore any challenges within that topic.
5✍️Create a plan
After exploring some of your challenges, what solutions can we come up with to help solve this?
6🤔Reflect on progress
In this section, it's important to reflect on the progress that's been made in this session today. What were some wins, learnings or feedback to share?
7✅Actions for next session
List action items to complete for the next session. What are the next steps?
8🗓Book next session
Book in your next session!