Back to Template Gallery

Project Status Meeting Agenda Template
Share project updates, identify roadblocks, and assign action items during your project status meetings.
Preview template
The Purpose of a Project Status Meeting
A project status meeting aims to celebrate wins, address challenges, find efficiencies, and build confidence. It makes sense then that project leaders need to be incredibly organized to ensure the project is done on time and done well.
According to Dana Brownlee in an article for the Project Management Institute:
"Project status meetings that fail invariably seem to possess similar dysfunctions… [including] lacking or poorly developed agendas, ill-prepared team members, poor time management during the meeting, spending time on tangents, not getting balanced input from team members, and ineffective handling of action items."
Problems like these can be avoided, though, with the use of a good project status meeting agenda template.
In advance of the meeting, prepare your team by letting them know how they are expected to contribute. Starting off with an agenda template is one of your first opportunities to do this. It will lay out the meeting purpose and what you'll cover for the team, and it'll help you determine how to manage the time most effectively. Sending out a project status meeting agenda also lets them know that you're prepared and respect their time.
What's inside this project status meeting template:
1 Project summary
Any good project status meeting agenda template should start off with something positive. Start the meeting with a focus on accomplishments and goals that have been recently met or are ahead of schedule. This way, participants will feel motivated to be engaged in the conversation! List out items on the agenda so team members know they're expected to give an update and identify who will lead each discussion.
---
Project status meetings are better in Fellow
Fellow is the meeting management app that companies like Shopify, Uber, and KeepTruckin use to run effective project status meetings.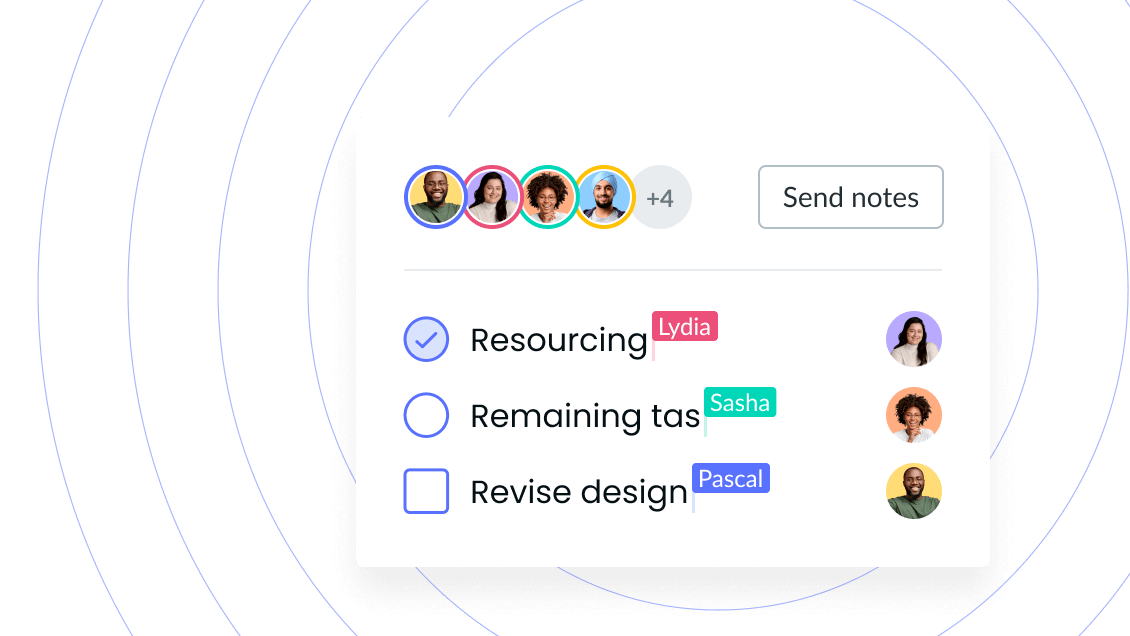 ---
2 Roadblocks
Review the challenges that are preventing the team from finishing the project and identify who needs to be involved in follow-up discussions. If more discussion is needed, schedule separate meetings so as not to derail the project status meeting agenda.
3 Open action items
At the end of the meeting, review next steps, adjust upcoming deadlines and look ahead to future milestones. This is a good moment to reiterate the direction of the project. In the Harvard Business Review article, "The Secrets of Great Teamwork," Martine Hass and Mark Mortensen say that:
"The foundation of every great team is a [compelling] direction that energizes, orients, and engages its members. Teams cannot be inspired if they don't know what they're working toward and don't have explicit goals."
Finally, at the end of your meeting, make sure that everyone has participated. This is a key part of the project status meeting agenda template. You should ask:
– Who else has not spoken yet?
– Was there anything we didn't discuss or felt that we missed, and would like to bring it up now?
With enough preparation and the right project status meeting agenda template, team members will be led to deliver better results and stronger projects.