If you find yourself taking a bunch of meetings every day, you might find it difficult to get any work done. After all, meetings take up more time than just the meeting itself – you have to plan the meeting and follow up on it. To get time back for the rest of your workday, your organization can use a meeting automation system. Read on to learn all about meeting automation and see some app recommendations.
What is meeting automation?
A meeting automation platform (MAP) is an app or software that streamlines your meetings, not to mention your pre-meeting and post-meeting feedback. Some of these apps can also organize your meeting data so you can glean more insight into the best formats for your team. They're often cloud-based, so any team member based in any location can reap the benefits.
What do meeting automation platforms do?
Meeting automation platforms can do the following and more:
Send reminders and thank you messages. Some meeting automation systems can send customized reminders to clients or team members before an upcoming meeting. Similarly, they can send a thank you note after each meeting too.
Send event links and create guest lists. For group meetings – especially big ones – sending everyone an event link can be a tedious, time-consuming task. And that's to say nothing of remembering who's supposed to come to the main event. A good MAP can handle both.
Avoid double bookings. Many MAPs fully integrate with popular calendar tools. This way, you only have to add an event to one of your calendars for it to appear on the others. As a result, your MAP will never book a meeting at a time that you can't make.
Generate reports. Your MAP can hint at how well your sales events are going (though that's not quite as easy with team meetings). A platform suitable for tracking sales event data can tell you where your event traffic originated with metrics that you've set yourself.
6 popular meeting automation platforms (MAPs)
If you're looking to boost your productivity with a meeting automation platform, below are six popular choices you could try.
1Fellow
With Fellow, you can collaborate on meeting agendas and automatically assign meeting action items. The result is meetings you can prepare for and get through more quickly – all while still hitting all the usual marks. Plus, with Fellow, you can take meeting notes right in the same app you're using to run your meeting. No more jumping from your meeting tool to a notepad in another tab.
At Fellow, we have a saying "no agenda, no attenda". Using the time saver automation will cancel meetings with no agenda so you can get back to getting things done! Leveraging the section reminders to configure a section where all or some of the meeting attendees will be required to contribute in advance of the meeting can help in ensuring the right information gets added to an agenda.
Key benefits:
Set up pre-meeting reminders to fill in the agenda
Collaborate on meeting agendas
Automatically assign meeting action items
Take notes in same app that runs your meetings
Automatically send a post-meeting recap
Price: Fellow is free for teams of up to 10 people. Thereafter, plans start at $6 per user per month.

Streamline your meetings
Collaborate on meeting agendas by adding talking points and action items to boost your meeting productivity. Try a tool like Fellow today!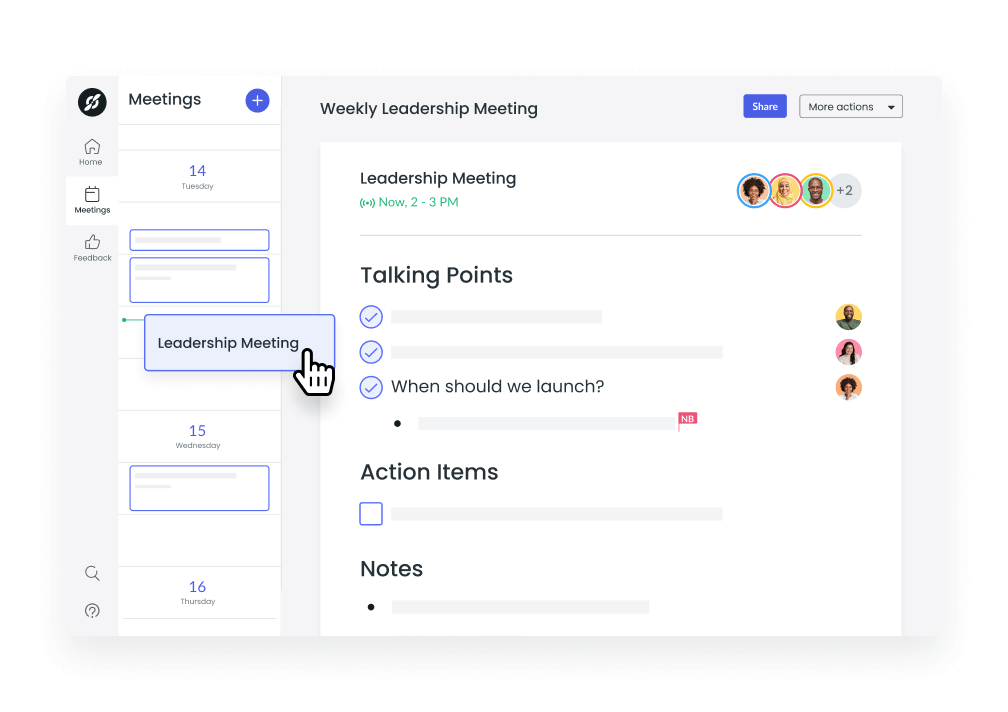 2Teamcal Ai
Teamcal Ai provides timeboxing and meeting automation to free up your time. This meeting automation platform helps you schedule meetings with team members, clients, and prospects in different time zones. Teamcal Ai also allows you to create customized meeting links through which everyone can share their availability.
Key benefits:
Customized meeting links to share availability
Schedule meetings with team members, clients, and prospects
Find ideal meeting time across time zones
Price: TeamcalAi plans start at $10 per user per month.
3Chili Piper
Chili Piper launched in 2016 and is now a highly popular meeting automation platform. That's partially because Chili Piper easily connects to Google Calendar, Gmail, and Zoom, leading to one-click meeting bookings. To schedule a meeting, your team members can just click on an available time and voila – meeting booked. Chili Piper can also book meetings right from your email so you don't have to hop over to your calendar app. It can also send meeting reminders.
Key benefits:
Connects to Google Calendar, Gmail, and Zoom
Sends meeting reminders
Available directly via email for quick appointment scheduling
Price: A Chili Piper user license costs $30 per user per month. You'll pay an additional monthly flat-rate fee for platform access. This fee starts at $150.
4Clockwise
Having too many meetings can drag down your productivity on particularly busy days. Clockwise can solve this problem. It can set dedicated blocks of focus time on your calendar so you can work without meetings interrupting your flow. It can also reschedule less important meetings to times that make for a more efficient schedule. It integrates with Slack and Asana so you can see an overview of all your meetings at the start of each day.
Key benefits:
Dedicated blocks of focus time
Automatic meeting rescheduling for more efficient workdays
Integrations with Slack and Asana to quickly see your day's meetings
Price: A free Clockwise plan is available. Paid plans start at $6.75 per user per month.
5Jifflenow
Jifflenow is a scheduling app that lets you analyze and track live meetings. Your dashboard will show you the number and types of meetings you've had recently. You'll also see what was discussed and who was present. This way, you'll see which meetings are the most beneficial to your organization with way less work.
After each meeting, Jifflenow sends out a post-meeting analysis survey. This feature can save you the time you'd spend sending out thank-you notes and feedback requests. Additionally, Jifflenow also includes a digital notepad that everyone can use during your meetings.
Key benefits:
Analyze and track live meetings
View the number and types of recent meetings alongside attendees and topics
Automatically send post-meeting surveys
Price: Jifflenow does not list pricing on its website. You may need to contact the company for a quote.
6Calendly
Calendly is basically your online personal assistant. It can help you schedule meetings easily and set a buffer so you don't have to jump right from one meeting into another. Calendly also connects with apps like PayPal and Stripe so your clients can submit payments as they schedule meetings with you. If you're running sales campaigns, Calendly can also show you which of your campaigns led the most prospects to book meetings with you.
Key benefits:
Sets a buffer time so you have some breathing room between meetings
Connects with PayPal and Stripe for client payments as they book meetings
Details how your sales and marketing campaigns have led to meetings
Price: Calendly offers a free tier. Paid plans start at $8 per user per month.
Benefits of using a meeting automation platform
Meeting management apps are great for your organization for so many reasons. Below are just five of the potential benefits to your organization.
1Increases your number of meetings
With a meeting automation platform, you can hold such efficient meetings that you have more time for other meetings. If your sales process is big on meeting with prospective clients, this kind of organization can have a great impact on your bottom line.
2Gets more from your clients and prospects
An automated scheduling system can impress a prospect from the jump and remind your current clients why they love working with you. You're making it easy for people to connect with you, which is great for customer satisfaction. And with more happy customers, your business is more likely to meet its sales goals – happiness can mean more purchases.
3Frees your time for other work
If you spend way too long each morning scheduling meetings, you'll thrive with a meeting automation app. Its automated scheduling gives you so much time back to be productive. No more starting your day with an hour of scheduling meetings – you can dive right into your actual projects.
4Leads to fewer errors
We're all human – we're going to make a mistake every now and then. Your MAP can at least reduce the number of errors you make scheduling your meetings. They'll also lead to fewer accidentally missed meetings. They can automatically send reminders to everyone who should be at your meeting so they don't miss a moment. They can also reschedule meetings to more efficient times and send post-meeting feedback forms so you can make fewer mistakes next time.
5Makes the meeting process seamless
Automated scheduling makes getting appointments on the books easier for you and your team, and the same goes for clients. Using a MAP can remove the back-and-forth of scheduling meetings and show your meeting attendees that you want to make this easy for them. The result can be a seamless experience that keeps everyone happy and coming back – and, for clients, maybe telling other organizations about it. Those organizations could be new prospects.
Free up your schedule with Fellow
Now that you've learned how much an automated meeting system can benefit your organization, it's time to make the switch. Fellow is a great starting point. It can automatically assign meeting action items to make your meetings more efficient. It also houses your digital notepad and your meeting automation tools under one beautiful roof. No more stressing before, during, or after meeting – Fellow covers it all.