A well-run meeting is the lifeblood of productivity, keeping whole teams on track as they work toward short-term deadlines and long-term goals. But if these meetings aren't planned correctly, they can quickly become unhelpful calendar clutter. To that end, it takes a bit of strategy and planning to execute an important meeting, right down to scheduling the who, what, when, and why of your gathering. In this guide, we'll show you how to schedule a meeting through email and why doing so keeps everyone on the same page.
Why schedule a meeting via email?
It may sound obvious to suggest scheduling a meeting via email, but its benefits are worth emphasizing. Utilizing email to schedule a meeting keeps your team on track in the following ways:
All team members can easily save the email and refer back to it for important meeting details like time, place, date, and purpose.

It minimizes miscommunication that can occur via individual phone calls or in-person notifications.

You're in charge of adding, removing, and modifying details, so everyone has the same set of information.

Recipients can RSVP in one click directly from the email notification.

Attendees can instantly add the meeting notifications to their calendars from their inboxes.

All attendees can clearly see who else is invited and review what's on the agenda to discuss.

Share the agenda in advance
Have a clear purpose for having a meeting by creating an agenda that can be easily shared and collaborated on. Try using a tool like Fellow.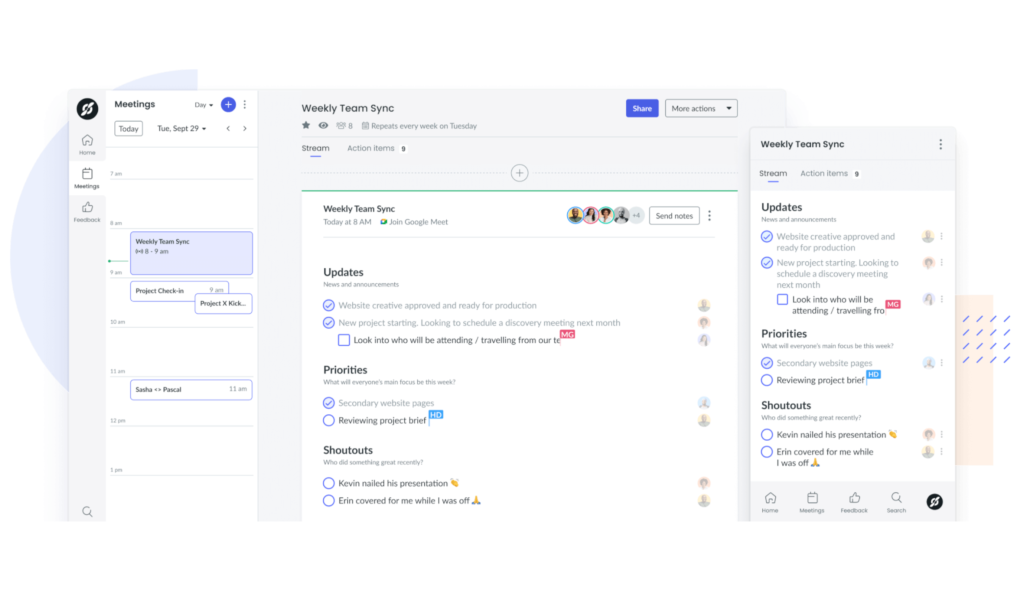 How to schedule a meeting via email
As you prepare to invite coworkers and managers to your meeting, remember that your preparation goes beyond simply figuring out who to invite.

As easy as it sounds to send an email, writing an email to a coworker (especially someone you don't know) is a bit more complicated. Read on to discover how you can formally invite and collaborate on meeting times with your team members.
1 Have a clear and concise subject line
Think about the subject line as an introduction to what's inside. It gives the reader a hint of what your email is about. The key to writing an effective subject line is to keep things short and to the point. The longer the subject line, the less likely your meeting attendees will read your email. 
When you send out meeting invites, you want to ensure that your subject line includes the word "meeting" or "scheduling" somewhere in it. For example, you could say, "Urgent: Request for meeting" or "Your reply needed to schedule a meeting." When your meeting attendees see the words "urgent" or "request," they're more likely to open the email and reply in a timely fashion.
2 Compile your invite list
Make sure that you have the correct contact information for each person who needs to attend the meeting. This minimizes opportunities for people to inadvertently fall out of the loop and creates less work for you down the road if you need to resend invitations or get one person up to speed.
3 Start your email with a formal greeting
A formal meeting invitation shouldn't start casually, but how formal you should be depends on your workplace. Using salutations like Mr. or Ms. is an easy and effective go-to for a formal invitation, but not every workplace has that kind of culture. You may also want to use someone's full name when addressing them in this scheduling email. Either way, this isn't the place to say "hey" or "what's up."
If you plan to meet with more than one person, you can address the group versus each individual. For instance, "Dear warehouse managers" or "Dear history teaching assistants" addresses everyone in the group and saves you time from sending out multiple emails.
4 Introduce yourself to team members you haven't met
There may be a scenario when you schedule a meeting with a new hire or someone who doesn't know you. If this is the case, you may want to open your email with some information about who you are and your role in the company. An introduction can be as simple as stating your full name and experience. For example, "My name is Steven Smith, and I am an assistant professor at Fellow University" would be an appropriate introduction if you're organizing a meeting of all the history TAs via email.
5 Discuss the purpose of the meeting
Before sending out a meeting request, make sure you can answer the question, "Why are we meeting?" For others to better understand why you're scheduling a meeting, it's important to explain your reason for requesting dedicated time out of each invitee's day.
The more information you share about the meeting, the better your team members can find time to prepare for it. This doesn't mean you need to write down all the meeting specifics, but some key details will make it clear to each invitee why they're on your list. For instance, perhaps you're scheduling a meeting to discuss your company's online presence. You could write in your email, "I'd like to take time to discuss how we can grow our social media presence on our platforms."
6 Offer multiple dates and time options
If you're able to, send out a few options for possible meeting times. By being flexible with the start and end time, you're more likely to bring willing participants to the table in a manner that won't impact their regular workflow.
In your email, try to offer a few dates and times to your attendees. List these dates and times in your email, or you can use a scheduling tool to help find the best times that work for the most people.
7 Ask your recipient to send an RSVP
Make sure to ask all attendees to confirm that they're coming to the meeting. This way, you can handle the practical details of the meeting, like the size of the conference meeting room booking or the Zoom link they need to use, and know who needs to receive updates, like meeting notes, once the session is complete. Be sure to provide a deadline to RSVP so you have ample time to follow up with stragglers.
8 Send a follow up if needed
Once you have the meeting date confirmed, send out a gentle reminder a few days prior to those who are attending the meeting. In your reminder, be sure to include the date, location (even if virtual), and start time with the time zone.
Templates for scheduling a meeting via email
Now that you know how to invite guests to a meeting, it's time to draft your scheduling email. These templates can help you get started.
Send an email invitation to someone you know
Hi [Person's first name],
I hope you're doing well. I'd like to schedule a meeting with you next week to discuss [purpose of the meeting]. I'm available [mention two to three available dates and times].
If any of the above times work for you, please let me know by [deadline]. If you can't make these times, please send a few dates you're available so we can work out a time.
Thank you, and I'm looking forward to our meeting.
[Your name]
Invite someone who doesn't know you
Dear [Salutation and Last name],
My name is [your name], and I am the [explain your position in the company and relationship to the meeting]. I would like to invite you to a [specify if virtual] meeting regarding [purpose of the meeting] to discuss [general points of discussion]. Below are some suggested dates and times.
[List a few dates and times, as well as time zones.]
Please respond to this email by [deadline] to let me know if any of these times work for you or if you'd like to schedule a different date.
Thank you,
[your name]
Scheduling a meeting via email with your own department
Hi [how you refer to your team, such as "Customer service team"],
I'd like to hold a meeting [timeframe, such as "within a week"] to discuss [briefly describe what the meeting will cover]. Everyone here will bring great value and insight into the discussion. Below are some suggested dates and times.
[List a few dates and times, as well as time zones.]
Please respond to this email by [deadline] to let me know which times and dates are best for you.
Thank you,
[your name]
Send a meeting invitation to a group of people who don't know you
Dear [enter group name, such as "nursing residents" or "marketing team"],
My name is [your name] and I am the [position in the company]. Next week, I would like to schedule a meeting with you all to discuss [the issue that's going on/ why you're having the meeting]. My available time slots are as follows [name a few available dates and times].
Please respond to this email by [deadline] to let me know what date and time would work best with you, or if there is a better time in your schedule that isn't listed.
Thank you,
[your name]
Structure your scheduled meeting with Fellow
With your email invitation ready to rock and roll, it's time to prepare everyone for the next steps. With Fellow, you can prepare a thorough agenda, stay organized throughout your meeting, collaborate with others, and follow up on important tasks. In a single platform, your whole meeting is planned and ready to go. All your attendees need to do is RSVP to your meeting invitation email, and you're off to the races.