Accelerated digital transformation is a huge trend for businesses in 2023. What's digital transformation, you ask? It's the process of taking your company's activities to the online world! For example, you'll be able to say goodbye to printing and photocopying, and instead, you can send signed documents by email. But just because you go digital doesn't mean there's necessarily less work to do. Luckily, there are tons of automation tools out there that can take care of your administrative and mundane tasks and leave you more time to be productive!
What is an automation tool?
Automation tools are software products that do tasks for you. They can take almost any mundane task off your plate—like helping to organize a pile of information that you provide or transferring information from one platform to another. You can schedule automations to run at a predetermined time each day, or you can set triggers which signal for the automation to start doing its work. Therefore, these tools are a very effective way to get more productivity out of your day!
10 of the best automated tools
1Fellow
Fellow is a meeting automation platform that helps teams with busy calendars stay on track. The tool integrates with your existing calendar management system and allows you to add meeting agendas and track action items. To help you stay on top of projects over time, it automatically forwards leftover talking points from previous meetings and sends reminder notifications to attendees about action items they were assigned during the call.
Pricing:
Free-$0 per user per month (for teams of up to 10 people)
Pro-$7 per user per month (maximum of 25 users; includes AI suggested topics and meeting automations)
Business-$10 per user per month (maximum 100 users; includes implementation services)
Enterprise-$15 per user per month (includes organization analytics)
Learn more about Fellow's pricing plans.
Key features:
Has browser extensions to make meeting notes accessible anytime
Allows you to automatically distribute feedback surveys after each meeting
Integrates into any major video conferencing software
Helps you create and share links to meeting notes after the call

Streamline productivity by automating your workflow
Collaborate on meeting agendas by adding talking points and action items to boost your meeting productivity. Try a tool like Fellow today!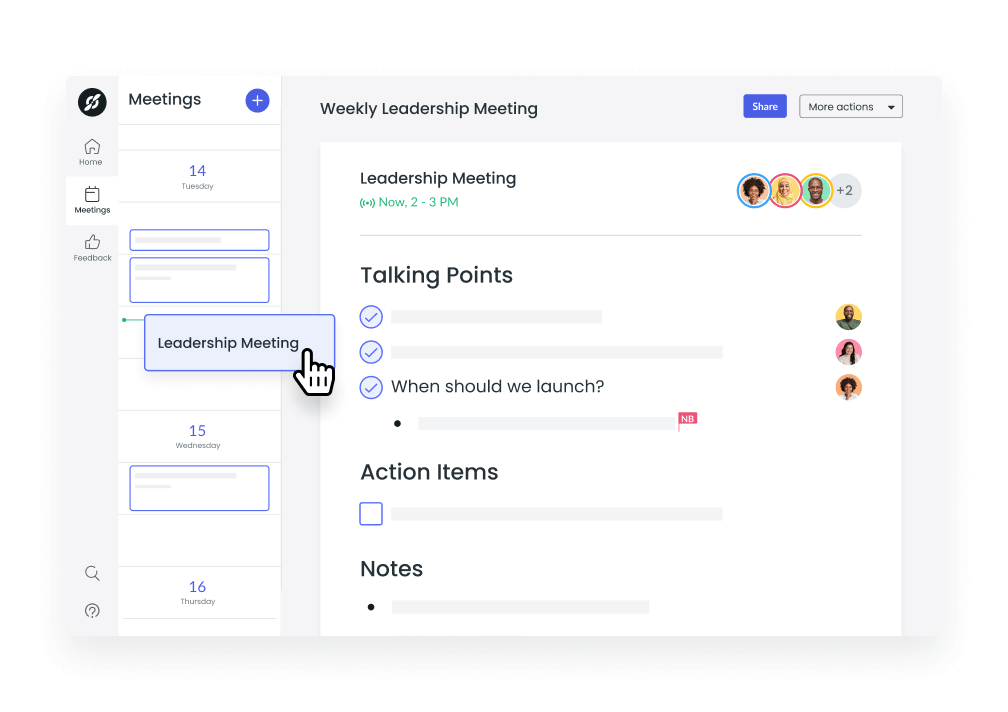 2Calendly
Calendly is a great tool for anyone who's booking a lot of meetings daily. The platform allows users to create a meeting booking page and then distribute a link to anyone who wants to book a meeting with them. It automatically syncs to your calendar to show times that you're both available, so you no longer need to spend time emailing back and forth trying to find availability.
Pricing:
A free plan is available!
Paid plans start at $10 per seat per month
Key features:
You can create multiple custom booking pages to track where leads come from
Attendees can automatically re-schedule or cancel meetings on their own
The tool automatically generates meeting links and adds them to your calendars
You can distribute meetings on a round-robin basis on a "Team" plan
3Cypress
Designed for development teams that are under pressure to ship a lot of code fast, Cypress covers automated test automation in web-based applications. It integrates with most modern continuous integration and continuous deployment (CI/CD) tools so you can be more confident that your code is high quality before it's released. One thing to note about Cypress, though, is that it's designed to work with JavaScript applications only.
Pricing:
A free plan is available!
Paid plans start at $75 per month for a team of up to 10 people
Key features:
Test your web app from the browser with a free browser extension
Debug directly in your existing in-browser tools
Benefit from test parallelization, load balancing, and spec prioritization
4Jifflenow
Jifflenow is another meeting scheduling automation software, but it's focused on business-to-business (B2B) customers. Since it takes a unique approach for supporting B2B customers, it has great functionality for booking meetings at events and conferences. This saves a lot of time getting a hot lead booked in fast!
Pricing:
Key features:
Custom messages specific to your event can be created and automatically sent to new leads that booked a meeting at that event
Intelligent forms offer topic recommendations and availability based on inputs in the form
Invitations and reminders of upcoming meetings to attendees are automated
5TestComplete
TestComplete helps make user interface (UI) testing on web, mobile, and desktop applications easier. Instead of repeatedly re-building each test, TestComplete allows you to run automated functional tests that reuse existing testing templates. The platform leverages some fantastic capabilities around their object recognition testing that bring up their level of quality compared to competitors. Note that it does require Windows OS to run.
Pricing:
There is no free plan available, but there is a 14-day free trial
Fixed pricing plans start at $1,524
Floating pricing plans start at $3,046
Key features:
Provides automated reporting and analysis on each test
Includes free training and support while you're getting set-up
Integrates well with other automation tools (like Selenium)
6ChiliPiper
If you're trying to build a high-converting inbound lead generation channel, ChiliPiper might be for you! This automation tool analyzes all form submissions and qualifies them based on lead scoring systems that you can customize. From there, it will automatically distribute leads across your team and even generate a meeting link to make the handoff smooth. Each type of automation is sold separately, so you can mix and match as you need.
Pricing:
There is no free plan available
Paid plans start at $22.50 per user per month
Key features:
Assigns the appropriate sales representative based on the lead's needs
Provides tools to automate re-scheduling and no-shows
Has an analytics dashboard to give meeting insights, including meeting return on investment (ROI)
7Selenium
There's a collection of Selenium automation tools that make testing on web applications easier—and they can also help automate administrative web tasks as well! As Selenium is open source, there are a ton of customization options to make it suit your unique needs. This means there's a higher learning curve, but a possibility to get even more out of the product.
Pricing:
Since this tool is open source, it's free to use but donations or sponsorship to keep the project alive are encouraged!
Key features:
Helps you create browser-based regression automation suites and tests
Allows for scale testing on several machines at once
Is compatible with many common browser languages
Allows all tools to be downloaded on your browser or in a browser extension
8Clockwise
Clockwise is a time management software you can use to easily track how long you're spending on each project and find the best time to jump into deep work. This is especially helpful for teams that bill customers on an hourly basis or that manage a lot of priorities at once. Instead of manually blocking calendar time and tracking your hours, let Clockwise do that for you!
Pricing:
A free plan is available!
Paid plans start at $6.75 per user per month (billed annually)
Key features:
Optimizes your schedule to create blocks of uninterrupted time
Integrates to project management tools like Slack and Asana
Automatically creates scheduling links for meetings
9Karate
Karate is a powerful open-source automation tool for developers that's backed by YCombinator! The main software is designed for enterprises that need to conduct end-to-end quality assurance testing on a lot of application programming interfaces (APIs) at once. It's the first tool of its kind that can conduct testing on UI and APIs at the same time!
Pricing:
The tool itself is free as it's open-source
There are two plug-ins that have a free version as well as paid versions starting at $52 per month
Key features:
Facilitates writing low-code end-user workflows
Enables collaboration with existing code and tests set up in GitHub
Allows parallel execution
10Teamcal Ai
If you want to have an automation tool with artificial intelligence (AI), then Teamcal Ai is something you should check out! It's a meeting scheduling tool that can find the best time to meet by considering multiple calendars, time zones, and companies. You can also set up timeboxing goals to improve productivity and the tool will find the best times for meetings outside of these deep focus blocks.
Pricing:
There is no free plan available
Paid plans start at $20 per user per month
Key features:
Create team meeting links quickly
Merge client and channel partner calendars while maintaining their privacy
Track productivity goals and get reminders to stay on task
Leverage several meeting engagement tools during your call
What to look for in an automation tool
Integrates well with your existing tech stack. Nothing is worse than purchasing a tool and later finding out that it doesn't yet connect with your main customer relationship management (CRM) platform, for example. Try to figure this out ahead of time so that you know data and tasks will automatically execute without constant manual intervention!
Can scale with your team or projects. If you're planning on hitting huge growth goals over the next year or two, consider how this tool will fit into the bigger picture. The bigger your team and projects get, the harder it is to switch tools down the line. Consider the tool's ability to keep up as well as the costs associated with doing more in the software.
Has great customer success support. It can be tricky starting to set up workflows in a new automation tool, but having access to a great support team will make it much easier to get onboarded properly. This way, you get the full value out of your tool and make sure you're using each feature!
Parting advice
We're lucky to have so many digital automation tools that can make life easier for us. By saving time on the small things, you'll find that you're left with a lot more time to put towards something productive. Consider looking at a new channel to optimize, a new product to develop, or even an opportunity to catch up with a coworker you haven't reached out to in a while.