Many meetings need to take place for an organization to be successful. For example, managers need one-on-one check-ins with their direct reports, teams should have weekly meetings to discuss metrics, and we can't forget all-hands meetings, where the entire company comes together to hear the latest from the CEO.
But, one type of meeting makes all the rest possible: board meetings.
What are board meetings used for?
A board meeting is held to discuss and review a strategic plan developed by a company's board of directors. This type of meeting aims for the directors to agree on the direction in which to move the organization and how various plans will be carried out.
This meeting is often a time to establish various strategies and set policies. It always comes with an agenda and is crucial to the organization's success.
1Making decisions
Board meetings are ideal for making decisions and strategizing about the company's direction. Members will consider past performance, hear suggestions from others attending the meeting, and come to conclusions regarding what to do next. For example, the board may likely discuss topics regarding change management, so they may weigh the pros and cons and decide which direction to go in.
2Solving problems
Board meetings are also places to solve problems. Members may discuss the company's performance over the last fiscal year and address any challenges the business has experienced during that time. Everyone will share their expert advice on the matter and pitch solutions for avoiding these problems in the future.
3Planning and evaluating
Then, it's time to make a plan and evaluate. Based on the conversations and topics discussed, board members will agree on what to do next. This plan will then be shared with key stakeholders and any C-suite or director-level employees who weren't in attendance.
What is board meeting software?
Board meeting software is used to organize a board meeting to ensure it's as efficient and productive as possible. These tools help crowdsource executive opinions and ideas on critical company decisions about products, financial choices, and the organization's direction. Some software tools also offer survey features, making it easy to gather various types of feedback from directors without sharing opinions in front of the entire board.
Board meeting software is meant to streamline all aspects of a board meeting, the planning that goes into having one, and the communication between board members.

Run productive board meetings
Increase meeting engagement and productivity with a collaborative agenda that the whole team can contribute to. Try using a tool like Fellow!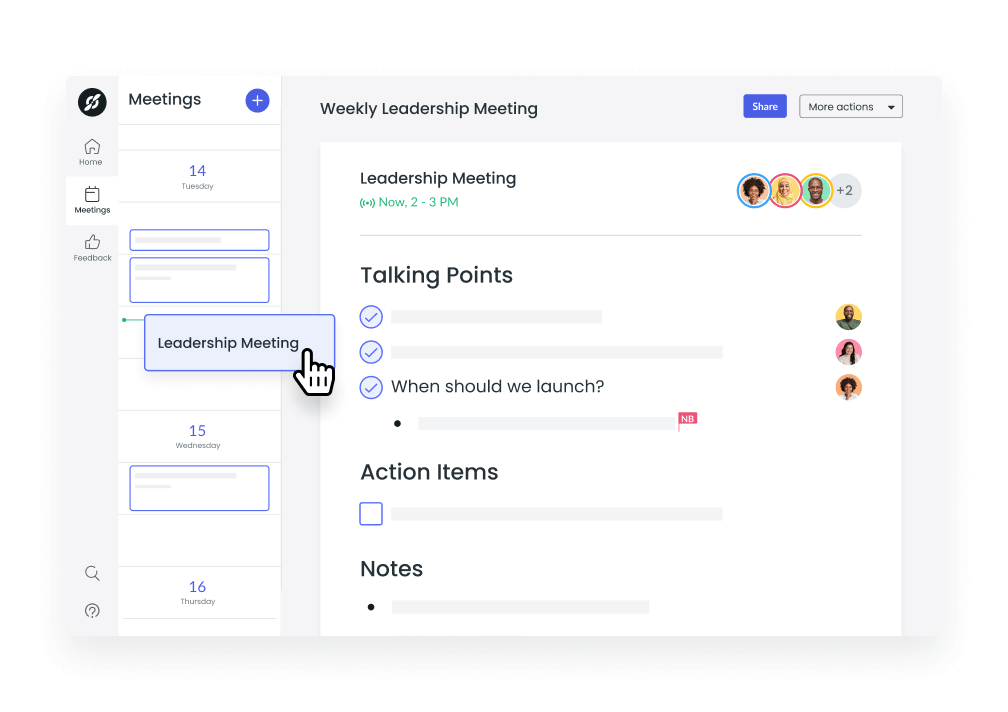 Why use boardroom meeting software?
There are many benefits of using boardroom meeting software. For starters, because some tools integrate with work calendars, coordinators can spend less time working around the schedules of everyone who needs to be in attendance. They also help ensure it's better organized while notifying anyone of agenda changes or documents that need to be reviewed before attending.
Boardroom meeting software can also send attendees summaries of everything that was discussed, as well as the meeting minutes to review all approved decisions.
What makes great board meetings
Great board meetings take planning—they don't happen by accident or coincidence. The following characteristics are often the features found in board meeting software, and they help take a standard board meeting to an exceptional board meeting.
Clear agenda: The board meeting should have a clear meeting agenda that outlines the topics to be discussed. It's important that attendees stick to the agenda so there's enough time to discuss important topics and how the company is tracking toward objectives and key results (OKRs).
Preparation: Board members should come prepared and have reviewed all relevant materials (like documents or presentations) beforehand. This ensures everyone is on the same page before the meeting begins, and conversations can be productive.
Efficiency: The meeting should be efficient and stay on topic, with members avoiding distractions and unnecessary discussions. Because there is likely a range of topics to be shared and decisions to be made, it's important that there's enough time for everything.
Respectful debate: Board members should engage in respectful discussion and constructive criticism while being considerate of each other's opinions. This ensures all points are considered before a decision is made.
Focus on goals: The meeting should focus on setting clear goals and expectations for the future and evaluating past performance to inform decisions moving forward. This is especially important because the organization will likely act on these goals moving forward, so all elements and details of these goals need to be discussed.
Engagement: All members should be engaged and contribute to the meeting, with the chair facilitating participation. All opinions, feedback, and questions a member has need to be heard so nothing falls through the cracks.
Accountability: Board members should be held accountable for their actions and decisions, and the meeting should include a review of progress toward goals and objectives. The chief executive officer (CEO) should be transparent with board members regarding what accountability should look like.
Confidentiality: The meeting should maintain the confidentiality of sensitive information discussed during the session. Unless otherwise clarified or expressed, topics shouldn't be shared with non-board members.
Follow-up: The meeting should include clear action items and follow-up plans to ensure progress toward goals. Doing so is another way members can be held accountable and stay reminded of what goals and strategies are most important to act on.
Regularity: The meeting should be held regularly, with a schedule communicated well in advance to all board members. This consistency ensures that board members can think about topics to discuss in advance while making it clear that check-ins regarding OKRs happen regularly.
The best 5 board meeting software
Looking for the best board meeting software? Check out these five tools that can elevate your next board meeting.
1Fellow
The first meeting tool you should consider is Fellow, which ensures that all board meetings are scheduled with a complete agenda and a clear purpose. Some of its features include:
Tons of time-saving templates
The ability to send meeting notes to attendees with a click of a button
A variety of tags to track all specific information discussed, including crucial action items and key decisions
Integrations with tools like Asana, Hubspot, Slack, BambooHR, Google Calendar, and more
Price: Fellow is free for teams of up to 10 people for an unlimited time! Have more than 10 people on your team? Consider a free trial before signing up for the Pro plan, which is priced at $6 per user/month.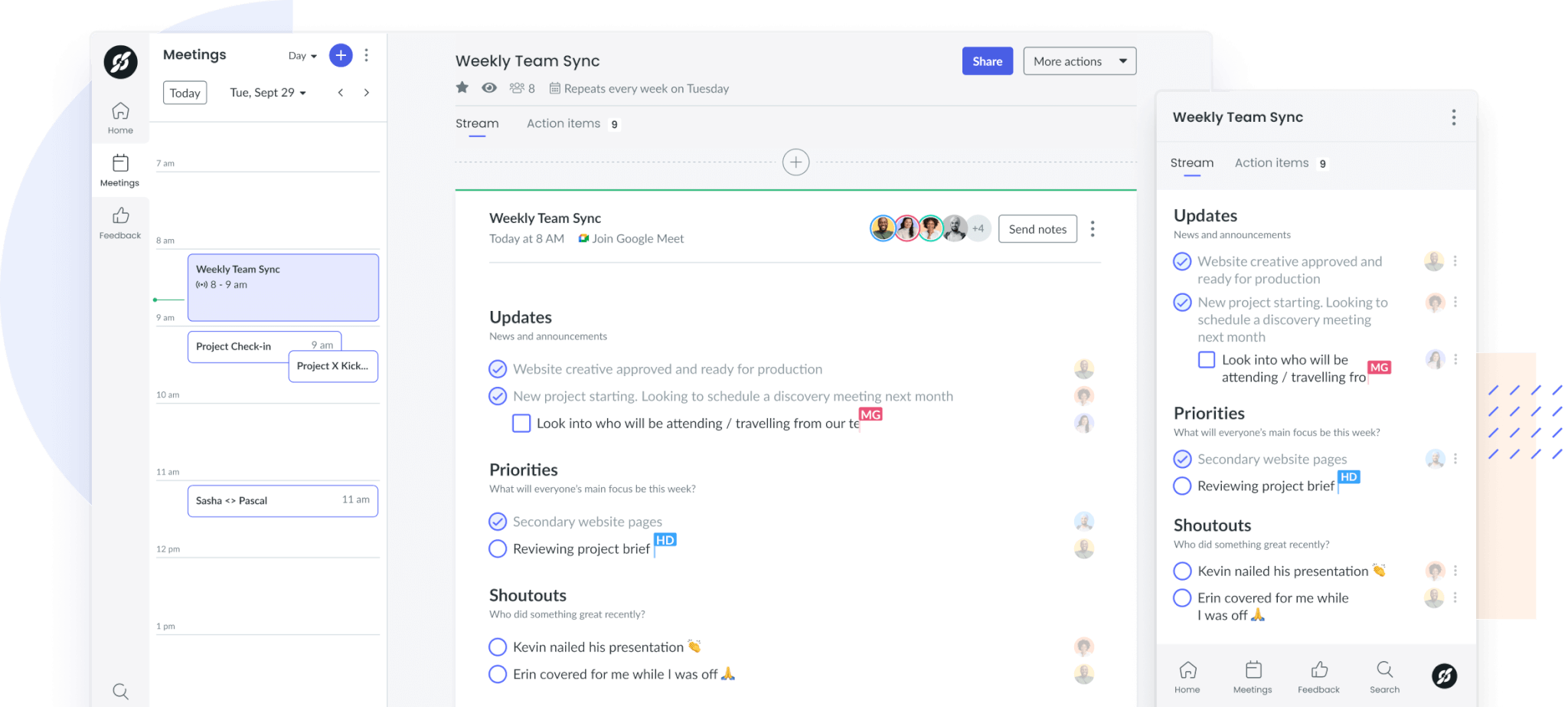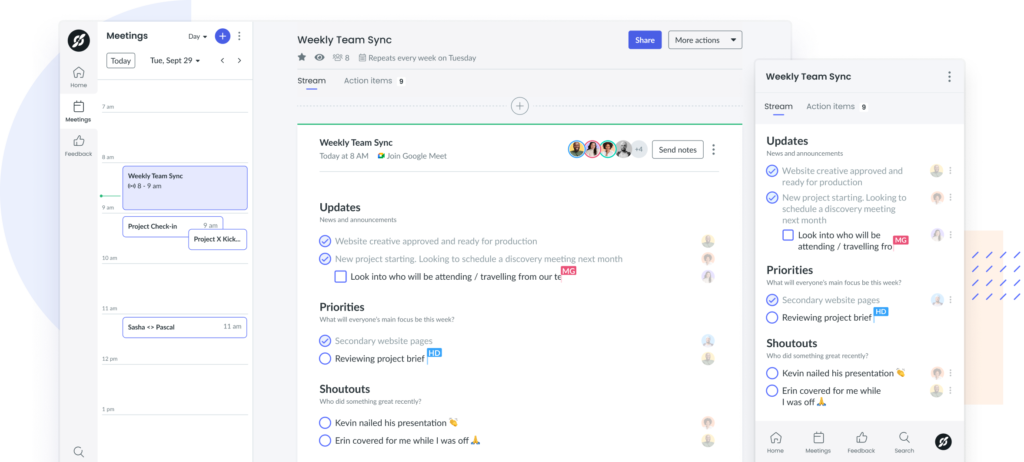 2OnBoard
Up next is OnBoard, which strives to make board meetings informed, effective, and uncomplicated. This option for board meeting software transforms complicated, outdated, and time-consuming processes so board members and all attendees can focus on what matters most: coming to important decisions and setting impactful goals.
Some features include:
OnBoard Messenger, which allows the board to quickly start individual or group conversations
Survey functionality to collect opinions, preferences, questions, and concerns
Spots for notes, annotations, and meeting minutes
Price: OnBoard doesn't list pricing information on its website but encourages those interested to contact a sales team member for details.
3Wrike
Another option is Wrike, a powerful work management platform that also assists in running streamlined board meetings. Since Wrike was made to streamline workflows, it ensures board meetings are organized, ensures members have access to the most important updates for quick innovation, and empowers team leaders to remain in the know of how projects are progressing.
Some notable features include:
Dashboards for clear organization and a quick look at details
Analytics to measure and track key performance indicators (KPIs)
Department visibility on goals and action items with cross-tagging
Integrations with tools like Salesforce, Hubspot, Google Calendar, and Basecamp.
Price: Wrike is free for teams that are just getting started. The Team plan starts at $9.80 per user/month if teams need more features and functionality.
4Diligent Boards
Diligent Boards is another great option when looking for board meeting software. This tool manages all necessary agendas, documents, annotations, and discussions in one intuitive, secure portal for board members to access anytime. Diligent Boards manages committees, governance resources, voting, reporting, and more, all in one place.
Some noteworthy features include:
The ability to capture, share, review, and track minutes, with critical action items, in a secure and collaborative environment
The ability to automate the creation of meetings and streamline information sharing among teams
Board questions and evaluations that make complex board assessments simple, saving time and money
Secure messaging to have urgent conversations on sensitive topics in a fully encrypted portal
Integrations with tools like Okta, DocuSign, Workday, and Jira
Price: Diligent Boards doesn't list pricing information on its website but encourages those interested to contact a sales team member for details.
5Zeck
Last but not least is Zeck, which strives to ensure board members and leadership teams spend less time on board prep, giving them more time to focus on selling, marketing, and saving money. And, you'll quickly create a superior board presentation.
Some features of Zeck include:
The ability to easily create efficient, energized agendas for impactful conversations
A digital governance system for end-to-end compliance
A multi-tier permission system to control who gets access to each section of the board site
Price: Zeck doesn't list pricing information on its website but encourages those interested to reach out to a member of their sales team for details regarding their free trial.
Free board meeting templates
If you're looking for templates to run successful board meetings to discuss policy issues and major problems, and perform the legal business of the board, look no further than Fellow's board meeting agenda templates. No matter what type of board meeting your team is looking to have, Fellow ensures maximum efficiency, productive conversations, and clear action items with tons of board meeting templates to choose from.
Try this free board meeting agenda template to get started:
The board has spoken
Since so many important topics are discussed during board meetings, your team should be armed with software that ensures every conversation is productive, every decision has been carefully noted, and every question has been considered. And for that, your organization should be armed with board meeting software.
Consider checking out how Fellow can elevate board meetings, and every other meeting your team has, for free.