If your team wants to run productive meetings, a thorough meeting agenda is an absolute must.
But drafting them yourself can be time-consuming, plus having to keep track of important topics and discussions once the meeting begins can be a hassle. Managing and creating an agenda that meets everyone's needs, includes the must-discuss action items, and asks the tough questions is harder than it seems.
This is where AI-generated meeting agendas come into play. We at Fellow break down the benefits of using artificial intelligence (AI) technology for your next meeting agenda and some tips to ensure the agenda is as effective as possible.
What are AI-generated meeting agendas?
AI-generated meeting agendas are outlines of meetings created using machine learning algorithms and AI technology. These algorithms and state-of-the-art technology create these agendas by analyzing past meeting notes and other data to determine what key subjects should be discussed. Natural language processing (NLP) is also often used to understand the context of the meeting, its goals, and who will be attending.
Finally, AI technology and algorithms will work together to create an agenda that prioritizes these important topics so that attendees know what to expect before joining. Having this summary is a must so everyone joins the meeting feeling prepared and ready with any questions they may have.
Benefits of AI-generated meeting agendas
Using an AI-generated meeting agenda can provide many benefits to teams of all shapes and sizes. Some of the benefits include AI-generated meeting agendas:
Automate processes: Sometimes, creating a meeting agenda can be time-consuming or feel tedious. When departments use AI-generated meeting agendas, everything from start to finish is automated. Teams that take advantage of automated meeting agendas will have a reduced workload and be able to spend this time prioritizing other tasks.
Help meetings stay on track: Running an effective meeting is easier said than done. Everyone has attended a meeting that went off the rails—likely because of a poorly written agenda. But a meeting agenda generated by AI technology ensures meetings are productive, all key topics are covered, and the discussion stays relevant to the purpose of the meeting.
Increase collaboration: Meetings are meant to be a place where collaborative discussions take place. Using an AI-generated meeting agenda makes it easier for participants to show up ready to collaborate, share their ideas, and bring up thoughts they have. This ultimately leads to a more innovative and thought-provoking conversation.

Streamline effective meeting preparation
Improve meeting productivity and efficiency with effective meeting preparation. Get suggested agendas built at warp speed for organized meetings with Fellow's AI-powered features. Try Fellow today!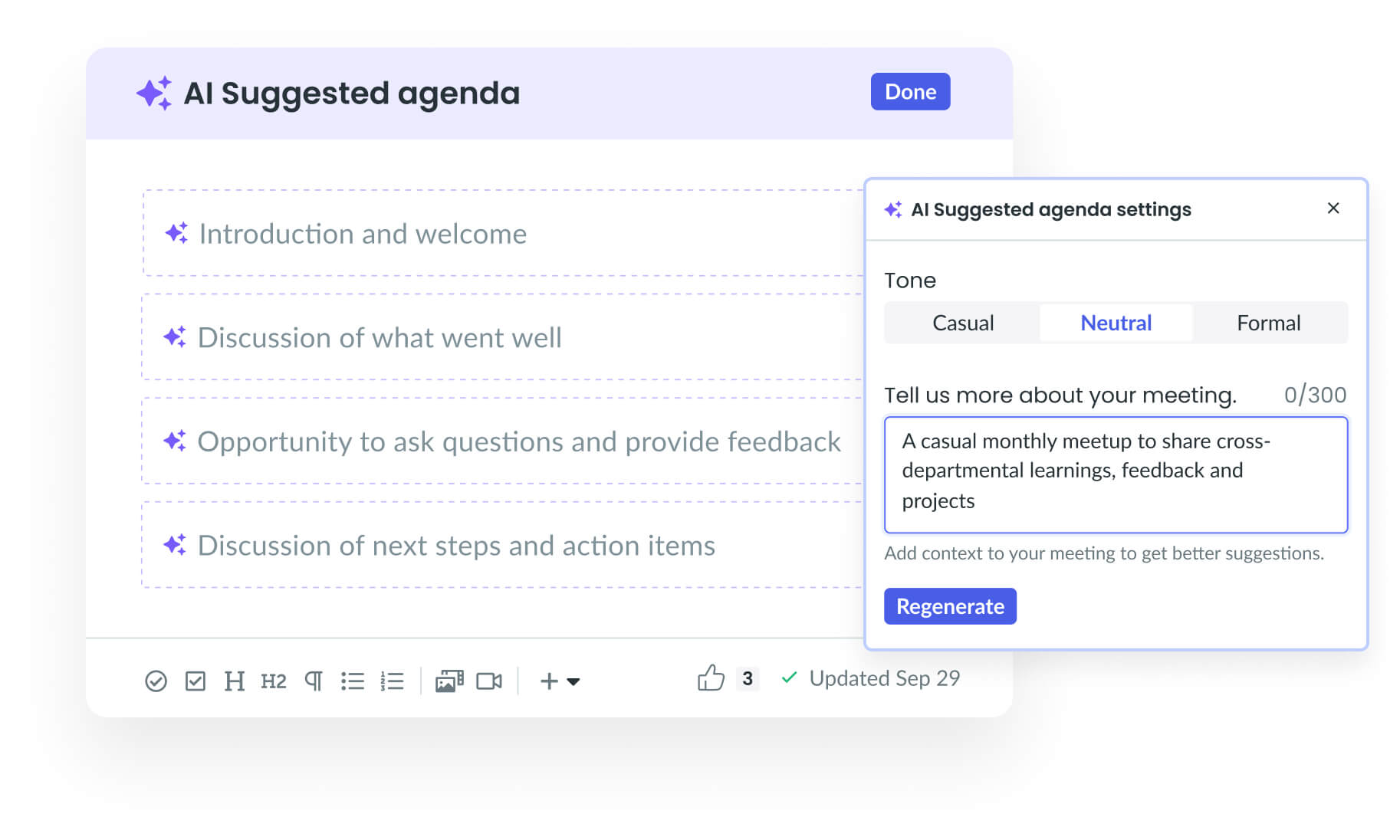 8 tips for creating effective AI-generated meeting agendas
Ready to make the most out of an AI-generated meeting agenda? Keep these eight tips in mind!
1Have clear goals and objectives
Before getting started with your AI-generated meeting agenda, establish meeting goals for that particular meeting. Doing so helps the AI tool ensure the agenda it creates is aligned with the purpose of the meeting and what you're hoping to accomplish.
Some examples of meeting objectives are:
Create a plan to improve the onboarding process for summer interns
Create a new plan to reduce customer churn in the second half of the year
Come up with new ideas for rebranding and redesigning the company website
Decide if there is a budget to hire five new IT professionals this quarter
Find new ways to recognize and celebrate team achievements during monthly meetings to boost morale
2Provide relevant information
Next, be sure the AI tool your team is using to generate an agenda has all the relevant information. This includes details like how long the meeting will last, who will be attending when the meeting should take place, what it should be titled, and if any pertinent documents should be attached.
When the AI tool has all the information it needs, there's a better chance you won't need to make many revisions.
3Review the agenda and revise
As part of the steps for AI-driven meeting preparation, be sure to review the agenda and revise it as needed. Reviewing and editing the agenda ensures all the topics you're looking to cover are included and that it was generated based on the needs of your team.
This is especially important the first few times you use an AI tool to generate an agenda—when you're just starting to learn how it works and what it can do.
4Use AI to allocate appropriate time slots
When several attendees need to be a part of a meeting, it can be challenging to find a time slot that works for everyone, or at least the vast majority.
AI can help here, too! Use it to find appropriate time slots for when the meeting should take place within the team calendar. This helps ensure the key stakeholders and decision-makers can attend the meeting, take part in the conversation, and answer any questions other attendees have.
5Provide feedback
If you found you had to make more changes to the agenda than you had expected, be sure to provide feedback to the AI tool you decided to use. This way, the next time you use the AI tool to generate a meeting agenda for your team, it can be more on par with the type of agenda you need with minimal revisions.
6Have time and space for spontaneous discussion
If the AI-generated meeting agenda you're working from doesn't leave time and space for impromptu discussion, be sure to factor that in yourself. Having time for questions, comments, and related talking points that come up is important; otherwise, you may have to schedule another meeting to ensure this discussion takes place. To avoid that, factor in enough time to talk these action items through.
How much time you leave here will likely depend on the type of meeting taking place and how many attendees will be joining.
7Use the agenda as a guide
Whether you used AI to generate the meeting agenda or you wrote the agenda yourself, always remember to use it as a guide. As long as the conversation stays relevant and on track, it's okay to use the agenda as a suggestion instead of having it be set in stone.
8Share the agenda in advance
Another must-do, no matter who made the agenda, is to share it with the attendees in advance. This ensures everyone comes prepared with questions, comments, and any potential concerns. The agenda can also be helpful to have ahead of time if any related documents need to be tracked down before the meeting begins.
The best meeting agenda tool
There are a ton of meeting agenda tools on the market, but if you want the best for your team, consider Fellow!
Fellow's collaborative approach transforms meetings into productive work sessions that your team members will actually want to attend. Fellow's AI-powered features make meeting preparation a breeze with suggested agendas built at warp speed for organized meetings.
To learn more about Fellow's AI-generated meeting agendas, check out this video:
Users often also take advantage of the huge selection of 500+ meeting templates, ensuring nothing falls through the cracks. Additionally, with Fellow it's easy to record meeting notes for reference, assign action items so everyone can be responsible for their own tasks, and exchange feedback for continuous improvement.
For everything from running efficient meetings to fostering accountability and enabling productivity, Fellow is the meeting agenda tool your team needs.
The future of meeting agendas
AI-generated meeting agendas can drastically improve how your business holds meetings. They can save time, increase collaboration, and boost efficiency. With the power of machine learning algorithms, AI can learn from past meetings to know more about the type of meeting your team is looking to hold.
That being said, remember that these agendas are tools to get things started. Your team still needs to remember best practices for effective meetings, which include reviewing the agenda to make any necessary changes and sharing it ahead of time, as well as pairing this agenda with a tool like Fellow to take meetings from good to great.