Some things in life are just better together: peanut butter and jelly, chips and salsa, macaroni and cheese…
And now: Fellow and Notion! Two tools already loved by users come together with Fellow's new integration featuring Notion, making it possible for teams to have streamlined communication, meeting notes in the right place, and all information accessible to those who need it most.
Here's everything you need to know about how to run effective meetings and so much more with Fellow and Notion!
What is Notion?
Notion is a knowledge base software, acting as a connected workspace where teams can take notes, manage tasks, create documents, and organize all types of work—in one place. It powers teams to do better, faster work by offering features like customizable product roadmaps, an engineering wiki, project management, and more.
Users can visualize, filter, and sort their documents and notes any way they want so they can see only their assigned tasks or items marked as urgent. This breakdown of any project or task helps team members know what needs to be done and by when.
According to Notion's review page on G2, users love its new AI functionality, how easy it is to take notes, its customizable options, and the editable templates.
Fellow vs. Notion
Let's break down some similarities and differences between Fellow and Notion.
In regards to their ratings on G2, Fellow has a ranking of 4.7 out of 5 stars with over 1,500 reviews. Notion also has a ranking of 4.7 out of 5 stars with over 4,100 reviews. Both are free at the entry level, with price points going up from there. Fellow kicks things off at $6 per month, while Notion starts at $8 per month, but both offer a free trial.
The two tools are also in different categories on G2 with no overlap, as Fellow focuses on meeting management, and Notion is in categories related to knowledge bases, notetaking, project management, and AI writing assistants.

Run efficient meetings, come to a decision, and get back to work
Level up your meeting habits to boost engagement and productivity with a collaborative meeting agenda. Try a tool like Fellow!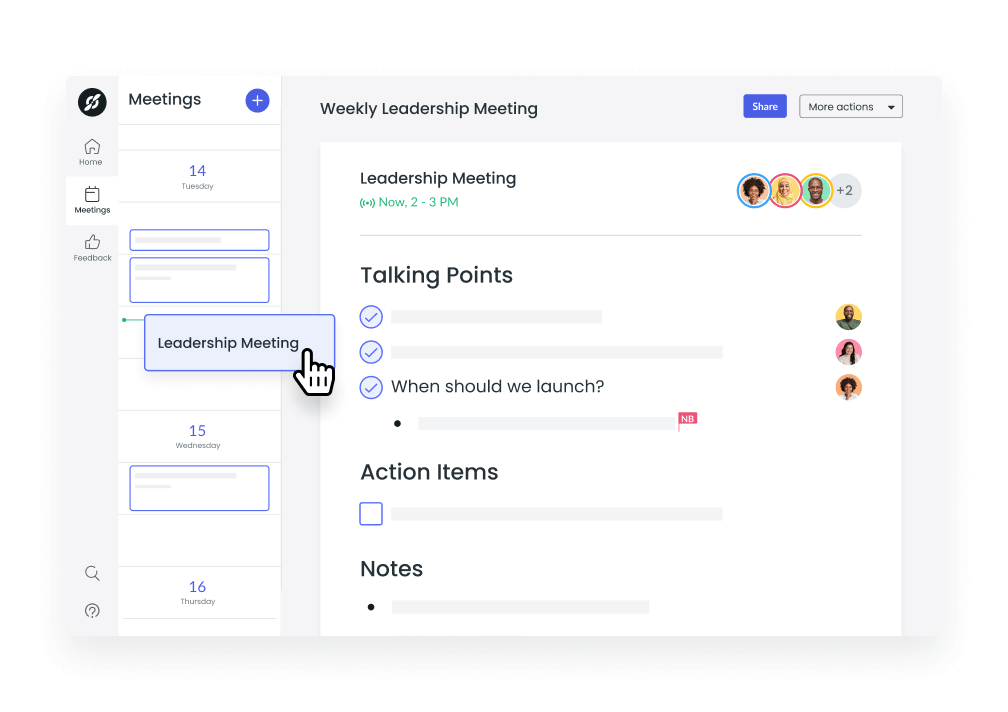 How to run productive meetings with Fellow and Notion
Thankfully, if you want to run productive meetings, you don't have to choose between Fellow and Notion. Thanks to Fellow's Notion integration, users can keep meeting information from Fellow aligned with your deadlines, while all objectives and notes are in Notion.
Here's how it's done.
1Send meeting notes from Fellow to Notion
Users often use Notion as an internal database for a variety of information and key project details. It's now simple to ensure your Fellow meeting notes are also within this database.
Once the meeting is over and the notes are compiled with all the necessary information, just export these notes over to Notion! This way, if the meeting is centered around a specific project, these details will live with the rest of the work related to this project. No more bouncing back and forth, and nothing falls through the cracks!
2Make important information easily accessible
One of the reasons users love Fellow is because it's a great place for meeting agendas and taking notes. But sometimes keeping a record of a meeting, the topics discussed, and questions to consider for next time in a different location is necessary to share it with other people who may not have attended the meeting.
For this, just export the notes from this meeting in Fellow directly over to the workspace in Notion! All users have to do is choose where the note should live in Notion and Fellow will create a new page with all the necessary details and information.
3Share post-meeting follow-ups
Once a meeting is complete, there are likely key details or answers that require a follow-up. For this, just update the corresponding Notion pages as tasks progress or situations change. Doing so allows users to maintain a living document for all projects or topics, so follow-ups happen when they're supposed to.
Having this document to reference at any time can help provide transparency, clear up any questions, and keep everyone on task to meet deadlines.
Benefits of using Fellow and Notion
This integration between Fellow and Notion can help teams of all shapes and sizes run productive meetings and access all pertinent information in one place. Here are some benefits to using this integration to its fullest potential.
1Streamlined internal communication
When key details on responsibilities, tasks, and projects fall through the cracks, deadlines are missed and revenue is lost. With Fellow and Notion working together, internal communication surrounding meetings notes and projects get streamlined in one place. Everyone knows upcoming deadlines, who is in charge of what, and whom to go to if a challenge or bottleneck occurs.
Ultimately, the more internal communication a team has, the less confusion they'll run into.
2Aligned goals and objectives
For your team's objectives and key results, Fellow's Objectives tool aligns everyone by clearly recording, defining, and tracking progress. This progress is then easily reviewed during team meetings, and the notes can be sent directly to Notion.
Being able to view progress on tasks and projects means teams can pivot before a deadline is missed or change up their priorities before a goal becomes out of reach. This gets everyone on the same page, so all team members know what to expect.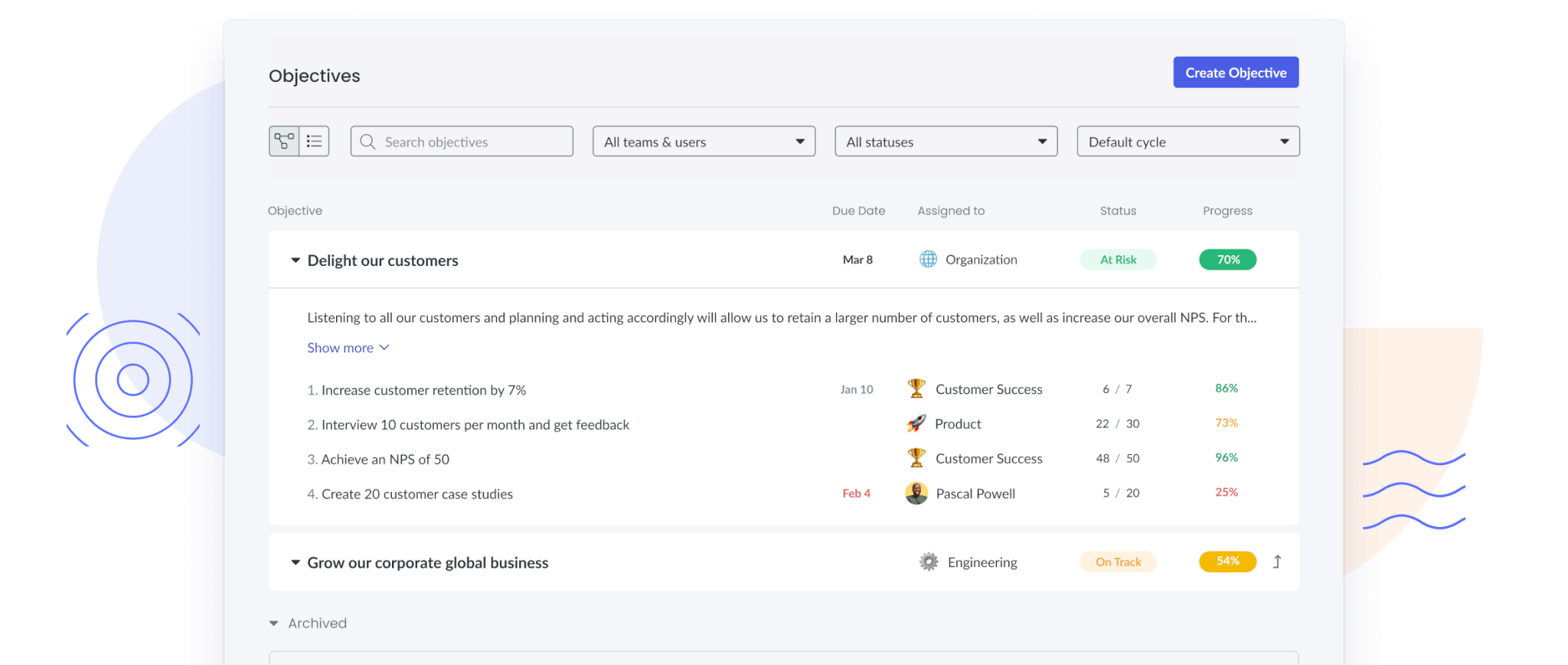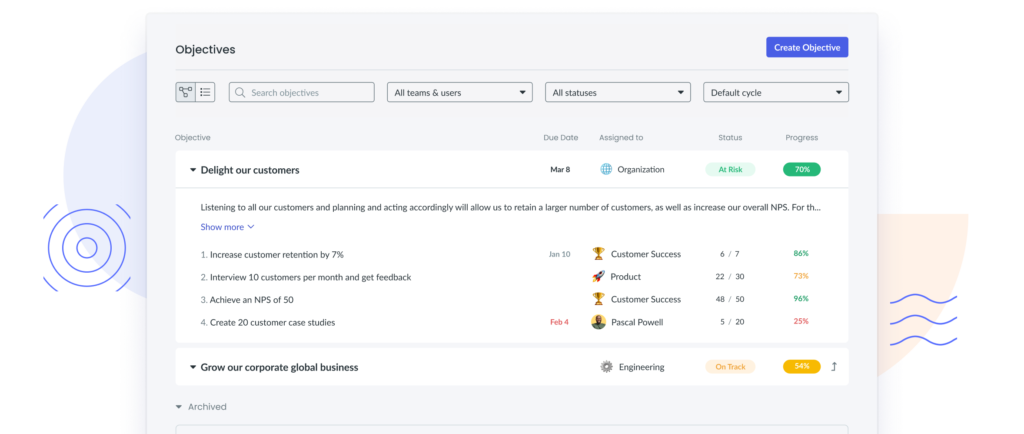 3Shared meeting notes
Having thorough meeting notes ensures all team members are held accountable for their responsibilities and deadlines. And since Fellow is a top-rated meeting notes software with all the features teams need to have collaborative meetings without interrupting your workflow, tracking action items is easy!
And when different stakeholders need access to the information within these notes, this integration shares meeting notes to all relevant Notion pages so the right people have the information when they need it most.
4Collaborative documentation
When it comes to documentation, Notion offers simple, yet efficient, documents where everyone can collaborate. These docs take text and bullet points one step further by offering collaborative elements like code snippets, images and video, a table of contents, math equations, and even toggles with collapsible sections.
Having this level of documentation ensures everyone is on the same page—literally.
5Improved accountability
With this integration, teams will also have improved accountability for their work. Fellow gives users an organized overview of their day and a quick look at their most important tasks all in one place. Having these key details front and center makes it easier for users to hold themselves accountable for their tasks and deadlines.
Why you should use Fellow and Notion together
Fellow and Notion complement each other in many ways, making this integration powerful for teams looking to boost productivity and knock items off their to-do list.
When teams use Fellow and Notion, users can seamlessly integrate their meeting workflows with long-term documentation and knowledge sharing. When meeting notes and action items from Fellow can be transferred to Notion, they can be linked to relevant project documents and reference materials.
Additionally, this integration streamlines communication, improves productivity, and enhances how users can access information. The combination of Fellow and Notion creates a comprehensive system that enhances team collaboration, documentation, and knowledge sharing, ultimately boosting overall team efficiency and effectiveness.
How to connect Fellow and Notion
Ready to get connected? Setting up this integration can be done in six easy steps.
Under User Settings, click on Apps & Integrations.
Scroll to the Automation section and find where Notion is listed.
Click on the three dots in the upper right-hand corner of the Notion card and then click Connect.
Choose the workspace that you want to connect with Fellow. Then click Select pages.
Specify the pages that you would like Fellow to be able to send notes to. These pages will be the place where the notes are sent from Fellow into Notion. Once selected, click Allow access.
Check for a notification at the bottom of your screen confirming that the integration has been connected.
You're good to go from there!
Better together!
Fellow and Notion are two great tools on their own, but when they come together, teams are armed with the features they need to run productive meetings, streamline communication, and have all important resources in one place. Now's the time to take advantage of Fellow's integration featuring Notion, as this perfect pairing will give your team the productivity boost it needs to always stay on track and meet its goals.