You know the adage: "Find a job you'll love, and you'll never work a day in your life." But even if you do love your job – we know the feeling! – you probably have a lot to do. So maybe you'll have days where you do feel like your work is more of a grind than a joy. Those are the days when you might find yourself asking, "How can I complete my tasks more quickly? How can I be more productive?" Enter productivity apps to make your life easier in 2023.
A wide range of workplace needs – file sharing, team communication, project management, you name it – falls under the productivity app umbrella. Below, you'll learn how these tools can help you out, and you'll find over a dozen app recommendations. You'll also get one step closer to feeling like work is a joy, not a strain, even more often.
How can productivity apps help you?
As their name suggests, productivity apps can help you be more productive. They organize your tasks, manage and connect your team, and minimize interruptions that could disrupt your focus. Yes, that's a lot for a productivity app to handle, and that's why these tools run the gamut from general tools that tackle multiple areas to highly specific. Below, you'll learn about tools for file and data storage, project and task management, appointment scheduling, and so much more.

Stay on top of it all!
Have your calendar, meeting agenda, action items, and more all in one place to keep track of it all with a tool like Fellow!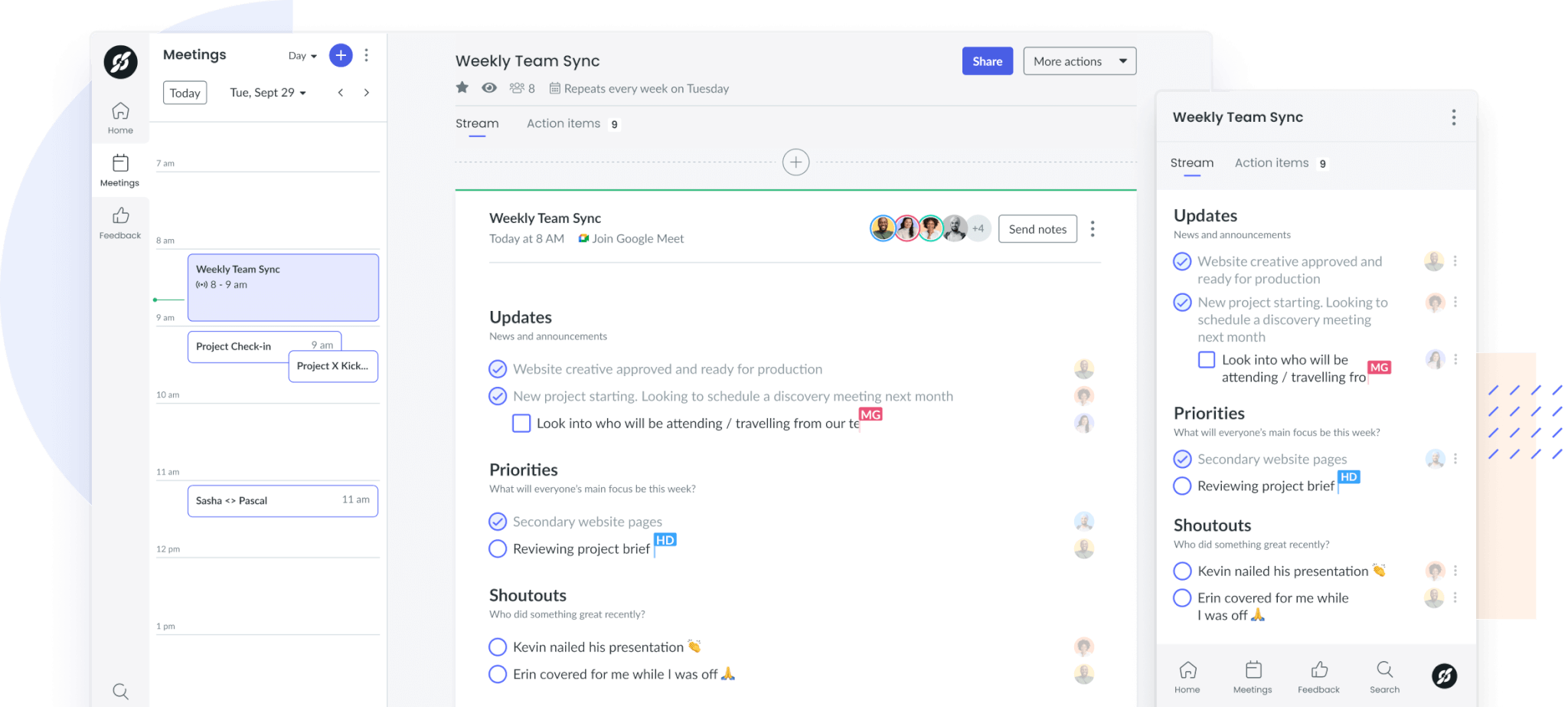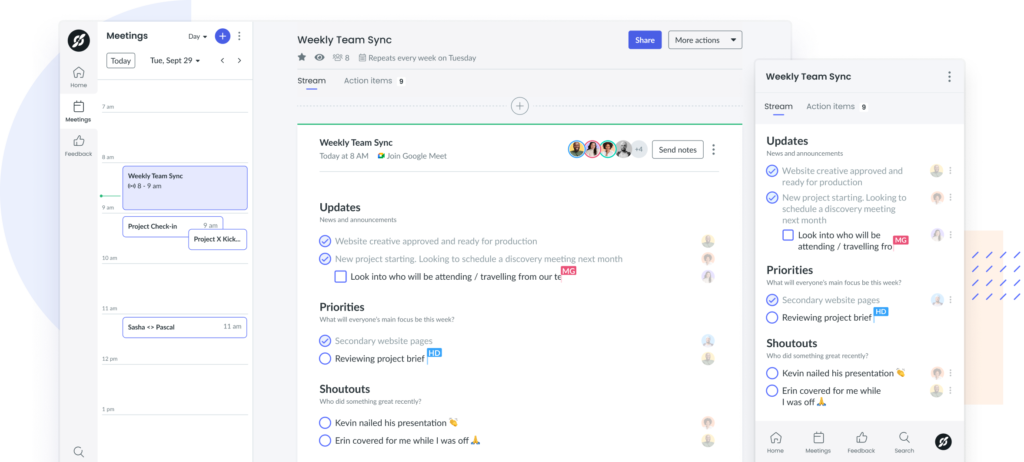 The top 16 productivity apps
Productivity apps are super versatile, and productivity is key to excelling in any field. So, as you'll see, the below list of the top 16 productivity apps spans minor concerns and major workplace needs alike. Try one, some, or all of them to maximize your organization's output.
1 Fellow
Fellow makes your meetings more productive before they even start. With Fellow's agenda creation tools and templates, you can plan the perfect meeting. Send notifications to your team prior to the meeting as a reminder to add talking points. During meetings, you can take well-organized notes, craft thorough meeting minutes, and assign meeting action items. You can also collaborate with your whole team to set objectives and key results (OKRs). And with the extensive feedback feature, you can get teamwide input on what to do better next time.
Fellow can also embed video and audio files right into the note for easy access and viewing and keeps all your notes in one place.
Key features:
Tools and templates for planning meeting agendas
In-meeting tools for notes, minutes, and action items
Teamwide feedback for making future meetings more efficient
Price: Fellow offers a free tier, and paid plans start at $5 per user per month.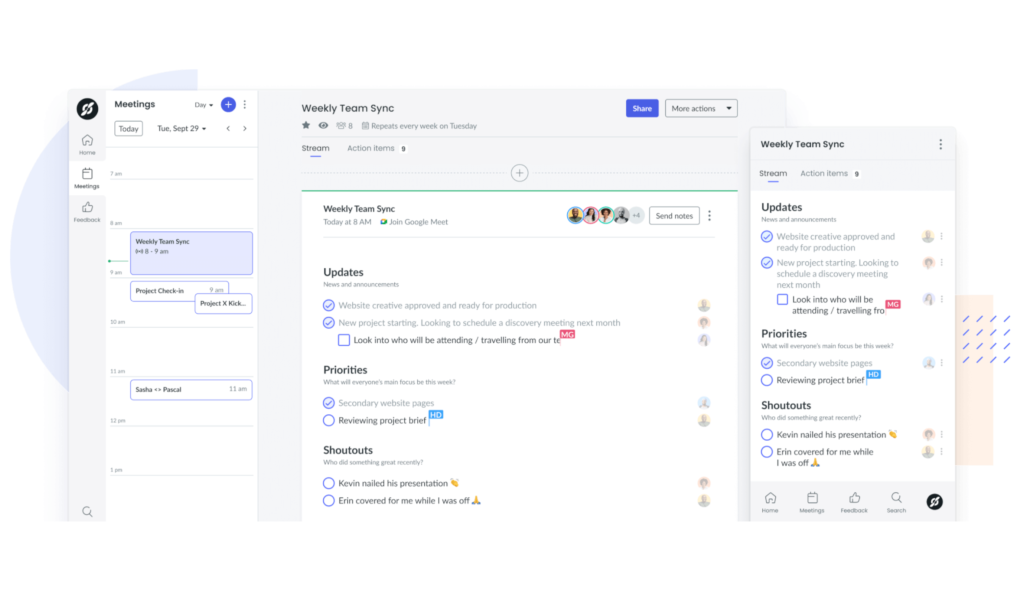 2 Microsoft 365
Microsoft 365 is Microsoft's version of Google Workspace, so it may be a better choice for organizations that use Outlook instead of Gmail. The Microsoft apps span video calls, cloud storage, graphic design, collaboration tools through Teams, and more. Month-long free trials are also available, though the second-most expensive plan is less feature-heavy than the least expensive plan.
Key features:
Large feature overlap with Google Workspace despite no integrations
Video calls, cloud storage, graphic design, and more
Price: Microsoft 365 business plans start at $5.00 per user per month.
3 Trello
With Trello, you can assign tasks to your team and manage them through lists, boards, and cards. Together, these views approximate Gantt charts through which you can track progress toward individual or team goals. You can also access several additional productivity tools within Trello. Its main drawback is that you can only assign a card or task to one board or project.
Key features:
Boards, lists, and charts that combine to resemble Gantt charts
Track progress for each team member or your whole team
Access additional web apps for productivity
Price: Trello offers an introductory free version, and its paid plans start at $5 per user per month.
4 Asana
Like Trello, Asana is a project and task management tool. Its calling cards are its notification and commenting features. These tools can help you check in with team members and prioritize tasks in ways that yield more deliverables sooner than later. You can also privately message team members and view their complete and incomplete tasks. However, you can't quite get Gantt charts or other ways to block time for maximum productivity.
Key features:
Notification and commenting features help team prioritize tasks and boost productivity
Private direct messaging for private task- and productivity-based conversations
Views of complete and incomplete tasks to help determine near-future output priorities
Price: Asana offers a free introductory tier, and its paid plans start at $10.99 per user per month.
5 Google Workspace
Google Workspace is among the most ubiquitous productivity tools around. Use Gmail for work? That means you use Google Workspace to send a greater number of communications per day – that's certainly productivity. The same is true if you use Google Docs to create, store, sort, and collaborate on all your written materials. The point here is: Even the very foundation of your internet teamwork is a productivity tool!
Email and word processing are only the beginning with Google Workspace. Other productivity tools include Calendar, Slides, Sheets, Forms, Meet, and so much more. With Google Workspace, you have what might feel like limitless productivity tools at your disposal. Its main drawback, though, is that even the most diligent free-tier users might eventually run out of storage space. You're then stuck painstakingly deleting old files, paying for more storage, or keeping files on your computer, which leads to scratch disk errors and other storage issues.
Key features:
Suite of productivity apps for word processing, presentations, spreadsheets, and more
Streamlines real-time collaboration, minimizing time needed to finalize work
High use rates can lessen learning curve for first-time users and further streamline collaboration
Price: Google Workspace business plans start at $6 per user per month.
6 Hive
Hive largely resembles the other project management tools on this list. You can use it as a basic task list app, or you can throw team communications into the mix. Its collaborative scheduling tools are a touch more advanced than with other project management platforms. This scheduling focus extends to Hive's Gantt chart, kanban board, and calendar views. Its main drawback is that you must reach out to Hive for analytics tools no matter your pricing plan.
Key features:
Functions as basic task list app or team communication tool
Improves collaborative scheduling techniques
Includes Gantt, kanban, and calendar views
Price: Beyond Hive's free introductory tier for solo use, plans cost $12 per user per month.
7 LastPass
LastPass makes you more productive by providing you with a central password vault. Your team members will have an easier time staying focused if they don't have to pause their tasks to ask you for passwords. You'll also get more done without these interruptions. Logging into your many business tools goes faster too when LastPass spares you the typing and autofills your username and password. Its main drawback is that only its personal plans are free.
Key features:
Centralized password storage means team members don't have to ask for passwords and can thus work more quickly
Centralized password storage also means you'll face fewer work interruptions to provide passwords
Autofilled usernames and passwords save you tedious login steps
Price: LastPass business plans start at $4 per user per month.
8 Buffer
Buffer is a social media productivity app that saves invaluable time on the many tedious steps of social media management. With Buffer, you can schedule posts, identify the most important customer responses to reply to, and analyze your posts. This suite of features can make your social media management more productive both now and later. Its main drawback is that extending access to more than one user costs extra.
Key features:
Schedule posts in batches after drafting
Respond to only the most important customer comments and messages
Analyze your social media posts for more productive future use
Price: Buffer is available as a free introductory plan or a paid plan that starts at $5 per social media account per month.
9 IFTTT
With IFTTT, you can create custom integrations that enmesh your most important apps with one another. With your apps integrated, you can more easily centralize all your work and check more than one box simultaneously. Higher-level tiers come with faster integrations and several software development tools. However, some customers have said that IFTTT lacks adequate enterprise-level support.
Key features:
Develop custom integrations for all your apps
Centralize and streamline work with greater number of integrations
Software development tools available
Price: IFTTT offers an introductory free tier, and its paid plans start at $5 per month.
10 Calendly
Calendly helps you more productively schedule appointments. Namely, you won't have to rife through your planner or digital calendar. Instead, once Calendly knows your availability, it generates a link that people can use to reserve time with you. Calendly also allows multi-person hosting, and this feature saves everyone involved invaluable time checking calendars. However, some users say that Calendly sometimes blocks appointments made just before their start time.
Key features:
Indicate your availability to your team
Automatically see booked appointments in your calendar
Share appointment hosting responsibility with multiple people
Price: Calendly offers a basic free tier and paid plans that start at $8 per user per month.
11 Bitrix24
With Bitrix24, you can perfect your time management by allocating time to certain tasks. Bitrix24 then tracks the time you actually spent on the task. The platform's customer relationship management suite also gives you a product catalog with unlimited deals and contacts. You can use its collaboration tools for one-on-one and company-wide communication. However, Bitrix24 somewhat limits access and data rights for its task and project tools.
Key features:
Timeblock tasks and then see how well you adhered to that schedule
Develop product catalog and work through unlimited deals
Communicate with individuals or whole team
Price: Bitrix24 offers a free tier, and its paid plans start at $30 per month.
12 TeamViewer
TeamViewer connects remote devices of all sorts to streamline your team's productivity. You can use it to remotely control and manage hundreds of devices, share files, and print at one location from another. However, only the most expensive TeamViewer plan comes with adequate integrations for seamless teamwide use.
Key features:
Remotely manage and control several hundred devices
Share files across all connected devices
Use computer in one location to print in another
Price: TeamViewer starts at $50.90 per month.
13 Pocket
If your work requires lots of research and reading, Pocket can streamline your learning. As you encounter interesting or relevant articles amid other tasks, you can save them to Pocket to read later. This way, you remain focused on the task at hand. Pocket can also read text-based articles to you so you can listen amid other tasks. You can highlight key text passages as well. Its main drawback is that it's not as collaborative or sharing-oriented as other productivity apps.
Key features:
Save articles to read for later when you encounter them amid certain tasks
Listen to text-based articles as you perform other tasks
Highlight key text for referencing later
Price: Pocket offers a free plan, but most of its best features require Premium access that starts at $44.99 per year.
14 GoTo
GoTo is a video call productivity app with mouse-sharing, live drawing, and real-time transcription. With these tools, you can problem-solve during meetings instead of afterward, saving you time that boosts your productivity. GoTo also uses less bandwidth than other video conferencing services and offers 24/7 customer service. However, it isn't as ubiquitous as its competitors, so meeting attendees outside your organization may face a learning curve.
Key features:
Live drawing, real-time transcription, and mouse-sharing
Lower bandwidth than other video conferencing apps
Price: GoTo comes in five varieties, each of which comes with several pricing tiers. These tiers vary in price as you add more users.
15 MetaCtrl
The MetaCtrl suite can bolster your productivity if you often work from Android devices. With its mobile app, you can upload files from your phone for immediate desktop access and vice versa. You can take things a step further and enable immediate downloads of all files uploaded to MetaCtrl. Either way, MetaCtrl promises quicker, more reliable uploads than most apps' official sync features. On the other hand, these sync features are often plenty speedy as is.
Key features:
Upload files from one device for instant access on another
Enable instant downloads of newly uploaded files on all devices
Minimize instances of failed or incomplete uploads
Price: MetaCtrl comprises many apps with different prices, not all of which it lists publicly. Its Dropsync PRO Key, though, is listed as $6.99 on the Play Store.
16 Todoist
Todoist automatically highlights your most pressing tasks so you can be more productive sooner than later. This automation can reduce the time you spend choosing which tasks to start now and leave for later. Even without automation, you can use Todoist to visualize your team's productivity rates and make manual task management decisions. But like Asana, Todoist lacks a
Gantt chart view.
Key features:
Automatically highlights your most urgent tasks
Less time spent determining which tasks matter the most
Team-wide productivity view for manually prioritizing tasks when necessary
Price: Todoist offers a free introductory plan, and its paid plans start at $3 per month.
Productivity is just a few clicks away
With productivity apps, getting all your ducks in a row – and then acting on them – takes just a few clicks. That's true whether you're looking to streamline your task management, appointment scheduling, or meetings in 2023. On the latter front, Fellow is a reliable productivity app for one-on-ones and ginormous company meetings alike. Fellow is more than a way to make meetings better – it's a productivity app you'll always keep at hand.