Effective and productive meetings are a huge part of an organization's success.
Meetings that consistently go over time, lack an agenda, or take place at the wrong cadence don't serve anyone. And attendees likely leave these meetings with the dreaded thought: "That could have been an email."
This can also happen when teams struggle to keep tabs on agendas, notes, and action items. Thankfully, a meeting tracker can do all this and more for your team in just a few clicks.
What is a meeting tracker?
A meeting tracker is a tool that can manage and track your meetings. While some may choose a simple spreadsheet like Google Sheets, a comprehensive software program is often the better choice. This type of tool can do so much more—like keep track of a variety of meeting details such as the meeting location, date, time, attendees, action items, and even agendas.
A great example of a meeting tracker is Fellow, which also provides users with workplace analytics, helping you to gain insight into your company's meeting productivity patterns. Not only can it show you collaboration patterns, but it can also outline how many hours your organization spends in meetings, how many meetings were held with no agenda or meeting notes, and so much more.

Understand your company's meeting etiquette
Gain insight into your company's meeting productivity patterns with Fellow's Meeting Analytics. Try a tool like Fellow today!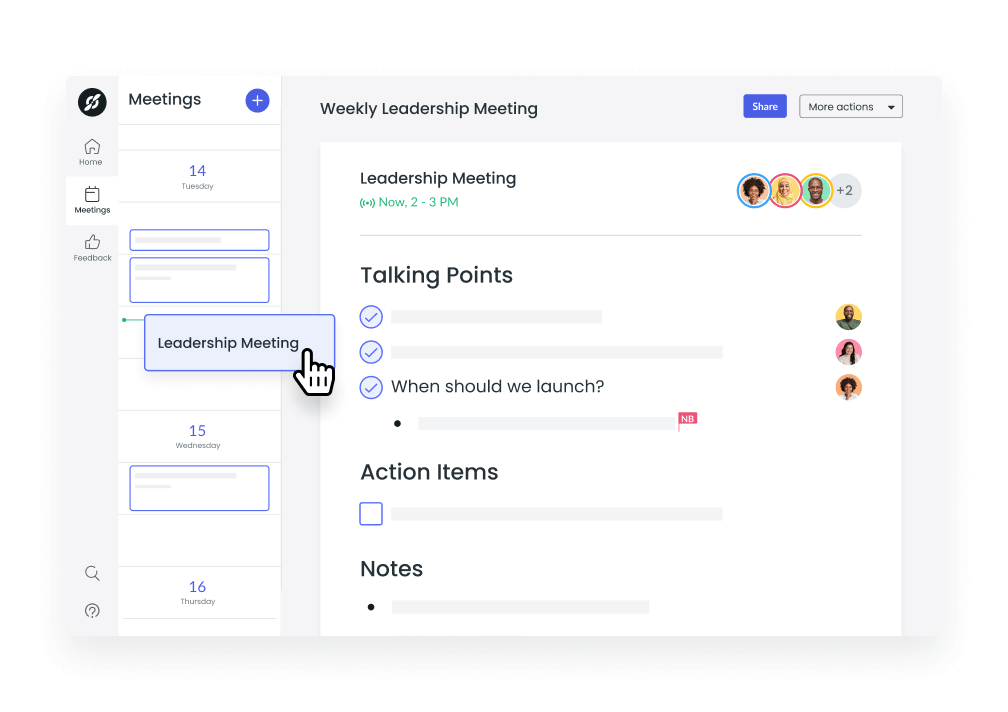 Benefits of using a meeting tracker
Not sure if your organization should be using a meeting tracker? Doing so offers teams of all shapes and sizes various benefits.
1Streamlines communication
For starters, a meeting tracker can streamline communication within your team and other departments. These tools ensure everyone is on the same page and there is communication and clarity about the meeting's details. This ensures everyone is on time, can review the agenda in advance, and can show up prepared and ready to discuss key strategy elements.
The stronger communication is within these meetings, the more productive they will be.
2Improves decision making
Additionally, meeting trackers improve decision-making. When these tools are used, attendees can easily review past meetings, decisions, and actions taken. Having this information makes it easier to make informed decisions. Whether your team is meeting to gather and share information, brainstorm, discuss pros and cons, or problem-solve, having all the critical information at hand leads to faster and smarter decisions.
3Improves time management
No matter what industry your company is in, we all spend a lot of time in meetings. Teams looking to be better at time management need to hone in on better meeting habits; in return, your meetings will be more productive.
One way to improve your meeting habits is to use a meeting tracker that can efficiently manage your time and schedule productive and time-efficient meetings.
4Fosters accountability
A key feature of meeting trackers is that they can assign action items and follow-up tasks to attendees. Doing so means that everyone is held accountable for their responsibilities, and there is transparency regarding what everyone is working on.
How to use a meeting tracker
You need to know how to use your meeting tracker to get the most out of it. Follow these five steps to best use a meeting tracker for maximum efficiency and productivity.
1Create a collaborative meeting agenda
Does your meeting have an agenda?
And if it does, is the meeting agenda thorough, collaborative, and easily shareable?
If the answer is no, then you're clearly not using Fellow for collaborative meeting agendas. A collaborative meeting agenda can transform meetings into productive work sessions attendees want to participate in. It's common for meetings to go off track due to a lack of direction, but a well-run meeting can foster communication and collaboration.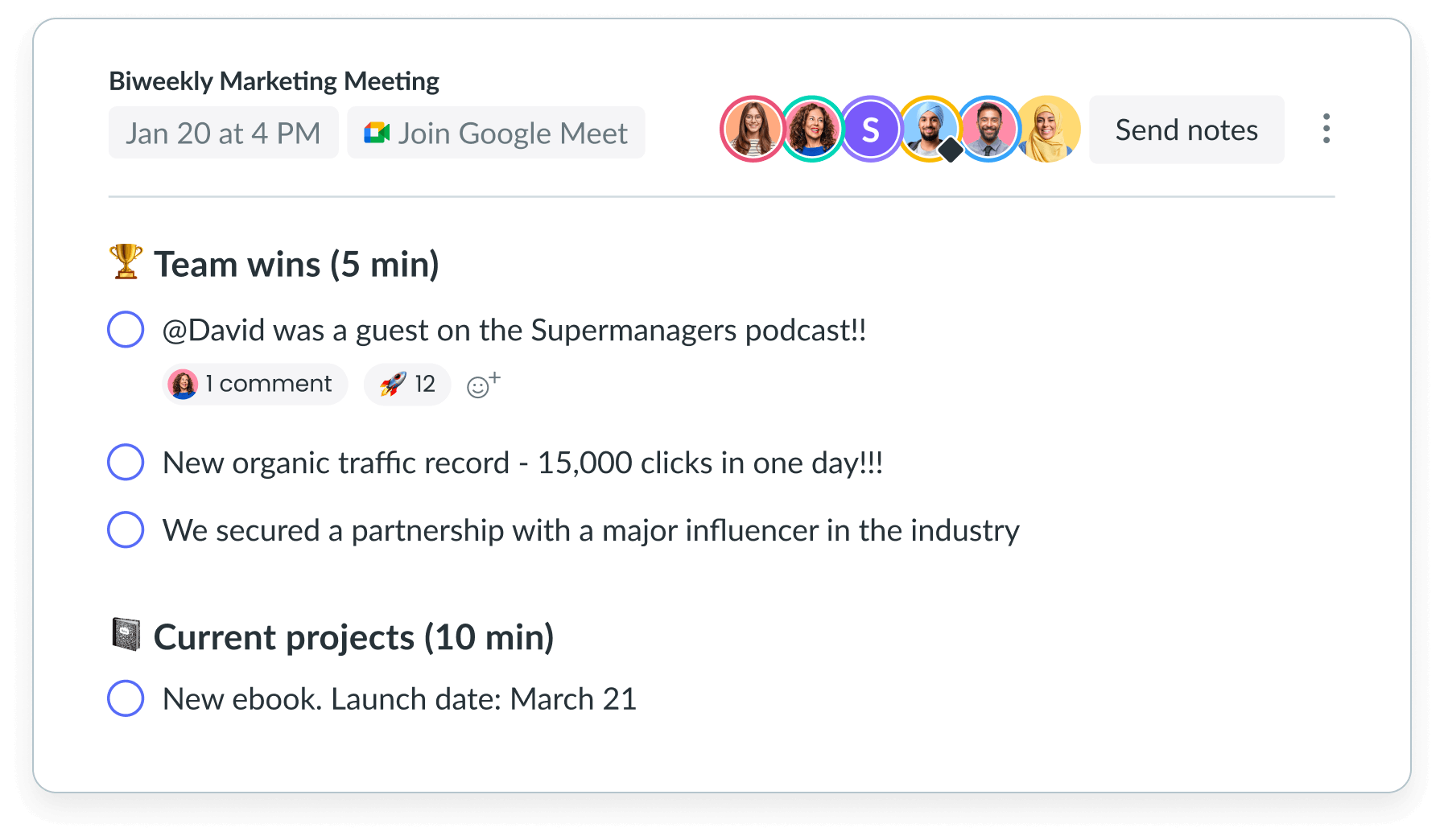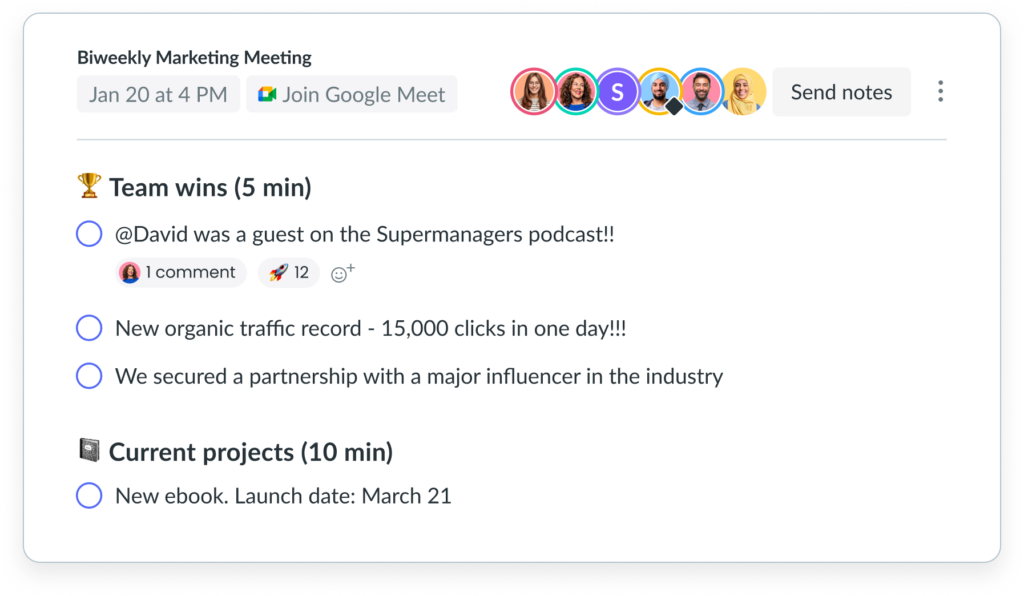 2Use a meeting agenda template
Unsure what you want the meeting agenda to look like or unsure what to include? Consider taking advantage of one Fellow's many meeting agenda templates. With over 500 to choose from, our easy-to-use agenda builder ensures that your meetings start with clarity and that everyone feels inspired to contribute.
Additionally, these agendas should be shared with all attendees 24 hours before the meeting. And when using Fellow, this is just one less step you have to worry about. Meeting agendas are automatically shared with anyone invited to the meeting, so attendees can feel prepared and join the discussion ready to share talking points, ask questions, and brainstorm ideas.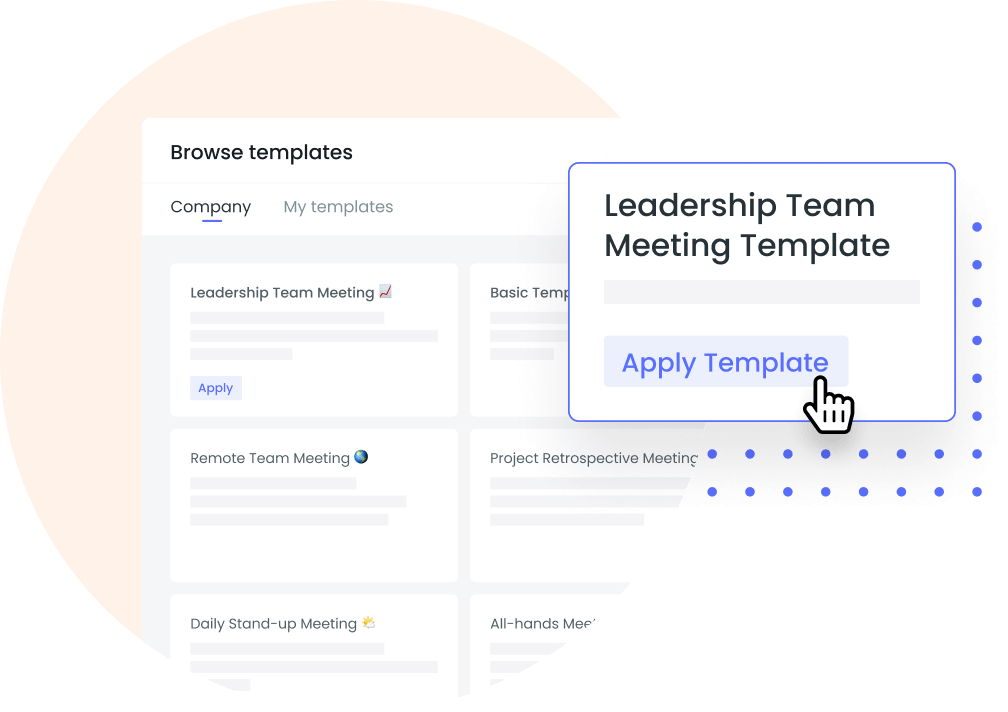 3Assign meeting action items
Meeting trackers can also help you assign meeting action items. As your team uses these tools to track your meetings, don't forget to assign any action items that come up during the conversations. Doing so ensures that everyone is on the same page and that tasks are completed in a timely manner.
When using Fellow as your meeting tracker, you can assign, visualize, and prioritize all your meeting to-dos in one place and sync them with tools your team already has in its tech stack—like Jira, Asana, and Zapier. Additionally, once you have a clear list of who is doing what and by when it's easy to re-organize your to-do list in Fellow's Action Items tab once the meeting has come to an end.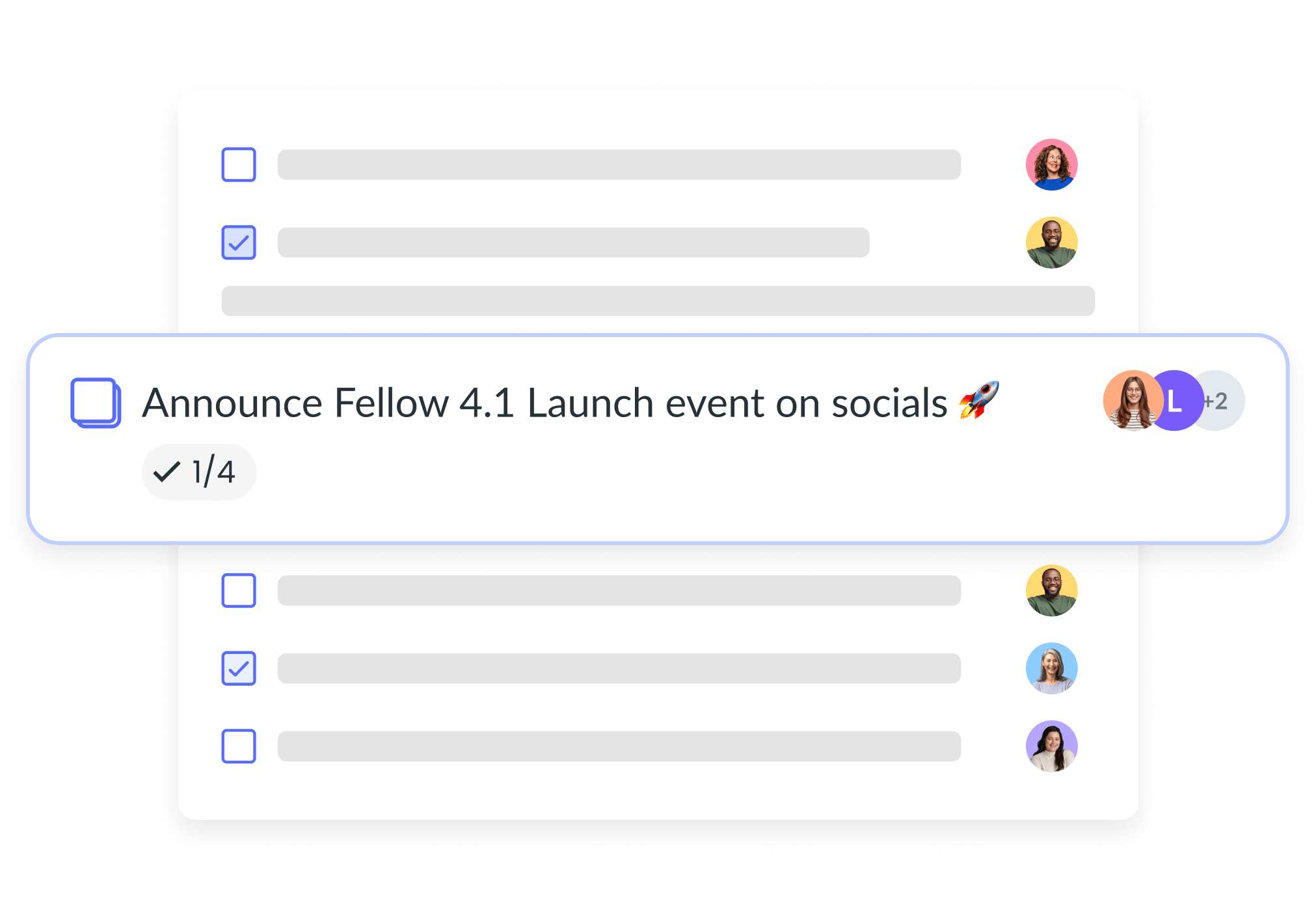 4Take collaborative meeting notes
In addition to making the most of collaborative meeting agendas, your team should also take advantage of collaborative meeting notes. When meeting notes are collaborative, reviewing past notes and encouraging everyone to add talking points to the meeting agenda is easy.
Plus, Fellow offers a complete history of meeting notes archived for easy access, so you'll never forget what was discussed or who was assigned which task to complete. And when the meeting is over, send these meeting notes through email or Slack so everyone feels like they were a part of the discussion, even if they couldn't attend.
5Collect meeting feedback
Finally, don't forget about meeting feedback. Collecting this feedback helps you pinpoint ways to improve meetings in the future. And with a meeting tracker, you can also keep a history of the feedback your team provides, so it's simple to visualize your growth and understand your progress.
Ultimately, even if you and your team think you're knocking every meeting out of the park, there may still be room for improvement! And you won't know unless you ask.
With Fellow, you can collect real-time feedback on meetings, including anonymous feedback.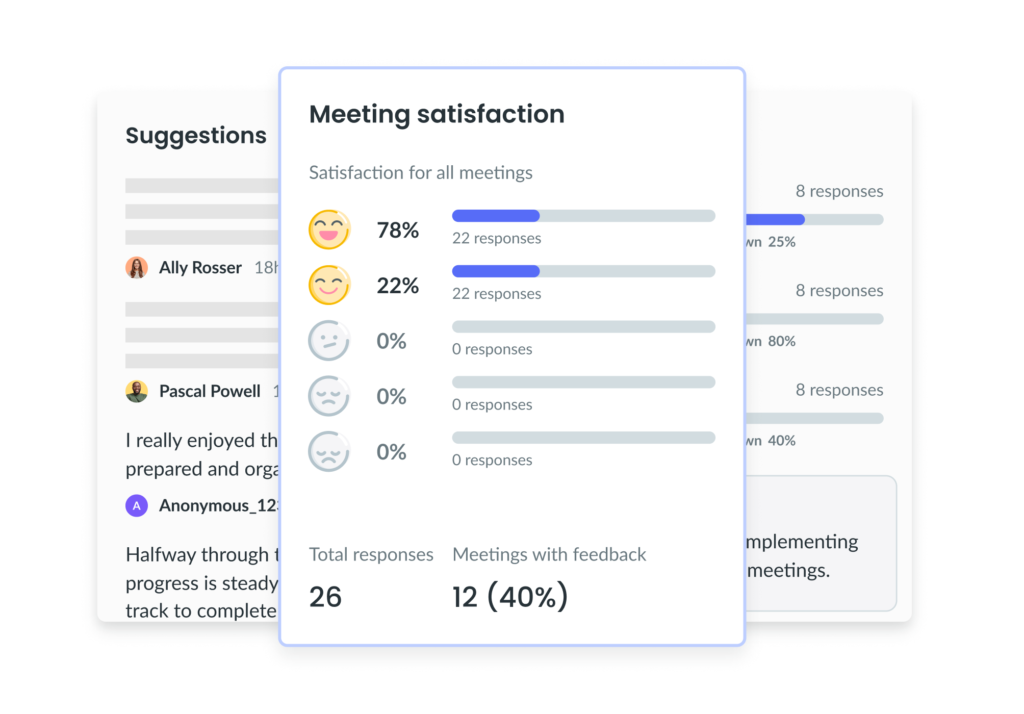 Meeting tracker best practices
There are certain best practices your team should keep in mind when using meeting trackers. Let's break some down.
1Be consistent
Consistency is essential, especially if a meeting tracker is new to your team. Check that everyone is using the meeting tracker consistently and updating it regularly. If you conduct these check-ins, using the tracker will soon become second nature to your team. Additionally, the more you use a meeting tracker—especially the one Fellow provides—the more analytics and data your team will have about your meetings and their productivity.
2Delegate the responsibility to someone
Another best practice to consider is assigning responsibility for maintaining and updating the meeting tracker to a specific team member. If one of your direct reports is looking to take on additional responsibility for an upcoming promotion, managing the meeting tracker and analyzing its data is an excellent task to delegate.
Delegating tasks to your team can empower your team members and help them build trust with one another while also growing their personal development. If you struggle with delegating, remember that delegating work is not just passing or handing off work that you may not necessarily want to do to someone else. In reality, delegating tasks is a sign of a strong leader, not weakness or laziness. Ultimately, delegating the task of maintaining the meeting tracker should be seen as an opportunity for a team member to grow or develop a new skill, like project management.
3Review analytics regularly
What's the point of a meeting tracker if you don't review the data? Regularly review past meeting notes and action items to ensure everything is on track and nothing falls through the cracks.
With Fellow's workspace analytics built into the meeting tracker, your team can review data like:
Meeting overload
Meeting inefficiencies
Employee engagement and productivity
Meeting culture
Your team may be surprised by what the analytics show and where there's room for improvement.
4Make it simple
Ultimately, a meeting tracker should be easy to use and understand. Keep it simple and avoid adding unnecessary details. Otherwise, your team may feel overwhelmed by an abundance of information that isn't exactly helpful or that doesn't keep them on track to achieve their goals.
Dive into meeting data
From weekly one-on-ones to monthly all-hands, a meeting tracker keeps tabs on every type of meeting your organization has on the calendar. The more you use the meeting tracker, the more helpful this type of tool becomes in ensuring every meeting is productive and efficient.