Organizations in industries across the gamut were forced to pivot and adapt during the COVID-19 pandemic. Communication, as we knew it changed as employees around the world, were forced to adopt remote-first policies powered by emerging technologies and internal communication tools. Employers and employees alike have begun to embrace what it means to work remotely, and thus, sourcing internal communication tools that streamline communication, improve efficiency, and encourage collaboration has become more important than ever.
What are internal communication tools?
Internal communication tools are tools used within organizations to streamline communication amongst employees, teammates, and stakeholders. Leveraging internal communication tools helps organizations provide an effective flow of information between departments and colleagues, making information easily accessible to all.
Internal communication tools are used up and down the employee and management chain and can also be used by employees to communicate with each other. While the main function of internal communication tools is to streamline communication, these tools also increase visibility and help build stronger connections between employees.
Features of effective internal communication tools
Knowing what features to search for when sourcing internal communication software for your organization is key. You'll want to make sure that the features correspond with your goals and aspirations. Features to look for include, but aren't limited to:
File sharing
Integrations
Social sharing
Activity tracking
Search capabilities
Information sharing
Multi-language support
Security and permissions
Organization and structure
Interactions and discussion

Reap the benefits of internal communication tools
Optimize one-on-ones by enabling leaders, managers, direct reports, and peers to collaborate on meeting agendas, assign action items, get suggested conversation topics, and exchange feedback!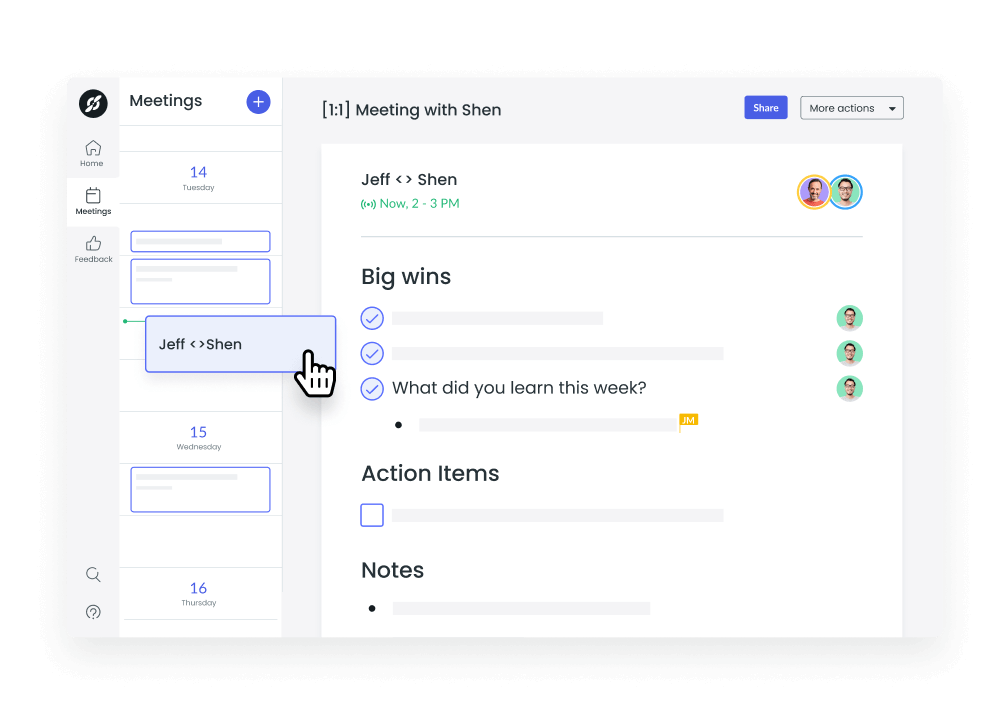 Why are internal communication tools important?
1Reduce time wasted
Internal communication tools are important for a variety of reasons, with one of the most prominent being a faster response time during times of crisis. In a remote-first workforce, internal communication and prompt response times prove to be difficult. Without proper internal communication tools, you may find yourself struggling to connect with your teammates or gain support when needed.
With the right tools, communication flows freely and you won't have to worry about dealing with any major emergencies on your own. The right tools paired with an internal communication strategy will ensure your teammates are available and easy to connect with so you can get in touch immediately and refrain from wasting valuable time.
2Encourage collaboration
Leveraging communication tools is a great way to encourage collaboration amongst teammates, or even cross-functionally between varying departments. Communication tools are an excellent resource for both in-person and remote teams, but they're especially beneficial for remote employees who don't have the means to work together in person.
Working collaboratively as opposed to individually helps improve productivity and efficiency while providing employees with a greater sense of purpose. Employees who collaborate instead of working alone are also much more inclined to think outside of the box by brainstorming and working as a team to problem solve or provide deliverables.
3Improve efficiency
No one can do their job without the proper set of tools, and the same thing can be said for communication and collaboration. When used correctly, communication tools can help improve efficiency. Not only do tools of this nature help streamline communication, but they also help managers create and track tasks for their team members—and doing so helps boost transparency and accountability amongst employees.
4Provide employees with information
As organizations grow, information begins to get lost. Without proper systems or processes, it can be nearly impossible to centralize information, which makes it extremely difficult for employees to access what they need to thrive in the workplace. Having adequate communication tools means employees will have access to the information they need, when they need it.
What's really important is that the people on the team know their priorities and know what matters. If someone comes out of the blue and says, 'Hey, I need you to drop everything you're doing and do this.' They should be in a position to say, 'That seems odd, because I feel like as an organization, we're aligned around these priorities. And that feels like it's not lined up with that, can you give me a little more information'?

– Rob Zuber, CTO of CircleCI
8 top tools for internal communication
1Fellow
Thousands of leaders at companies like Shopify, SurveyMonkey, Webflow, and Gong.io have been using Fellow to optimize and improve internal communications. Fellow enables companies of all kinds to optimize one-on-one meetings by making it possible for leaders, managers, direct reports, and peers to collaborate on meeting agendas, assign action items, get suggested conversation topics, and exchange feedback.
Fellow is the one-on-one meeting app that your entire team will love, and you can try it for free. Fellow's integration feature even allows you to integrate the tool with others you may already be using!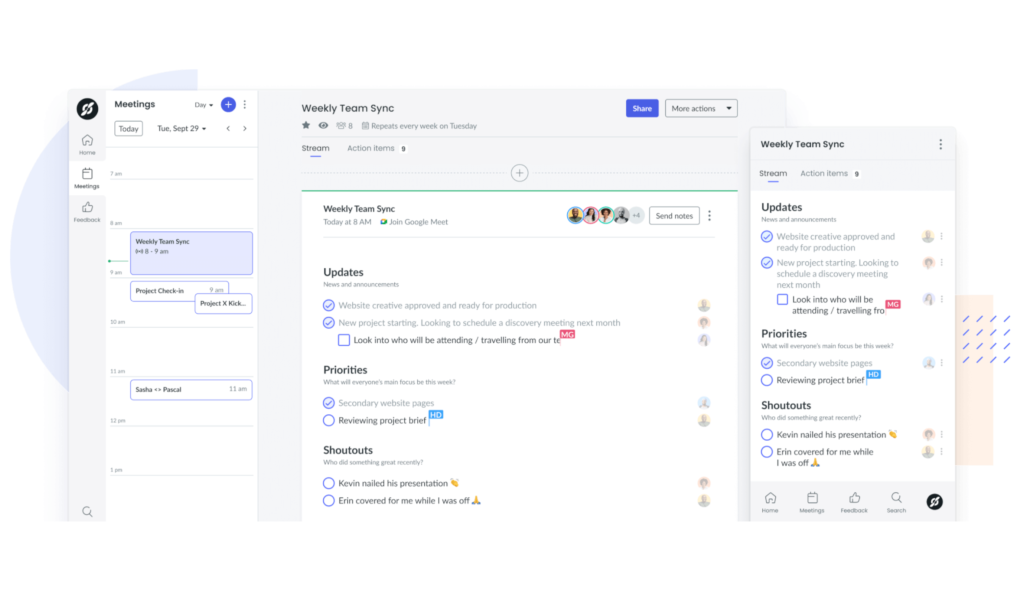 Fellow empowers managers and their teams to:
Collaborate on a meeting agenda before every one-on-one
Centralize action items from different meetings in one personal to-do list
Assign clear action items and takeaways at the end of each meeting
Keep track of work interactions and feedback over time 
Pricing:
Free-$0 per user per month (for teams of up to 10 people)
Pro-$7 per user per month (maximum of 25 users; includes AI suggested topics and meeting automations)
Business-$10 per user per month (maximum 100 users; includes implementation services)
Enterprise-$15 per user per month (includes organization analytics)
Learn more about Fellow's pricing plans.
2Microsoft Teams
Microsoft Teams is a derivative of the Microsoft 365 family of products and acts as an excellent internal communication tool. Similar to Slack, Microsoft Teams offers workspace chats, videoconferencing, file storage, and application integration.
Microsoft Teams is designed for everyone, and plans and pricing vary depending on your needs—you may even qualify for the free program.
Price: If you require additional features and functions, there are a variety of plans that range in price up to $16 a month for the Microsoft 365 Business Standard package.
3Slack
Slack is a workplace communication tool that allows teammates to communicate seamlessly. Slack comes chock-full of features like integrated file sharing, instant messaging, video and phone calls, and screen sharing. Slack provides teams with a hub they can leverage to communicate, brainstorm, and share resources. You can even use Slack's automation tool known as "Slackbot " to remind teammates of daily meetings, prompt updates, or check in with your peers.
Price: Plans and pricing vary depending on your needs, but you can check out the Slack Help Center or contact their sales team for pricing specifics.
4Zoom
Zoom provides videography and online chat services through a cloud-based, peer-to-peer software platform that can be used in the workplace for things like one-on-one meetings, presentations, pitches, or even daily check-ins. Zoom is ideal for one-on-one meetings because it allows you to bring a face-to-face element to the encounter. Instead of a quick phone call, you're able to sit face to face and hold a meaningful meeting. Additionally, Zoom is extremely easy to use, allowing both parties to meet and share their screens through conferencing software where one or many can join to collaborate or sit in on the meeting.
Price: Plans and pricing vary, but depending on what you need to use Zoom for, it could be completely free! Click here to learn more about which plan would be best for you.
5Google Drive
Developed by Google, Google Drive is a file storage and sharing tool that streamlines the centralization of information. Users can store files in the cloud, synchronize files across multiple devices, and share files with their colleagues.
While basic Google Drive storage and services are free, you may need to upgrade your storage for a fee as you scale.
Price: Click here to learn more about Google Cloud pricing.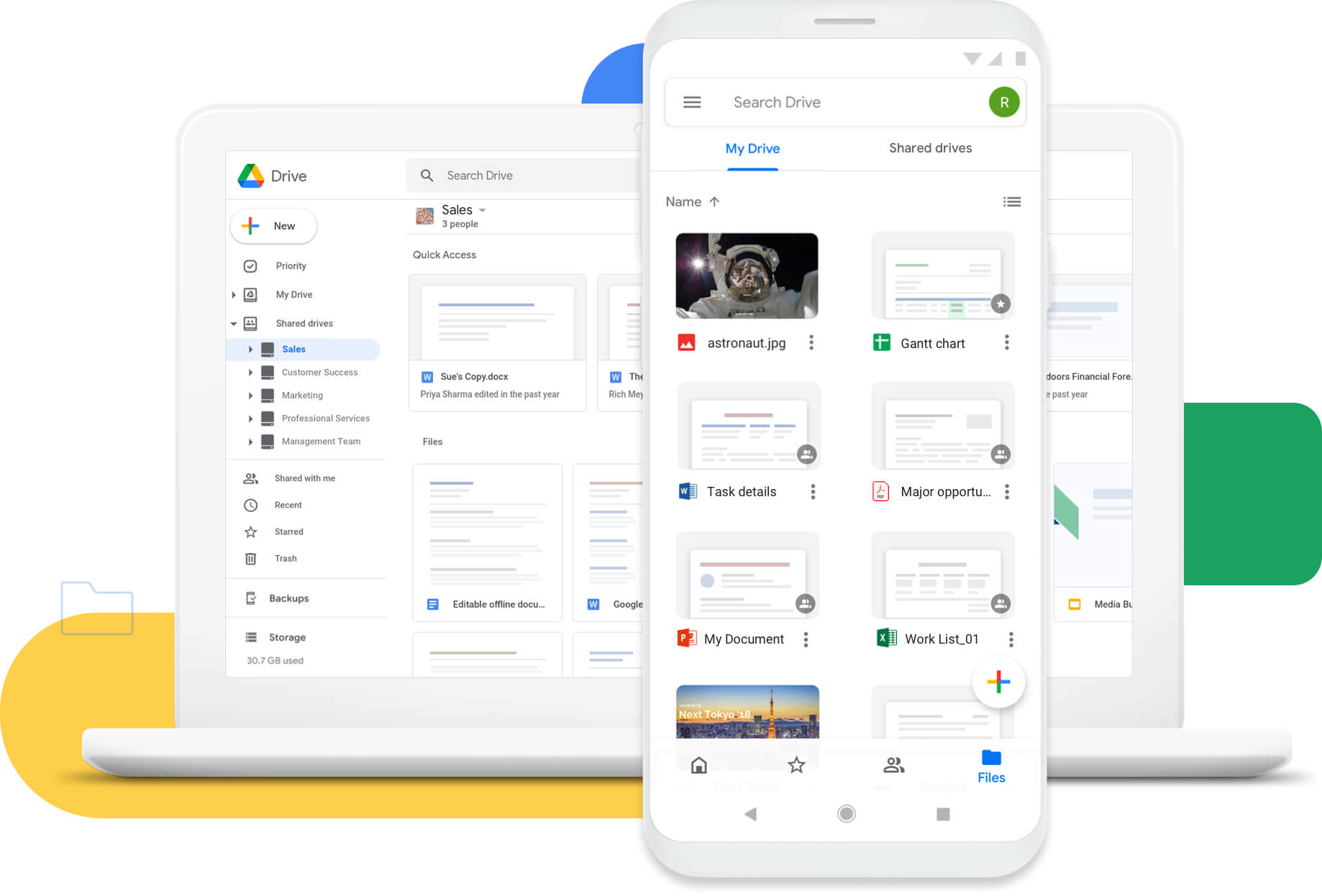 6Discord
Discord is a newly popularized instant messaging and social platform that allows users to communicate through communities known as "servers." Discord makes it possible for users to communicate with voice calls, video calls, and text messaging either privately or publicly through these servers.
Price: Discord is free to use, but there is a paid plan that comes with more functionality. Discord Nitro costs $9.99 per month or $99.00 per year; there is also a more cost-effective plan called Nitro Classic that costs $4.99 per month or $49.99 per year.
7Loom
Loom is a video messaging tool that helps you get your message across through instantly shareable videos. It allows team members to connect and collaborate without being in the same physical location. Loom's asynchronous communication feature also means that team members can communicate on their own time, without worrying about scheduling conflicts. With Loom, team members can easily record and share updates, feedback, or project progress, making it an efficient and effective way to communicate important information within a team.
Price: Loom is free for up to 25 videos per person. They offer various pricing plans starting at $8 per user.
8Workday
Workday is an all-encompassing communications tool that allows users to better plan, execute, and analyze findings across the entire organization. Built for finance, HR, and payroll professionals, Workday provides users with the ability to make smarter decisions. Workday offers a variety of products and resources and each price point varies accordingly.
Tools for internal communication: a recap
In conclusion, choosing the proper tools for internal communication can make a world of difference. Not only do these tools work towards centralizing information that can be accessed by employees across the entire organization, but they also increase productivity and efficiency. When choosing which form of communication software you wish to move forward with, you'll want to make sure to match the features and functions with your goals and aspirations.