With teams increasingly going remote, collaboration software has become a must-have for modern work. In fact, 80% of workers are now relying on these technologies to increase their efficiency.
In this blog, we'll explore the best collaboration tools for remote teams so you can choose the right one for your specific business needs.
How do remote team collaboration tools help your team?
Improve communication: No matter where team members are, remote working tools enable them to stay in touch and collaborate effortlessly. With powerful chat and video conferencing options at their fingertips, virtual team members can remain connected even when they're miles apart.
Increase productivity: Remote teams can benefit from a range of powerful features designed to help maximize productivity and efficiency—including file sharing, virtual whiteboards, and brainstorming tools for idea generation and knowledge sharing among team members.
Increase accountability: Remote teams can stay organized with tools that provide an easy way to track time and request personal days. These features make it simpler for team members to keep tabs on availability while holding one another accountable.

Experience seamless collaboration
Collaborative meetings allows you to leverage your team's diverse perspectives and expertise. Get more done in less time with a meeting collaboration tool like Fellow.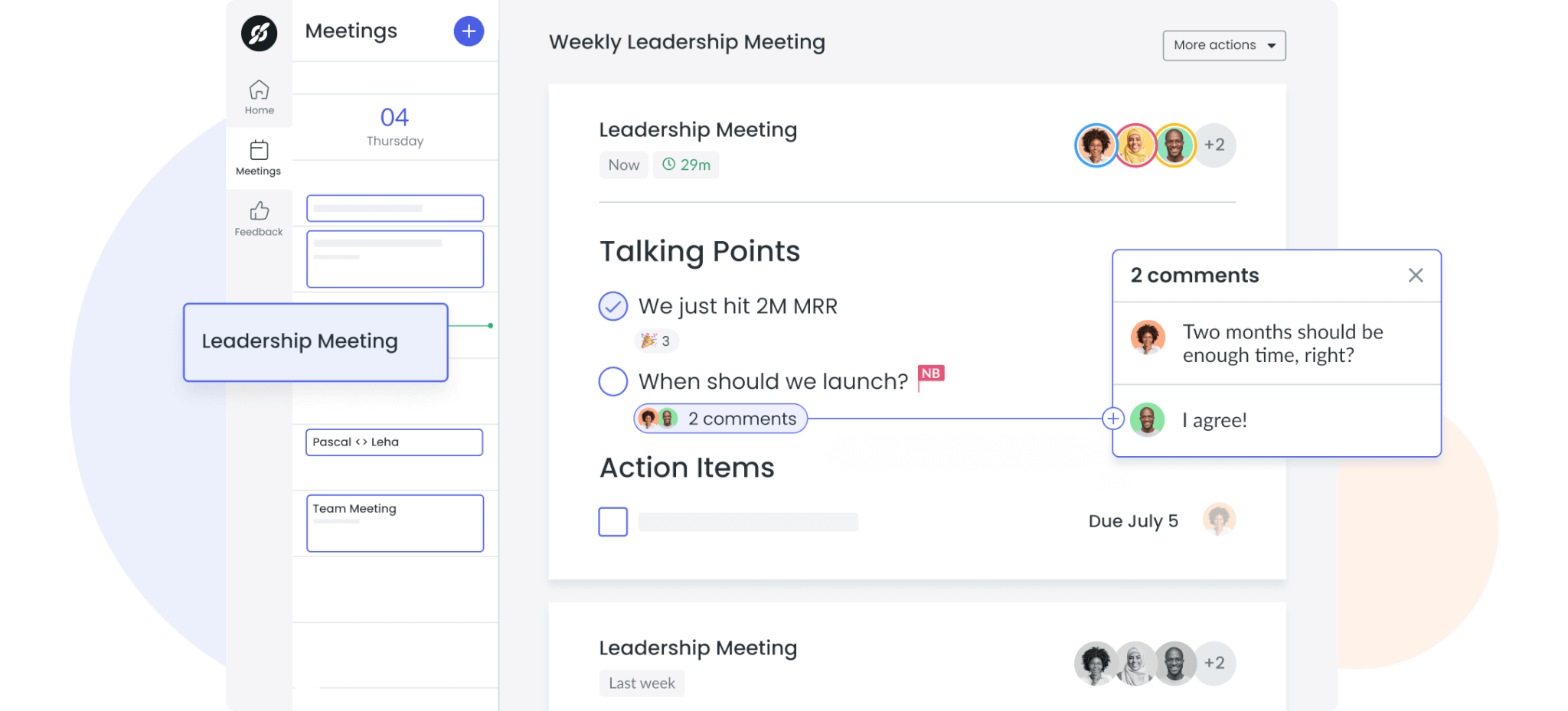 What are the different types of remote work tools?
There are many different types of tools to choose from, each designed to address specific needs and challenges that arise when working remotely. Here's a list of tools that your distributed workforce may find useful:
Collaboration tools
1Fellow
Fellow is one of the best collaboration tools for remote teams as it helps you run effective meetings. Fellow offers tons of team meeting agenda templates, so you don't have to start from scratch each time you meet.
With the action items feature, you can assign and prioritize tasks from a single platform. You can also integrate Fellow with Asana, Jira, and Zapier and get, give, and track feedback on meetings, projects, and assignments in real time.
Pricing:
Free-$0 per user per month (for teams of up to 10 people)
Pro-$7 per user per month (maximum of 25 users; includes AI suggested topics and meeting automations)
Business-$10 per user per month (maximum 100 users; includes implementation services)
Enterprise-$15 per user per month (includes organization analytics)
Learn more about Fellow's pricing plans.
2Dropbox
Dropbox helps your team to work on what matters the most in a smart way. It helps your team be more organized and agile by bringing together traditional files and cloud content into one place. Dropbox provides a singular platform where you can easily access and share files from your desktop or mobile device. You can synchronize all your projects and integrate the tool with other collaboration tools for remote teams, such as RingCentral, Microsoft, or Zoom, without leaving Dropbox.
Pricing: Free plan available; Paid plans start at $9.99 per user per month (billed annually).
Project management tools
1ClickUp
ClickUp is a dynamic project management tool with a single robust dashboard that helps you to simplify your work and get more done efficiently. You can assign tasks, collaborate with teams, work on docs, and set your project goals—all with ClickUp. The tool also offers a whiteboard feature that you can use to bring life to your ideas for your project. It allows you to customize every type of project without having to be a coding expert.
Pricing: Free plan available; Paid plans start at $5 per user per month (billed annually).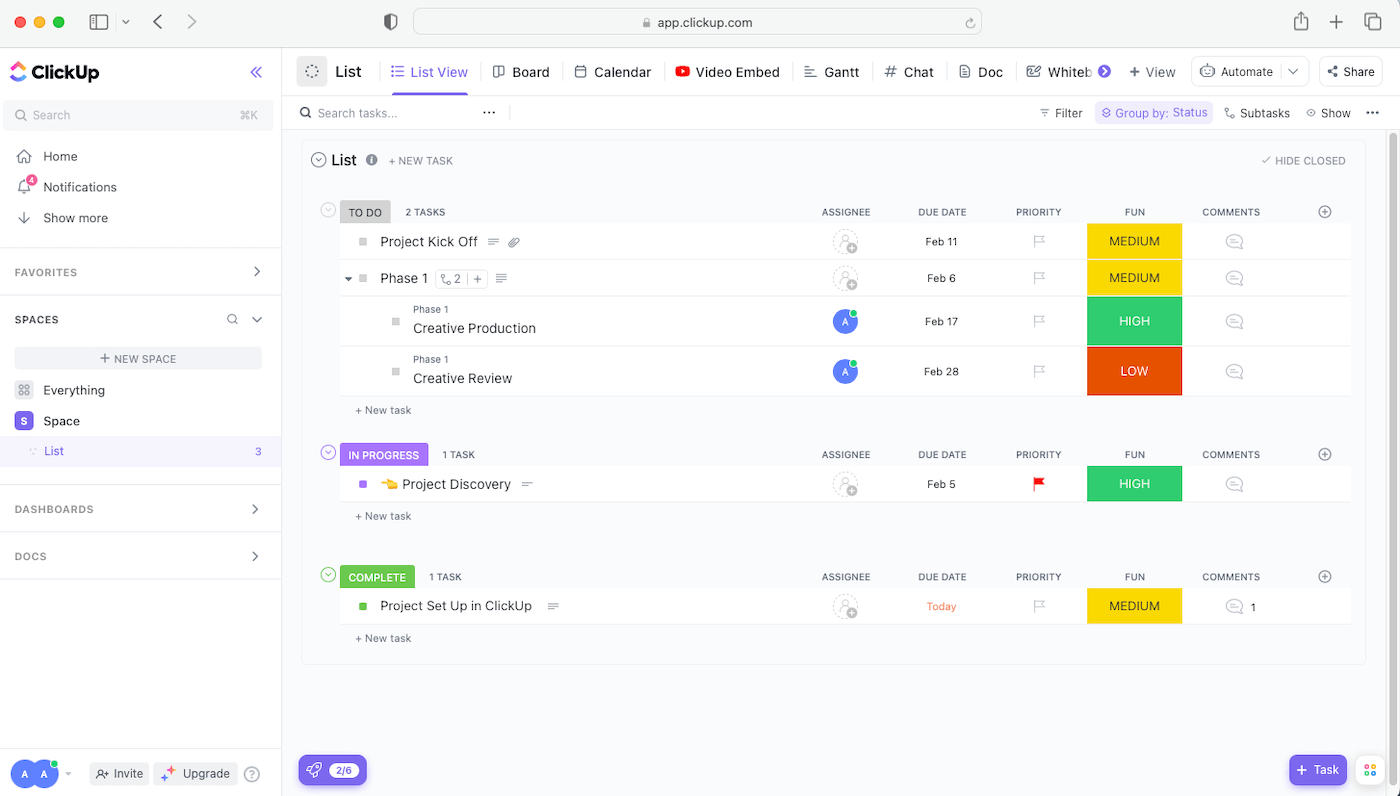 2ProProfs Project
ProProfs Project is a dynamic project management tool with a user-friendly interface. It allows you to share ideas and files, providing easy collaboration among team members. You can also synchronize your calendar with other calendar tools like Google Calendar, iCal, or Outlook, helping you plan, allocate, and manage tasks and deadlines for your team members. Not only that, but you can also track the progress of your tasks and projects using Gantt charts to ensure successful output.
Pricing: 15-day free trial available; Paid plan starts at $39.97 per month (billed annually).
Communication tools
1Slack
Slack is one of the note-worthy remote team collaboration tools both for synchronous and asynchronous communication. Its channels allow you to find the right people in one place for specific tasks.
With the huddles and clips features, you can connect with your remote team through audio and video calls to collaborate and resolve issues in real time. You can also use Slack Connect for external communication with your customers, vendors, and partners.
Pricing: Free plan available; Paid plans start at $7.25 per user per month (billed annually).
2Loom
Loom is an effective video messaging tool that you can use to update your team. You can send shareable meeting videos instantly to your team members who couldn't join the meeting. Loom allows you to record your camera, desktop screen, and microphone. A plus is that it works for all devices using Loom's desktop or mobile apps or Chrome extension.
With Loom's shared workspace feature, you can now collaborate with your team members on videos in new Personal, Shared, and Team Libraries. It also gives you insights into who has watched your video, how much they watched it, and the conversion rate of your call-to-action with its Engagement Insights feature. Don't forget that the tool offers integrations with Zoom, Zendesk, Jira, and other remote collaboration tools, too.
Pricing: Free plan available; Paid plans start at $8 per user per month (billed annually).
3RingCentral MVP
RingCentral MVP is a complete VoIP phone system for remote collaboration. It's a one-stop solution for messaging, video calls, and phone calls to simplify communication on any channel. RingCentral allows meeting participants to join meetings directly from their browsers.
You can benefit from its collaboration features like task management to create, assign, and monitor tasks; you can also upload and share files with your team members. It has powerful integration capabilities with Microsoft 365, Google Workspace, Salesforce, Okta, and more platforms, making it the best video meeting and conferencing platform for distributed remote teams.
With RingCentral MVP, you can take your virtual meetings to the next level using screen-sharing or whiteboard features. You can easily share your ideas by creating freehand drawings, annotating images, and using sticky notes—all in real-time.
Pricing: RingCentral Video Pro (Free plan); RingCentral MVP offers paid plans per user per month (billed annually).
Employee engagement tools
1Jotform
Jotform is a codeless online form builder for remote employees. It allows you to create custom online forms with its intuitive drag-and-drop user interface.
Jotform provides a variety of customizable templates for managers to provide performance evaluations to employees, and Jotform's customizable survey templates allow you to create employee engagement activities to gather feedback. It also allows integration with communication tools such as Google Sheets, Dropbox, and Google Drive.
Pricing: Free plan available; Paid plans start at $34 per month (billed annually).
2Donut
Donut is another top-notch employee engagement tool that helps remote employees communicate effortlessly. It provides a variety of different templates to build and maintain meaningful human relationships.
Donut has a default integration with Slack that enables easy-to-schedule group meetings. Donut also helps to create remote connections in an automated and interactive way. Its virtual watercooler feature lets you have lively conversations and friendly debates with your team members in any Slack channel of your liking. Additionally, Donut's celebrations feature automates your special days to celebrate them with your teams.
Pricing: Free plan available; Paid plans start at $49 per month (billed annually).
3Polly
Designed exclusively for Slack, Zoom, and Microsoft Teams, Polly is another employee engagement tool in our list that simplifies polling. Gathering feedback has never been easier.
With Polly, you can get feedback instantly by scheduling a Polly to be delivered on a specific date, time, and channel. The tool's fluid native experience drives more accurate answers for the polls.
It allows you to integrate useful tools like Google Calendar, Zapier, and Google Sheets and automate repetitive tasks. It also offers tons of templates for users to get started with.
Pricing: Free plan available; Paid plans start at $19 per month (billed annually).
Time management tools
1Clockwise
Clockwise is an AI-powered time management tool that boosts the productivity of remote employees. It allows you to optimize your team's schedules to get the most out of it.
Its Time Orchestration feature uses AI to schedule the right meeting time suitable for everyone on the team. The autopilot automatically optimizes your work schedule depending on the priority of tasks. It minimizes distractions by integrating with tools like Slack and Asana during Focus Time.
Pricing: Free plan available; Paid plans start at $6.75 per user per month (billed annually).
Parting advice
The hybrid model of work is here to stay. With the right remote tools, you can set your team members up for success—no matter where they're located.
Whether you're looking for a tool to facilitate video conferencing, project management, or file sharing, there's something on this list for every team. Take the time to evaluate your team's needs and try out these tools to see which ones work best for you.