Your time as a team leader is precious, so if there's a way to boost productivity and improve efficiency, it's worth trying. Task management software, for example, takes over the tedious parts of managing your day-to-day so you can focus on the big picture. Teams across industries use these tools to manage recurring tasks and big projects alike. Read on to learn about the best task management software platforms for streamlining your workflow and concentrating on the bottom line.
What is task management software?
Task management software is a platform that acts as a one-stop shop for organizing all team responsibilities within a project. Stay on top of subtasks and deadlines with reminders and calendar integrations, and collaborate with your team through communication and task assignment features. You'll often find reporting tools for analyzing your team's workflows in task management software as well. The end result is more effective task prioritization, delegation, and planning.
Benefits of using task management software
The best task management software powers efficient task tracking via a user-friendly interface that your team can easily navigate. Here are the three main reasons—among others—to add a task manager to your team's toolbox.
Automate workflows. Set one-time or recurring tasks that streamline your team's workflow to boost productivity.
Budget time for big projects. Task management software breaks larger goals into small tasks, making big projects easier to digest. When you see all the details of everything you need to accomplish, it's easier to reach deadlines.
Delegate fairly. See what's on everyone's plate so you can assign tasks to team members with the bandwidth to handle them.
Top task management software platforms in 2024
These are the best task management software platforms to help your team hit the ground running.
1Fellow
If better team collaboration is your goal, Fellow's productivity tools for teams are here to help. Fellow is a task management software platform that streamlines everything that happens before, during, and after your meetings. With less preparation and follow-up work, you get more time to keep your big projects on track and on time. Plus, if anything is slowing your team down, Fellow's reporting features can give you insight into why.
Create streamlined meeting agendas and turn action items that arise during discussions into achievable tasks that you can delegate and track from start to finish. Use collaborative notes to brainstorm with team members from anywhere, and streamline meetings with a range of meeting agenda templates. You can also enjoy Fellow's 50+ integrations and sync the tool with your other team platforms. If you want to help your team grow, feedback and one-on-one meeting tools help with constructive feedback that guides each team member toward their goals.
Fellow offers free plans for teams of 10 or fewer people. Paid plans cost $7 per user per month for Pro plans and $10 per user per month for Business plans. Enterprise subscriptions are priced according to your team's exact needs.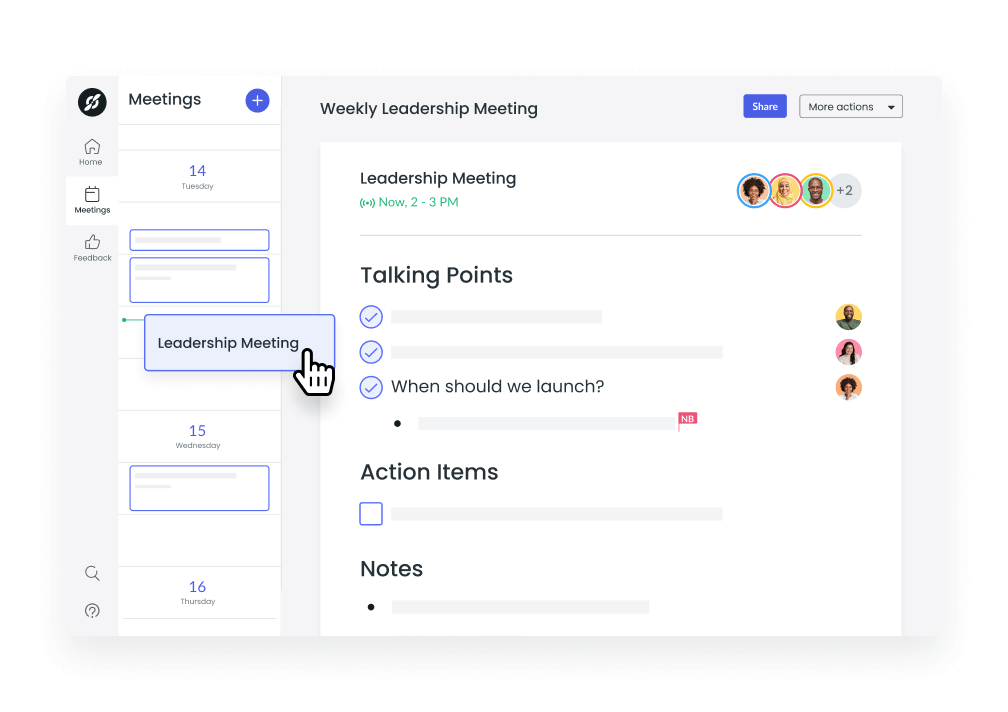 2Hive
Hive is a task management software platform designed for teams in hybrid environments. Its goal-tracking features show your percentage of tasks completed to indicate how close you are to reaching your objectives. The platform's project task management hierarchy features allow for smoother prioritizing, and proofing features allow you to send creative assets for client approval.
Free Hive plans are available for individuals. Paid plans begin at $12 per user per month, with custom enterprise pricing available.
3ClickUp
ClickUp's project software platform includes customizable task creation and automated task assignments. You can assign tasks to teammates, who can then ask questions via comments. ClickUp's platform also offers an artificial intelligence (AI) assistant to expedite project management tasks. You can try over 35 task templates with ClickUp as well.
Paid ClickUp plans range from $7 to $12 per user per month, and custom enterprise pricing is available upon request. Individuals can also use ClickUp for free.
4Any.do
Any.do helps teams collaborate and manage their to-do lists. Individual team members can use daily planners in private view, chat features allow team members to easily collaborate on a shared task, and you can prioritize tasks through color coding.
Personal Any.do plans are free. Premium plans are $3 per month, and Team plans are $5 per user per month after a free task management software trial.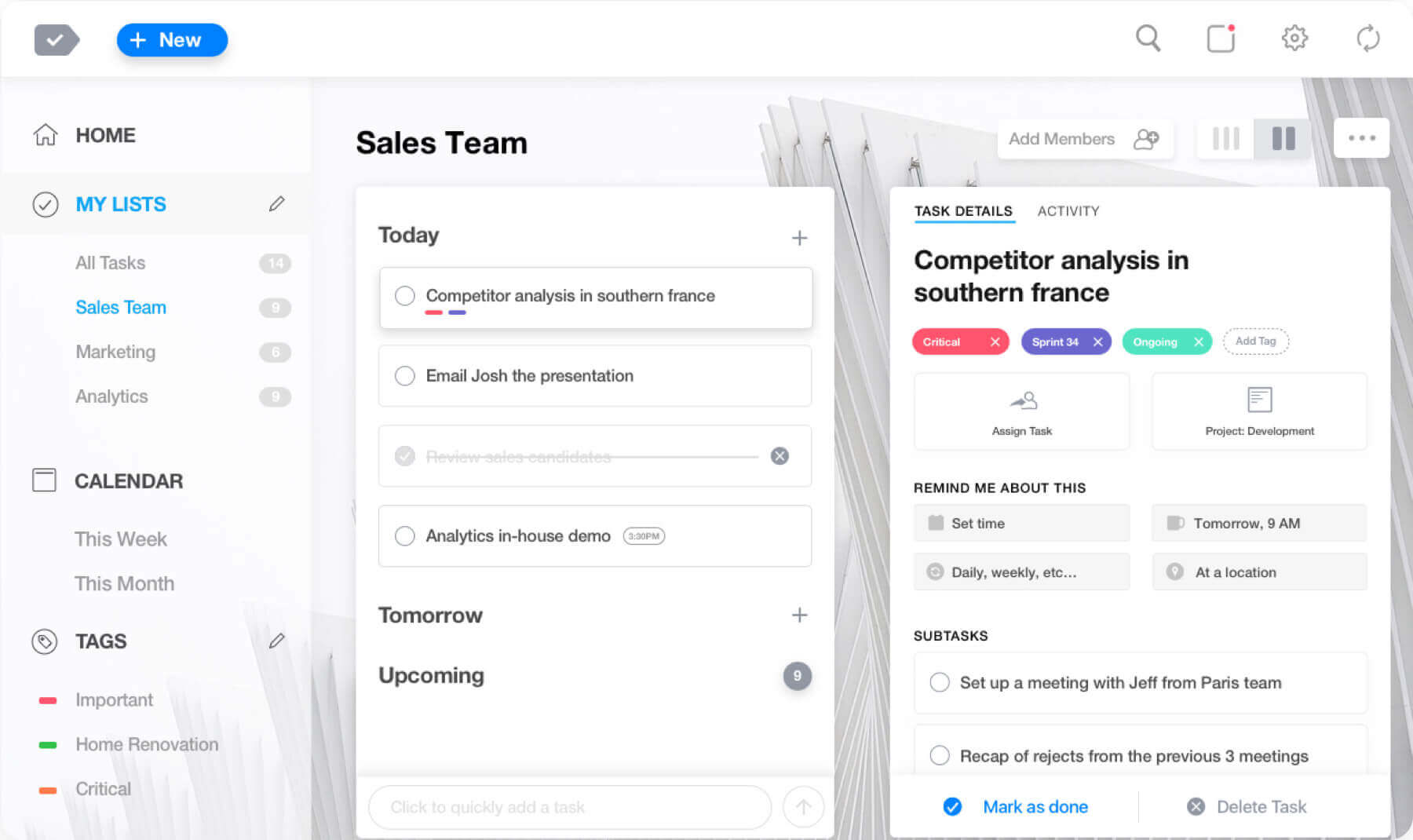 5Todoist
Todoist is a task management software platform popular among teams running businesses and individuals managing personal tasks. Daily priority levels tell you the most important items on your list. With the Pro subscription plan, you get task reminders that tell you when deadlines are approaching. Todoist for teams can also sync with multiple devices and integrate with over 10 other platforms.
Beginner Todoist plans are free, individual Pro plans cost $4 per month, and Business plans, which are best for teams, cost $6 per user per month.
6nTask
nTask's task organizer software comes with to-do lists that provide time estimations for each item. You can also attach files to tasks that you assign team members as well and leverage time-tracking features to provide transparency for any given project.
Premium nTask plans cost $3 a month, and you can upgrade to a Business plan for $8 per month. Custom enterprise pricing is available upon request, with no free plans offered.
7Chanty
Through Chanty's team collaboration software, you can create new tasks and assign them to team members or generate tasks directly from team messages. Kanban views are available for managing projects and viewing tasks in columns and rows. You can also manage tasks by priority levels and receive notifications before deadlines.
Teams of 10 or fewer people can use Chanty's free task management software plan. Business plans cost $3 per user per month.
8HubSpot
The customer relationship management (CRM) platform HubSpot also offers a task management software platform for sales teams. You'll get access to a personalized dashboard with all tasks and contacts, and you can see your upcoming meetings through calendar syncing and add tasks directly from your emails as well.
Task management plans are part of the "Free Tools" HubSpot plan. Upgraded features are available through premium HubSpot plans that start at $20 per month.
9Flow
Flow offers comprehensive task and project management software for teams. You can follow tasks for team projects so that you receive updates when a task's status is updated. Tagging features make it easier to filter individual tasks, and rich text notes and comment features streamline team collaboration.
Flow offers a free task management software trial for 30 days. Tiered paid plans are available for $6, $8, or $10 per user per month.
10Trello
With Trello, you can use boards, lists, or cards to view projects and tasks. The platform's advanced checklists empower you to provide additional direction when assigning tasks to team members. You can also prioritize tasks with labels that reflect each task's urgency.
A free Trello plan is available, and Trello Standard costs $5 per user per month. Upgrade to Premium for $10 per user per month, or Enterprise plans for $7.38 to $17.50 per user per month.
11monday.com
monday.com is a work management platform with task and project management features. Set and assign tasks and tie them to larger goals with color-coded prioritization options by status. The platform also features over 200 automations for workflow efficiency.
Free monday.com plans are available for teams with only two users. Paid plans are tiered at $8, $10, and $16 per user per month. Contact monday.com for enterprise pricing.
12SmartTask
SmartTask offers project, task management, and CRM services. Collaboration features include real-time updates when tasks are updated. You can also create tasks with custom fields—such as job applications for HR teams. If you need to collaborate with a client, SmartTask's guest user features allow external users to access projects.
A free entry-level SmartTask package is available. Premium plans cost $7.99 per user per month, and Business plans cost $10.99 per user per month. Contact SmartTask for custom Enterprise pricing.
13MeisterTask
MeisterTask includes Kanban boards for workflow visualization and integrates with common platforms such as Slack. This task management software platform includes multiple checklist features to organize several projects and subtask features for breaking big projects down into more manageable parts.
Basic MeisterTask plans are free. Pro plans are available for $12 per user per month, or users can upgrade to the Business plan for $24 per user monthly. Contact MeisterTask for custom enterprise pricing.
14Asana
Asana focuses on project and workflow management. Its most prominent features include task lists, comments, notifications, and other team collaboration features.
With Asana, you can easily group a project's tasks together, assign these tasks to team members, set due dates, and see a detailed list of each team member's assignments and deadlines. Asana doesn't enable managers like yourself to create Gantt charts, though—it lacks an easy way to plot out the ideal amount of time team members should spend on each task.
Asana's free tier includes three project views, community support, and basic workflows, reporting, and security. Asana's paid tiers include advanced versions (or greater amounts) of all these features.
With Asana, you can organize task lists by deadline or project, comment on tasks and tag teammates, and privately message other team members. All communications trigger notifications, as does the assigning of tasks. A free plan is available, and paid plans start at $10.99 per user per month.
15Airtable
Airtable enables you to design custom applications for all kinds of task management needs. You can use it to create a fully customized product planning interface, track bugs in software engineering projects, manage tasks, and plenty more. For professional or enterprise-level users, Airtable offers customization features largely unavailable elsewhere.
Lower-tier Airtable features include solely non-custom task management tools such as grid, Kanban, calendar, gallery, and form views. The free tier and lowest-level paid option lack most of the advanced features that distinguish Airtable from its competitors. The highest-level paid tier comes with professional services, admin tools, and an ongoing success program. Higher-end tiers come with customization, editing and permissions, and professional services.
Airtable offers a free tier, and paid plans start at $20 per month per user. Apps, customizations, and Gantt and timeline views are solely available with paid plans.
16Basecamp
Basecamp is a project management platform intended for remote use. Both virtual and in-person teams can use it to streamline communication and workflows in various ways. Through Basecamp, you and your team can send important notifications. You can also create message boards and store and share relevant files.
Basecamp combines commonly sought communication, project management, and file storage and sharing capabilities in one flat-fee platform. However, Basecamp lacks Gantt charts, Kanban boards, and many other important visualization tools.
Basecamp starts at $15 per user per month, or $299 per month independent of your number of users. Basecamp's paid tier includes a company HQ, priority support, and advanced client access. It also comes with an unlimited number of clients alongside team projects and project templates. The paid plan also eliminates user and project limits while substantially increasing storage space.
17Quire
Quire is a project management software that prioritizes user-friendliness and Kanban boards. You can use it to gather ideas and sort them into logically planned, realistically achievable projects.
In Quire, nested task lists break down assignments into smaller, interrelated tasks, Kanban boards follow logically from nested task lists, and user permissions allow for the creation of external teams that can't see anything beyond their own projects. All these features come in a user-friendly interface.
Quire's nested task displays are rare among its task management software competitors. Training and consultancy can be prohibitively expensive if you're setting up team access to lower-level tiers.
Quire offers a free plan, and its paid plans start at $7.65 per user per month. Paid Quire tiers include more storage, sublists, and external teams. The highest tiers include extras such as training and premium support.
Parting advice
Task management software is an important tool for keeping your team organized. Storing all your tasks in one place makes it easier to get a panoramic view of what's on your team's plate. From streamlining task delegation to gaining helpful insights that you can apply to time management practices, task management software makes teams stronger. Use Fellow to assign action items, streamline meeting agenda creation, build accountability, and manage tasks across your whole team!