Yes, we know what you're thinking. "Google Docs is my organization's bread and butter, and we love it. Why would we need Google Docs alternatives?" First things first: Yes, Google Docs is a powerful, borderline ubiquitous text-editing tool with excellent real-time collaboration features. And yes, it makes it easy as pie to share documents and obtain ample cloud storage for your digital files. But it's not perfect.
For starters, Google Docs is notably finicky about offline access. Its change-tracking tools can also cause as many problems as they solve. Consider the below Docs alternatives if these problems hit close to home.
The best Google Docs alternatives
The best alternatives to Google Docs often improve on the universal browser app's flaws. Some alternatives, though, are more specific to certain use cases such as meeting documentation. Below is a list of all the text editor alternatives your organization might want to try.
1 Microsoft Office Online
What's the first thing that comes to mind when you think of alternatives to Google Docs? We'll guess: Microsoft Word. In that case, Microsoft Office Online can be a viable alternative to Google Docs. It basically brings all the desktop Word features you love online for real-time collaboration. If you get it as part of a Microsoft 365 plan, it comes with Excel, Powerpoint, and OneDrive cloud storage.
Microsoft Office Online suits teams that struggle to reckon with the chaos that can come from using Google Docs' Suggesting tool for tracking changes. At the same time, Office Online lacks document password protection capabilities and any use of macros. If these features are paramount to you, then other Google Docs alternatives may suit you better.
Key features:
Online version of classic desktop Microsoft Word document editing program
Available with Microsoft 365 business plans that include Excel, PowerPoint, OneDrive, and other Microsoft apps
Real-time collaboration and easier tracked changes, though issues with password protection and macros
Price: Microsoft Office Online is available through Microsoft 365 plans that cost between $5.00 and $12.50 per user per month.
2 Quip
Quip is a Docs alternative for sales teams that enables collaboration on basic written documents from any device. Its chat section lets you communicate with your collaborators in real-time, and its offline editing tools are readily accessible. You can also view all changes made to your documents with Quip's news-feed-style edits list. Its main drawback is that it offers solely basic formatting tools, so you might struggle to organize more complex text documents.
Key features:
Real-time chat with document collaborators
Seamless offline editing
News feed of recent changes, but not enough formatting features to support complex documents
Price: Quip starts at $10 per user per month.
3 Fellow
With Fellow's Streams feature, you can create team OKRs, personal to-do lists, and anything else you might store in a word document. Streams also facilitate team-wide collaboration on project plans and objectives. They come with templates that help you create text in your own way as well. Alongside all these document collaboration tools come abundant features that streamline your meetings, though free Fellow plans lack Stream sharing capabilities.
Key features:
Digital notepad for individual task lists and team OKRs
Team-wide collaboration tools for notes and other written materials, but only shareable on paid plans
Templates for working with text however you please
Price: Fellow offers a free introductory app for teams of no more than 10 members. Paid plans for larger teams start at $5 per user per month.

One source of truth
Save time when trying to find where a document is located by having all your important notes in one place by using a tool like Fellow!
4 Nuclino
Nuclino largely resembles Docs while you're collaborating on copy. It's what happens beyond the page that makes it a notable alternative. Nuclino lets you link related files together for a wiki-like effect rather than just storing them in folders. The result is that it's easier to search for information in other related documents and link to one document within another. Nuclino, though, scales back on some important Docs formatting features to enable these linking tools.
Key features:
Link related text documents to one another for wiki-like effect
Easy linking to similar documents in body of text, though not as many formatting options as Docs
Wiki of linked documents creates database you can search amid text editing
Price: Nuclino offers a free introductory tier, and its paid plan costs $5 per user per month.
5 Dropbox Paper
Dropbox Paper is like if Docs came with a little virtual assistant. As you work on text documents in Dropbox Paper, the assistant will alert you to documents newly shared with you and upcoming deadlines. You can also add due dates to tasks assigned in Dropbox Paper, a feature not yet possible with Google Docs. Dropbox Paper's annotation features are also extensive, but as with many Google Docs alternatives, it includes just basic formatting tools.
Key features:
Virtual assistant alerts you of key deadlines and newly shared documents
Assigned tasks come with option to add due dates
Extensive annotation tools, but only basic formatting features
Price: Dropbox's team plans, which include Dropbox Paper, start at $12.50 per user per month. Dropbox's well-regarded individual free plans don't include Dropbox Paper.
6 Zoho Writer
Where Zoho Docs is a popular Google Docs alternative for individuals, Zoho Writer is the equivalent for teams. It includes a writing assistant for readability, style, and grammar tips. You can also use it to directly seek and obtain approval from collaborators and supervisors. With WordPress integrated, you can upload your newly finished copy directly to your website. However, you can't assign tasks to more than one person as with some other platforms.
Key features:
Writing assistant provides style, grammar, and readability advice
Streamlined approval from supervisors and collaborators, though tasks only assignable to one person
Integration with WordPress for immediate posting of copy to your organization's website
Price: Zoho offers a free introductory tier for one user. For teams with two or more users, Zoho starts at $49 per organization per month.
7 OnlyOffice Docs
OnlyOffice Docs is an online word processing platform with a strong emphasis on formatting and team collaboration. Its formatting features include customizable layouts and gutter and mirror margins. Its collaboration features run the gamut from dual editing modes to built-in chat tools. You can also install add-ons for quick translation, YouTube video embeds, and more. Some users say that, with all these features, OnlyOffice's learning curve can be steep.
Key features:
Customizable word processing layouts
Dual editing modes and built-in chat tools
Additional adds-on for numerous purposes, but abundance of tools can present substantial learning curve
Price: OnlyOffice Docs offers one-time lifetime license fees rather than monthly plans. These fees start from $1,200 for enterprise solutions for business.
8 Apache OpenOffice
Apache OpenOffice, often known solely as OpenOffice, is a fully open-source document editor. It streamlines the often tedious process of adding mathematical equations to copy and facilitates the addition of a 3D digital illustration to text. Its multi-language tools streamline team collaboration on word documents across borders and time zones. All these features come in a notably outdated user interface that can make navigation feel unintuitive.
Key features:
Easier addition of mathematical equations to copy
Creation of 3D illustrations from right within word document
Multi-language tools for easy collaboration with almost anyone, but poor user interface
Price: As a fully open-source tool, OpenOffice is free by definition.
9 CryptPad
CryptPad's primary selling point as a Google Docs alternative is its robust security measures. As its name suggests, CryptPad makes it easy to encrypt your text documents and protect them from unauthorized access. Its collaboration tools include an in-document chat tool, and its sharing links are embeddable in other written content. Its main drawback is its free plan's minuscule storage space of 50 MB compared to Google Docs' 15 GB for free users.
Key features:
Encrypts documents to protect unauthorized access
In-document chat tools to streamline collaboration
Documents embeddable in other written documents, though only 50 MB of storage space available for free
10 Coda
With Coda, you can create word documents in an especially collaborative space. You can also share ideas in formats beyond words and paragraphs, such as tables and videos. Creating a new task in Coda simply requires you to type "@" as in Google Docs, but only Coda allows for task automation. For more visually pleasing text work, Coda may feel underwhelming, as its font options are limited compared to other word processing apps.
Key features:
Add videos, tables, and more to word documents
Simple task creation and assigning
Task automation unlike other word processors, but relatively few font choices for visual purposes
Price: Coda offers a basic free plan, with paid plans starting at $10 per user per month.
11 Bit
Bit is a word processor focused on improving collaboration for documents destined to live on the internet. As such, it comes with various workspaces you can link to different objectives and teams. It also makes organizing, sorting, and separating files especially easy. Document templates and a floating editor toolbar are also available. The Bit toolbar is more focused on HTML than advanced formatting, so the app might be a mismatch for formal documents.
Key features:
Link workspaces to teams and objectives
Improved file sorting, organizing, and separation
Document templates with floating editor toolbar, though editing features lacking for formal documents
Price: Bit offers a free plan, and its paid plans start at $8 per user per month.
12 Clickup
ClickUp is a flexible productivity platform built for teams of all sizes and across industries to manage tasks, monitor updates, and work together, all in one place. It's packed with a range of powerful and customizable features to accommodate any type of work—including a dynamic document editor: ClickUp Docs.
Like Google Docs, ClickUp Docs allows you to work alongside your team with real-time collaboration, and rich text editing to structure your writing without ever needing to hit "save." What makes ClickUp Docs so powerful is that your carefully formatted knowledge bases, wikis, and roadmaps can be directly connected to your workflow, making it easier than ever to act on feedback. Even add nested pages to create a visual hierarchy! And since all Docs live within your workspace, you can easily access them via a shareable link, task relationships, or tags.
Key features:
Comments that can be edited and assigned to the team in ClickUp Docs and tasks.
Easily add formatting and style to your Docs with rich text editing that you can access with a simple slash command.
Categorize Docs for easy access and searchability across your workspace.
Price: Access ClickUp Docs, add unlimited members and tasks and get 1,000 MB of storage with the Free Forever Plan, and gain more advanced features with paid plans starting at $5.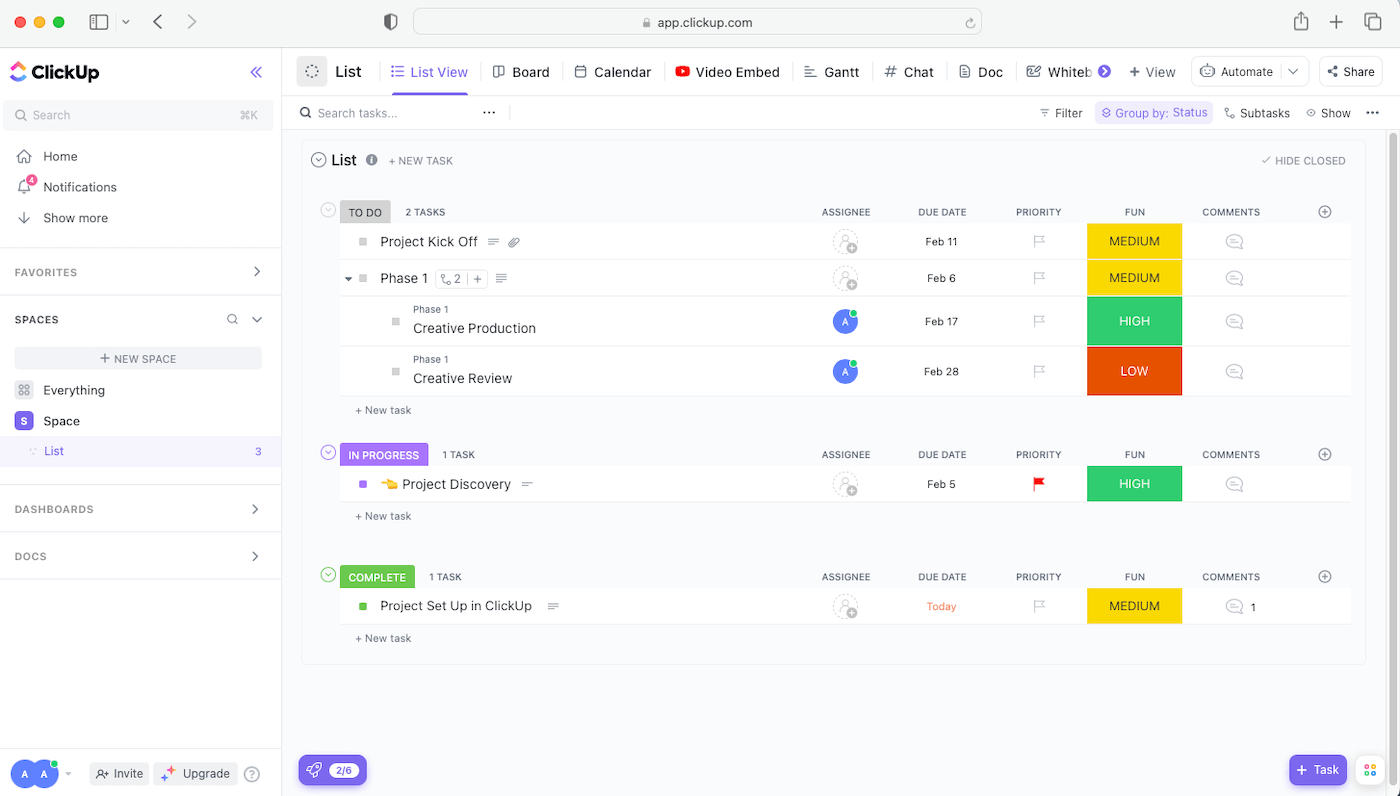 Google Docs alternative come in all shapes and sizes
Some Google Docs alternatives are designed to improve your team collaboration. Others add to Docs' many file sharing and organization features. And others still help you and your team members brainstorm before, during, and after meetings. Fellow falls in the latter camp, and its customizable notes templates and easily shareable notepads can improve any team's conversations. It's the easiest way to make good on the gathering of all your best minds.