Podcasts are not only entertaining, but also educational. While you may not always have time to read a novel or dive into a blog post, you most definitely have time to listen to a podcast. Whether it be during your morning run or on your commute to work, turning on a podcast and indulging in informative conversation that speaks to your respective industry is a great way to learn and to expand your knowledge.
Sourcing excellent podcasts for tech CEOs (chief executive officers) can be a challenge. Luckily, we've taken the time to round up 13 podcasts that are hosted by industry experts and technology professionals, so you don't have to spend time searching for the perfect podcast. Whether you're interested in scaling or acquisition, what it takes to grow a lean startup, trends in technology, or even blockchain, we have a podcast for you.
13 podcasts for tech CEOs
1Supermanagers
The Supermanagers podcast was created by the team at Fellow for managers and leaders who are eager to sharpen their skills and excel at leading teams. Aydin Mirzaee, the CEO of Fellow, hosts the podcast with guest appearances from world class leaders. In these episodes, Aydin dives into the habits, thought patterns, and experiences that helped these leaders excel in their careers. This podcast is great for anyone who is looking to hone in on their management skills or is taking on a new leadership role.
Topics include, but aren't limited to, management, leadership, remote work, productivity, scaling teams and organizations, coaching, feedback, workplace culture, employee engagement and motivation, management mistakes, one-on-one meetings, employee onboarding, and hiring.
Listen to the Supermanagers podcast wherever you get your podcasts. 

Hold effective meetings
Level up your meeting habits to boost engagement and productivity with a collaborative meeting agenda. Try a tool like Fellow!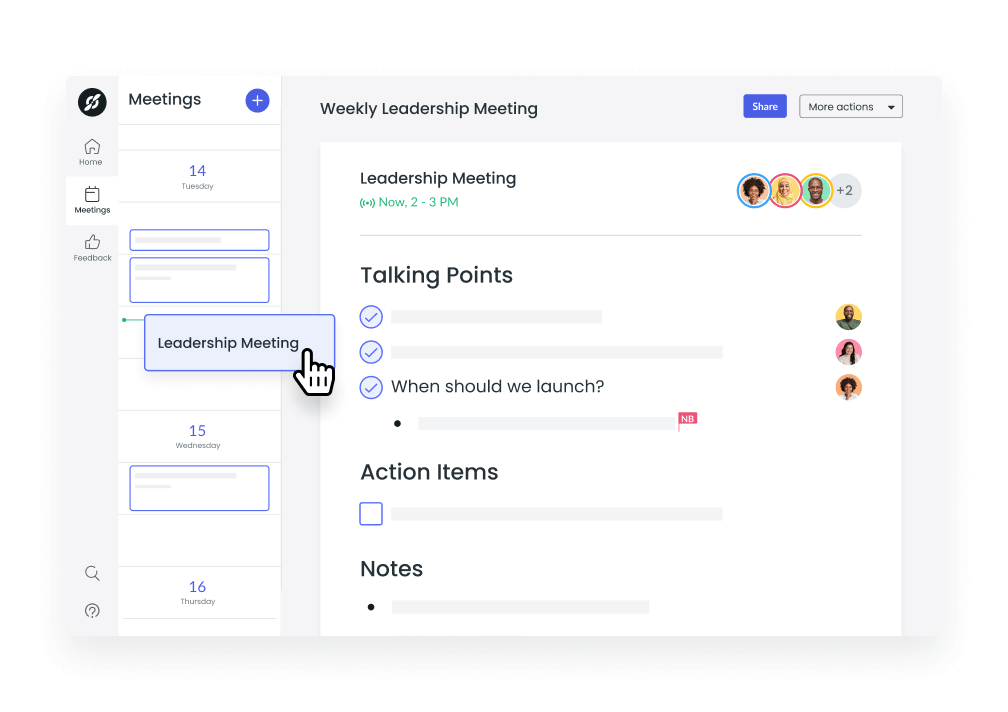 2This Week in Startups
This podcast is great for anything and everything startups. Every day, Jason Calacanis and Molly Wood cover topics that span from technology, markets, media, and crypto, to the hottest topics in business and tech. If you're looking for an informative podcast that is current and easy to consume, this is it. Calacanis and Wood also interview the world's greatest founders, operators, investors, and innovators so you can learn from the best in the industry.
Catch This Week in Startups every day wherever you get your podcasts! 
3Acquired
Getting acquired is no easy feat. What started as a passion project for Ben Gilbert and David Rosenthal quickly grew to a massive informational hub for anyone eager to learn the ins and outs of mega acquisitions. Expanding beyond corporate transactions, the podcast now chronicles and analyzes the entire acquisitional journey. Rated five stars across multiple platforms and recognized as the #1 technology show on Apple Podcasts, this podcast is enjoyed by over 100,000 unique listeners who tune in to learn from the founders and CEOs of companies like Twitter, Atari, Electronic Arts, Sequoia, Capital, Eventbrite, Venmo, Recode, and many more.
Listen to Acquired wherever you get your podcasts to learn about the stories behind your favourite companies. 
4The Future of Everything
Hosted by Janet Babin, The Future of Everything is a great podcast for big thinkers. The Future of Everything offers a kaleidoscope view of current trends that will shape our world. Every episode offers a unique opportunity to learn and discover something new with a panel of award-winning hosts. Hosts explore current trends and detail them from a scientific and technological approach so you can gain an in-depth understanding of how these trends will shape our future for the better.
Listen to The Future of Everything by The Wallstreet Journal wherever you get your podcasts. 
5Data Bytes
Data Bytes was created in an attempt to increase diversity in data careers. Honing in on the importance of representation and participation from all kinds of people, the Data Bytes podcast focuses on bite-sized data stories, professional interviews, and the latest trends in the world of data. This podcast encourages women in data to come together and close the gender gap and increase diversity in data careers, and aims to help them do so. This podcast is ideal if you're looking to dive into the world of data while gaining a unique perspective from successful women who have penetrated a male-dominated industry.
Listen to Data Bytes wherever you get your podcasts to learn from inspirational, successful women in data. 
6Masters of Scale
Knowing how to scale is undoubtedly one of the most desirable skills amongst modern day managers and leaders. This podcast is great if you're looking to level up and scale your team successfully. Offering inspiration from industry experts and leaders from notable companies like Nike, Netflix, Slack, and Starbucks, this podcast is an excellent resource for award-winning business advice. Guests share expert insights and strategies that helped them grow from startups to global brands. Listen to this podcast to learn how businesses grow, survive, and thrive from thought-leaders who prioritize growth.
Listen to Masters of Scale wherever you get your podcasts to listen to guests share their stories of entrepreneurship, leadership, strategy, management, and fundraising.  
7Rocket
Rocket is a great podcast to listen to if you're looking for something fun and lighthearted! Hosted weekly by a panel of notable speakers—including Christina Warren, Brianna Wu, and Simone de Rochefort—this podcast covers everything from tech to comics, from movies to games. This group of panelists leave no stone unturned, and nothing is off topic!
Learn about all things tech, comics, gaming, and books weekly on Rocket wherever you get your podcasts. 
8Lean Startup
Leading a lean startup can be difficult. Luckily, the Lean Startup podcast covers the global lean startup movement created by Eric Ries. This podcast aims to educate on innovation, modern management, and the lean startup methodology for the government, enterprise, and non-profit sectors. This podcast is an excellent resource if you're looking to implement new practices that are supported by accountability and strong leadership into your organization.
Catch Lean Startup everywhere you get your podcasts! 
9Startup Grind
Startup Grind is the world's largest community of startups, founders, innovators, and creators. This community aims to connect like-minded yet diverse individuals to help them learn, teach, build, and belong. In addition to hosting the famed podcast, the Startup Grind hosts local events, flagship conferences, startup programs, and partnerships, and also leverages online media and content to reach a community of over 3.5 million individuals online. This podcast is ideal if you're looking to connect with and grow from a global community of entrepreneurs and startup founders who know what it's like to walk a mile in your shoes.
Join the world's largest community of startups with the Startup Grind wherever you get your podcasts. 
10The Defiant
The world of finance continues to evolve and becomes increasingly difficult to understand if you don't prioritize continual learning. This podcast is great if you're looking to get ahead of the curve and remain current on all things blockchain. Hosted by Camila Russo, this podcast explores the world of money as the current landscape shifts from banks to blockchain technology. You can expect to learn about decentralized finance while hearing from builders and users of this cutting-edge form of technology.
Learn about all things blockchain with The Defiant wherever you get your podcasts! 
11Technovation
The Technovation podcast occurs twice-weekly and features top executives and thought leaders at the intersection of business, technology, and innovation. Produced by Metis Strategy and hosted by firm President Peter High, Technovation is the premier podcast for IT and technology professionals with an impressive collection of interviews with elite CIOs (chief information officers), CTOs (chief technology officers), and CDOs (chief data officers). If you're looking for a podcast without a narrow scope, where you can always expect to learn something new, this is it! Every episode of Technovation explores the technology trends that are transforming business. You'll also learn from industry leaders who are driving digital change within their respective organizations.
Catch conversations with top executives and thought leaders twice-weekly on Technovation wherever you get your podcasts. 
12How I Built This
Have you ever wondered how some of the most notable businesses were built from the ground up? If so, this podcast is for you! How I Built This dives into the stories behind some of the world's best-known companies. Hosted twice a week on Mondays and Thursdays, this podcast narrates the journeys of well-known innovators, entrepreneurs, and idealists.
Listen to How I Built This every Monday and Thursday wherever you get your podcasts! 
13Clockwise
Hosted by Dan Moren and Mikah Sargent, Clockwise is a rapid-fire style discussion that brings on two new special guests each week. Each episode has four speakers and four topics. Because the topics are rapid-fire, each episode only lasts 30 minutes and is extremely easy to consume. If you're looking for a quick, informative podcast to kick off the day or get your creative juices flowing, Clockwise is for you!
Catch these rapid-fire conversations on Clockwise wherever you get your podcasts. 
What's next on your queue?
Listening to podcasts offers a great opportunity for busy professionals like yourself to brush up on industry happenings and learn about rising trends. Each one of the podcasts listed above are informative, thought-provoking podcasts for tech CEOs that can be leveraged to help you grow and learn about technology trends.