Technology dominates the modern workplace and for good reason. There are plenty of incredible digital tools that enable managers and employees to do their best work. If you work on a remote, hybrid, or even an in-person team, you likely use business communication software to chat with teammates and share your projects.
If you're in search of a new tool, look no further than this article! Read on to learn about business communication software, view the benefits of implementing this type of tool, explore seven software you and your team can try today, and see four key factors to consider when looking for the right application.
What is business communication software?
Business communication software refers to any digital tool that helps teams communicate effectively to reach their business objectives. Any tool that keeps employees connected and engaged throughout the workday, regardless of their actual location, can be considered a business communication tool. Business communication software differs from personal communication tools like text messages because it's meant to help optimize team performance. This software may include features like file sharing, video conferencing, messaging, project management, or other team collaboration capabilities.

Run efficient meetings, come to a decision, and get back to work
Level up your meeting habits to boost engagement and productivity with a collaborative meeting agenda. Try a tool like Fellow!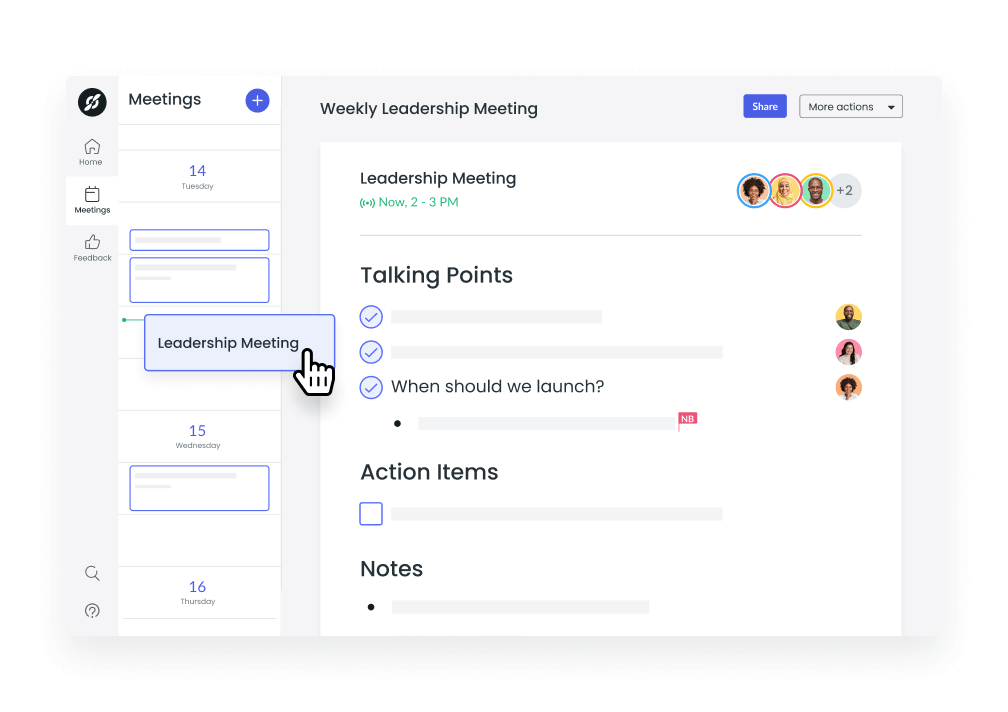 Benefits of using business communication software
1Improved collaboration
Collaboration improves the way a team works through challenges. It can also lead to more efficient processes, better communication, and increased success. Great business communication software should make it easy to work on projects and solve challenges with your teammates. The tool should foster a positive team culture by keeping everyone updated on project details and helping projects progress.
2Increased productivity
A good business communication tool will make a team more productive. Implementing the tool should help your team measure and increase output, optimize its workflow, and bring more value to the overall business. Business communication tools can help teams organize their goals and implement long-term plans and strategies to achieve them. The right digital devices can also help create great processes so your team can achieve more, quickly.
3Improved efficiency
If your team needs help staying on task or prioritizing the right action items, a new business communication software may be your solution. Your team must be efficient for operations to run smoothly, waste fewer resources, and save precious time. Business communication tools can help teams break projects into smaller parts, set deadlines, and create to-do lists so everyone knows what they need to work on.
7 business communication software to try
1Fellow
Features:
Fellow is a tool that helps teams run productive meetings, build collaborative agendas, record decisions, and hold one another accountable. With Fellow, users can create agendas for one-on-ones and team meetings that drive action before, during, and after each session. Teammates can also share agendas with other meeting attendees so everyone can prepare in advance, take notes in real time, and track essential action items. Our 500+ prebuilt agenda templates can help you get started today!
Other key features include a space to visualize and prioritize action items, streams to capture ideas, a space to track objectives and key results (OKRs), and integrations with popular tools like Microsoft Outlook, Zoom, Google Calendar, Asana, Slack, and many more.
Pricing:
Free—$0/month (for teams of up to 10 people)
Pro—$6 USD/month (per user for teams of up to 50 people)
Business—custom pricing (for organizations that need a hub for all of their meetings)
Enterprise—custom pricing (for companies looking to implement a holistic management system)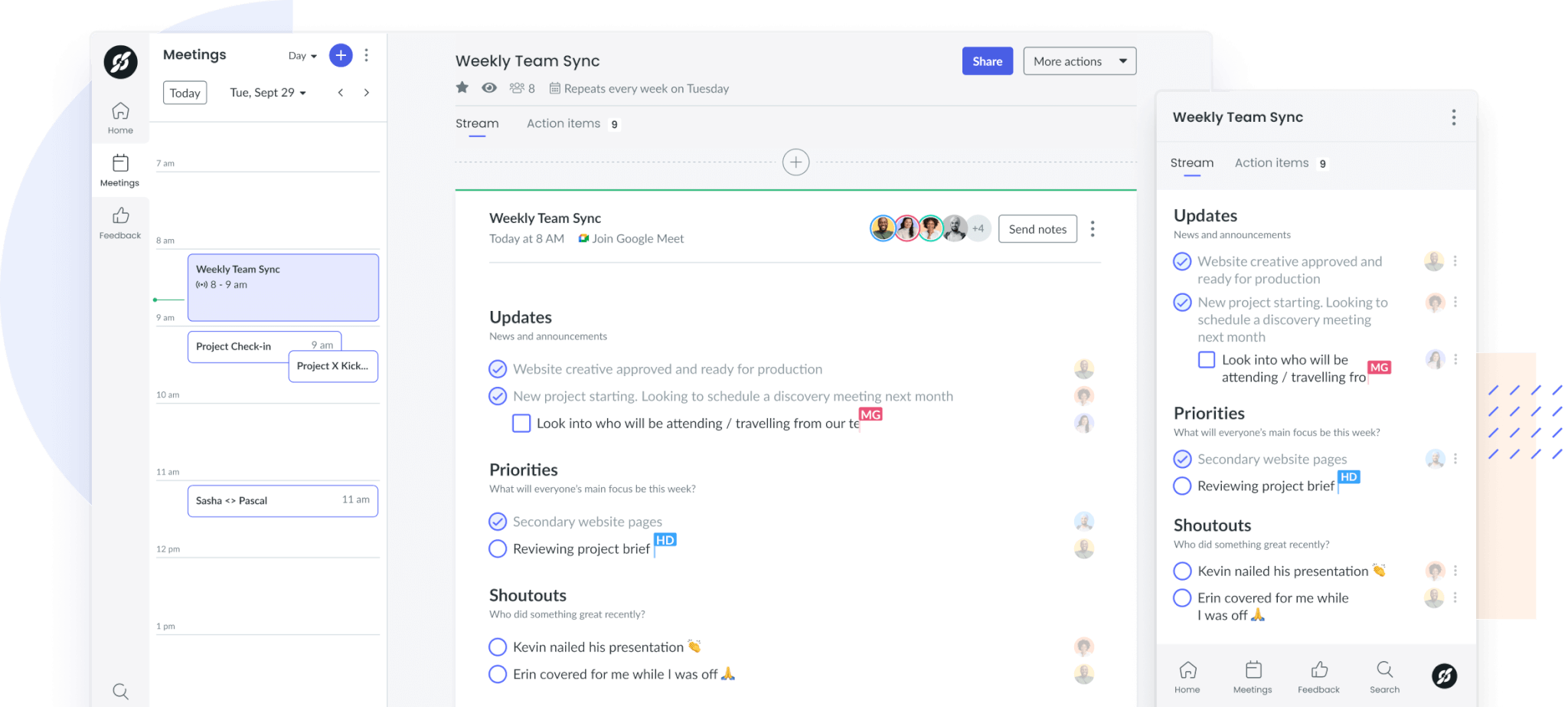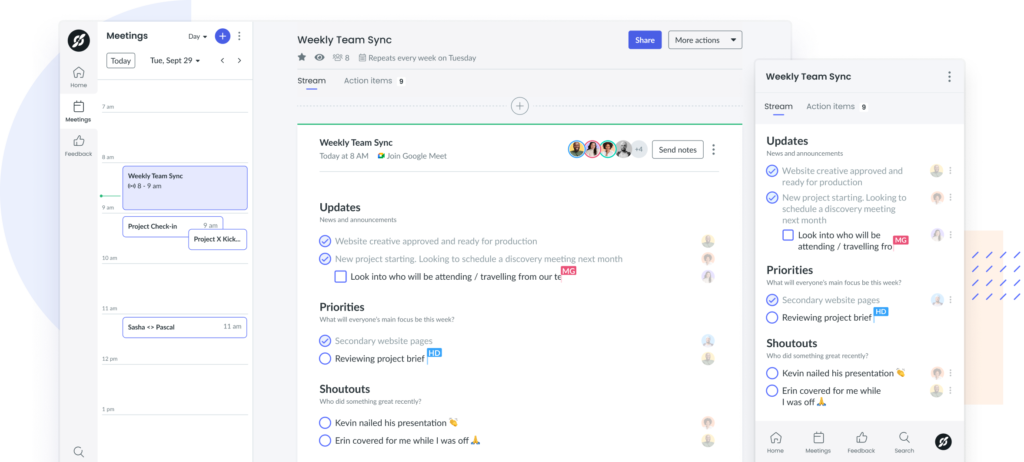 2Slack
Features:
Slack is a messaging app that strives to connect individuals to the people and information they need to achieve their objectives. Using the tool, employees can message anyone inside or outside of the organization. Users can work in spaces called channels that are dedicated to specific topics. It's an ideal platform for asynchronous work, as everyone within a team can access the information they need to get their work done regardless of their location or time zone.
Pricing:
Free—$0/month
Pro—$7.25 USD/month (per user when billed annually)
Business—$12.50 USD/month (per user when billed annually)
Enterprise Grid—contact sales for custom pricing
3RingCentral
Features:
RingCentral is an application for Web, IOS, Android, and Mac Desktop that makes it simple to call, message, and meet with employees and customers. Key features include a cloud phone system, AI-powered contact center, HD video meetings, team messaging, webinars, and more. The app integrates with other popular tools from Google and Microsoft to Salesforce and Hubspot as well.
Pricing:
Core—$30 USD/month (per user when billed annually)
Advanced—$35 USD/month (per user when billed annually)
Ultra—$45 USD/month (per user when billed annually)
4Confluence
Features:
Confluence is a digital workspace for remote teams to collaborate. Its knowledge management features make it easy to organize projects and company policies in one space. It features customizable company-wide collaboration tools to work across teams using comments, mentions, notifications, and co-editing. Confluence also offers flexible workspaces and integrates with a handful of project management apps so your team can create plans using text, tables, images, code, timelines, and more.
Pricing:
Free—$0/month
Standard—$5.75 USD/month (estimate per user)
Premium—$11 USD/month (estimate per user)
Business—$12.50 USD/month (estimate per user)
Enterprise—contact sales for pricing
5Dropbox
Features:
Dropbox can help bring your team's cloud content, web shortcuts, and files to one spot. Use the tool to organize pictures, documents, videos, and other files for your team to access anywhere. You can connect Dropbox with tools like Slack and Zoom to easily share files with colleagues and use the recent activity view to get notified of progress updates and to-dos added to file descriptions. Dropbox also features a collaborative document tool called Paper that your team can use to create content and organize task timelines.
Pricing:
Basic—$0/month
Plus—$9.99 USD/month (per user when billed annually)
Professional—$19.99 USD/month (per user when billed annually)
6Trello
Features:
Trello is a collaboration tool that helps teams organize big projects and smaller tasks into boards. It includes features like cards and lists for project management, subtasks within cards to create checklists, and tasks that can be allocated to several teammates with deadlines. Using a Kanban system, employees can create boards for their team and list tasks as "to-do," "in progress," and "done." You can also assign Trello cards—items that indicate who's responsible for what—to manage tasks with ease. The tool integrates with popular tools like Slack, GitHub, Google Drive, Salesforce, and more.
Pricing:
Trello Free—$0/month
Trello Standard—$5 USD/month (per user when billed annually)
Trello Premium—$10 USD/month (per user when billed annually)
Trello Enterprise—$17.50 USD/month (per user when billed annually)
7Asana
Features:
Asana is a project management tool that aims to help teams organize complex workflows. Teams can use the tool to view project progress, track individual and group tasks, plan sprints, launch products, and visualize projects with many moving pieces. In addition to the more common project management features like projects, tasks, and subtasks, Asana platform highlights include forms to capture the right details for each work request, Gantt-style views of task and project deadlines, and task dependencies that make it clear which tasks are ready to start and which are waiting on others.
Pricing:
Basic—$0/month
Premium—$10.99 USD/month (per user when billed annually)
Business—$24.99 USD/month (per user when billed annually)
Enterprise—custom pricing
Key factors to consider when looking for business communication software
Ease of use: Employees should find your business communication software intuitive and should look forward to incorporating it into their workday. If possible, test out multiple tools before purchasing one to ensure the software will meet all your team's needs.
Security: Today's applications are often available over various networks, which can increase vulnerabilities to security threats. Search for business communication software with guaranteed safety features that prevent security vulnerabilities like unauthorized access and modification. At Fellow, we take security and compliance seriously. View a summary of some of the key security and compliance measures in place at Fellow.
Cost: Your new business communication software shouldn't break the bank. Look for a tool that has all the features your team is looking for and that fits comfortably into your budget.
Integration: Search for a tool that integrates with the applications you already use. For example, if your team is looking for a business communication tool to help with project management but already uses Google applications for day-to-day communications, look for something that integrates with Google Calendar, Google Docs, and Gmail.
Parting advice
There are hundreds of digital tools out there. When it comes to finding one that will allow your team to communicate effortlessly, look no further than business communication software.
Whether you work on an in-person or remote team, employees across your company will benefit from asynchronous collaboration and increased productivity!