Sometimes, even the best job in the world can have a major drawback: an awful commute. If this sounds like you, you're not alone. A 2020 Springer survey of 26,000 commuters found that long commutes and high job satisfaction are total opposites. The question thus becomes: If your commute to work is long, how can you improve your required travel? Below are nine long commute to work tips to make the time fly by.
9 long commute to work tips
Ready to transform your draining commute into something more exciting – or even productive? These nine long commute to work tips can help you do exactly that.
1Ask if you can work remotely
A University of Chicago study published in April 2020 and revised in February 2022 found that 37 percent of jobs can be done remotely. So instead of gunning for a shorter commute, why not ask if you can work from home instead?
If that's not possible, you can always ask about hybrid work – some team members in the office, some elsewhere (in your case, at home). You can even ask to commute only some days and work from home on the others. Your commute on work-from-home days will be, well, a short walk across the room – sounds pretty ideal.

Meetings worth showing up to
A well-run meeting can foster communication and collaboration by including an agenda the whole team can contribute to. Try using a tool like Fellow!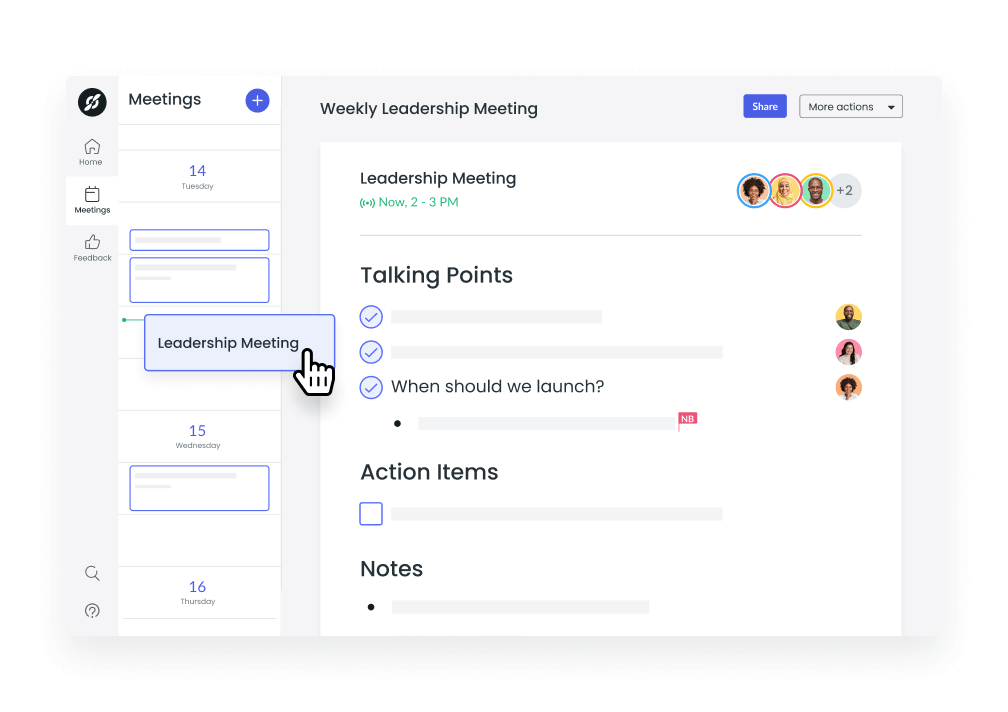 2Start your commute 15 minutes early
Are you on target to get to your office by your 9 a.m. start time? Great – now aim for 8:45 a.m. instead. A long commute can feel way less stressful when you know you won't be late for work, and have extra time to settle in. This is true whether you're taking public transit or driving to work; you never know when a bus breaks down or your car hits major traffic. Leaving just 15 minutes earlier can make these unexpected challenges feel much more bearable.
3Create a morning routine
Waking up, quickly downing a coffee and a small breakfast, running out the door – that's a chaotic way to start your day. Instead of starting your day in a rush, try creating a morning routine and giving yourself ample time for it before heading out. It doesn't have to be anything crazy – morning routine ideas are typically simple. Journaling, meditating, eating a healthy breakfast – all of these things can allow you to better enjoy your commute without the chaotic stress of the morning, so that when you arrive at work, you are well prepared to tackle the day.
4Make some time to catch up with a friend
Are you the only person in your life with a long commute? Probably not. Figure out who in your life has a long commute in the morning too, and make some time for a phone call with them. Of course, this long commute to work tip is probably best to avoid on public transportation – nobody likes a stranger talking loudly on the phone. But if you're driving to work, then go for it! The time might pass way faster for both you and your friend.
5Put on a podcast
If you're not enough of a morning person for a phone chat, then try listening to a podcast instead. You'll be in on a conversation without having to add to it, and that can be pretty exciting. As you get absorbed in the conversation, your commute might zoom by, and you'll arrive at work before you know it. And once you're there, the podcast you listened to can make for some great watercooler chats.
Try listening to the Supermanagers podcast, brought to you by the team at Fellow.app, which is a podcast for managers and leaders who want to excel at the art of leading teams and organizations. Aydin Mirzaee, CEO at Fellow, interviews world-class executives about the habits, thought patterns, and experiences that help them be the leaders they are today.
6Listen to the music you love
It's a classic commute tip: Put in your earbuds (if you aren't the one driving!), put on your favorite song, and put yourself in a trance. The music you love can be comforting on even the longest, roughest commute and make it go faster.
You're likely best off choosing music you know and love rather than trying something new. This way, you'll probably feel something and get lost in the music. A playlist or album you don't know might not do a ton for you and, by extension, your commute. So stick with what you know and love – it'll likely help you get where you're going.
7Appreciate your surroundings
Let's say your commute takes you through a long road with few side streets and a ton of trees. Or maybe there's a gorgeous river along the highway on your bus to work. That makes your commute a great time to ground yourself and appreciate your surroundings.
Take in all the sights and reflect on the wonders of nature and how it makes you feel. Be thankful for the abundance around you too. Getting lost in thought and gratitude can put you at ease and drain the stress from your commute.
8Reflect on your life
You're a busy person who's always doing something or other – finding moments to just sit, think, and reflect can be tough. Your commute can be a great time for that. Whether you drive or ride to work, you have plenty of time to just be with yourself and come to meaningful realizations you may have overlooked during the busy day. That extra clarity can be super helpful once you get to work too.
9Plan your day
Your long commute will only feel worse if you're rushing to work because you feel like you have way too much to do. That's why it can help to plan your day before you leave for work. You won't have that pesky voice in your head saying "I'm never going to get everything done today" as you rush to work. Instead, you'll be focused on a relaxing, simple commute to work – one that feels way shorter than it actually is.
Planning your day with Fellow
A long commute five days a week might seem awful, but these long commute to work tips can make your commute way easier. And if planning your day seems like a great way to make your commute easier, Fellow can help. You can use Fellow's shareable Streams notepad to plan your day and share your task list with any team members who should see it. This way, you head into your commute knowing what's ahead – and arrive at work ready to go.