Whether you love them or hate them, employee performance evaluations are a must. Instead of passing out surveys or setting unobtainable benchmarks, many organizations are moving towards performance management systems that make tracking performance and gauging success a breeze. As opposed to more traditional evaluation methods that may not yield the same data, employee management systems like Leapsome are making it easier than ever to collect the insights that are necessary to prompt positive change.
Whether your goal is to boost engagement, increase retention, or simply build a culture that champions your people, a performance management system is the answer. In this article, we'll outline the benefits and features of Leapsome as well as 8 Leapsome alternatives so you can choose the performance management system that's best for you and your people.
What are performance management systems?
A performance management system is a system that is used to track employee performance. Not only does a performance management system measure employee performance, but it also does so in a way that is measurable and consistent. These systems will rely on a combination of technologies and methodologies to ensure all employees are aligned with and working towards greater organizational goals. The importance of pinpointing the right performance management system for your organization goes beyond employee evaluations, promotions, and raises and instead has the potential to make or break a business.
The importance of performance management systems
Performance management systems are important for a variety of reasons, with one of the most prominent being the ability to gauge success. By tracking success, leaders and people managers alike can identify successors and pinpoint potential roadblocks that may cause future problems. The right performance management system will provide you with the insights necessary to provide clarity and look into the future so you can strive towards boosting employee engagement and increasing retention.

Take control of your meetings
Collaborate on meeting notes, foster accountability with action items, and grow with meaningful feedback. Try Fellow today!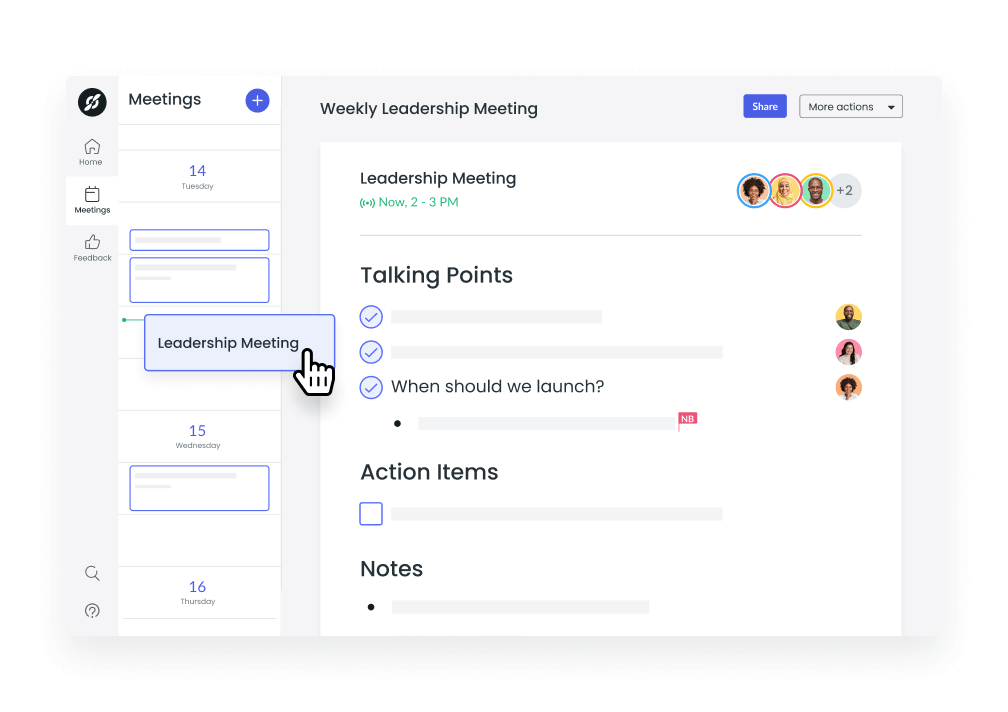 What is Leapsome?
Leapsome is an all-in-one people enablement platform that empowers users to build high-performing and resilient organizations by driving employee development, productivity, and engagement. Branded as the number one platform for people enablement, Leapsome is an all-encompassing tool that provides performance management, employee engagement, objective and key result (OKR) tracking and learning opportunities.
Key features of Leapsome
Leapsome equips users with performance management tools and best practice processes to help teams reach their full potential while boosting engagement and empowering C-level executives, HR staff, managers, and employees to automate otherwise painful processes.
Product features include:
Learning
Onboarding
Integrations
Goals and OKRs
Feedback and praise
Engagement surveys
General Data Protection Regulation (GDPR) / data security
Performance reviews
One-on-ones and team meetings
Leapsome alternatives to explore
1Fellow
Thousands of leaders at companies like Shopify, SurveyMonkey, Webflow, and Gong.io have been using Fellow to optimize and improve their meetings. Fellow enables companies of all kinds to optimize one-on-one meetings by making it possible for leaders, managers, direct reports, and peers to collaborate on meeting agendas, assign action items, get suggested conversation topics, and exchange feedback.
Key features:
Keep track of work interactions and feedback over time
Collaborate on a meeting agenda before every one-on-one
Assign clear action items and takeaways at the end of each meeting
Centralize action items from different meetings in one personal to-do list
Pricing:
Free-$0 per user per month (for teams of up to 10 people)
Pro-$7 per user per month (maximum of 25 users; includes AI suggested topics and meeting automations)
Business-$10 per user per month (maximum 100 users; includes implementation services)
Enterprise-$15 per user per month (includes organization analytics)
Learn more about Fellow's pricing plans.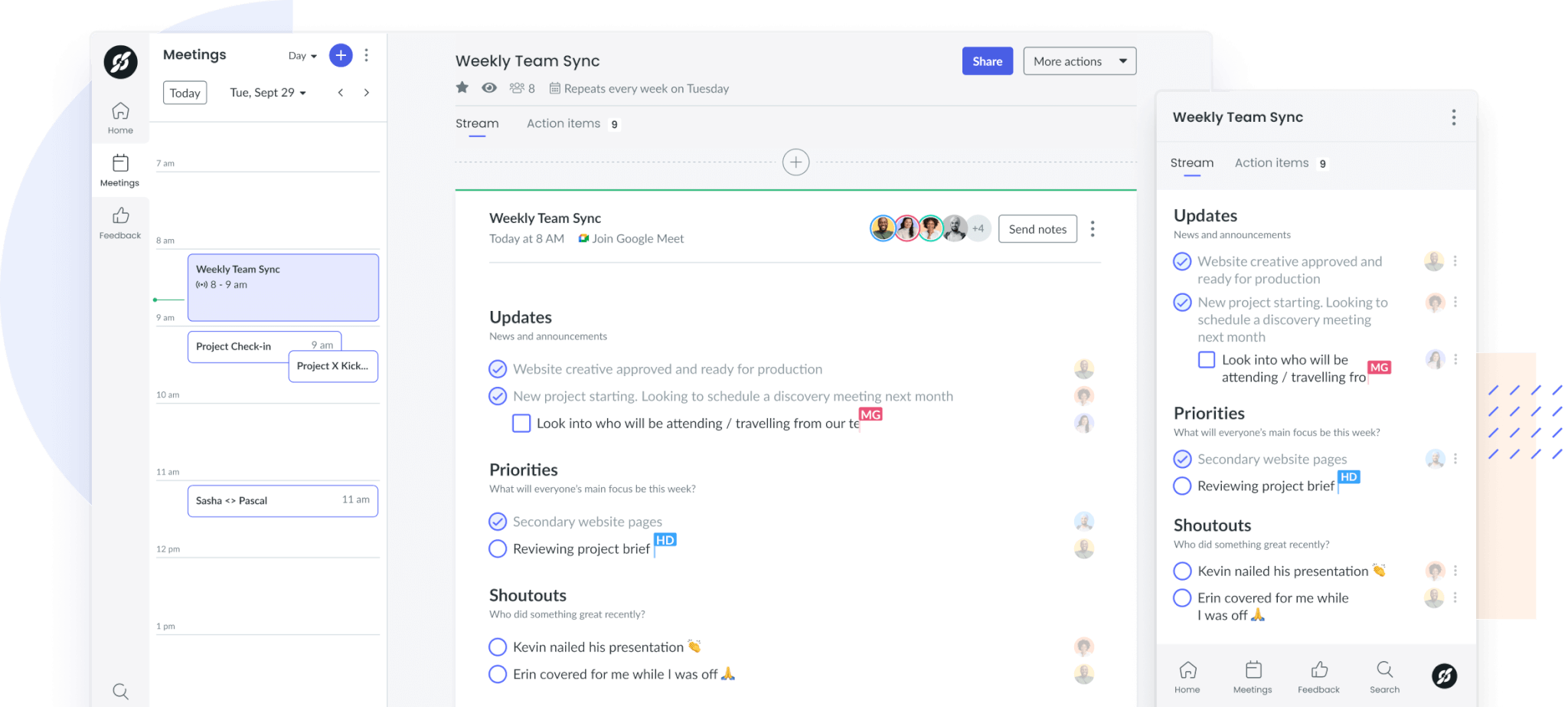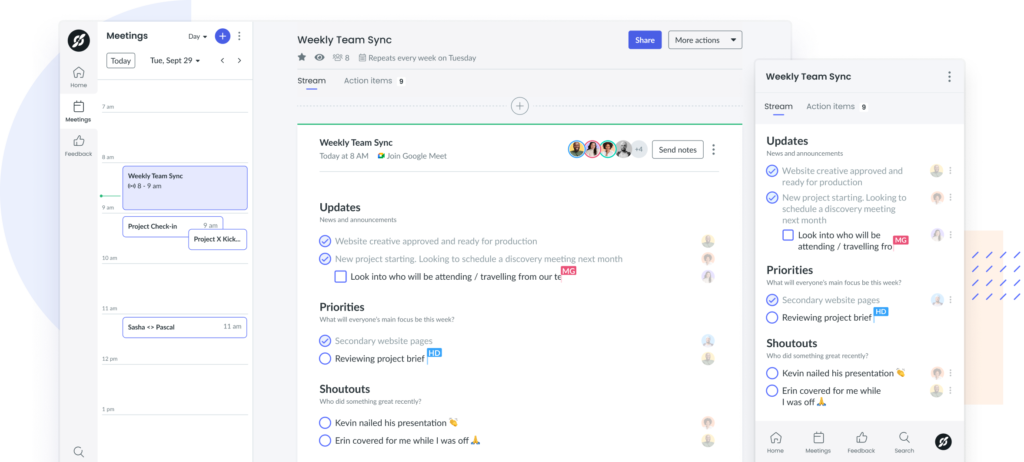 2BambooHR
BambooHR is a human resource software company that aims to automate operational tasks so great people can be set free to do great work.
Key features:
Built for small and medium-sized businesses
Intuitive and clear so you can work towards elevating your employee experience.
Pricing: BambooHR plans and pricing packages vary depending on your needs. Click here to get a free quote that is customized to your unique needs.
3Engagedly
Engagedly is a simple, flexible, and powerful performance review and employee engagement platform that works for organizations of all sizes. Trusted by companies like Upwork, Deloitte, Politico, and more, Engagedly strives to bridge the gap between people management and strategy with a three-pillar people success model.
Key features:
align employees' performance with strategic execution
achieve organizational objectives.
Pricing: Engagedly has a variety of plans that range from basic to professional. To leverage Engagedly, you'll need to opt for a yearly plan. Click here to learn more about pricing or to request a quote.
4Culture Amp
Culture Amp is an employee experience platform that strives to empower organizations to improve employee experiences from the ground up. Over 6,000 companies around the world power their employee experience with Culture Amp, including notable mentions like Canva, Etsy, Oracle, and McDonald's. Marketed as much more than a software tool.
Key features:
Culture Amp provides users with the employee engagement, performance, and development tools necessary to build a category-defining culture.
Pricing: With flexible plans and prices that are suitable for organizations of all sizes, Culture Amp provides you with everything you need to transform your employee experience in one intuitive platform. Click here to find the plan that is right for you.
5Workday HCM
Workday is an all-encompassing communications tool that allows users to better plan, execute, and analyze findings across the entire organization.
Key features:
Built for finance, HR, and payroll professionals, Workday provides users with the ability to make smarter decisions.
Pricing: Workday offers a variety of products and resources, and each price point varies accordingly.
6Officevibe
Officevibe is an easy-to-use engagement tool that strives to boost employee engagement by brainstorming solutions and implementing initiatives as a team. Officevibe's automated employee surveys provide organizations with solution-driven employee engagement data that can be leveraged to create meaningful action plans, which in turn can be used to implement solutions from the ground up.
Key features:
Automated pulse surveys
Employee survey reports
Anonymous feedback and messaging capabilities
Access to engagement data that is easy to consume
Pricing: Officevibe encourages users to start modestly and upgrade their plans as they grow. You can access basic features for free with no credit card commitment, or access the Pro plan for $5/month per user. Click here to learn more about what plan is best for you or to request a demo.
7TeamBit
Traditional people processes lead to disengagement and turnover because they don't cultivate an environment where it's easy to speak up; they are intense, formal, and disconnected; and they don't encourage regular feedback. TeamBit breaks down these barriers by streamlining communication and cultivating an open dialogue.
Key features:
improve one-on-one meetings by implementing practices that result in more frequent communication
create meeting agendas
share regular feedback.
Pricing: Click here to learn more about how you can help your team hone in on creating a high-performance culture by making feedback a daily habit with TeamBit.
8Reflektive
Reflektive is a performance management platform that aims to help organizations of all kinds increase employee engagement, productivity, and retention through constructive, ongoing conversations that help your people and your organization grow.
Key features:
With Reflektive, you can empower your teammates through better feedback, engage your peers with recognition, and optimize performance with data.
Pricing: Interested in learning more? Click here to request a performance management consultation today.
Have you chosen your Leapsome alternative?
Whether you've used Leapsome in the past and you're looking for something better or you're simply eager to explore your options, Fellow, BambooHR, Engagedly, Culture Amp, Workday HCM, Officevibe, TeamBit, and Reflektive are excellent Leapsome alternatives. If you haven't leveraged a performance management system in the past, now's the time to get started!