Understanding the principles of engineering management is key to becoming a successful engineering manager. Whether you're an aspiring engineering manager or an engineering manager eager to level up your skills, implementing the principles of engineering management in your daily routine is an excellent way to refine your skills. In this article, we'll dive into the roles and responsibilities of engineering managers, as well as 12 principles of engineering management by which successful engineering managers live.
What do engineering managers do?
Engineering managers are technical and methodical by nature. They balance a variety of responsibilities including directing, planning, and coordinating activities, while supervising a team of engineers through research and development.
One of the most important skills that engineering managers possess is the ability to delegate tasks effectively. Additional roles and responsibilities include:
Leading projects
Hiring employees
Hosting team meetings
Delegating tasks to teammates
Managing a team of engineers
Writing the engineering playbook
Communicating with other managers

Take your engineering management skills to the next level
Maximize meeting engagement and productivity in your engineering meetings with a collaborative agenda that encourages active participation from the entire team. Try using a tool like Fellow!
12 principles of successful engineering management
1Host productive one-on-one meetings
In most cases, how a team feels about their engineering manager dictates how they feel about the organization at large, which is why an engineering manager's main prerogative should be to facilitate strong relationships with their peers. Hosting productive one-on-one meetings is an excellent way to form strong relationships with your direct reports.
To host productive one-on-ones, you will want to leverage a meeting management tool like Fellow, because Fellow makes it possible for you to facilitate product team meetings and meaningful one-on-ones. You can build a collaborative meeting agenda for your next one-on-one, record key decisions, and keep your direct reports accountable so you can become a Supermanager. Leveraging this meeting agenda template will ensure your next one-on-one runs smoothly.
1-on-1 Goal Setting Meeting
2Foster trust
A large part of being a successful engineering manager is fostering trust. Not only is it important to foster trust between yourself and your direct reports, but it's also important to foster trust amongst your team. Building trust within organizations can be hard, especially in manager-employee relationships. Creating an open dialogue and fostering a safe environment where everyone can listen and share their feedback without judgment is a great way to build working relationships that are founded on trust and transparency. Teams that trust each other are more inclined to collaborate and meet company goals together.
3Be an engineering mentor
Becoming an engineering mentor is an excellent way to demonstrate that you're an ally. Not only are you able to empower budding engineers, but becoming an engineering mentor also provides you with a unique opportunity to hone in on your own skills. Skills used in a mentor-mentee relationship are all transferable and can be used to lead an engineering team down the road.
David Hoang, Product Design Director at Webflow, in episode 46 of the Supermanagers podcast, explains
"I think the best people leaders are the ones who have kind of really focused on mentorship, really focusing on cross-functional alignment, they've already done it, they're starting to lead."
Use this free template as a guide to fuel learning and growth for your next mentorship meeting!
Mentor Meeting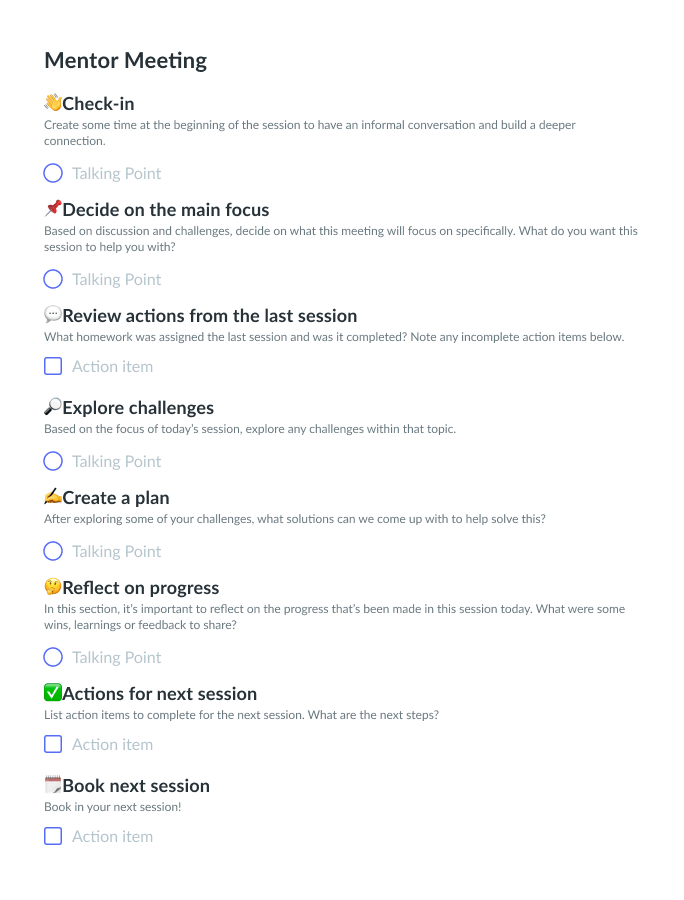 4Invest in yourself
While building up your team should be a priority, investing in yourself is equally important. If you don't take the time to invest in yourself, you won't have the skills you need to be able to put anything into anyone else. Refining your skills, working on your leadership capabilities, and striving to be the best version of yourself are all things you can do to become a better engineering manager.
5Build genuine relationships with your team
Many managers fail to get to know their teammates outside of work, which makes it nearly impossible to build genuine relationships. Taking the time to learn about your teammates' dreams, aspirations, and goals is an excellent way to build more genuine relationships. During your one-on-ones, take the time to dig a little deeper and ask questions that don't pertain to work. You may be surprised by where your conversation leads.
6Give and ask for regular feedback
It's important that feedback acts as a two-way street. As an engineering manager, you should prioritize providing your direct reports with constructive feedback while simultaneously creating an environment that prompts them to do the same. By providing valuable feedback, you'll help your direct reports learn, grow, and flourish; by hosting frequent one-on-ones, you'll provide your direct reports with the opportunity to provide you (as the engineering manager) with feedback as well.
The most successful leaders are those who listen to their peers and seek outside expertise, which is important to create a culture of continuous feedback. Creating a tasks list in Fellow and seeking peer feedback is an excellent way to introduce this practice as the new norm. Having open and honest conversations with your teammates will provide you with guidance in terms of where you should start and how you can create a culture of continuous feedback.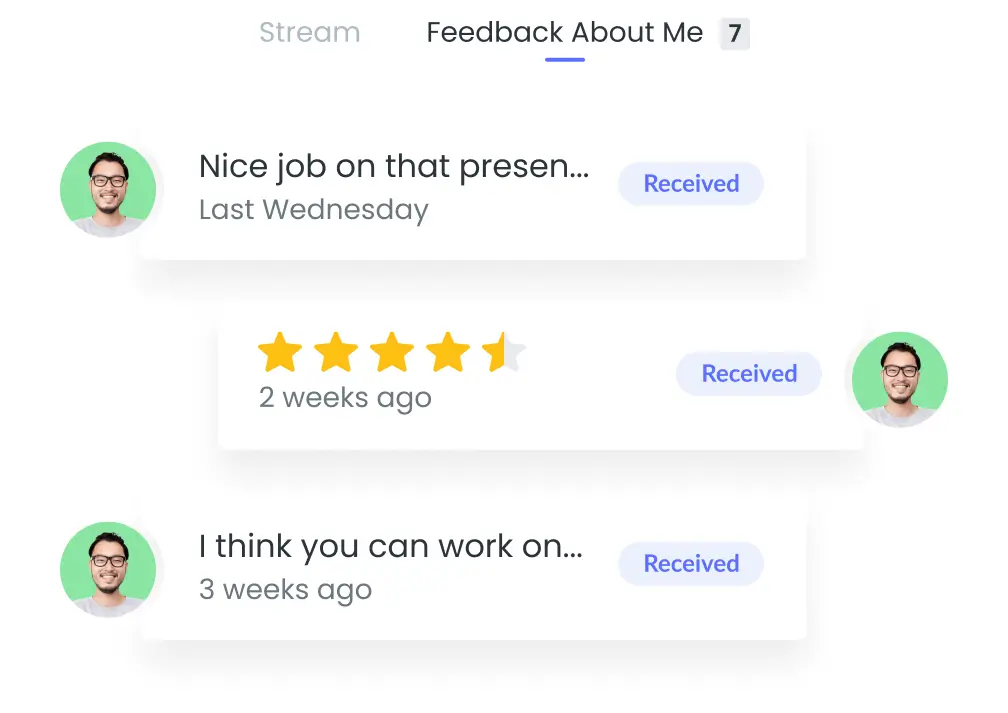 7Give team members credit and accept the blame
Effective leadership is all about being thoughtful. One of the easiest ways to demonstrate gratitude is to celebrate the wins, no matter how big or small. Taking the time to reward excellent teamwork or individual contributions amongst your team is a great way to support your team. Has someone just wrapped up a massive project? Shout them out in your shared Slack channel! Has someone announced something exciting on a team call? Make note of it and reward their behavior! If you don't recognize your teammates' success, they'll leave and go where they feel more appreciated. A simple shoutout goes a long way!
As an engineering manager, it's also important to accept blame when something goes awry. Singling out a teammate or passing the blame off to a group of team members will only result in hurt feelings and a broken team. As a leader, it's your responsibility to step up and accept responsibility for your team members' actions.
8Create a psychologically safe environment
A psychologically safe workplace is one in which every effort is made to take employees' mental health and well-being into consideration. Psychological safety is imperative in the workplace, and as the engineering manager, it's your job to foster this healthy, safe environment. When employees feel psychologically safe, they don't feel threatened and are typically more motivated and open to collaboration.
Ways you can foster psychological safety at work include:
Listening intently
Expressing gratitude
Being open to feedback
Championing your teammates
Avoiding blame and taking responsibility
Including your team in the decision-making process
Considering everyone's feelings, thoughts, considerations, and opinions
9Understand your team members' career goals
Understanding your team members' career goals is imperative. As an engineering manager, you need to not only help your employees excel in their current careers, but also provide them with what they need to excel in the future. The engineering managers who will stand out to their employees are the ones who will impact them for years to come.
10Delegate tasks
Delegation is key—not only for engineering managers, but for all managers also. If you try to take on everything yourself, you'll start drowning and become overworked, and you may even burn out. Furthermore, you should make a point of surrounding yourself with skilled teammates you can trust to do what they do best. Delegation and trust are both key when fostering strong working relationships.
Delegating effectively helps engineering managers save time and progress as leaders. Not only that, but delegation also fosters trust and helps to develop other team members. As an engineering manager, you'll be more prepared to manage larger teams—while inspiring your employees and team members to perform better—if you delegate.
11Help your team problem solve without giving them the answers
As an engineering manager, you may feel as though you need to take on everything on your own when in reality, collaborating with your team to problem solve is much more efficient. Sometimes it can be difficult to strike a balance between supporting your direct reports and giving them the answers. While you may have the experience necessary to provide answers, it's important to be mindful of the learning opportunities at hand. Empowering your team members to solve their problems on their own will boost their confidence while ensuring they have the knowledge and tools necessary to solve a similar problem next time something comes up.
12Set clear expectations
If you fail to provide your engineering teammates with clear expectations, they won't be able to perform to the best of their abilities. It's important that you break down the task or plan and explain exactly what is needed upfront so your teammates don't waste any time. Don't beat around the bush, and let your teammates know exactly what's expected from them as soon as you have the chance. Setting clear expectations will decrease the chance of miscommunication while ensuring your teammates have what they need to succeed.
Parting advice
To become an engineering manager, you need to understand the principles of engineering management. Hosting frequent, successful one-on-ones, fostering trust, mentoring other engineers, investing in yourself, building genuine human-to-human relationships, learning to delegate tasks, and empowering your team members through an inclusive and safe environment are all things you can do to become a stellar engineering manager.