Servant leadership creates a positive environment where employees feel heard, understood, appreciated, and respected. In this article, we will dive into the benefits of servant leadership, as well as tips and tricks for refining your skills as a servant leader.
What is servant leadership?
Servant leadership is the notion that you, as a manager or leader within your organization, work to serve those around you. If you're a servant leader, your main goal should be to serve and empower your direct reports to do their best work. Traditional leadership often focuses on helping an organization thrive, whereas servant leadership focuses on putting the needs of the employees within the organization first. Servant leaders don't prioritize their own objectives but rather help their team achieve their goals and tasks.  

Help your team perform
Servant leaders offer their guidance to ensure their team is performing and achieving their best. Have open and collaborative one-on-one conversations in Fellow.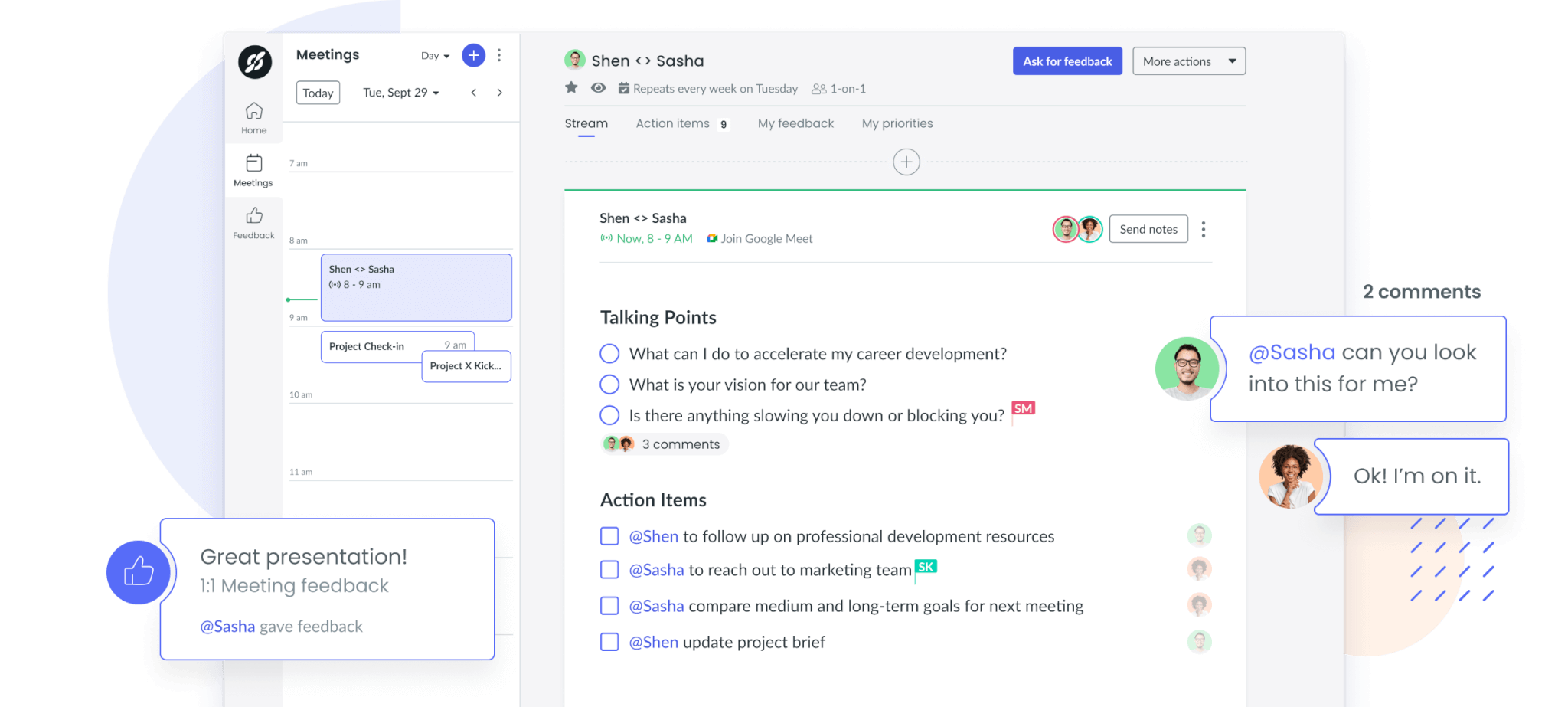 Benefits of servant leadership
1 Improves collaboration
Collaboration is a fundamental part of servant leadership. When those around you feel comfortable and supported, they'll be more inclined to actively participate and collaborate. An organization that embraces servant leadership is an organization that prioritizes inclusive, cross-functional collaboration.
2 Empowers employees
As a manager or leader within an organization, one of the most powerful things you can do is empower those around you to reach their full potential. As a leader that is embracing servant leadership, you should lift your employees and teammates by giving them encouragement, words of wisdom, advice, and guidance. When employees feel empowered, they become more accountable for their work and are ultimately more energized and efficient.
3 Increases trust
Practicing servant leadership is an excellent way to build trust. Being a servant leader means being an ally, and creating a nurturing environment in which you put others' needs above your own fosters trust. When employees are able to work within a trusting environment, they're more inclined to take risks and embrace failures.
4 Creates a culture of belonging
In a remote-first or digital-by-default landscape, it can be extremely difficult to create a sense of belonging amongst your teammates. Servant leadership makes everyone feel heard and included, which then helps produce a sense of togetherness.
5 Accelerates individuals' leadership skills
Leading by example is the best way to encourage up-and-coming leaders. Leaders who put others first provide employees with the tools, resources, and support employees need to thrive. This support allows those being managed to grow, while simultaneously being encouraged to voice their opinions and bring their own expertise to the table, which in turn helps them sharpen their own leadership skills.
7 features of servant leadership
If you're a servant leader, it's likely that you do these seven things:
1 Practice active listening
Being an active listener is essential for effective communication and engaging conversations. Taking the time to actively listen is a sign of respect, and it's also a great way to show your teammates or direct reports that you're an ally as opposed to strictly a leader.
Practicing active listening is easier than you may think. It can be done by:
Expressing interest in the speaker's message by displaying nonverbal involvement.
Paraphrasing the speaker's message, but refraining from interruption.
Asking questions that encourage the speaker to elaborate on their beliefs or feelings.
2 Ask meaningful questions
Servant leaders are master conversationalists. Asking meaningful questions is beneficial for many reasons. For starters, doing so demonstrates your ability to be intuitive and caring. Demonstrating a heightened interest in your teammates is imperative if you want to be a good leader. Additionally, asking meaningful questions leads to meaningful conversations. When you ask the right questions, you'll be able to learn more about your teammates and their experiences; as a result, you'll be able to help them work towards their hopes, dreams, and work- related goals.
3 Are a source of encouragement
Everyone appreciates having a bright light in a dim landscape. As a servant leader, you should do your best to remain positive and encouraging. Your main prerogative should be to grow and shape those around you, meaning you should strive to provide a constant source of encouragement to your team.
4 Prioritize self-awareness
By taking the time to reflect on their strengths and weaknesses, you prioritize self-awareness. Taking the time to look inwards allows servant leaders to become better at their craft so they can continue to serve those around them.
Since your main priority as a servant leader is to serve those around you, you have to have confidence in yourself and your capabilities. You're no longer at a point in your career where your agenda aims to only serve yourself.
5 Lead by example
As a servant leader, you empower your employees, but you don't just disappear once your job is done. Instead, you stay present and act as a constant source of encouragement. Empowering teammates and direct reports to have ownership and responsibility helps to accelerate individuals' leadership capabilities, which they can then pass on to those around them. Having an exceptional leader accessible makes it easier for employees to model their leader's behavior.
6 Invest in your team
In most cases, how your direct reports feel about you as their leader directly reflects how they feel about the organization as a whole; this is why one of your main responsibilities as a leader should be to invest in your team by fostering positive relationships with each one of your teammates. These connections can often be forged by hosting one-on-one meetings, where you gain the opportunity to build trust with each one of your direct reports.
Strong employee-manager relationships lead to an increased level of trust, which in turn leads to increased output and engagement. Employees that feel like they have the capacity and ability to improve begin to realize their potential, and they have heightened morale and work ethic as a result.  
7 Build a community
Leaders are the cog that is necessary for building a sense of community within your organization. Being a servant leader is all about nurturing relationships. If you put in the work, you'll be blessed with a strong community that is built on trust, transparency, and genuine human-to-human connections.
7 tips to become a servant leader
Here are seven things you should do if you want to become a servant leader:
1 Improve your communication skills
Becoming a great communicator is arguably one of the most important steps to being a servant leader. Clear communication helps employees feel heard, understood, and appreciated.
2 Listen to understand
Listening to understand, instead of listening for the sake of listening, is a great way to become a better servant leader. Take the time to be present in the conversation and listen to learn and understand the other person's point of view.
3 Show empathy
Being a servant leader is all about being able to empathize with those around you, in addition to really understanding what it's like to be in their shoes. Being able to empathize and understand other people's point of view will not only help you improve the quality of your performance as a leader, but it will also help you pinpoint areas in which you can support your employees. Your teammates should always feel safe and comfortable when approaching you for support. Empathizing with their concerns is a great way to reiterate that you're a safe ally.
According to author Hamza Khan, the number one reason why organizations fail is avoidance.
"You need to cringe fast and cringe early, and sit down and have the tough conversations with people and seek to understand, to listen. And this is where empathy transitions from plain old empathy to radical empathy, actively trying to understand why another person has an opinion or perception about you or something that you're doing."
4 Offer autonomy
Providing your teammates or direct reports with the ability to work autonomously is a great way to build trust. When you choose to allow your team to operate autonomously, you're showing your teammates that you trust in their abilities. Leading your team in this manner is a great way to build trust, in addition to empowering those around you to act without your guidance or approval every step of the way.
5 Commit to your team's growth
If you want to become a stellar servant leader, you have to allocate time and resources towards helping people grow. Tools like one-on-one meetings, informational sessions, training courses, online classes, and lunch and learns are all things you should consider when helping your employees grow throughout their career.
6 Build trust
To have the type of relationship with your employees that allows you to embrace the principles of servant leadership, you first have to build trust. Building trusting relationships with your employees is the gateway to helping them flourish in their careers.
7 Be open minded
Being open minded is extremely important for servant leaders, because it demonstrates your willingness to grow and embrace varying opinions and perspectives. As a servant leader, you'll need to create an environment where everyone feels comfortable to share their opinions, even if these opinions don't align with your own.
Lead the way!
It's time to get to work! Now that you're familiar with servant leadership, it's time to put your newfound knowledge to the test. You can finally become the servant leader you were always meant to be.