In any organization, no matter the industry, an executive manager plays an integral part in ensuring business processes are running smoothly. This role is arguably the most visible position within any company, because the executive manager needs to be aware of all functions within their departments to ensure processes and operations are on track. An executive manager holds a wide range of high-level responsibilities which include hiring, firing, budgeting, facilitating meetings, and managing the workloads of team members in their particular area of the business.
Executive management requires a particular skill set which includes strong problem-solving skills, decision-making abilities, great communication with employees, and impressive leadership abilities. This article will cover what an executive manager is, what kinds of skills they tend to have, and the importance of this job position.
What is an executive manager?
An executive manager plays a leadership role in various areas of the business. The exact roles and responsibilities of this position vary from company to company because often, the executive manager's responsibilities are based on the operational workflow of a particular department and where leadership is required the most. Most generally, an executive manager is responsible for supervising a department's operations and activities from initiation until completion. They are also in charge of working alongside other department managers to remain informed and to identify opportunities for collaboration. The executive manager is also tasked with reporting to upper management regarding the progress of their team and their projects, while also leading any changes necessary to improve processes and lead the company towards attaining their organizational goals.
Essential to this position is the ability to communicate clearly and effectively, create and allocate budgets, implement policies and procedures, create strategic workload balances, identify resourcing issues, and manage certain functions of human resources (such as hiring and firing).
Typically, an executive manager will have around five years of experience as well as a Master of Business Administration before they move into an executive management position.

Level up your executive manager skills
Level up your executive manager skills by running productive one-on-one meetings with a collaborative meeting agenda. Try a tool like Fellow!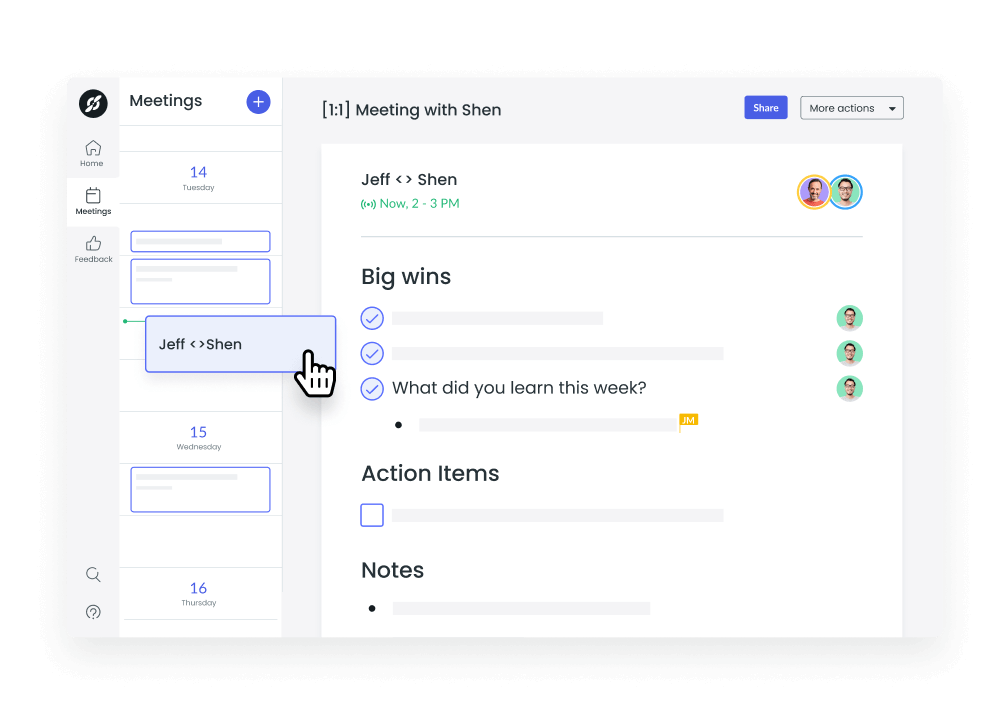 Executive manager's skills
1Leadership
As obvious as this skill may seem, many individuals get promoted into management positions without first developing strong leadership skills. Leadership skills are absolutely essential to becoming an executive manager because you need to be able to inspire and guide a team of individuals with all kinds of different backgrounds, experiences, and personalities. This means excellent communication, good presentation skills, a strong ability to empathize, good active listening skills, and confidence are a must!
2Time management
Time management is essential in executive management because you're often juggling several responsibilities simultaneously. The ability to manage time effectively is key to leading a team of individuals since you need to be able to identify which tasks need the most attention and which ones may not be as pressing. A huge part of this time management is the ability to draw boundaries and say no when the time commitment is simply unrealistic.
3Problem-solving
Another key skill for executive managers is excellent problem-solving. Since the executive manager is typically responsible for overseeing processes and operations within a given department, they need to be able to foresee potential issues and flag them before they arise. Where issues do arise, the executive manager needs to be able to mitigate them with a high degree of effectiveness, in a timely manner so they and their team can get back on track. 
4Organization
Organization is crucial in executive management because the person in this position needs to keep track of several ongoing projects, people, issues, meetings, deadlines, and presentations at once. Without strong organizational skills, many tasks will fall through the cracks and affect the company's productivity and efficiency. One way to guarantee organization is to use a meeting management tool like Fellow so you can always refer back to your meeting agendas, notes, and action items to hold yourself and your team accountable.
The importance of having an executive manager
As you can likely deduce, executive managers, bring a lot to the table. Executive managers are especially important because they:
1Foster collaboration
Executive managers are important for many reasons. First, they're responsible for fostering collaboration amongst the team. Meaningful collaboration between team members and between the executive manager and other department managers is essential for good productivity and efficiency. It becomes extremely difficult for a team to meet their team goals without working together to achieve collective success; the executive manager is responsible for fostering fluid, constant, and ongoing communication and collaboration between employees to ensure this collective success is achieved.
2Encourage business growth
Executive managers encourage business growth because they ensure that all team members are working towards a common goal. Since the executive management role requires the ability to clearly communicate goals and objectives, an individual with the right skills can make sure that everyone is on the same page and that each individual feels prepared to do their part in working towards larger organizational achievements. With time, these organizational goals turn into business growth. The executive manager's focus on expansion and higher value work is what really makes them important for promoting business growth.
3Facilitate effective problem solving
A good executive manager not only regularly searches for ways to continuously improve the organization, but also creates a plan to implement these opportunities for continuous improvement. The executive manager is a crucial strategic partner who needs to be familiar with the majority of the everyday functions of their department, so they're very well equipped to identify areas with issues and find solutions that will realign the team to be more successful and avoid these kinds of pain points in the future. Executive managers find solutions to both complex and everyday issues that arise while teaching their team how to deal with these situations as well.
3 tips to be the best executive manager
1Host productive meetings
To be a great executive manager, you need to be able to host productive meetings. An executive's workday is filled with meetings—in fact, meetings often take up more than half of every working day! Because of this obligation to be in many meetings, it's extremely important that executive managers be productive and have meaningful conversations. Different kinds of meetings require different forms of preparation, which is why it's essential to decide in advance what kinds of meetings you're running, why you're running them, and who needs to be there for each one. By knowing these details, you're preparing yourself and your team to achieve the specific desired results of the meetings. With Fellow, you can gather your team to have productive team meetings and meaningful one-on-ones. You can also build collaborative meeting agendas, record decisions, and keep each other accountable.
2Have regular one-on-ones
Specifically, having regular and meaningful one-on-ones is an essential part of being a successful executive manager. Often, how your direct reports feel about you as their boss tends to dictate how the employees feel about the company and their jobs as a whole. That's why one of your main responsibilities as an executive manager is to develop positive relationships with your teammates and especially with your direct reports.
Having consistent one-on-one meetings allows you to strengthen communication and trust between yourself and your employees. As a result, individuals will be more comfortable collaborating and communicating openly, and they'll feel more motivated at work knowing that they have your support and guidance. Essentially, you want your team to know that you care about them and that you have their backs. 
3Learn how to delegate
Importantly, to be an effective executive manager, you need to learn how to delegate. It's important that in an executive management position, you find a healthy balance between delegating and actually doing some of the hands-on work yourself. In a recent interview between Fellow and Liam Martin, Co-Founder of Time Doctor and Running Remote, Martin shares his views on management and delegation:
"…with regards to management, I believe that you actually have to do some of the work that you're delegating in order to actually be respected by your direct reports, which is why for me, I'm not really good at managing large swaths of people, because I feel very self-conscious about delegating all these responsibilities and keeping none for myself, which does actually lead into a completely separate set of problems that I have… the team members at least know I'm not going to tell them to do something that I wouldn't otherwise do."
Delegation is essential, especially in areas in which you're not particularly competent. Knowledgeable workers are genuinely supposed to know more about their areas of specialization than management. The ability to know when to delegate is a key skill to have as an executive manager.
Parting advice
The executive manager role is one that comes with great responsibility and reward. The executive manager plays a key role in leading the business towards achieving their organizational goals while remaining aware of everyday processes and operations. As such, executive managers are excellent problem solvers, decision-makers, and leaders. They're also important to any business because they foster collaboration, encourage business growth, and facilitate effective problem-solving. To be successful in this position, an individual needs to host highly productive meetings, have regular one-on-one meetings, and learn how to delegate effectively. While the demands of this position are high, the rewards of giving back to your team and to the organization are both satisfying and fulfilling!