Navigating the world of online video conferencing software can be difficult, especially when you begin to switch between Zoom, Microsoft Teams, Google Meets, and more. When leveraging Zoom to meet remotely, it's important to take the following factors into consideration.
How to run a Zoom meeting
Follow this guide to set yourself up for successful Zoom meetings and implement the best practices for collaborative, engaging virtual calls!
1 Create a Zoom account
Wondering how to run a Zoom meeting? If you haven't already, you must first create an account. Before you can get the ball rolling, you must download the web app, or access Zoom through your preferred browser. Creating an account will give you more freedom and allow you to choose amongst more features. To make a Zoom account through the Zoom app simply:
· Select to open the Zoom app on your Mac or PC
· Select Sign In
· Select Sign Up Free to get started for free
· This will open the Zoom website on your default browser
· Enter your email
· Hit that "Sign Up" button
2 Schedule the meeting
When preparing for your next Zoom meeting, you can schedule the meeting one of two ways. You can schedule the meeting through your Zoom app, or directly through your calendar. Scheduling the meeting through your Zoom app allows you to do everything you need directly within the app. If you opt for scheduling your next Zoom meeting through your calendar, you will be able to cross-reference other important meetings as well as the schedules of other potential attendees.
3 Invite participants
No meeting is complete without a guest list. Before you can conduct your Zoom meeting, you must first create an agenda and curate a list of attendees. When choosing who will be attending the meeting, it's important to consider all key stakeholders. Have you invited everyone that should be in attendance? Have you opted to exclude extra bodies that may not be crucial to the meeting? Choosing the guest list strategically and methodically is imperative. You must take everyone's schedules into consideration and ensure that each one of your guests can effectively contribute in a way that moves the needle forward.
4 Create a meeting agenda
Creating a solid meeting agenda is the key to running an effective meeting. When creating a meeting agenda for your next Zoom meeting, you can take your organization to the next level by integrating Fellow; an all-encompassing tool that heightens productivity and streamlines meetings through collaborative agendas, real-time note taking, and time-saving templates.
Instead of frantically searching for your agenda right before the meeting is about to start, you can simply show up to the meeting and your agenda will be right there ready for you in Zoom. Fellow's Zoom app saves you time and eliminates added stress by creating a hub where each one of your meeting tools can be conveniently located prior to the meeting.

Stay organized during meetings
Shuffling tabs during a meeting is confusing and frustrating. Have everything you need all in one screen with Fellow's Zoom app!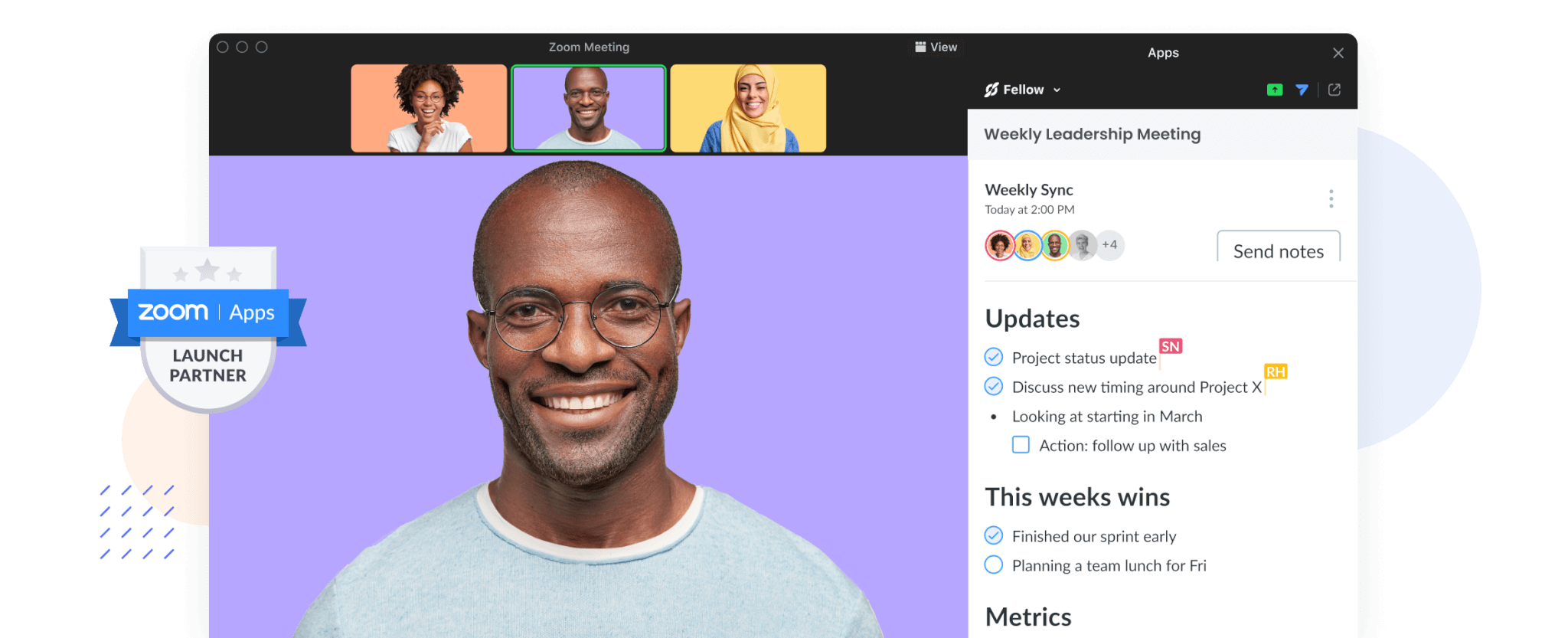 5 Join the call
Joining a Zoom call can be done one of two ways. You can join the call via the Zoom app, or through your calendar. If you choose to join through your calendar, it's as simple as clicking the link that has been assigned to this meeting. If you join via the Zoom app, it's as simple as signing-in and navigating to the meeting of your choice.
6 Change your zoom background
Working remotely can be difficult, especially if you don't have a private workspace that is optimized for work. One of the major downfalls of working from home is welcoming your teammates and colleagues into your private space via your webcam. Sometimes this can be intimidating, especially if you don't have an optimized workspace.
Luckily, Zoom enables you to switch out your background. Instead of worrying what's behind you when you're presenting or sharing an important update with your team, you can focus on delivering your message with confidence when you opt for a professional background.
7 Use keyboard shortcuts to move around faster
Did you know that you can use keyboard shortcuts to navigate through Zoom without using your mouse? Leveraging keyboard shortcuts allows you to wiz through your Zoom meeting with ease. Depending on what processor you're running, steps may vary but your keyboard shortcut settings can be accessed through your desktop client settings.
To take advantage of keyboard shortcuts and move around more quickly within Zoom simply:
· Sign into the Zoom desktop client portal within your account
· Select your profile picture
· Select Keyboard shortcuts and click settings
· Proceed with your preferred settings and set customized shortcuts
8 Don't forget to hit "record" (if needed)
Nothing is worse than finding an important Zoom meeting and realizing that you were responsible for recording, but you only remembered when it was too late. Recording your call makes it possible for you to circle back to important moments and it also means that key decision makers or stakeholders that weren't able to make it to the meeting are able to get up to speed on what they missed.
If you're responsible for keeping track of the Zoom meeting and capturing the recording, don't forget to hit record at the right time! It's standard practice and common courtesy to notify all attendees that you will be recording the meeting prior to clicking record.
9 Mute yourself when you're not speaking
If you're wondering how to run a zoom meeting, this is one of the easiest things that you can do to ensure the meeting runs smoothly. Just like you would on any online video conferencing software, muting yourself when you're not speaking on Zoom is imperative. If you fail to mute your microphone, any background noise that happens within your workspace will be transferred to the rest of the attendees which may ultimately end up being a major distraction for everyone on the call. Muting your microphone and only turning it on when it's your turn to speak is also a great way to show your respect for the host as well as all other attendees.
10 Write down notes and action items
Writing notes and jotting down action items is extremely important. Whether you're taking the notes yourself, or you have a designated note taker on your team, it's best to determine who will be responsible for taking the notes while additionally identifying how the notes will be taken and distributed when the meeting ends.
Fellow's Zoom app brings your notes into a convenient panel in your video meetings, eliminating the need to search for your notes before your next Zoom meeting. If you're spending more time balancing browser tabs during your video meetings than connecting with the people in your meeting, Fellow's app for Zoom will help. Don't let your meeting notes get in the way of human connection.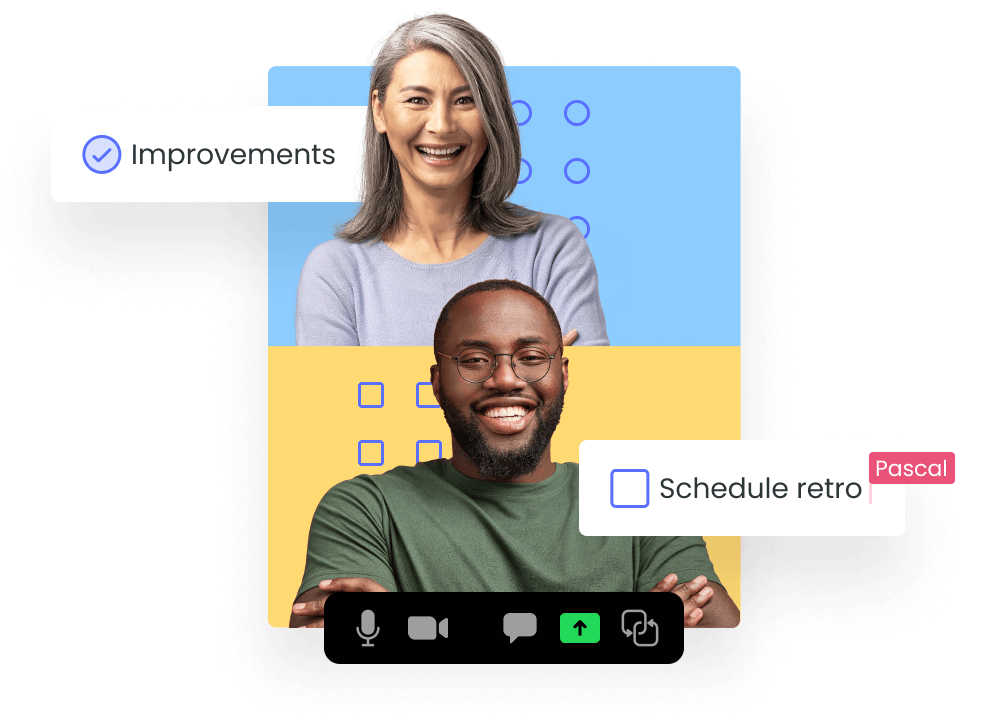 11 Give attendees permission to share their screen (if needed)
Sharing your screen during your Zoom meeting can be extremely beneficial, especially if you need to present a visual or share an important update. Alternatively, giving your teammates permission to share their screen is equally as important. Sometimes visuals can make all the difference.
If you or your teammates need to present your screen on Zoom it's as simple as opening the file, window, or document you wish to share and selecting the share screen button. After you've selected the button, you can make your selection and begin sharing your screen.
If you're the meeting host and wish to share your screen or change the screen sharing permissions, simply:
· Click settings on the left-hand side of the screen
· Navigate to the meetings tab and scroll down to the screen sharing heading
· Select all participants and click save under who can share
12 Leverage Zoom waiting rooms for larger meetings
Learning how to run a large Zoom meeting is entirely different from learning how to run a regular meeting on Zoom because you need to learn how to manage a larger group of participants. The waiting room feature on Zoom allows you as the host to control when a participant joins the meeting. When hosting a larger Zoom meeting, waiting rooms allow you to admit meeting attendees one by one, or all at once Essentially, waiting rooms provide you with the ability to control who enters the meeting and at which moment they enter.
While in the meeting room, your meeting participants can test their speakers and microphones, but they cannot see or communicate with each other. While waiting, participants will see a window that reads "Please wait, the meeting host will let you in soon."
Let the virtual calls begin!
Running a Zoom meeting can be intimidating, especially if you haven't done it before. Luckily, these tips and tricks will ensure your next Zoom meeting runs smoothly from start to finish. Creating your Zoom account, scheduling the meeting, inviting key stakeholders, creating a meeting agenda, joining the call, leveraging meeting waiting rooms, and optimizing your background are all key factors that you can leverage to run an effective Zoom meeting.
If you often find yourself asking how to run a meeting on Zoom these tips, best practices, and step-by-step instructions will ensure you have everything you need to succeed during your next Zoom meeting.