Looking for a great meeting notes app? Fellow's collaborative approach enables every meeting attendee to contribute to the agenda and be a part of the discussion.
Here's how you can use Fellow to turn chaotic meetings into productive work sessions:
📝 Plan meeting agendas collaboratively
Fellow's easy-to-use agenda builder ensures that your meetings start with clarity and everyone feels inspired to contribute.
✔ Create a shared meeting agenda and encourage everyone to add talking points.
✔ Write notes and cross out discussion points as the meeting evolves.
✔ Use the private notes section to record your thoughts.
✔ Share meeting notes easily with all collaborators.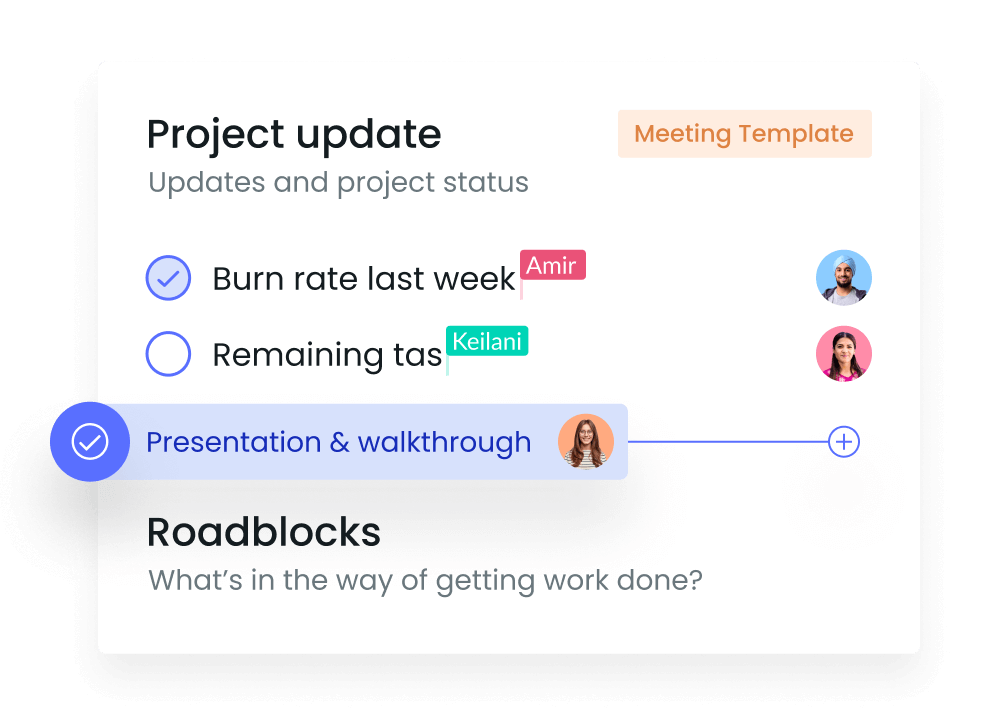 ✅ Delegate action items and keep track of assigned tasks
Keep the momentum going after your meeting is over. With Fellow, you can assign, visualize, and prioritize all your meeting action items in one place and sync them with Jira, Asana, and Zapier.
✔ Create action items as the meeting evolves.
✔ Assign action items (and due dates) to specific meeting attendees.
✔ Keep everyone accountable by following up on previously assigned tasks.
✔ Centralize all your action items from different meetings in one personal to-do list.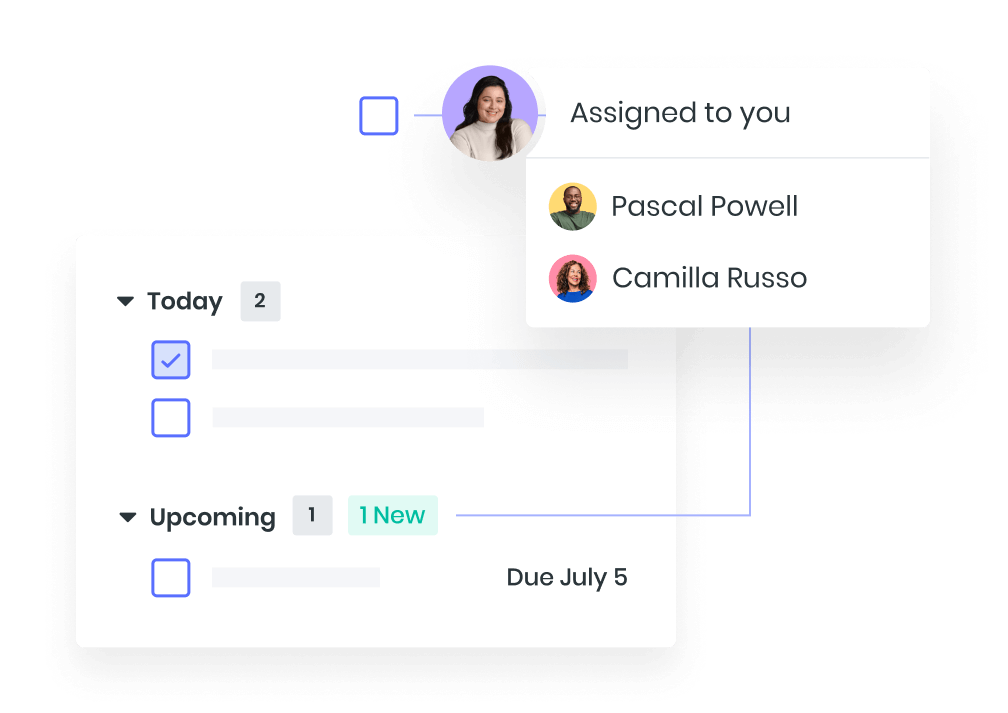 🔁 Create templates for your recurring meetings
Use one of Fellow's pre-built templates to save time and spark ideas for your next meeting.
✔ Create templates for your recurring one-on-ones and team meetings.
✔ Set default templates so that every time you create a new document these templates show up.
✔ Encourage your team to populate the template by adding the talking points they'd like to discuss.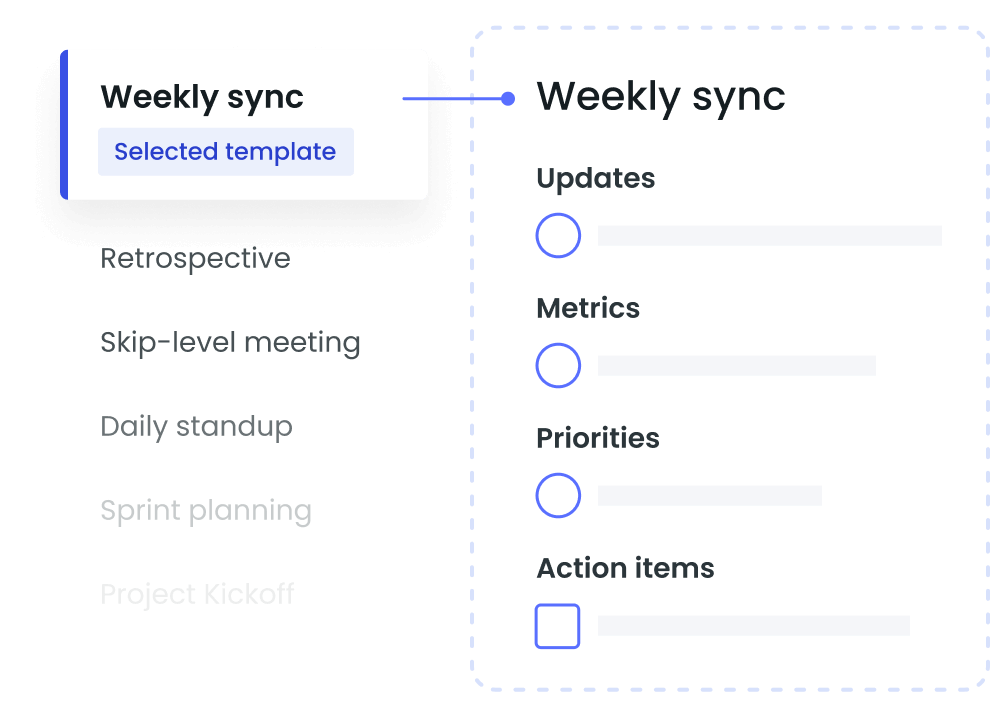 👍 Request and respond to meeting feedback
A healthy and strong culture starts with feedback. Fellow enables your team to share real-time feedback on meetings, projects, and performance.
✔ Get reminded to ask for feedback about the meetings you organize.
✔ Ask for meeting feedback to make sure that you and your team are getting the most out of your meetings.
✔ Get notified about feedback requests and responses through messaging apps like Slack.
✔ Respond to your teammate's questions without interrupting your workflow or adding extra work to your calendar.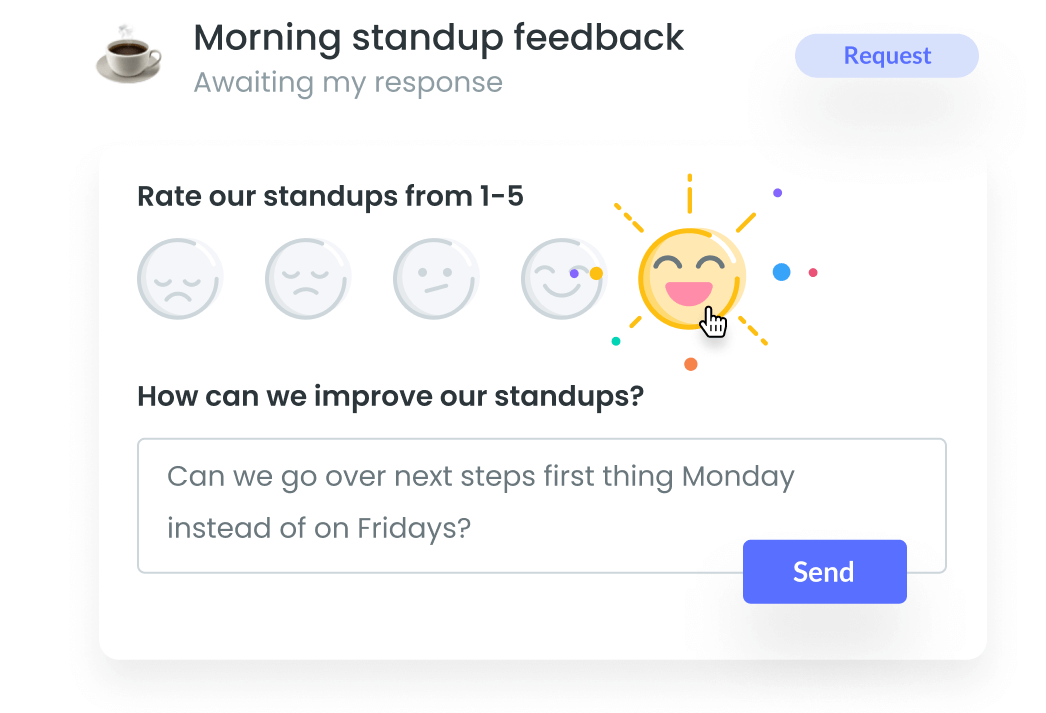 Rated best meeting notes app on G2
Fellow is the meeting agenda app that helps forward-thinking companies like Shopify, SurveyMonkey, and Vidyard stay organized.
Meet your meeting potential. Try Fellow for free