Whether you manage remote teams or your team members report in person, your team probably wouldn't be the same without team communication tools. Few other platforms can seamlessly unite all the bright minds within your organization across disparate locations (or in the same room!). If Slack is your team communication app of choice, you'll have access to hundreds of integrations. A couple dozen of these integrations are among the best apps for Slack.
These apps primarily allow you to handle certain needs – employee recognition, project management, you name it – without leaving Slack. Think about it: Wouldn't your days be so much more productive if you could handle employee needs right where you first communicate them? That's the magic of the best apps for Slack. Find 23 great apps to start with below (and don't be afraid to browse Slack's app directory for even more options).
23 Best apps for Slack
The best Slack apps boost your team's productivity, expedite remote work, streamline your task management, and so much more. Many of them enable you to execute key manager functions in no more than a few slash commands. You can learn all about them below.
1 Nectar
Nectar is a prominent employee recognition tool through which you can administer spot awards and bonuses. Its Slack app makes both especially easy to give. When an employee shares good news in Slack, you can use the Nectar app to give a spot bonus with a quick slash command. Similarly, your team members can virtually pat each other on the back for milestones right from Slack with the Nectar app. It's morale-boosting team-building in real-time.

Level up your workday
Stay organized throughout your workday by using a tool like Fellow. Have all your meeting notes, action items, and feedback all in one place.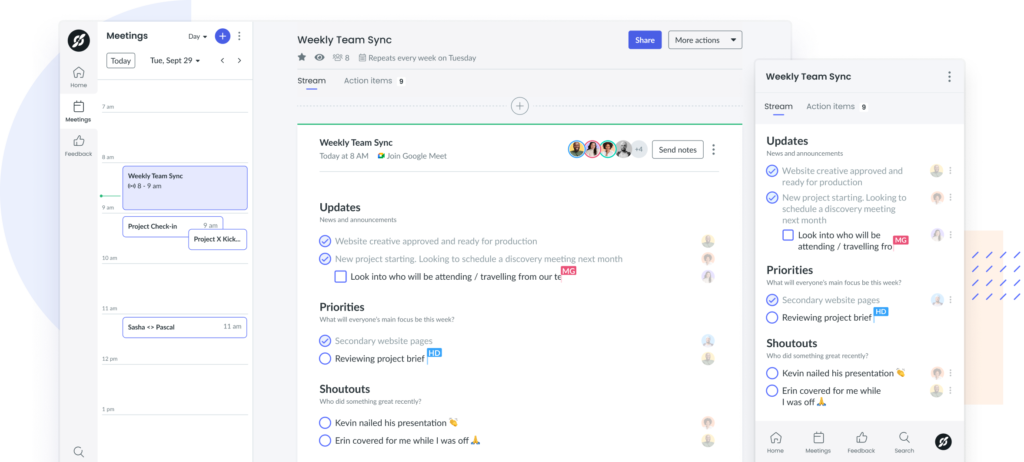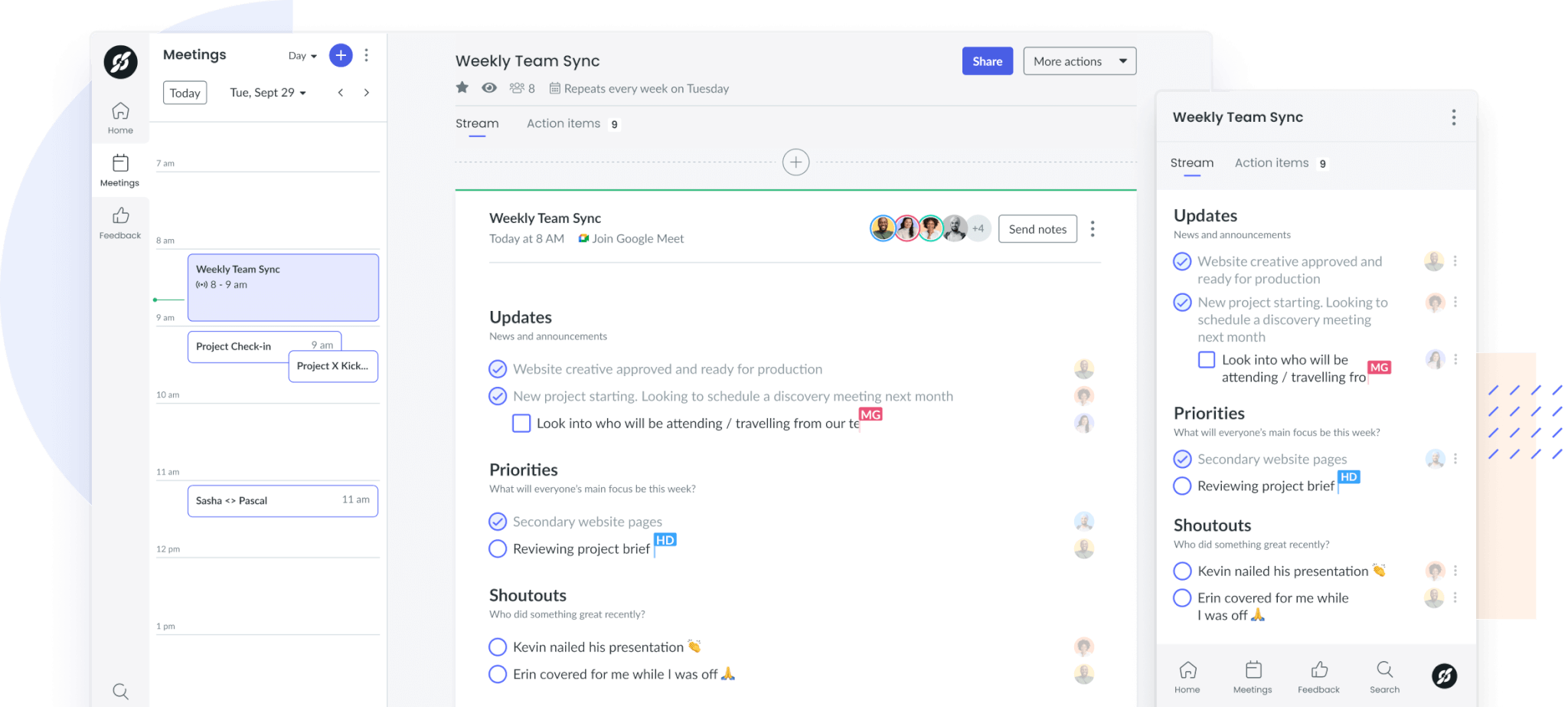 2 Assembly
Assembly is another widely used employee recognition tool with a highly efficient Slack app. With Assembly integrated into your Slack workspace, you can type a quick command to generate a customizable recognition form. You can then deliver the completed form in a Slack message. Alternatively, you can use Assembly to automate congratulatory or well-wishing messages for birthdays, anniversaries, and more. Talk about always recognizing your team!
3 Favro
Favro's visual project management tools integrate seamlessly into Slack. So too do its time tracking, scheduling, and invoicing features. A simple Slack message adds a task to Favro, so you can populate your boards the moment conversations lead to new work. You can also carve out channels and enable notifications for Favro tasks. It's a reliable way to effectively manage your team right as you speak with everyone on it.
4 Hive
Like Favro, Hive is a project management tool with a powerful Slack app. With Hive integrated into Slack, you can tell your team about task changes and corrections the moment you make them. You can also add a Hive task directly into Slack for discussion there. Plus, if Slack chats lead to new tasks, you can add them to Hive with a quick Slack command. You'll never have to write the same message (okay, nearly the same message) in two apps again.
5 Monday
Oft-used project management app Monday can combine with Slack into a neatly accessible conversation and task-tracking tool. Notifications that normally appear in Monday will instead go to Slack, thus streamlining your workflows and centralizing your conversations. You can also update Monday projects and tasks (or add new ones) right from Slack. Your task management and team communication platforms will be fully merged – and likely more efficient.
6 Fellow
Fellow's state-of-the-art tools for planning, running, and following up on meetings become even more advanced when you use the Fellow Slack app. When a Slack message becomes a topic for discussion at a future meeting, you can easily add that message to a meeting agenda. You can also automate meeting reminders before the meeting begins so attendees can contribute to the agenda and show up prepared!
The power of Fellow's Slack app only starts at meetings. With Fellow integrated into your workspace, you can deliver and reply to peer feedback. You can also load a Fellow dashboard in Slack so you can see all the action items resulting from your feedback and meetings. Have Fellow's Slack App dashboard to see your recent activity, upcoming meetings, and quick actions without needing to leave Slack. Your channels already connect your team members – let Fellow truly unite them.
7 Workstreams
The Workstreams app populates your team communication tool with all your favorite project management visuals. It adds task templates, agile analytics, and Kanban boards to your team communication channels. This way, you can always see your tasks while you message your team, and you can transform messages into tasks. You might notice that it's now easier to focus on – and understand – all your task management needs.
8 Teamwork
With a name like Teamwork, you shouldn't be surprised to see this platform on this list of the best apps for Slack. After all, what is Slack if not a hub for teamwork? With the Teamwork app, you can create a Slack channel for task notifications and transform messages into tasks. You can also submit feedback on Teamwork tasks via Slack, further centralizing your project planning. It addresses everything its name suggests.
9 Loom
You know how typing out instructions in Slack channels is at once convenient and exhausting? The Loom app can help you avoid this tedious task for good. With your Loom-created instructional videos ready to go, just use the Slack app to post your creations in a channel or direct message. Your team members can then view the video from right within Slack. Goodbye lengthy typed explanations, hello crystal-clear instructional videos with no delivery time!
10 Toggl Plan
With its Slack app, Toggl Plan notifies your team when changes to key tasks or timelines occur. This way, your team is always in the know about important updates, and they receive all this news via their typical communication routes. Instead of wondering whether your team is checking the spaces where you leave updates, you'll know they're being seen.
11 Cloverpop
Cloverpop is a decision-making tool with a Slack app that gets your whole team in on the process. You can use this Slack app to navigate previous decisions as you send messages to your team. You can also create simple polls through which your whole team can weigh in on key decisions. It's a solid Slack app if you need your recent decisions at hand whenever you chat with your team.
12 MindMup
MindMup is an idea-mapping tool that, like Cloverpop, offers a Slack app that streamlines teamwide decision-making. To use this Slack app, open Mindmup and work as you normally would there. Then, paste a link to your map in your Slack workspace. Your map will immediately appear in the Slack channel so your team can discuss it in the same place where they see it. Your collaborative decision-making will be centralized in ways much tougher without Slack.
13 Trivia
As a team communication tool, Slack is a natural place for remote teams to enjoy some meaningful team-building time. The Trivia app can help. Once you add it to Slack, your team members can work together on games, puzzles, and quizzes that naturally foment bonding. All these fun activities make for great icebreakers or shared laughs that bring everyone together where they're already communicating.
14 Ricotta Trivia
As its name suggests, Ricotta Trivia is very similar to, well, Trivia (the one above). You can integrate it with your workspace to easily run trivia contests from whichever channel you desire. When the game is over, your team can go right back to work in the very same app they're currently using. You might say Ricotta Trivia brings all the fun with none of the distractions.
15 Meme Bot
We've all been that person who sends memes or GIFs in Slack to convey a point that words don't quite suit. With Meme Bot, making those wordless points gets much easier. This app lets you pull up classic memes and tweak their text to your liking. Whenever you need a visual cue that everyone understands to say something profound (or maybe not so profound), you can get it rapidly. And maybe you'll make your team laugh in the process.
16 Birthday Bot
Designed solely for Slack, Birthday Bot is a tool that minimizes the chances you'll miss team members' birthdays. Once you install this app, it'll automatically compile everyone's birthdays. It'll then send you reminders as they approach and, of course, on the big day. And then, it's on you to send the best possible birthday message in Slack. The app won't do that for you, but you're a great manager – you'll know what to say.
17 Gratitude
With the Gratitudely Slack app, you can show and encourage gratitude year-round. Once you add Gratitudely, you'll get a devoted space where you and your team can post what you're grateful for. You can pair your sentiments with images to put visuals to how you feel about your team, and everyone can see what you post. Whenever your team members need extra motivation, they can just look at your Gratitudely channel to feel noticed and uplifted.
18 Slido
The Slido app builds a knowledge base from the questions and ideas your team shares in Slack. You can easily access this knowledge base in your digital workspace or direct questions and ideas to solely one team member instead. Questions and ideas can also be submitted anonymously. And if you ever want to further discuss the topics at hand, a quick keyboard command will start a video call right from Slack.
19 Tettra
Tettra's app also stores knowledge for quick access when your team has questions to ask or answer. This knowledge remains in Tettra and Slack while your employees are unavailable. The same is true after employees leave your company as well. Your Tettra Slack integration will also be fully searchable, eliminating the hassle of digging through files to find what you need. Accessing, sharing, and discussing knowledge get easier with Tettra.
20 Disco
With the Disco Slack app, you can bring your company culture into your digital workspace. The platform, designed for remote teams, slots seamlessly into your Slack and enables you to give your team the props they deserve. You can also use Disco to highlight small wins and encourage your whole team to do the same. This way, one moment of praise can turn into an organization-wide celebration. It's a great way to make this team communication tool a truly happy place.
21 Evergreen
When you add Evergreen to Slack, you connect your team with the world beyond your digital workspace. Evergreen allows you to give "seeds" of recognition to your team in Slack. Then, it goes out and plants these seeds in real life. With every bit of employee praise you give, a tree grows in the real world. It's a seamless way to simultaneously give back to your team and the entire planet.
22 Range
The Range app lets your team more easily post daily updates. When your team members start their days, they can pull up Range in Slack to share their daily plans, recent progress, and open ends. Your team can then view all this information in just one click from a channel of your choosing. It's an especially great way for employees on small teams to quickly see what one another is doing. And other Slack apps take things a step further with full-on meetings.
23 nTask
The project management tool nTask offers a highly collaborative Slack app for teams of all stripes. You can use it to include tasks as Slack channel updates. This way, your team can track task progress in the same space where they discuss these tasks. Similarly, you can create new tasks in nTask from Slack with a simple sequence of slash commands. The end result is that your whole team sees progress updates at the same time – and that's peak communication.
Cut yourself some Slack
The best apps for Slack cover bases ranging from task management to employee recognition. No matter their purpose, they share a common thread: They more strongly connect your team members with one another. Fellow is a great example: It transforms your workspace into an arena for more collaborative meeting planning, execution, and follow-through. You'll never miss a meeting action item again – or, for that matter, a meeting.