Getting the senior leadership team together for a recurring meeting seems close to impossible, between crazy schedules and differing priorities. Often, these leadership meetings are overlooked and re-scheduled over and over again. As a company, you need to put an end to this because this is one of the most meaningful meetings that you can organize.
In order to highlight the importance of leadership meetings, Fellow has put together the ultimate guide for managers to understand all there is to know about leadership meetings.
Keep reading to gain an understanding about what leadership team meetings are, why they're valuable, and 8 amazing tips to run a successful and effective leadership meeting.
What is a leadership meeting?
A leadership meeting is when senior leadership or a management team organizes and takes part in a recurring meeting, typically once a week, where important information is shared that is needed to make key decisions about the business. This is a meeting where decisions are made, problems are solved and the leadership team discusses important issues such as operations, current processes and key metrics.
Here, at Fellow, the heads from each department meet once a week. This includes the head of Marketing, Product, Engineering, Design and the CEO who meet every Monday to take some time to discuss issues, to solve problems and to provide important updates to one another.
Leadership meetings are also a fantastic opportunity to foster trust and to build a stronger relationship with your counterparts.
Why are leadership meetings valuable?
Leadership meetings are valuable to you because they really set the tone and momentum for achieving the goals set by the organization. It's hugely beneficial for the leaders of your company to be aligned on these company goals and to have this group of skilled individuals work together towards achieving collective success.
Because each leader has a different background, different experiences and different approaches to tackling business issues, it's valuable to have multiple perspectives brainstorming in the same room (whether it's virtual or in the office).

Track action items, get more done
Keep the momentum going after your meeting is over. With Fellow, you can assign, visualize, and prioritize all your meeting to-dos in one place.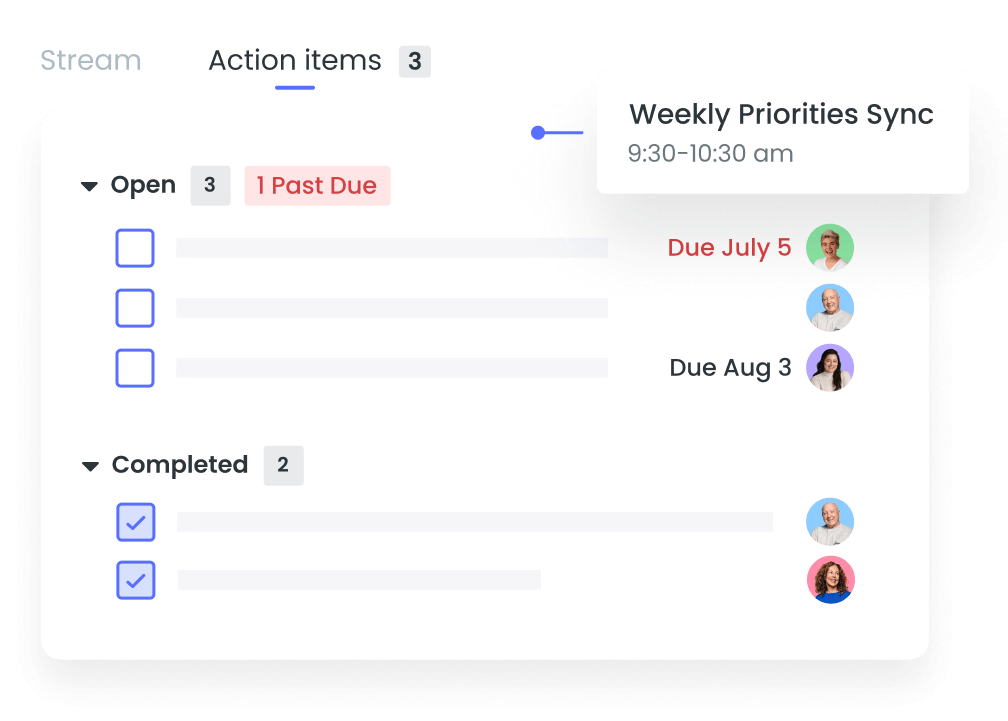 The most important component of leadership meetings is to ensure that they remain consistent. This is going to promote ongoing, clear communications between yourself and the rest of your leadership team. Because communication time is often limited due to crazy schedules, it's important to take advantage of this scheduled time to talk openly, regularly and effectively. Now that is effective leadership.
8 tips to run a successful leadership meeting
Keep reading for a detailed explanation of each tip that will prepare you to run an effective leadership team meeting:
1 Send the leadership meeting agenda in advance
A leadership meeting agenda is essential to running an effective meeting. Make sure that you're sending the meeting agenda in advance, including documents and discussion points, so people can prepare to answer the team's questions.
Pro Tip: A good rule of thumb is to send the proposed agenda 24 hours in advance in case there's something important that someone would like to talk about. If you use a meeting agenda software like Fellow, you can set it up so that the agenda is automatically sent 24 hours before the meeting begins.
It's an even better idea to use a meeting agenda template you populate with talking points every week because it saves time and helps participants to come prepared for the meeting.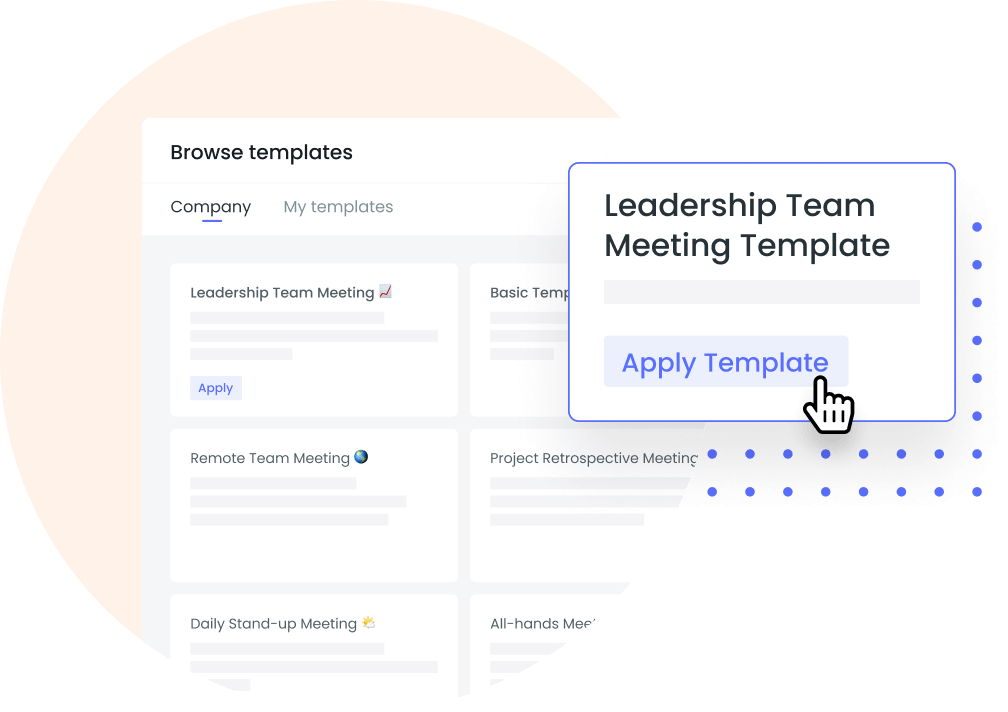 2 Share important updates
Leaders from each respective department or division should come to the meeting with important updates from their teams and the impact it may have on the rest of the organization.
Start with a check-in around the room to promote engagement and to get people to start talking. It's a great idea to start the meeting on a high, with one positive update from each leader to set the tone.
It's beneficial for managers from various departments to know what's happening in the company as a whole and to make sure teams aren't operating in silos.
3 Review key metrics and goals
You should be devoting the most time in your leadership meetings to tracking the progress on key metrics and OKRs. This way, you can see if you're a little off the mark and need to re-align with your counterparts to mitigate any issues.
Start with going around the table for updates on key metrics from each leader, then begin to steer the conversation to how all of these tasks and goals are contributing to the larger overarching organizational goals.
This is also a great time to talk about if the way in which you're tracking your metrics and OKRs is effective and efficient. An action item may be created then to make changes accordingly 👇
4 Highlight good news and wins
Highlight your good news and your wins and don't forget to celebrate them! Although leadership team meetings stereotypically have a serious tone, it's an essential agenda item to talk about some good news.
When each leader shares their "win" with the rest of the group, it allows the other leaders to know what exciting things are going on in other departments of the company. Having this close to the end of your meetings agenda template will allow you to wrap up your meeting on a positive note and will boost the overall team morale.
5 Talk about issues, roadblocks, and challenges
Although it's really important for you to talk about good news, there should also be a part of the meeting agenda dedicated to discussing issues, roadblocks and challenges. Because you have highly skilled leaders from diverse backgrounds around the table, it's a great opportunity to brainstorm ways to alleviate issues.
Creating a mitigation plan with your counterparts will be much easier with several different perspectives and experiences being applied to putting together effective solutions. Discussing issues with your counterparts should certainly alleviate some pressure and provide some support.
6 Record meeting notes collaboratively
It's super important that you have a written record of your leadership team meeting that you can refer back to. Using a productivity tool like Fellow, where you can record meeting notes in real-time, will save you a lot of time and effort.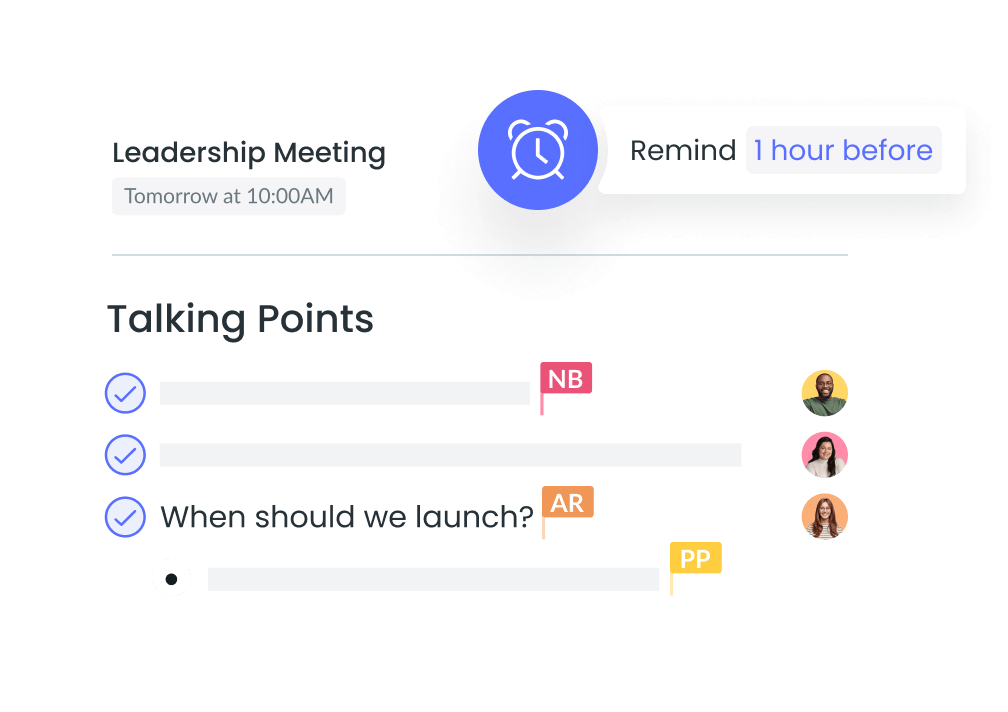 In a recent article published by Forbes, our Director of marketing at Fellow, Erin Blaskie, communicates some valuable insight on why recording notes collaboratively is so important:
"Recording meeting notes in real-time will increase transparency with those who are involved in the meeting, as well as create a single source of truth for meetings, teams and projects. Now that the majority of the office world is working remotely, creating a source of truth for the decisions you make at meetings can be critical for team alignment and communication."
7 Capture decisions and assign action items
Make sure that you're holding each other accountable, checking in with each person around the room at each subsequent meeting. Just as you check-in with each individual at the beginning of the meeting, do the same at the end.
In order to capture decisions and assign action items, you need to make sure that there is a document (or app) that you can refer back to for progress and updates.
With Fellow, your leadership team can record action items in real-time, track and prioritize tasks in-between meetings, and automatically carry-forward incomplete action items to the next meeting.
8 Ask the leadership team for feedback about the meeting
Last, but not least, make sure to ask your leadership team for feedback about the meeting. Exchanging this feedback with one another is a fantastic way to encourage constant improvement and to voice whatever isn't working exactly how you'd like it to.
Here, at Fellow, our leadership team uses our app to rate their meeting on a scale from 1-10 every week. This is a great way to build a culture of productive meetings and continuous improvement. It also encourages honesty and enables participants to voice their opinions on the outcome of each meeting.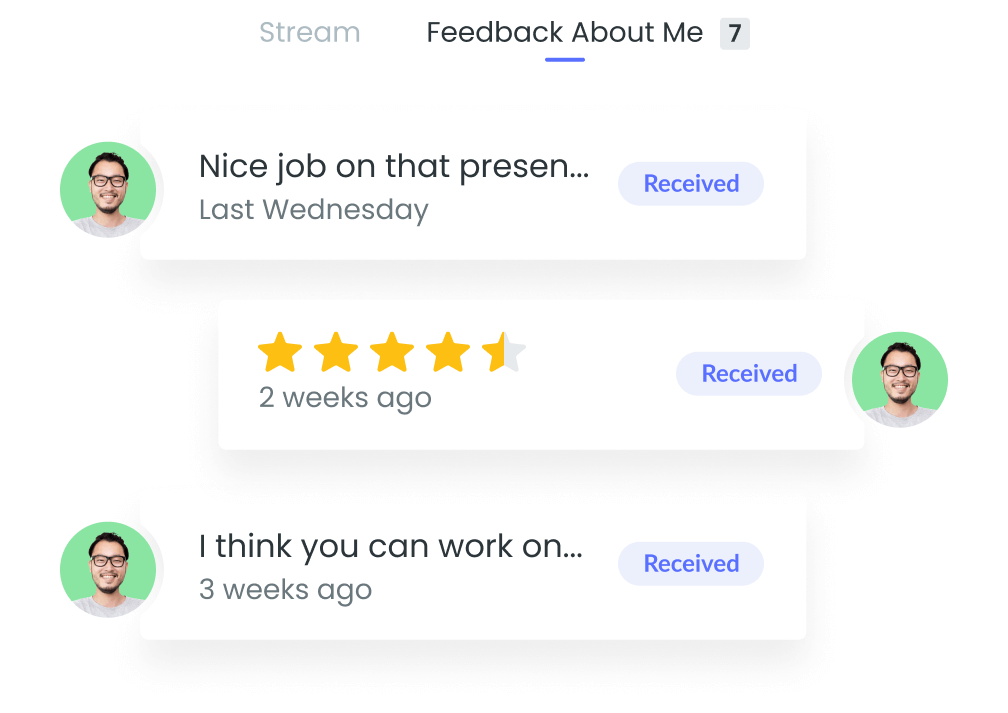 Leadership Team Meeting Agenda Template
Parting advice
Your weekly leadership team meeting shouldn't be something to stress about, but in fact something to look forward to! Although you might feel as if there isn't enough time in a day to get to everything that needs to be done, these team meetings, when run effectively, will make your time worthwhile. It's hugely beneficial for the leaders of your company to be aligned on the company goals and to have some dedicated time to work together towards achieving goals, brainstorming solutions and using new ideas to innovate and inspire.
The trick to an effective leadership meeting is to remain consistent in meeting every week (even if you feel like it's unnecessary!) so that there is continuous communication between leaders and there is no gap in information, minimizing the probability of an organizational slip- up.
Refer back to this guide on 8 tips to run a successful leadership meeting whenever you need a reminder on how to run these meetings and why they're so important.