In many cases, your meetings aren't just for your team. Theoretically, the whole public should be able to see and comment on what went down behind closed doors. Meeting minutes are your way of providing this access, but creating them can be agonizing. After all, the main difference between meeting minutes and meeting notes is that the former must be a verbatim transcript of the proceedings. Sounds exhausting to document all that, right? Enter meeting minutes tools.
The dozens of meeting minutes tools on the market offer features as simple as word processing and as advanced as real-time transcription. Many meeting minutes apps also include tools through which you can create meeting agendas and further organize your meetings. You can even use some of these tools to run effective meetings once everyone has convened. Below, we'll explain what you should seek in a meeting minutes tool and list some top picks.
13 of the best meeting minutes tools to start using in 2023
Ready to fully excel at writing meeting minutes? We know you are! That's why we're recommending the below 11 apps to help you create, store, and share your meeting minutes and action items. Each entry in this list includes information about the app's key features, advantages, drawbacks, and price.
1Fellow
With Fellow, planning, running, and following through on meetings is only the start. You'll enjoy access to a treasure trove of meeting templates that can help you create format-fitting minutes and distribute them widely. You'll also get tools for collaborating on agendas, noting action items as they emerge, setting OKRs, and sharing and receiving real-time meeting feedback. That said, you won't get real-time audio recording or transcription. Still, though, with Fellow, your meeting minutes will shine – and so too will every minute of your meetings.
Key features:
Dozens of meeting templates, including for meeting minutes
Easy meeting minute distribution after meetings
Highly user-friendly additional features such as agenda collaboration, real-time action items and feedback, and OKR setting
Price: Fellow offers a free introductory tier, a Pro plan that costs $6 per user per month, and a customizable Organization plan.

Keep track of all your meeting notes.
Collaborate on meeting agendas and assign action items so every meeting has clear next steps with a tool like Fellow.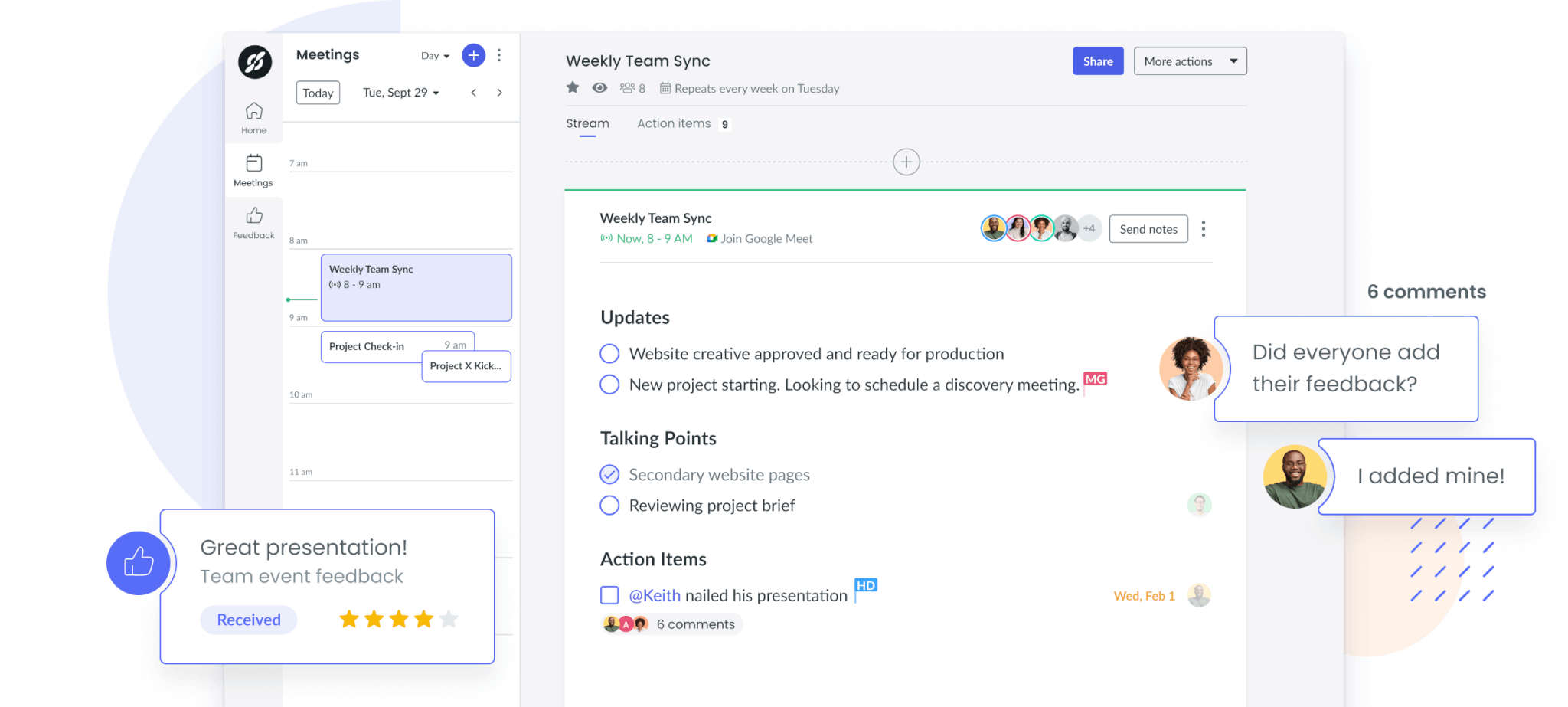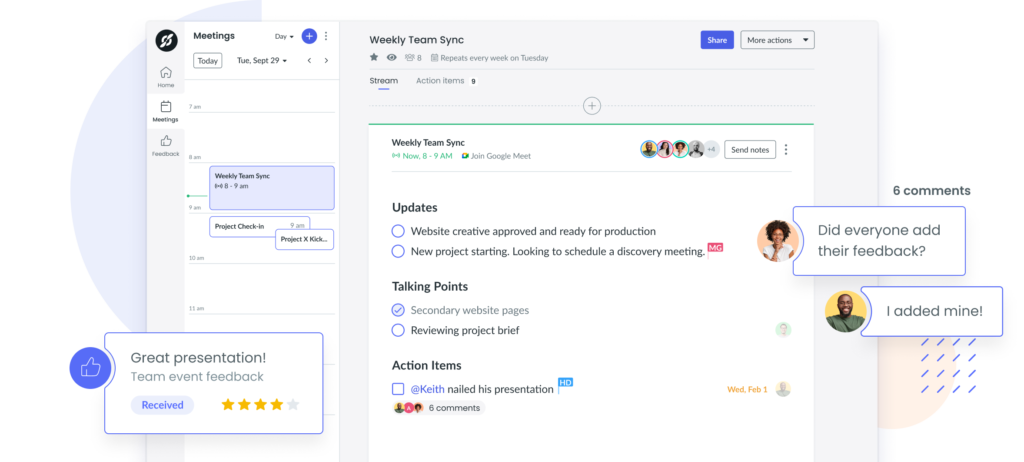 2Evernote
Best known as a notetaking app, Evernote also comes with customizable templates and voice-recording features. Together, these tools allow you to create meeting minutes that adhere to your format and include all required information. No, Evernote won't transcribe your audio recordings for you, but you can absolutely use it to take thorough notes and assign tasks. And then, once your meeting minutes are complete, you can easily share them with your team.
Key features:
Customizable meeting minutes templates
Audio recording and playback
Team-wide sharing of meeting minutes
Price: A free introductory plan is available, and paid plans start at $7.99 per month.
3Google Docs
Like Evernote, Google Docs is known to function well as a notetaking platform. Its voice typing tools may prove especially apt for transcribing meetings in real-time. Additionally, through its seamless collaboration tools, you can provide unencumbered meeting minutes access to all your team members. That means your team can work together to create and perfect your meeting minutes. However, Google Docs can't store and save audio recordings as other meeting minutes software platforms.
Key features:
Voice typing for real-time meeting transcription
Seamless meeting minutes access to all team members
Work together on creating minutes during meetings
Price: Google Docs offers a free introductory plan and a business plan that costs $12 per user per month.
4Beenote
Beenote is a meeting planning, execution, and notetaking tool available in three forms. There's the free Beefree plan, which is relatively limited in scope. The Beenote plan enables branded minutes and adds in several integrations. The Beeboard plan is the most comprehensive tier, as it facilitates fully private meeting minutes and includes a resolution register. The app's main drawback is that, unlike some other meeting minutes tools, Beenote doesn't list the highly popular team communication tool Slack among its integrations.
Key features:
Fully private meeting minutes
Price: Beenote ranges in price from $1.86 to $6.07 per user per month. Beeboard prices are customizable and may range from $9.92 to $10.50 per user per month.
5MeetingBooster
MeetingBooster can help you prepare, run, and document meetings. It also works well as a task manager and integrates with Google Calendar, iCalendar, and Outlook. Most of its features, including its full task management suite, are available for both premium and non-premium users. However, its extensive feedback and analytics features are entirely off-limits to non-premium users. Similarly, meeting minutes approval is only available for premium users.
Key features:
Meeting minutes creation and, for premium users, approval
Price: MeetingBooster does not list prices on its website. You must contact the company to obtain its pricing.
6 FreJun
For virtual meetings such as video conferences or traditional phone-based conference calls, the Indian app FreJun can be an effective meeting minutes tool. Its AI-based tools record your conversations and transcribe them into meeting notes.
That said, you'll still need to verify these transcripts' accuracy and organize them into an acceptable meeting minutes format. Additionally, FreJun lacks a free tier, and only its higher-level tier allows for calendar integrations. It may be best as a supplementary meeting minutes tool rather than your default platform.
Key features:
Records video and phone conference calls
Transcribes speech of all meeting participants
AI-based for hands-off meeting minutes creation
Price: FreJun's standard tier costs ₹1,199 ($16.13 as of November 18, 2021) per user per month. Its professional tier costs ₹1,499 ($20.17 as of November 18, 2021) per user per month.
7 MeetingKing
MeetingKing includes basic meeting planning, execution, and minutes tools. You can use it to automatically format your meeting minutes to several templates. It also integrates with Outlook and your calendar to automatically add meeting attendees, times, locations, and dates to your minutes. It also includes task management, attachment, and collaboration features. However, its highest-tier plan allows for at most 25 users, a limit rare with other platforms.
Key features:
Automatically format meeting minutes to preset templates
Integrate with Outlook or calendar app to automatically record meeting attendance, date, time, and location
Manage tasks, collaborate, and add attachments
Price: MeetingKing plans range in price from $9.95 to $124.95 per month.
8 nTask
The project management platform nTask can also double as a meeting minutes tool. You can use it to create a document with basic meeting attendance and setting info. You can then create minutes in real-time and share them with other meeting participants and team members. You'll also get action item features for assigning additional work to your team after the meeting. However, nTask lacks the meeting minutes templates that other platforms often offer.
Key features:
Auto-populate meeting minutes with basic information
Share real-time minutes with attendees and other team members
Assign and track tasks directly from meeting minutes
Price: nTask offers a free tier, and its paid plans start at $3 per user per month.
9 Magic Minutes
With Magic Minutes, you can either automatically send minutes out once your meeting finishes or require approval before sending. You can also choose which meeting attendees and team members receive which bits of information. Once your minutes go out, Magic Minutes will ask you if you'd like to schedule a follow-up meeting. This convenience, though, doesn't come with audio recording, playback, and transcription. The same is true of customizable templates.
Key features:
Automatically send minutes when meeting ends, or require approval first
Withhold certain pieces of information from certain team members
Easily schedule follow-up meetings once you send minutes
Price: Magic Minutes offers a free tier, and paid options start at £6 ($8.10 as of November 18, 2021) per user per month.
10 Tactiq
For virtual meetings via Google Meet or Zoom, Tactiq can prove helpful. You can use Tactiq to record and auto-transcribe the conversations that take place at these meetings. As your transcript comes together in real-time, you can highlight key phrases or sentences. Your transcript will also include timestamps and automatically identify the speaker. This convenience, though, doesn't include customizable meeting templates as with other platforms.
Key features:
Record and auto-transcribe meetings in real-time
Highlight key phrases or sentences as they appear
Timestamp your meeting minutes and identify the speaker
Price: Tactiq offers a free introductory tier, and paid plans start at $9 per month.
11 FireFlies
FireFlies is an AI-based meeting assistant with which you can record, transcribe, and search through your meeting minutes. You can comment on your meeting minutes to mark them for collaboration or additional work. You can also upload a recording of a previous meeting for FireFlies to transcribe after the fact. As with most purely voice-to-text meeting minutes solutions, though, you can't customize the appearance of your transcribed minutes.
Key features:
Record, transcribe, and search meeting minutes
Comment on meeting minutes or mark certain parts as action items
Upload previous recordings for transcription
Price: FireFlies offers a free tier, and its paid plans start at $10 per user per month.
12 Clickup
ClickUp is an all-in-one productivity tool that teams of all sizes and across industries rely on to manage meetings, plan ahead, and work together in one place. It offers hundreds of customizable features for in-person and remote teams including Whiteboards, Notepad, and dynamic ClickUp Docs to record meeting minutes while keeping up with the discussion. Whether you're preparing a visual aid, relaying information, or knee-deep in the brainstorming process, ClickUp offers the flexibility and power to connect new ideas to your workflow so you can act on them instantly.
Key features:
Collaboration features like real-time editing, live cursors, and link sharing
Rich text editing in ClickUp Docs, Notepad, and Whiteboards
A growing library of free pre-made and customizable templates
Price: Access all of these features, 1,000 MB of storage, and add unlimited members and tasks with ClickUp's Free Forever Plan, or access more advanced features with paid plans starting at $5.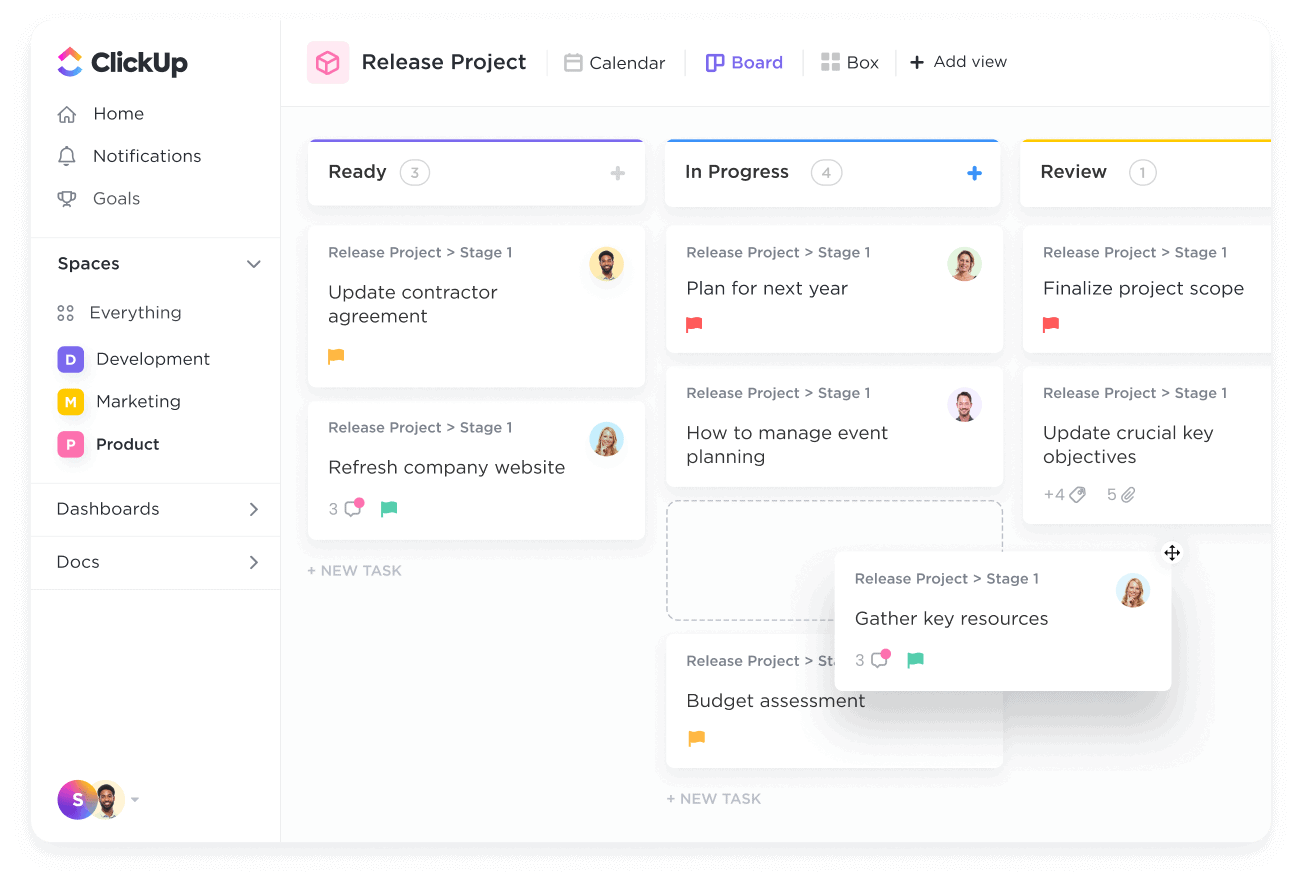 13 Grain
Grain helps you record, transcribe, clip, and share important moments from video meetings.
With Grain, you can transcribe your meetings in a preferred language, take notes, and create and share highlight clips capturing the key moments from the discussion with anyone you'd like—in a few clicks.
Every meeting is automatically recorded and saved in a shared workspace—accessible to you and your team. You can use Grain to create and organize meeting notes, send recap emails, and build libraries of company, customer, and market knowledge.
Key features:
Transcribe your meetings in 22+ languages.
Clip and share key moments from video meetings—with your annotations.
Compile the highlights of your meeting to create a video summary your team would love to watch.
Organize your recordings, meeting notes, and summaries in a team workspace.
Price: Grain's free plan lets you record, transcribe, and save up to 10 video meetings. The paid plan starts at $19/user per month and offers unlimited video storage, and transcription, among other great features.
What should you look for in meeting minutes tools?
The best meeting minutes tools offer the following features:
User-friendly word processing. At its heart, a set of meeting minutes is just a word document. As such, your meeting minutes tool should remind you of Microsoft Word, Google Docs, or maybe your blog's content management system. Your tool's interface shouldn't be challenging or complex, but it should allow you to use bullets, number or letter your outlines, and do plenty more.

Flexible, customizable templates. Many of the best meeting minutes tools include templates that fit all kinds of meetings. Others go further and provide templates you can alter and customize from top to bottom. Sometimes, this customization pertains solely to your minutes' structure. In other cases, it may encompass the ability to add custom branding to your minutes. Either way, you'll have complete control over how you create and modify your fully verbatim meeting document.

Easy meeting minutes approval. Since meeting minutes are public documents, you'll typically need approval from a designated team member before publishing them. Many meeting minutes tools streamline this approval. It should take the team member in question mere moments to find or receive the final document and mark it approved.

Seamless team-wide access. Once your meeting minutes are finalized and approved, you should be able to send them to your team with just a click or two. Some platforms might automatically distribute your minutes to your team once your meeting ends, resulting in an especially streamlined distribution process.

Audio recording, playback, and transcription. Meeting minutes are a full, verbatim transcription of your conversations, decisions, and action items. The thing is, human speech typically moves way faster than anyone – even the most diligent notetaker – can type. That's why many meeting minutes tools include real-time audio recording, playback, and transcription features. These features all but remove the minute meeting creation burden from your team – just sit back, relax, and enjoy the meeting.

Action item and task management capabilities. Most meeting minutes tools allow you to mark certain parts of your minutes as meeting action items. This way, your team remembers to follow through on the items discussed during your meeting. Some meeting minutes platforms also include a task management hub that centralizes all these action items. This way, you can seamlessly stay up to date on all your needs.

Ability to upload attachments. As the public looks at your meeting minutes, they might need more context for your discussions. You can offer this crucial background by attaching all sorts of company documents. However, only some meeting minutes tools allow for these attachments. Those that do often have file size and quantity limits, though many higher-priced plans eliminate or minimize these caps.

Abundant integrations. The top goal of a meeting minutes tool is to make assembling your minutes seamless. The key word here is seamless – a meeting minutes tool shouldn't introduce any hitches in your process. If your tool fully integrates with all your other software platforms, you're more likely to avoid these hitches. A truly trustworthy meeting minutes tool can integrate with your calendar app, team communication tools, and so much more.
Hold – and document – your best meetings yet with Fellow
A great meeting minutes tool is useful both during meetings and long before and after. It also comes with templates you can use to easily build comprehensible, well-organized meeting minutes. Fellow checks all these boxes and more.
With Fellow's meeting agenda, action item, meeting feedback, and meeting template tools, you'll cover all your bases from start to finish (and everything in between). It's a surefire way to create useful, thorough meeting minutes – and hold your most effective meetings yet.