In a virtual meeting, you're with everyone on your team, but you're not really with them. And that's no big deal – you probably do video calls with your friends sometimes, and meetings in a virtual setting really aren't that different! Plus, they're great for connecting team members who work in different time zones, and they're the bread and butter of great remote teams. Below are some tips on how to improve virtual meetings so you can master the art.
10 tips for better virtual meetings
Ready to make the best of your online meetings? Start here.
1Start with something fun
Meetings are great, and they're even better when you warm your team up for the big discussion. Try starting with something fun – say, ice breaker questions for virtual meetings – to get everyone in the zone. Keep this part to five minutes, then dive into all the big-time work stuff. It's a great way to keep your team in high spirits and keep meeting fatigue at bay.

Run delightful virtual meetings
Increase meeting engagement and productivity during your virtul meetings with a collaborative agenda that the whole team can contribute to. Try using a tool like Fellow!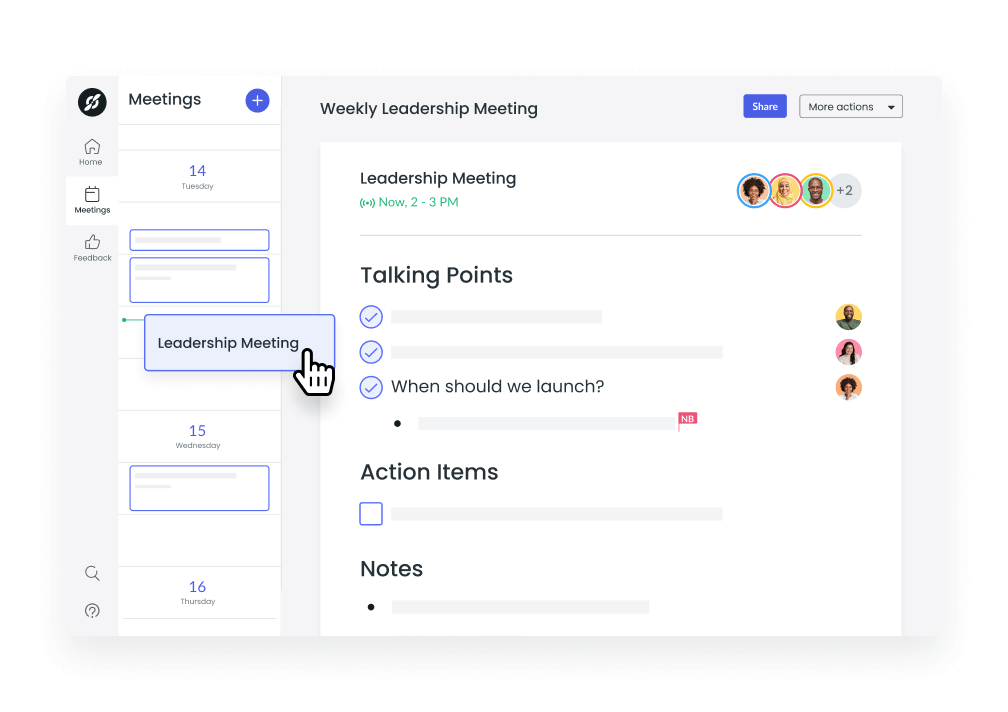 2Get everyone to play a part
It's one thing to sit and listen silently in a meeting. It's another thing to take an active role in the meeting experience. That's why, for better virtual meetings, you should ask your team members to bring some recent wins and challenges to the table. Then, everyone can brainstorm solutions together. Your meeting will be more interactive, and your team's problem-solving will go above and beyond. 
Here's an example of how to get everyone involved: Before the meeting, assign roles to each participant, such as note-taker, timekeeper, or facilitator. This will give everyone a specific responsibility and help to keep the meeting on track.
3Hear everyone's voice
Let's say you're holding a virtual meeting to fill your team in on a new project. You're probably still in the planning phase, so you're probably open to new ideas. Let everyone share their thoughts, and chances are you'll get all sorts of perspectives, especially if you've been keen on diversity, equity, and inclusion. Encourage folks to come off mute and speak their minds – your remote meetings will be all the better for it.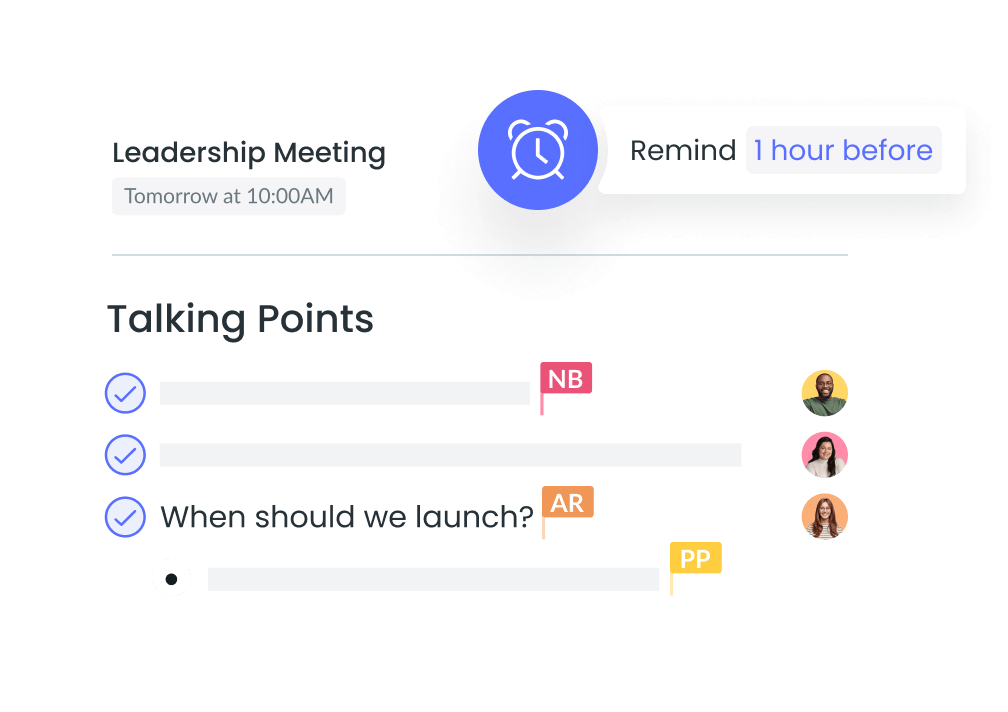 4Ask open-ended questions
Picture it: You've asked a yes-or-no question, and the room goes silent – nobody knows the answer. It doesn't have to go like this – try asking open-ended questions instead. There's much less fear about being wrong when you open the floor to just about any kind of answer. You'll probably hear some ideas that could be great springboards for your next big step. 
Examples of open-ended questions include:
"What do you think are the biggest challenges we'll face with this project?"
"How do you see this project fitting into our larger goals?"
"What are some potential solutions we could explore for this problem?"
"What opportunities do you see for growth or innovation in this project?"
5Set some virtual meeting ground rules
Muting mics when you're not speaking. Using the chat box solely to send relevant links or information. These are the basics of virtual meeting etiquette, and you can add more rules based on your team's needs. Your goal will be to create a virtual meeting environment that's just like a real-life meeting space: Engaging and respectful, with no cross-talk.
6Keep it short and sweet
How long a meeting should be depends on your goal. Typically, you're looking at 15 to 60 minutes. For virtual meetings, you should aim shorter.
Think about it like this: It's often easier for team members to get distracted in virtual meetings. After all, they literally have a whole computer right at their fingertips. They could wind up replying to emails or scrolling through social media when they should be paying attention. This all gets more likely the longer your meeting goes – surely, you've been there yourself – so keep things short and sweet.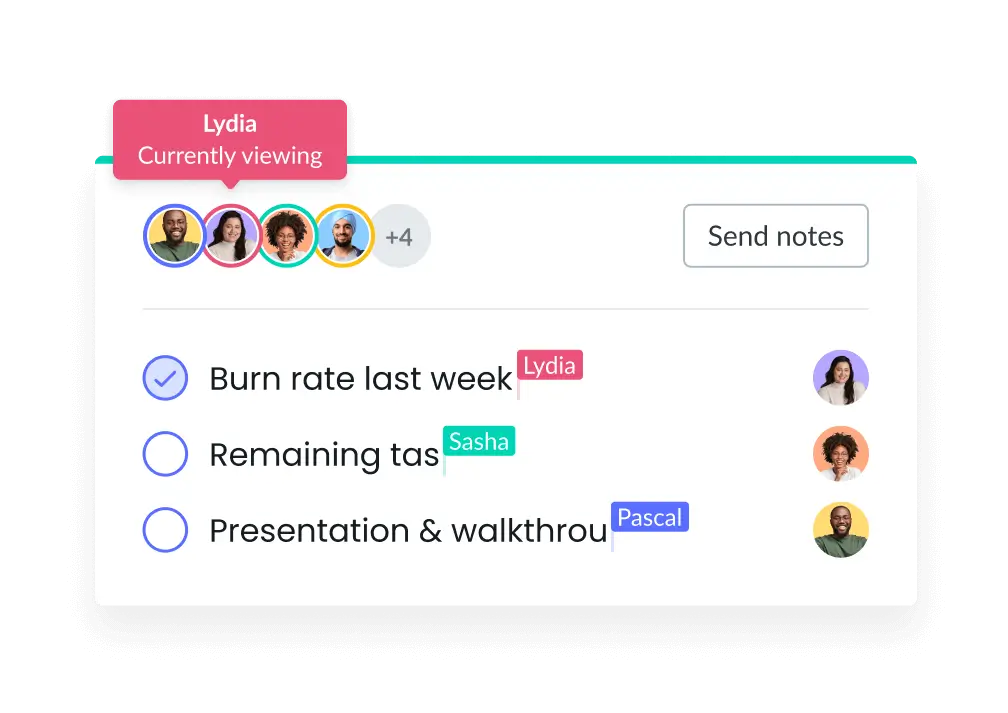 7Ask for negative feedback
Peer feedback is key to learning, growing, and doing better, and it includes giving negative feedback. But for most team members, even gently pointing out where their manager could do better is kind of scary. The thing is, everyone loves to make their thoughts heard. So when you shape your virtual meetings as a chance to kindly pile on the negative feedback, you'll probably get everyone involved – exactly the goal.
"Good meetings can be really important for building trust, for building collaboration, for building connectivity with folks that need to work together. And if they're in different time zones, and we have to accommodate for that, and how we schedule our meetings to make sure that we're not negatively impacting people's abilities to have lives outside of work."

– Tamar Bercovici, VP of Engineering at Box
8Share next steps after every meeting
You had a great meeting – now what? You should share next steps after every meeting so your meeting attendees know exactly what they need to do. You'll clear up any confusion and sharpen everyone's memory, all while pushing your projects forward.
9Give your team better work-from-home tools
Chances are you're not personally visiting your team members' home offices, but you can still make an impact on these spaces. Cover your team members' costs when they buy a more supportive desk chair – team meetings go better when everyone's more comfortable. Bring everyone into an online meeting tool where they can work together to plan, run, and follow through on meetings. You'll make video conferencing feel just like being in the office together.
10Use collaborative real-time tools to create and share meeting agendas
If you're using your calendar app to know when you have meetings, you're halfway there. Add a meeting management platform you can use to create meeting agendas and pair them with your calendar events, and now, you're golden. Fellow is a great example. It integrates seamlessly with Google Calendar and Microsoft Calendar – you'll see your schedule to the left of your agenda. Just click on a different meeting to open the agenda.
With Fellow, you can also take meeting notes right on your meeting agendas. This means you can see your schedule and open your notes all in one central place. You can also keep scrolling down to see all your previous meeting agendas and notes, from most to least recent. On top of that, you can assign talking points and meeting action items to keep the whole team moving ahead. And you can use agenda templates to plan better virtual meetings every time.
Hold better virtual meetings with Fellow
Virtual meetings are nothing to be scared of – with the right planning and tools, they'll go as well as traditional in-person meetings. With Fellow's tools, you can make the most of your virtual meetings – creating meeting agendas, taking meeting notes, assigning action items. It can do so much more than that too – you can use it to set objectives and key results (OKRs) and give and get feedback. With Fellow, your whole team can enjoy better virtual meetings – and keep improving long afterward.