There's no denying that remote meetings are now the norm for most businesses. Schools are also permanently keeping virtual classrooms and a lot of people are leveraging virtual meetings for their personal matters, too. If you're looking to learn more about what kinds of virtual meetings you can host, or what software tools can help you host them effectively, you've come to the right place!
3 types of virtual meetings
1Video conference
Videoconferencing is the most common type of virtual meeting, and it's what most remote or hybrid work teams engage in on the day-to-day. It involves getting into a call where all attendees can see each other through the computer screen. Usually, there's one meeting host, but many attendees may have talking points to lead on the meeting agenda, and often the whole group is invited to join in on the discussion.
A few pros to video conference meetings include:
They're great for collaboration and brainstorming time as all meeting participants can show their faces on camera.
All participants also have the option to speak, or they can keep themselves on mute while they're not talking.
Participants can add fun virtual backgrounds, which can ease icebreakers or help represent the company's brand in external-facing meetings.
Most video conferencing platforms have extra features like reactions, polls, and chat boxes to further drive engagement.
A few cons to video conferencing meetings include:
They're prone to technical issues as the system is balancing audio, video, and multimedia (for example, reactions and chat functions) requests from all participants.
Sometimes participants need to register to a new video conferencing platform to use it, even if they're attending the call as a guest.
2Teleconference
Teleconferencing involves tuning in to a shared phone call with one or many participants. Since it's harder to see how others are engaging or responding in the meeting, this call is usually led by one meeting host who sets the direction for the conversation and asks specific questions to the other people on the line. This kind of meeting can involve some discussion time, but this works best in smaller groups.
A few pros to teleconferencing tools include:
They're an easy way to connect to other phone lines, especially if you're talking with teams in another country.
The technology has been around for a while, making it easier for older generations to understand and use in the workplace.
They're great for having a large audience tune in to listen to an announcement.
Teams can work in person at an office and share a teleconferencing system with another team in a remote location.
A few cons to teleconferencing meetings include:
It can be difficult to distinguish who is speaking at any given time, so they require more clarification efforts.
It is harder to manage large groups if everyone is required to speak at once as there is no way to signal a cue if someone wants to add a point.
3Webinar
While teleconferencing and videoconferencing are two-way communication channels, a webinar is mostly a one-way communication channel. Webinars involve one or two meeting hosts who lead the call. They're visible to everyone who joins the meeting, but attendees can't see or interact with each other. As such, any comments or poll submissions are only viewed by the webinar host by default, unless the host has changed the settings otherwise.
A few pros to webinars include:
They're an easy and affordable way to promote a company product or lead sales enablement training.
Attendees feel like they're in a no-pressure environment to engage and can focus on learning, which is especially important for webinars targeting cold leads.
Many webinar platforms enable registration ahead of the event, so they can be great for lead generation as well.
They are a great platform for when one person needs to announce a message to many, like for very large town hall meetings.
A few cons to webinars include:
It can be more difficult to drive audience engagement or see how other participants are engaging.
Attendee questions can go more easily go unanswered.
It's easier for attendees to quietly drop off the call unnoticed.

Run effective, engaged remote meetings from anywhere
Keep your virtual meetings on track with Fellow's collaborative agendas, real-time notetaking, and feedback! Try a tool like Fellow today.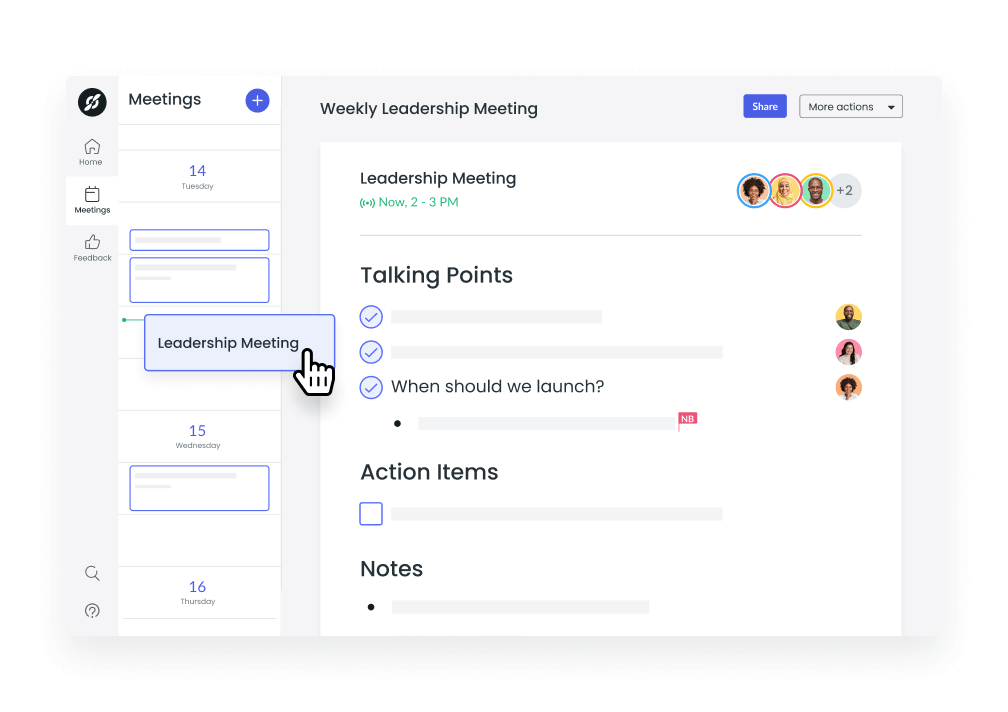 7 of the best tools for virtual meetings
1Fellow
Fellow is a meeting management platform that helps teams organize meeting content before, during, and after the call. With Fellow, you can add comments and reactions to talking points on collaborative meeting agendas to support ongoing discussion without disturbing the conversation. You can also facilitate participation in meetings by automating sections of the agenda to remind attendees to add their talking points. Additionally, you can foster effective remote communication and accountability by assigning meeting action items to one or multiple meeting attendees. And because of Fellow's many integrations, it can be used for any virtual meeting type! According to Liam Martin, Co-Founder & Remote Work Advocate,
"Fellow has completely changed the way we manage remote meetings. With 100+ people in 32 different countries, Fellow was one of the tools that took our remote meetings from confusion to clarity."
Key features:
Helps build collaborative meeting agendas and track call notes
Provides automated reminders for incomplete action items
Integrates with major virtual meeting platforms
Allows for feedback surveys to be automatically sent to participants post-call
Pricing:
Free – $0/month (for teams of up to 10 people)
Pro-$7 per user per month (maximum of 25 users; includes AI suggested topics and meeting automations)
Business-$10 per user per month (maximum 100 users; includes implementation services)
Enterprise-$15 per user per month (includes organization analytics)
Learn more about Fellow's pricing plans.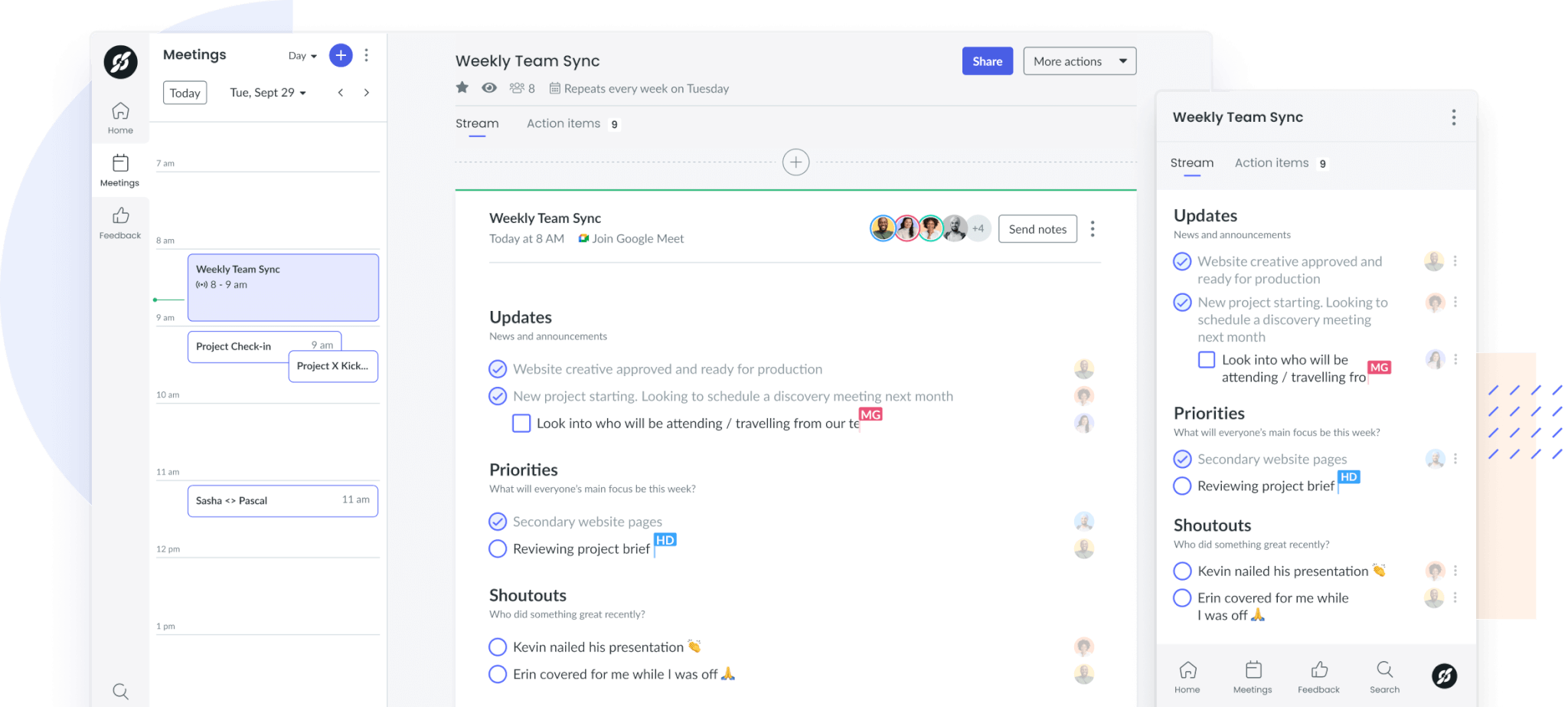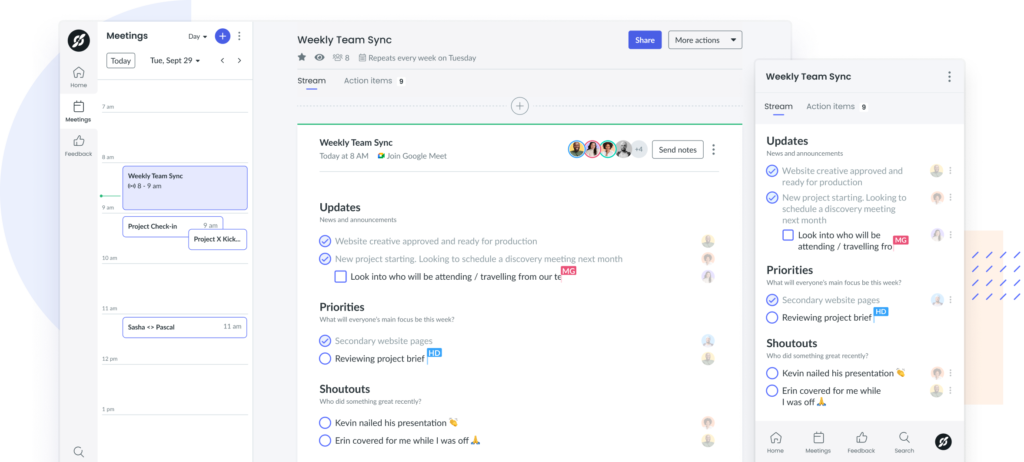 2Google Meet
Google Meet is a popular video conferencing platform. It's only accessible through an online browser, so it's very easy for external stakeholders to join the call without having to set up a new account. One disadvantage to using Google Meet is that it doesn't allow you to record calls within the tool itself, so you'd need to rely on plug-in extensions to cover this.
Key features:
Integrates well with other GSuite tools like Google Calendar
Works on any browser and has a free mobile app
Allows participants to use reactions and chat directly in the call
Makes it easy to add plug-ins and extensions to add new functionality, such as Fellow's browser extension
Pricing: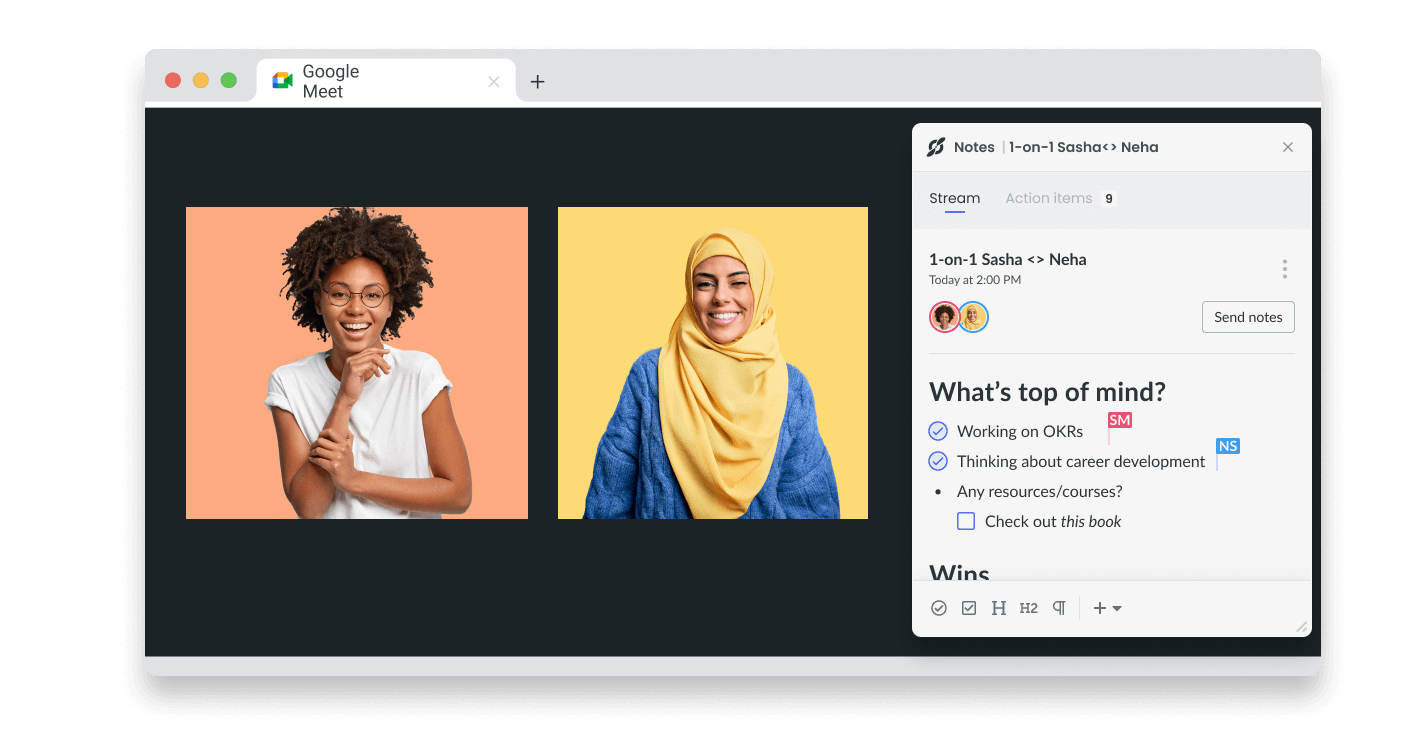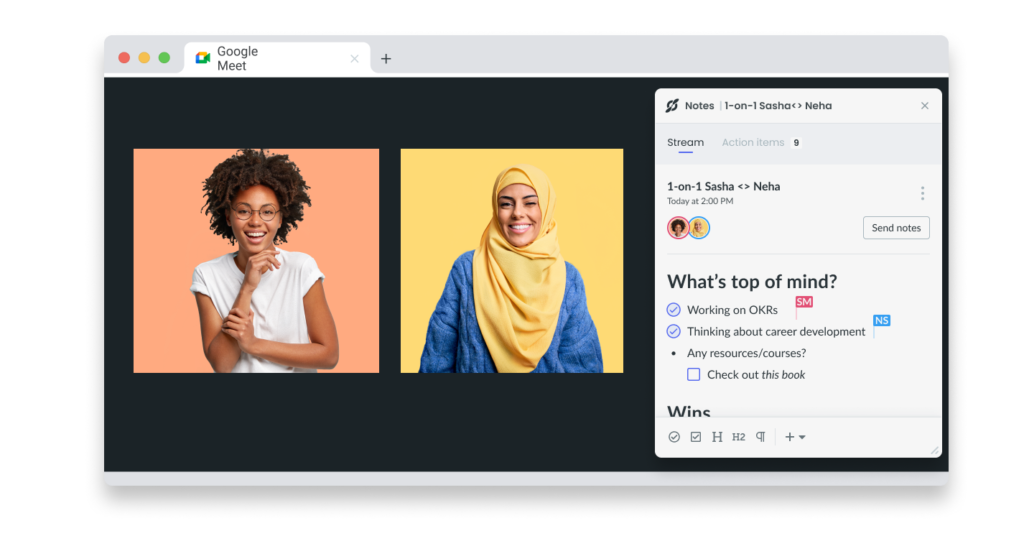 3Zoom
Used a lot by educational institutions and corporations, Zoom is one of the most popular video conferencing tools out there today. It has a wide range of functionality, depending on the plan you purchase. A few disadvantages to Zoom are that video conference participants need a Zoom account to attend the call, and the cost of the subscription will increase dramatically as your team grows over time.
Key features:
Allows users to host multiple types of virtual meetings
Provides lots of feature functionality like polls, post-meeting surveys, attendance tracking, and breakout rooms
Has a secure lobby to prevent unknown users from joining
Integrates with other tools to further extend functionality, like by taking meeting notes directly in the call
Pricing:
A free plan is available
Paid plans vary widely, depending on features, meeting type, and number of users
Paid plans on "Zoom One" start at $149.90 USD per year per user
"Zoom Webinars" starts at $76 USD per month per license
4Microsoft Teams
Microsoft Teams is also heavily used by corporate organizations and schools—especially those that rely on the rest of the Microsoft 365 platform. It's accessible through a web browser, mobile app, or desktop app, so it's quite convenient. It's also one of the best platforms for detailed attendance tracking on a budget.
Key features:
Allows you to record meetings and view attendance tracking on recorded calls
Has a secure lobby to prevent unknown users from joining
Provides virtual engagement features like virtual backgrounds, reactions, and chat functionality
Integrates well with supplementary extensions like Fellow to access meeting agendas in-call
Pricing:
A free plan is available
Paid plans start at $4 USD per user per month for business users or $6.99 USD per user per month for personal usage
5Slack
Used mostly as a business communication platform between teams, Slack can also be used to "huddle" into quick meetings. Many platforms can also integrate with Slack, making it a great place to merge meeting to-dos and event reminder notifications in one place alongside your day-to-day conversations.
Key features:
Allows you to create custom channels for different conversations and groups
Integrates well with the rest of your tech stack (including Fellow, if you want reminders of upcoming meetings!)
Can connect with external stakeholders in collaboration channels
Pricing:
A free plan is available
Paid plans start at $7.25 USD per user per month
6BlueJeans
BlueJeans is a virtual event management platform that supports a ton of meeting types including webinars. It's also used a lot by telehealth professionals who use the platform to book individual time slots for video conferencing calls with clients. At a lower price point, it's also a great option for small businesses. One disadvantage is that it's less intuitive than its competitors.
Key features:
Allows you to host multiple virtual meeting types
Provides breakout rooms for personalized client calls
Allows developers to custom code platform elements
Pricing:
A free plan is available
Paid plans start at $9.99 USD per user per month
7Webex
Webex is a virtual meeting software run by parent company Cisco. It has solutions set up for small businesses or enterprises, and pricing can be based on your use of Webex either specifically for meetings, calling, webinars, or registered events. A disadvantage to Webex is that it's known to have more technical issues during meetings.
Key features:
Has a secure lobby to prevent unknown users from joining
Provides live polling and Q&A tools
Has interactive whiteboarding available in-call
Allows users to join overlapping meetings at the same time
Pricing:
A free plan is available
Paid plans start at $19 per license per month
Free virtual meeting agenda templates
If you're looking to get started with any of these types of virtual meetings but you're not sure where to begin, we recommend using one of these meeting agenda templates to help guide your first remote call!
Parting advice
There's a great virtual meeting type for everyone, depending if you need cameras on with a crew, or you just want to present a topic to an audience in a one-to-many approach. As you review different tools and try to gauge which one suits your team, also consider how the software will scale with your team—both in terms of pricing and functionality. It's also okay to test a few free versions of the tools to see what works best!