Operations management professionals are catalysts for change within a company. These individuals improve processes, manage quality assurance, and organize day-to-day operations. The operations team often acts as an umbrella that oversees the entire business's performance while facilitating cooperation between other departments.
A team that is so critical to a company's success should always have the right tools—especially digital ones—on hand to navigate their day-to-day work.
Read on to learn more about operational management, see why digital tools are essential for creating high levels of business efficiency, and look at the top 10 software your team can use to level up your business ops today!
What is operational management?
Operational management means creating systems, processes, and best practices that generate the highest level of efficiency possible for a business. An operations team is responsible for managing any process that produces value or revenue for the company. Managers who oversee business operations supervise production timelines from the input stage to the final product. Some of the core functions of an operations team include the oversight of supply chains and customer relations, system implementation, process management, order fulfillment and logistics, and more.
Why are digital tools essential in operations management?
Many companies rely on operations professionals to keep the day-to-day functions of a business organized. Operations management tools are hardware and software that teams can use to manage day-to-day company activities. Digital tools can help operations teams stay productive by automating tasks and making processes more efficient and secure.
Let's take a look at the key features and pricing for 10 popular operations management tools on the market.

Run efficient meetings, come to a decision, and get back to work
Level up your meeting habits to boost engagement and productivity with a collaborative meeting agenda. Try a tool like Fellow!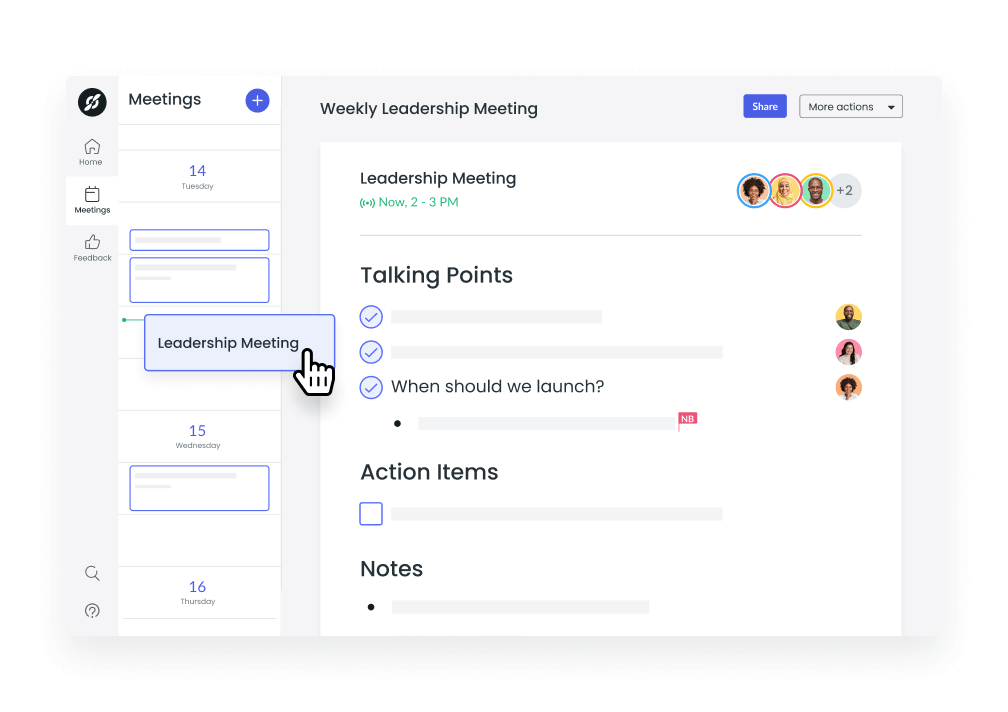 Top 10 must-have operations management tools
1Fellow
Key features:
Fellow is the tool your operations team needs to manage meetings, assign action items, and keep everyone accountable. Employees and managers alike can use Fellow to host meaningful one-on-ones and team meetings, build meeting agendas, and record decisions. Our tool features 500+ ready-to-use meeting agenda templates so your company can track objectives as part of your meeting workflow. Fellow also integrates with the digital tools you already use to make your operations even better!
Pricing:
Free – $0/month (for teams of up to 10 people)
Pro-$7 per user per month (maximum of 25 users; includes AI suggested topics and meeting automations)
Business-$10 per user per month (maximum 100 users; includes implementation services)
Enterprise-$15 per user per month (includes organization analytics)
Learn more about Fellow's pricing plans.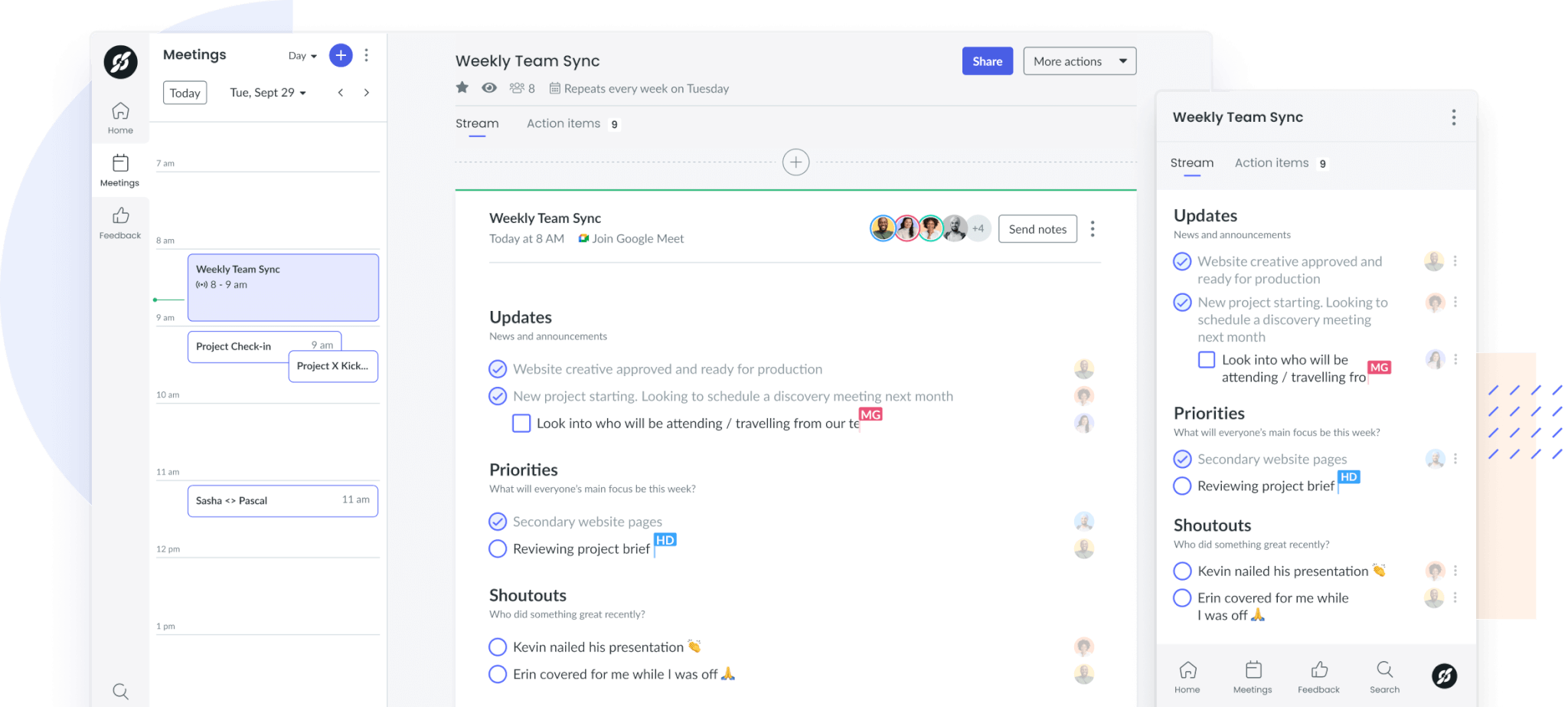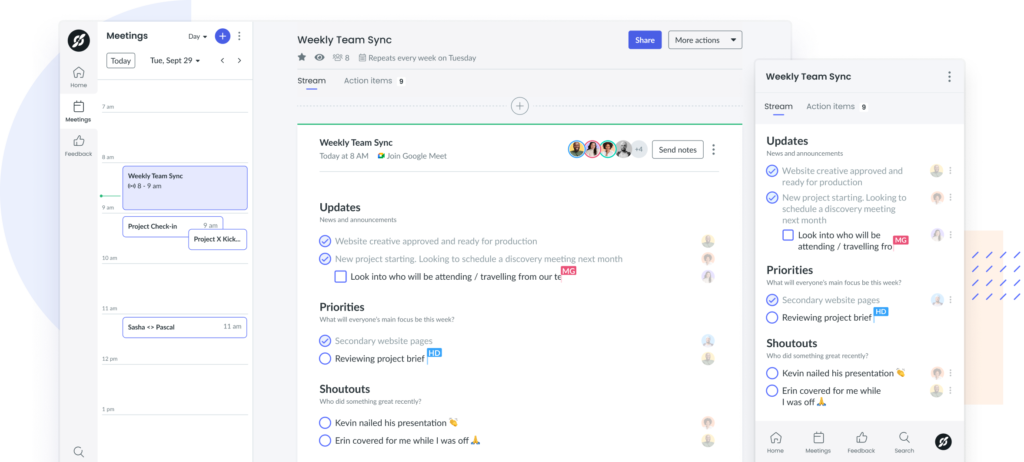 2Slack
Key features:
Slack is a messaging app that connects people to the information they need to conduct great business. With Slack, employees can communicate asynchronously with individuals in and outside of their company. It offers features like Channels with central spaces for conversations, Slack Connect to connect with teams at other organizations, Huddles for working alongside your teammates virtually in real time, and a variety of other messaging functions. Plus, Slack integrates with Fellow to help you collaborate on meeting agendas and notes and exchange feedback—without leaving your favorite messaging app!
Pricing:
Free—$0/month
Pro—$6.67 USD/month (per user, billed annually)
Business+—$12.50 USD/month (per user, billed annually)
Enterprise Grid—custom pricing
3Atlassian
Key features:
Atlassian is a company that offers applications for technology and business teams, including Jira, Confluence, and Trello. Operations teams can use Atlassian's three tools to organize, discuss, and complete shared work. While Confluence offers content collaboration, Trello is a visual project management tool, and Jira is for team collaboration. Atlassian is ideal for software developers looking to track projects and content creation with colleagues.

Pricing:
Free—$0/month (for up to 10 users)
Standard—$7.75 USD/month (per user)
Premium—$15.25 USD/month (per user)
Enterprise—contact sales for pricing
4Intercom
Key features:
Intercom is a customer service platform that operations teams can use to create chatbots on websites that automate processes, have conversations with users and customers, sell tickets, analyze customer data, and create reports. It aims to lower business costs for companies by automating parts of the customer support process that increase efficiency and keep stakeholders informed and happy.

Pricing:
Plans include Support, Engage, Convert, and Intercom for Enterprises. Get a demo on the website for pricing details.
5Chili Piper
Key features:
Chili Piper is an inbound conversion platform that enables the handoff from marketing to sales. The tool aims to help teams convert more inbound sales, so it's ideal for large revenue teams that manage a lot of leads, have an established sales team, and are looking to automate parts of their marketing and sales processes. Some key platform features include lead and meeting automation, a scheduling tool, and integrations with tools like MS Teams, Google Calendar, and Outlook.
Pricing:
Instant Booker—$15 USD/month (per user)
Handoff—$25 USD/month (per user)
Form Concierge—$30 USD/month (per user) + $150 USD/month platform fee
Distro—$20 USD/month (per user)
6Salesforce
Key features:
Salesforce is a customer relationship management (CRM) platform for teams in industries like marketing, sales, commerce, and IT. Using Salesforce, teams can manage customer data, marketing campaigns, and sales operations. Some key platform uses include account and contact management, lead management, workflow and approvals, and Salesforce engagement—a feature that works as the bridge between company marketing and sales to enhance selling power.
Pricing:
Essentials—$25 USD/month (per user)
Professional—$75 USD/month (per user)
Enterprise—$150 USD/month (per user)
Unlimited—$300 USD/month (per user)
7Asana
Key features:
Asana is a project management tool that lets teams view project progress, track individual tasks, plan sprints, and achieve new objectives. Asana allows groups to visualize their progress on deliverables using boards, making it ideal for remote teams, strategic planning sessions, work request tracking, and project, agile, and task management.
Pricing:
Basic—$0/month
Premium—$10.99 USD/month (per user, billed annually)
Business—$24.99 USD/month (per user, billed annually)
Enterprise—custom pricing
8ClickUp
Key features:
ClickUp is a cloud-based project management and collaboration tool. Some key features include workspaces, folders, lists, tasks, subtasks, and checklists for teams to organize projects and keep each other in the loop. Teams can use the tool to communicate asynchronously through comments, statuses, and mentions. The tool currently integrates with your favorite tools—like Fellow, Slack, and Github—as well.

Pricing:
Free—$0/month
Unlimited—$5 USD/month (per user)
Business—$12 USD/month (per user)
Business Plus—$19 USD/month (per user)
Enterprise—custom pricing
9Next Matter
Key features:
Next Matter is an application that allows users to automate operations without coding. Using the tool, operations teams can automate workflows, team processes, and integrations, and view data insights in real time on a customizable platform. The platform is geared toward industries like financial services, insurance, logistics, retail, and e-commerce, among others.
Pricing:
Basic—$990 USD/month (for up to 50 employees)
Professional—$2,490 USD/month (for 50 to 250 employees)
Enterprise—$4,990 USD/month (for 250 employees)
Custom—contact sales for custom pricing
10Zapier
Key features:
Zapier is a workflow automation tool that connects your work applications and automates processes. With the platform's editor, users can connect with over 5,000 of the world's top apps to build automated workflows. The tool is highly customizable but doesn't require coding experience. Users can create flexible automation based on if/then logic, customize automation with webhooks, and even build their own integrations if Zapier doesn't connect with their favorite tools already.
Pricing:
Free—$0/month
Starter—$19.99 USD/month (billed annually)
Professional—$49 USD/month (billed annually)
Team—$399 USD/month (billed annually)
Company—$799 USD/month (billed annually)
Factors to consider when choosing operational management tools
Cost: The software you choose should fit within your team's budget. Aim to find one or two tools that have all of the features you require so employees don't have to switch between multiple platforms each day.
Ease of use and setup: The digital tools your team selects to improve operations management should be intuitive for first-time users. While there will always be a slight learning curve when implementing a new tool, users should be able to easily implement the chosen tool into their work once they've been properly trained to do so.
Integration with other tools: Search for a tool that integrates with the applications your team already loves. Fellow integrates with your favorite tools—like Chrome, Slack, Zoom, and MS Teams—to make your meeting, management, and productivity workflows even better.
Customization and scalability: Employees like it when they can personalize a tool to meet their needs. The ability to customize a tool and use it to scale your business will increase satisfaction with the product and collaboration among teammates.
Parting advice
There are few tasks more challenging than planning out, overseeing, and executing a business's strategic long-term plans. That's why operational management professionals should consider investing in a digital tool like Fellow to support their work.
Not sure where to start? Look at the applications and software you already use. Consider what your team likes and get rid of what is no longer helpful. Create criteria based on your team's needs and begin searching from there. Before you know it, you'll find a tool that will help manage and scale your daily operations. Better yet, you'll find a tool like Fellow that has everything you need in one tool!