As a manager or leader, finding the best tools for one-on-one meetings can be difficult because there are so many options to choose from. After examining each tool further, it becomes apparent that various tools are beneficial for different reasons. Some tools streamline videoconferencing and telecommuting, while others prioritize collaboration and providing feedback in real-time. It all depends on what your goal is!
Keep reading to learn why having a specific tool for your one-on-one meeting is beneficial and a breakdown of eight different meeting tools so you can decide what the best 1:1 meeting tool is for you.
The best tools for 1:1 meetings
1 Fellow
Thousands of leaders at companies like Shopify, Aledade, Vidyard, and GoCardless have been using Fellow to optimize and improve their meetings. Fellow enables companies of all kinds to optimize one-on-one meetings by making it possible for leaders, managers, direct reports, and peers to collaborate on meeting agendas, assign action items, get suggested conversation topics, and exchange feedback resulting in building a healthy relationship.
Fellow empowers managers and their teams to:
Collaborate on a meeting agenda before every meeting
Centralize action items from different meetings in one list
Assign clear action items and takeaways at the end of each meeting
Keep track of work interactions and feedback over time
Pricing:
Fellow is the one-on-one meeting app that your entire team will love and you can try it for free.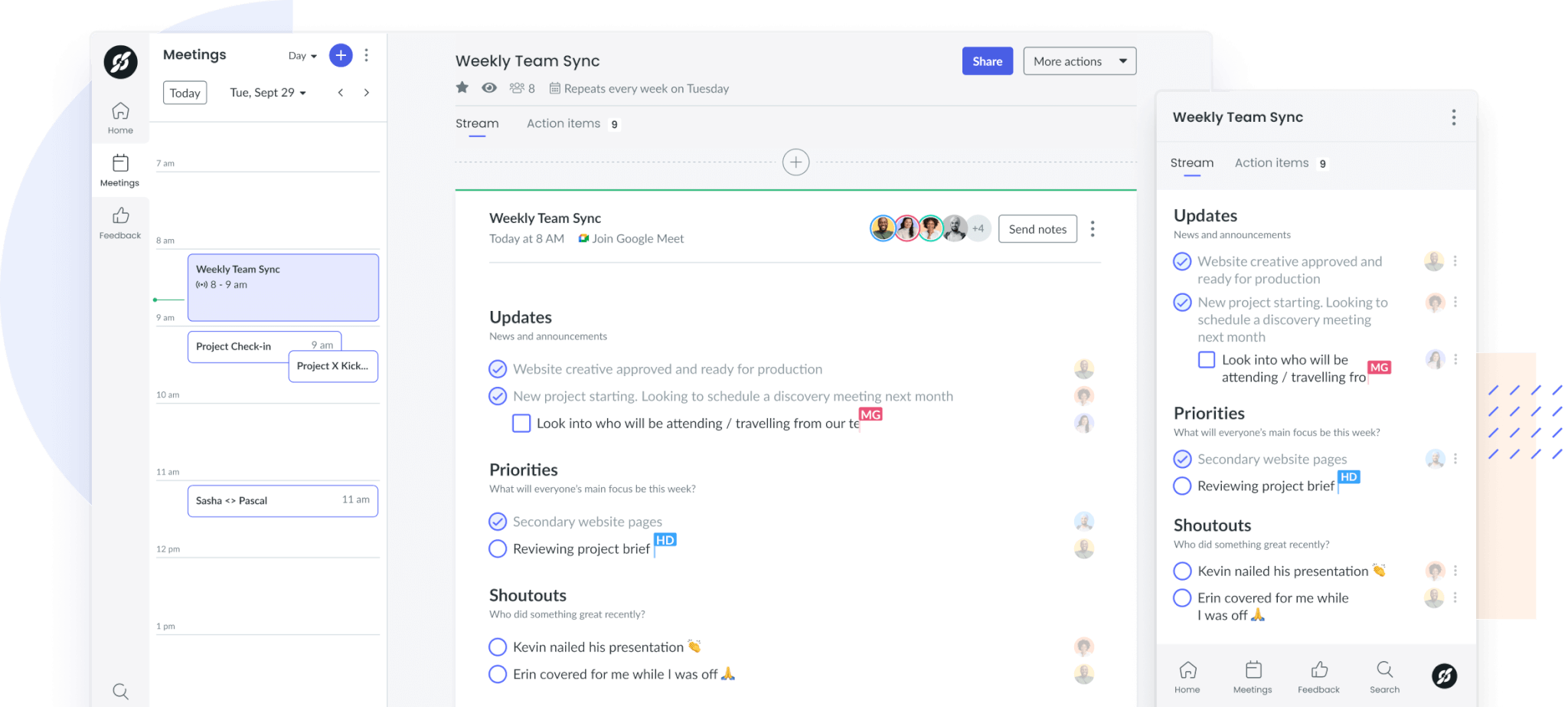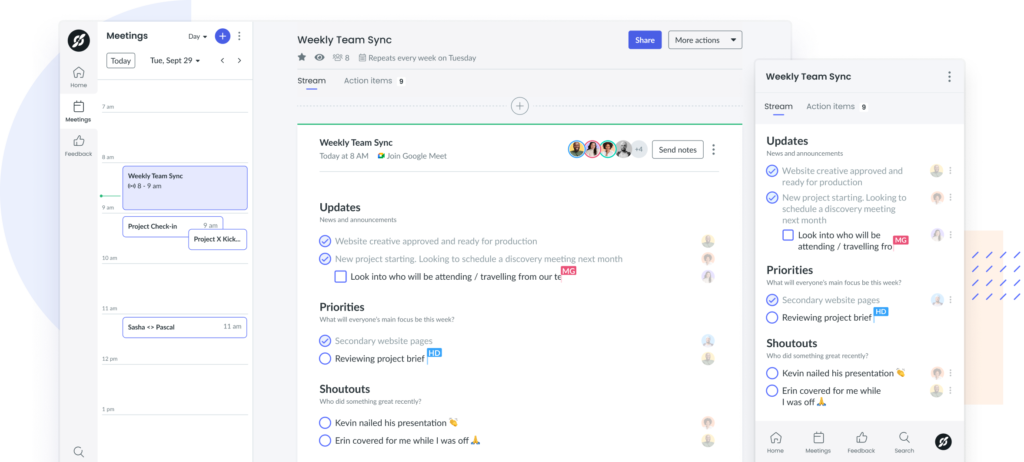 2 Zoom
Zoom provides videography and online chat services through a cloud-based peer-to-peer software platform that can be used in the workplace for things like one-on-one meetings, presentations, pitches, or even daily check-ins. Zoom is ideal for one-on-one meetings because it allows you to bring a face-to-face element to the encounter. Instead of a quick phone call, you're able to sit face to face and hold a meaningful meeting. Additionally, Zoom is extremely easy to use, allowing both parties to meet and share their screens through conferencing software where one or many can join to collaborate or sit in on the meeting.
Pricing:
Plans and pricing vary but depending on what you need to use Zoom for, it could be completely free!
3 Taskade
Taskade makes it possible for remote teams to take their productivity to the next level by providing a hub where teammates can chat, organize, and get things done by collaborating in one unified workspace with tools like lists, notes, and mind maps.
Pricing:
free plan
unlimited plan
optimized plan for entire organizations.
4 Nuclino
Nuclino is a cloud-based team collaboration software that allows teams to collaborate and share information in real time. Nuclino is great because you can leverage the collaborative document tool to flesh out meeting agendas, take thorough meeting notes, assign tasks, and follow up post-meeting.
The beauty of leveraging Nuclino is having the ability to organize knowledge, manage projects, and share ideas in one place.
Pricing:
If you're just getting started with Nuclino, you can opt for the free plan.
If you or your organization is looking to leverage Nuclino as your collective brain, you can opt for the standard plan at a $5 monthly fee.
5Whereby
Whereby makes one-on-one meetings super simple by enabling everyone, everywhere, to connect over video without any external apps, downloads, or long meeting links. With Whereby, it's as simple as creating your own customized URL and sending it out to your desired attendees. You can meet in your browser, mobile or desktop, or by simply clicking the link. Once you're in you can customize your meeting room with a custom name, URL, and unique branding.
You can take your one-on-one meetings even further by leveraging Whereby's integrations to run efficient classes, events, workshops or breakout groups with whiteboards from Miro.
Pricing:
You can start for free or opt for a flexible business plan for growing teams.
6 SuperSaaS
SuperSaas is the ultimate organizational tool that makes it possible for you to manage all of your resources, services, and locations in one bookable online calendar. You can send automated SMS/ email reminders, accept online payments, add booking specifics, integrate a zoom link, and create a predefined list of time slots that work best for your one-on-one meetings.
Everything you need to prepare for and execute online meetings is integrated into SuperSaas.
Pricing:
This tool offers flexible online appointment scheduling and you can start out by testing the free service or a paid plan with more capabilities.
7 Slite
Slite is built for remote teams; making it possible for organizations of all kinds to gather their teams asynchronous discussions, decisions, and working docs in one place. Slite strives to eliminate confusion in a remote setting by enhancing collaboration through streamlined tools that help teams align and move in sync while working remotely.
Additionally, Slite provides users with templates for docs that pertain to product specs, company handbooks, meeting notes, and so much more. Planning for your next one-on-one meeting just got a whole lot easier.
Pricing:
Plans cater to every stage of your company ranging from a completely free plan to a premium plan.
8 Small Improvements
One-on-one meetings are crucial for any organization and Small Improvements has built an entire company around this principle; striving to help you have better one-on-ones by providing you with the tools you need to prepare for better discussions, document discussions and key takeaways, follow up with important action items, and guide important or difficult discussions. Whether you're looking to streamline performance reviews, celebrate great work, or turn your goals and objectives into actionable results, Small Improvements has it all.
One-on-one meetings are about more than just tasks and Small Improvements intends to help you go beyond just the status updates.
Pricing:
$5 a month for the performance starter pack
$7 per month for the Feedback and Performance Suite
Why is it important to have a specific tool for your 1:1 meeting?
Having a specific tool for your one on one meeting is essential because it helps you stay organized and on track while providing you with a central location to document decisions and action items. Other benefits of choosing a specific 1:1 meeting tool to improve your meetings include:
1 Staying Organized
The key to hosting an effective one-on-one meeting as a manager or leader is staying organized and meeting tools help you keep conversations with your direct reports in one place, look back on past notes, and never forget what was said. Integrating a meeting tool into your toolkit will help you stay organized during the preliminary stages of your meeting all the way to your final action items.
2 Showing Up Prepared
Nothing is worse than showing up to a meeting unprepared and the best 1:1 meeting tool will ensure both parties show up educated, well-informed, and ready to discuss the talking points and action items at hand. The right meeting tool will enable you and your direct reports to collaborate on a meeting agenda that inspires a thoughtful two-sided agenda that prompts action and provokes conversation.

Delightful 1:1s
Build trust with your direct reports by having a collaborative meeting agenda where they can contribute talking points and ask questions with Fellow.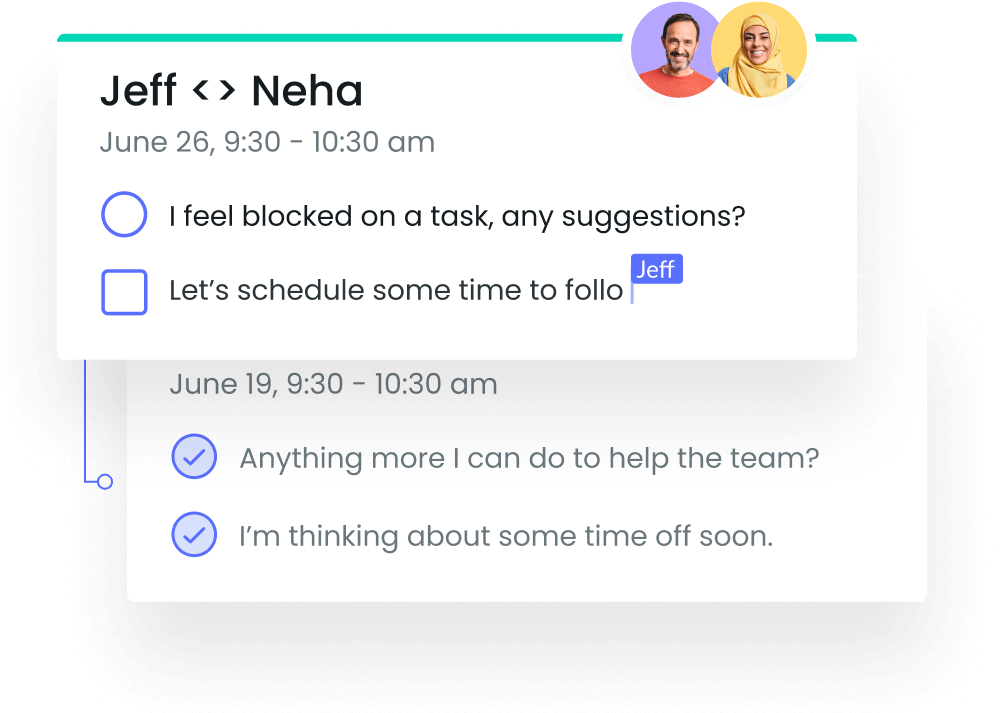 3 Saving Time
Taking advantage of technology is the ultimate way to optimize your processes and improve efficiency when it comes to hosting effective one on one meetings. Using proper 1:1 meeting tools will help you plan accordingly and save tons of time. When you run out of time, carry over incomplete talking points and action items from previous meetings so nothing gets lost.
4 Exchanging Feedback
Providing and receiving feedback gracefully is an imperative skill to have as a manager or leader and the best 1:1 meeting tool will make exchanging feedback a breeze. The right tool will enable you to leverage suggested questions and templates to inspire real-time conversations about growth and self-improvement. Having a feedback culture is a great way for your employees and company to grow.
Parting advice
The essence of one-on-one meetings lies in choosing the right tool for your organizational needs. From video conferencing like Zoom to collaboration platforms like Fellow, each tool brings its advantages to the table. Remember, the value isn't just in the technology. Choose wisely, and let your one-on-one meetings be a cornerstone of leadership.