Some companies think culture boils down to having a pingpong table and on-tap beer in the office.
But, in reality, company culture is so much more than that—it's about the people that make up the team and the values they inhabit. As companies grow and scale, having a solid culture becomes even more critical and challenging to uphold.
So, if your company is adding new people to its team faster than ever, how do you ensure you don't lose sight of its culture? Fellow breaks down everything you need to know for scaling company culture here!
What does it mean to scale culture?
Scaling company culture comes down to keeping the culture your organization has worked so hard to build as it grows and you hire more people to join your team. It's one thing to have a strong company culture when your business starts with a dozen or two employees hired by the founder; it's another thing to keep that culture going strong as your organization grows to hundreds of employees, with the responsibilities of hiring being delegated to the HR team.
With every new employee joining your team, your company culture has to change to fit the values and behaviors they bring to the table. So, scaling your culture along with your company can be challenging.
Why is it important for culture to scale?
Despite the challenge, it's incredibly important for your culture to scale. Your company's culture is essential and is the glue that keeps a team together. It ensures all employees work from the same cultural definitions and can serve as a guidebook for what people say, what they do, and how they treat one another.
Having strong team values is crucial when you start to scale. Without it, the decisions being made risk being misaligned with the company's primary vision or mission. A company with such a strong culture will feel like a solid foundation to work off of as it scales.

Run efficient meetings, come to a decision, and get back to work
Level up your meeting habits to boost engagement and productivity with a collaborative meeting agenda. Try a tool like Fellow!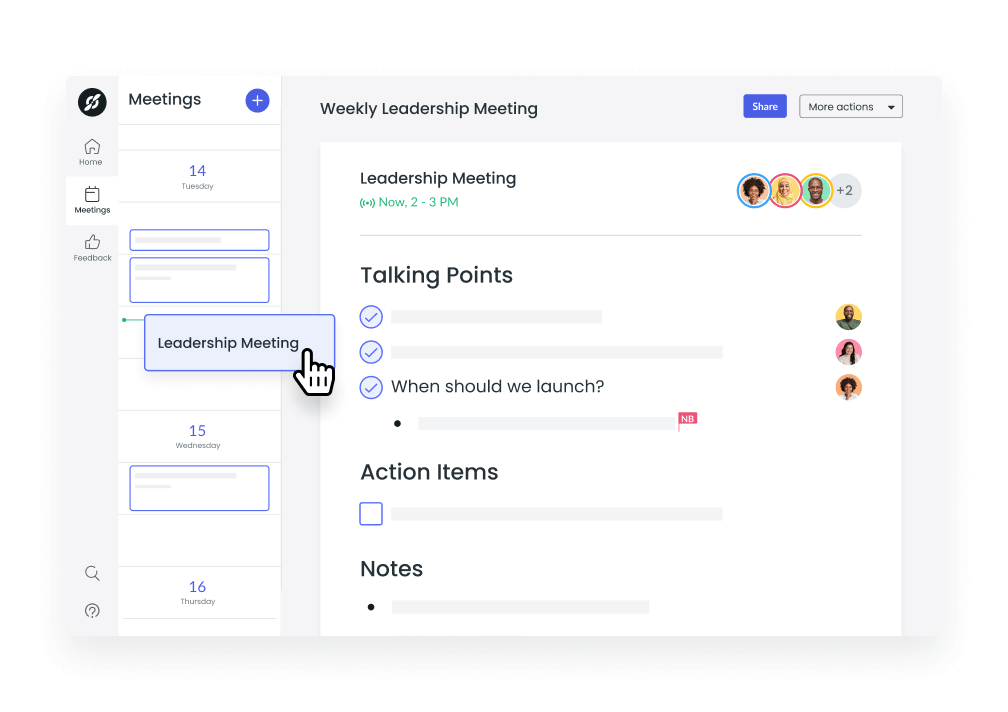 9 ways to scale company culture
Not sure how to go about scaling company culture? Keep these nine ways in mind as you do!
1Hire self-directed employees
Whether your organization's employees work remotely, in person, or in a hybrid environment, scaling culture the right way means hiring team members who are self-directed, self-sufficient, and who don't need to be micromanaged. Then, allow them to lead themselves.
Someone who is self-directed takes the initiative and will look for ways to help others accomplish tasks without being told by their manager or direct report. You trust these people to do their work correctly and on time, every time.
2Include employees in conversations around culture
If your leadership team is running into roadblocks regarding scaling company culture, consider inviting other employees into the conversation. Ask various team members for their input into culture conversations, find out what they like and dislike, and determine if there's anything they'd like to change.
Additionally, discuss what they feel is the best way to onboard new employees and properly share culture and values as the team scales. The same can be said for new hires. Find out if the onboarding process effectively taught the ins and outs of the company culture. Employees may identify where some gaps or subjects need more information.
3Identify company values
Strong company culture is built on clear core values, so these values must be pinpointed before your organization gets too far into scaling. Culture needs to embody these core values as you interview prospective candidates, hire them, and get them onboarded within their new team.
Values play into everything—how all-hands meetings are conducted, how emails are written, how tough questions are answered, and how important projects are worked on. Living these values establishes company culture, and going against it is when culture gets muddy.
When company values are clearly identified, all employees know what's important and how work should be done.
4Amplify internal behaviours
Another great way to scale company culture is to amplify and lift internal behaviors. As a smaller company begins to scale, it's normal to want to consider what larger and similar companies are doing to enact a strong culture. For instance, if a large, successful company is imposing new management rules, this doesn't mean your organization should too.
But, instead of seeing what others are doing as they scale, look at what's already working inside your organization. What works for one company may not work for another, so find ways the company is already functioning like a well-oiled machine and strive for more of these kinds of values and behaviours. Consider and build on the organic strategies and values that have emerged from high-performing team members.
5Drive inclusivity
Inclusivity in a scaling company can be hard to master. It needs to be driven so employees and new hires always feel part of the bigger picture and never alienated. Team members need to feel heard, supported, and trusted to complete their work.
6Build a knowledge base
It's common for companies to rely on short and sweet onboarding programs that focus on teaching new hires about culture. While these programs can effectively share a brief overview, they're not the best fit after onboarding.
Scaling company culture needs to go beyond an onboarding session, so businesses should build a knowledge base of helpful resources that can come in handy during a hypergrowth stage so learning can be continuous. Allowing team members to access company culture materials whenever needed can showcase the values the team wants to scale. A knowledge base of learning materials is ideal for helping employees understand and embody this behavior.
7Invest more in training
As more and more employees join a company, consider investing in more resources centered around employee training to learn more culture-related skills. Whether you offer in-person training or online sessions, having these resources can make the most of scaling culture.
Not only will employees learn new skills on an individual level, but they will also be given resources for how to be better and more productive in their roles, which can help scale company success and revenue growth. Employee training is also a great way to retain employees for the long haul, as team members know the organization cares about the skills they have in their arsenal.
8Personalize recognition
When a manager sees an employee perfectly aligned with company culture, they should call it out! Employees will always look to their managers for approval and direction, but it's easy for managers to have minimal time for each employee as a company scales. But, even with the chaos of scaling, managers should show personalized recognition to reinforce desired behaviors and working tendencies.
Taking the time to recognize top performers and leaders is always important, especially for teams experiencing hypergrowth. No matter how small the behavior may be, giving direct reports praise during meetings, over email, or in a direct message can go a long way. This recognition should be immediate, frequent, and personalized for a lasting impression.
9Have check-ins
Company culture isn't a "set it and forget it" type of policy. It should be audited throughout the year to ensure it's still the best it can be. To do so, check that elements of the culture are still well-defined and clearly communicated, that employees understand the core values, and that these values are consistent throughout the company. As a company scales, values may be added, modified, or taken to the next level.
To help you run productive check-ins, use this free template:
How to scale culture with Fellow
Consider using a powerful tool like Fellow to ensure your company is effectively scaling culture.
Having Fellow in your company's tech stack makes it easy to scale company culture through effective communication and effortless collaboration among team members. It boasts an intuitive interface, so managers and employees can easily stay aligned on goals, share feedback, and highlight all significant achievements.
This tool boasts features like: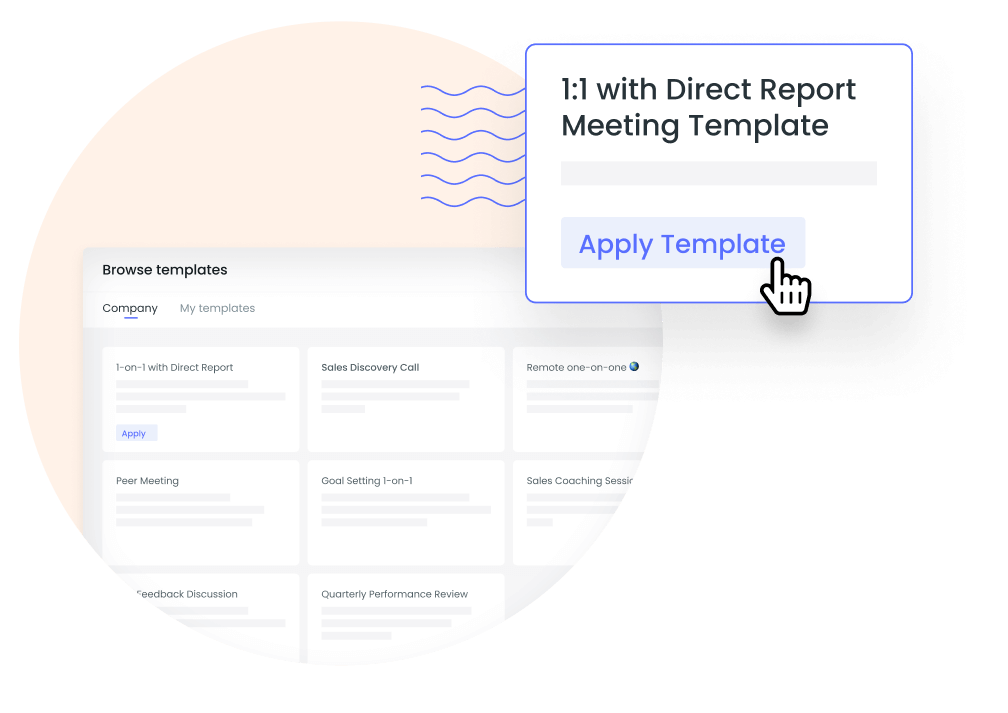 With these features at your fingertips, teams can build trust, transparency, and accountability. And, since Fellow offers integrations with communication platforms like Slack, staying connected and on top of tasks is easier than ever.
When armed with a tool like Fellow, companies can promote an inclusive and positive work environment, increasing retention, productivity, and employee satisfaction.
Parting advice
With every new employee that joins your team, there's an opportunity to either bring the workplace closer to the culture and values that matter most or detract from it. Your company needs to invest the time to scale culture correctly while still unleashing the potential a growing team can bring to the table. And while hypergrowth can be an incredibly exciting time for a company, companies shouldn't lose sight of maintaining culture. It's simply not something that should be placed on the back burner as the focus shifts to fast-paced hiring, but instead, something that makes growth even more exciting.