Artificial intelligence (AI) is proving to be a powerful tool for recruiters and hiring managers. One study found that 42% of companies with at least 5,000 workers reported using AI for human resources–related tasks in 2022.
The benefits of AI for HR professionals are clear. AI-driven technology can automate and streamline repetitive HR tasks, identify potential candidates through online job portals, score and rank applicants, and help hiring managers coordinate interviews and other recruitment meetings.
Keep reading to learn about AI for recruiting, discover the pros and cons of using AI to recruit talent, and explore some best practices for incorporating AI into your company's hiring practices.
What is AI for recruiting?
Applicants are using AI to help create great resumes and cover letters, so why shouldn't recruiters use it too? AI is the science of making machines that can think like humans. AI for recruiting refers to the process of using artificial intelligence to automate time-consuming hiring tasks. AI can also offer recruiters valuable data insights during the hiring process and speed up most manual processes.
"You provide a summary of your work and background, take your resume, and summarize it to very key points. Then you grab the job description […] And for your prompt, you want [to write] something like 'particular cover letter that aligns the skills with what's posted in this job posting'"

— James Carr, Director of Engineering at Care.com, on using ChatGPT to write cover letters and apply to jobs
Pros and cons of using AI for recruiting
Pros
Using AI for recruiting has many benefits. Some of the benefits include:
Bias control: The use of AI can make hiring processes fairer. AI can ensure candidates are screened based on their skills and experiences rather than bias-based criteria.
Data insights: AI can use data insights to provide hiring managers with lists of job seekers, gather trends, and better understand candidate intent.
Personalized applicant experiences: AI can recommend the right jobs to the right candidates. Companies can leverage the power of AI to send personalized messages to prospective hires and other dynamic content based on an applicant's profile, location, and more.
Faster hiring processes: AI can source candidates who may be a good fit for positions, screen their resumes, and source and rank them based on outlined criteria. Recruiters can also use chatbots like ChatGPT or AI calendar integrations to schedule interviews and other HR-related meetings more efficiently.
Cons
There are a few key considerations that companies must also take into account when considering using AI in their recruitment efforts:
Securing buy-in from employees: Implementing tools, systems, and processes will always come with new challenges. Some HR professionals may feel hesitant to embrace AI out of fear that too many aspects of their job could become automated.
Potential for bias: Using AI for hiring can be biased when humans choose the data that algorithms use to select and screen candidates. Without adequate testing and input from diverse groups, unconscious biases can enter machine learning models and make hiring practices biased too.
How to incorporate AI into recruiting
1Transcribe interviews to look back on
Use the power of AI to quickly and efficiently transcribe job interviews with prospective employees. There are several AI tools on the market you can use to accurately convert audio into text documents and transcripts.
Fellow's new AI-powered features allow you to transcribe meetings and create AI summaries. Use this feature during candidate interviews to evaluate which candidate is the best fit for a specific role. You can also share these transcriptions with other teammates to gain insights from others during your hiring processes.

Stay present with AI meeting transcription
Fellow's AI meeting assistant captures discussions in Google Meet, Microsoft Teams, and Zoom so attendees can focus on the discussions and then review and share important insights, decisions, and actions after the meeting has ended.
2Search for possible candidates
Recruiters can use AI to search for candidates who meet the requirements for specific roles but haven't applied yet. AI can easily match individuals who have requisite skills and qualifications with opportunities and even analyze their social media profiles, candidate data, and more.
3Screen through large volumes of resumes
AI can be used by recruiters to scan through large volumes of resumes to match qualified candidates to positions efficiently. A candidate's compatibility with any position can be determined by their skills, previous work experiences, and education level. AI can remove the hassle of manually reading each resume by using instructions to shortlist candidates.
4Evaluate candidates' questions with chatbots
A chatbot is AI designed to simulate conversations with human users. AI chatbots can be used by recruiters to score candidates' interview question answers against predetermined criteria. For example, if a manager hosts an interview via a videoconferencing platform, they can record the meeting and use a chatbot to summarize an audio transcript. Then, the hiring manager can review a summary of the candidate's answers.
5Predict the ideal candidate
AI tools can use predictive analysis to analyze candidate data and determine who could be successful in the role. Because AI can analyze large amounts of data, it can identify who is best aligned with the company's business goals, mission, and values.
Best practices for implementing AI into recruitment
1Set clear objectives
When implementing AI into your recruitment practices, make sure to set clear goals. Start by identifying ways that AI can improve your recruiting and then set objectives that are SMART: strategic, measurable, achievable, relevant, and time bound. Setting appropriate goals will help your company see how to translate AI capabilities into solutions to real-world problems.
Try Fellow to stay on top of your team's goals. Clearly record, define, and track the progress of your objectives and key results in our tool and review your progress during team meetings and check-ins by adding an Objectives tab to your meetings.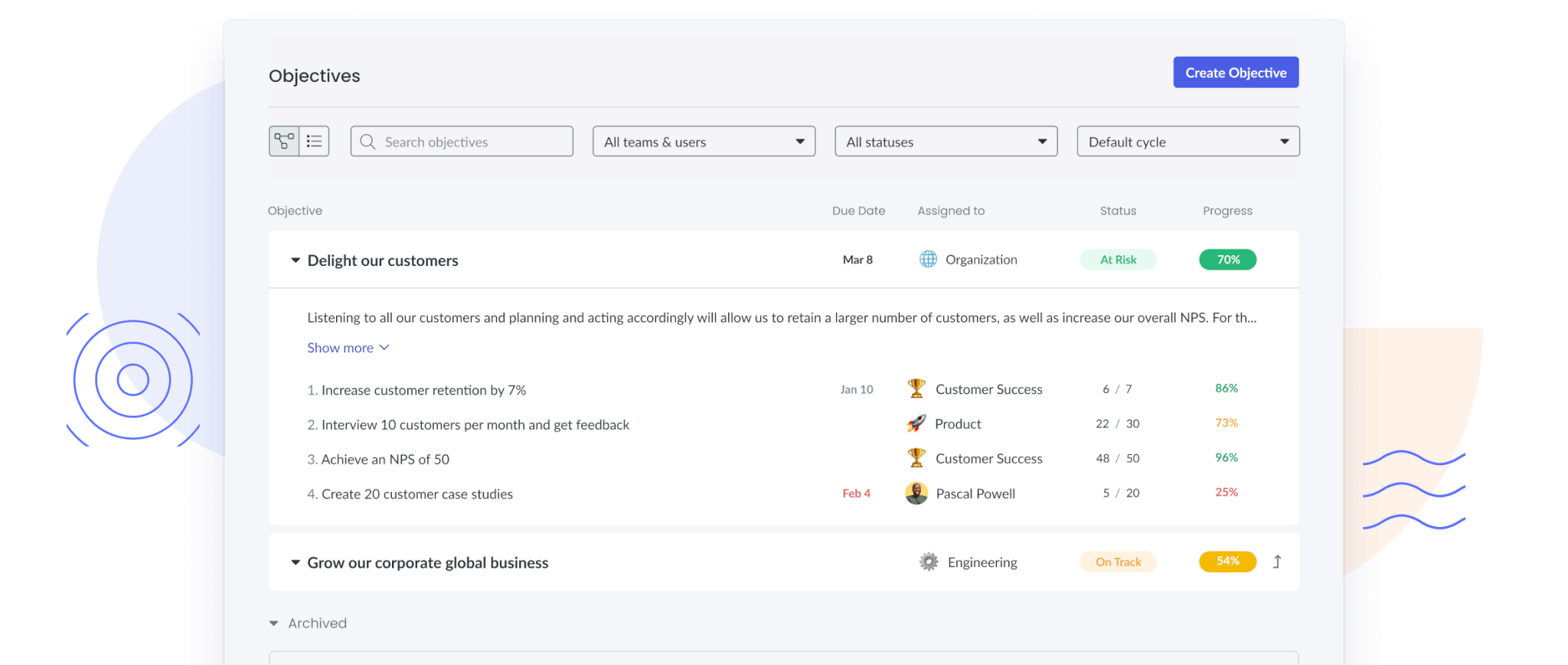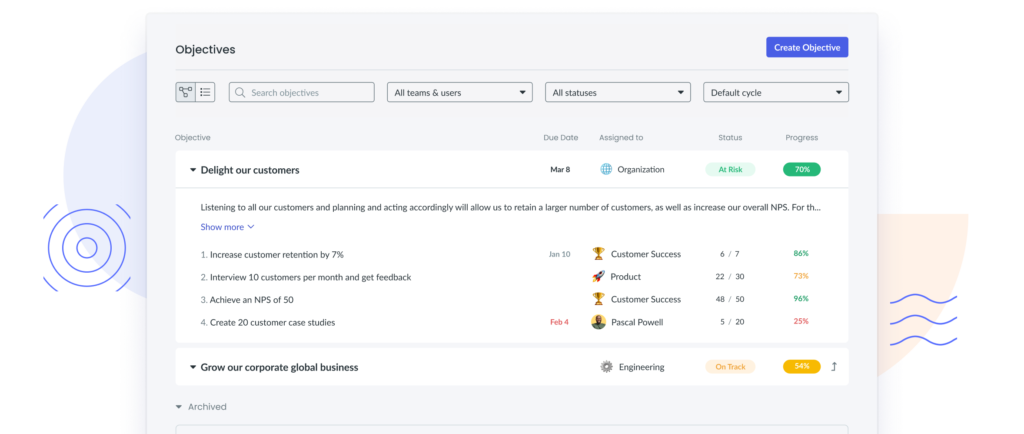 2Choose the best AI software
There are many AI recruitment tools on the market, so ensure you select one with all the features your team wants. Some features that can help HR professionals improve their recruitment processes include candidate sourcing and screening, chatbots, video conferencing, and onboarding tools.
Fellow is rated the #1 meeting management software on G2 + loved by the world's best teams! Fellow uses AI to instantly build thoughtful meeting agendas, keep an accurate record of discussions and decisions with AI meeting summaries, and stay present with AI meeting transcription.
"I'm generally an AI skeptic, but we used the Fellow AI meeting assistant and it was really good. The AI summary is truly sublime."

– Mike Landman, Founder & CEO at Ripple
3Provide training
Secure buy-in from your team by offering training for anyone who will be using AI tools for recruitment. Create ethical guidelines for the use of AI in your company so that everyone feels committed to using AI responsibly. Then, provide demos, live training, and Q&A sessions to get all employees on board with new tools and processes.
4Ask for feedback
As you implement AI into your recruitment practices, ask teammates for feedback and make changes accordingly. Offer regular opportunities for employees to give feedback, provide updates, and offer suggestions.
A healthy and strong team culture begins with feedback. Your team can share real-time or anonymous feedback on your team's AI use using Fellow. Incorporate opportunities for feedback into your team's day-to-day experience, keep a history of the feedback you exchange and visualize your growth, ask for feedback about yourself and the meetings you organize, and easily provide feedback with Fellow.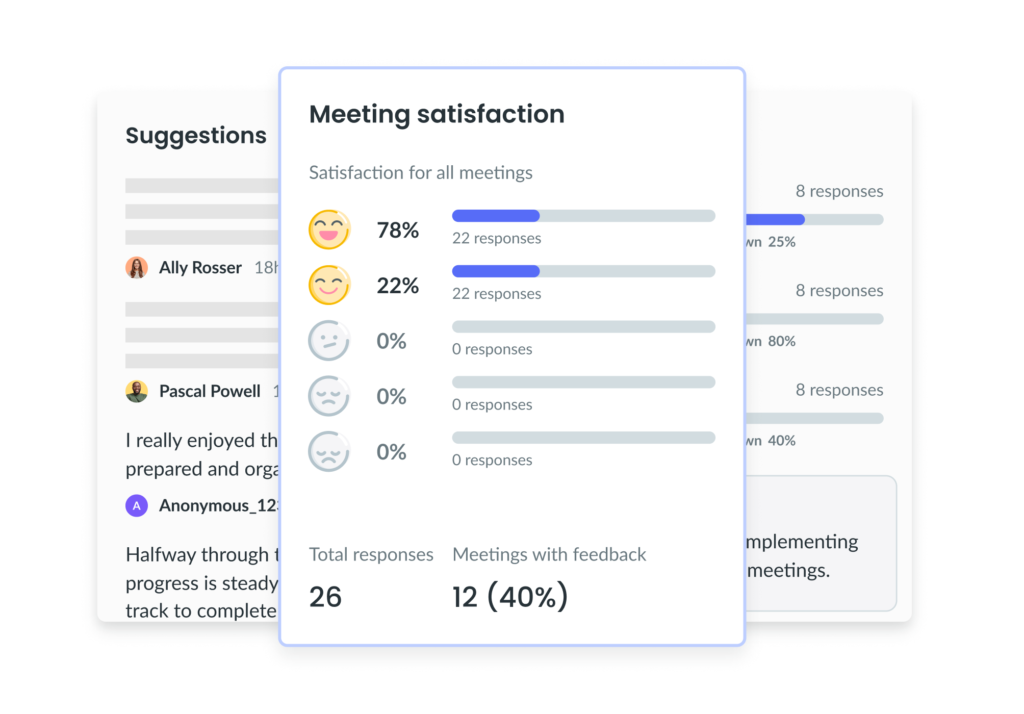 5Encourage knowledge sharing
Knowledge sharing is the exchange of employees' knowledge, skills, and experiences. Provide opportunities for teammates to gather virtually or in person to discuss how they're using AI to improve their recruitment efforts.
For example, during weekly town hall meetings at Fellow, the team opens the floor for employees to demonstrate how they're using ChatGPT to make their work more efficient. Try out this model by using our weekly town hall meeting template or another one of our 500+ customizable, ready-to-use meeting agenda templates.
Examples of how companies are incorporating AI into recruitment
1Amazon
The online retail giant began creating an automated applicant evaluation system in 2021 to determine which job applicants are the most likely to be successful in specific roles. Once new candidates have been identified, leaders can fast-track applicants through the interview process and make hiring decisions more quickly.
2Phenom
Phenom is a unique HR company based in the United States that has begun using AI to automate job searches. Many job sites have Phenom technology embedded in their pages that enables employers to match candidates with the right jobs.
3HireVue
HireVue is an enterprise video-interviewing technology that allows recruiters and hiring managers to screen candidates and conduct live interviews online. The recruiting software enables companies to record videos of applicants answering a set of interview questions and can even transcribe and analyze an individual's responses.
Parting advice
AI is helping managers across industries complete their work more efficiently and recruitment is no different. AI can help HR professionals streamline the hiring process, identify great candidates for vacant positions, and even eliminate bias throughout the process.