Remote employees tend to be less engaged than their in-office counterparts. And when workers are tuning in remotely, employers don't have the same organic opportunities to increase engagement such as popping by their desk to ask how they're doing, for example. Instead, employers need to interact very intentionally and strategically with remote employees to ensure that they have enough information, alignment, and awareness to effectively engage within the workplace. In this article, we're narrowing in on how to build and maintain great virtual onboarding processes that help new remote hires settle into their roles.
What is virtual onboarding?
Virtual onboarding is the process of helping a new hire get situated into a new role through digital channels. Traditionally, onboarding processes happened in person—which allowed new team members to get to know their environment faster—but remote roles away from the main office environment need to rely on digital channels. Virtual onboarding programs are typically a few weeks to a few months long and apply to anyone who is receiving onboarding information about their new role through remote or digital platforms.

Run effective, engaged virtual meetings from anywhere
Keep your virtual meetings on track with Fellow's collaborative agendas, real-time notetaking, and feedback.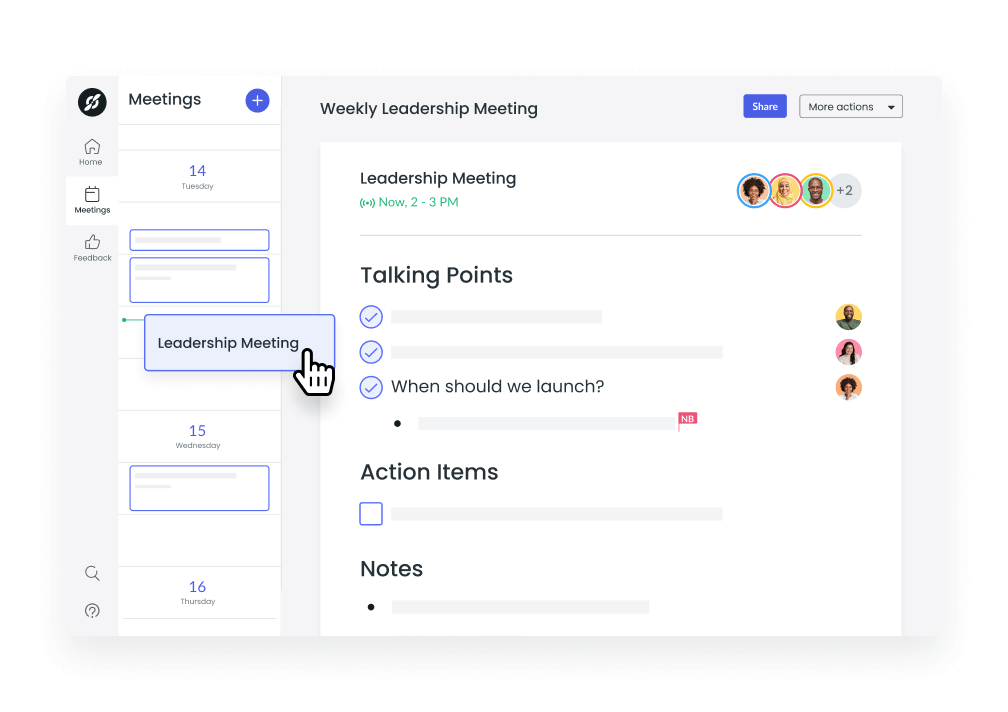 The benefits of effective virtual onboarding
Increases productivity
According to an article by Arlene S. Hirsch,
"Organizations with a standard onboarding process experience 50% greater new-hire productivity."
By providing detailed and appropriate training programs, you'll see increased productivity, so your new employees can start delivering value faster
Improves employee retention
Employee retention measures how long your team members stick around and how frequently they grow into new roles down the line as your organization expands. Interestingly, researchers learned that great onboarding experiences would help 69% of employees be more likely to stay with a company for at least three years!
Fosters engagement
Employee engagement generally measures how involved employees are with their roles. This includes how well they connect to their work, colleagues, and purpose! Teams with higher engagement get more done, are better aligned on goals, and have more motivation to innovate. A good onboarding process helps employees connect with colleagues and learn where they will provide value.
Encourages relationship building
Remote teams commonly struggle to connect employees in different locations because things like varying time zones and the lack of organic opportunities to see others make it difficult to build relationships. A great onboarding program can include something like virtual onboarding games to provide an icebreaker for new hires and the rest of the team.
10 ways to conduct effective virtual onboarding
1Create a structured onboarding plan
Your starting point should be to map out an onboarding plan. Share this with other team leaders in your company to see what insights they can contribute. The onboarding plan might need to be catered to each department, depending on each team's needs. Consider what activities will happen in each of the following stages:
The week(s) before the start date
The actual start date
The first two weeks
Weeks two to eight after the start date
Months two to six after the start date
2Provide resources before the employee's start date
To help your new hire hit the ground running, it's a good practice to start the virtual onboarding process before their official start date. Here are a few of the things to give an employee a week or two before their start date:
A laptop
Other technology required for the role (like headphones, adaptors, and monitors)
Company merchandise
Information about accessing the team on their first day (for example, a meeting link)
Employee handbooks or HR policies they can study in advance
3Appoint an onboarding liaison
An onboarding liaison is the go-to person who will communicate the onboarding plan to the new hire. (Note that this can be the same or different person as the onboarding buddy we'll discuss in the next point!) James M. Citrin and Darleen DeRosa from the Harvard Business Review suggest that leaders "Identify, appoint, and communicate a dedicated onboarding liaison. Even in the office, it's a good idea to have someone fill the role of informal mentor to support a new hire, but it's even more critical remotely because the new leader won't have colleagues around to spontaneously ask questions as they come up."
4Introduce new team members 
Onboarding buddies, determined through onboarding buddy programs, are similar to but different than onboarding liaisons. An onboarding buddy acts as a "first friend" for new team members. This provides a segway into meeting other members of the team and gives the new hire a trusted person to whom they can go with any questions. You can encourage your new employee to set up virtual coffee chats with other key colleagues that might be relevant to their role, too.
5Create a schedule for their first day 
A new employee won't be able to find information on their own or know who to talk to on the first day. To help them out, craft a schedule with a recommendation on how they should spend their time. Include details like technology to set up, people to talk to, training to complete, or documents to be read.
Madeline Miles shares how her company does this, saying,
"At BetterUp, new hires receive a detailed email with their schedule for the first week before their start date. It helped me to know exactly what was expected of me in that first week. It helped me understand my priorities."
6Communicate the company culture 
Company culture varies widely from organization to organization. Rather than let your new employees figure it out for themselves, include a culture presentation as part of your virtual onboarding process. If you operate in a hybrid model, explain any differences between remote and in-person cultures, processes, or expectations.
James M. Citrin and Darleen DeRosa from the Harvard Business Review share a tip for explaining culture in virtual onboarding: They suggest that "new employees must learn about the company's culture from the outset. Spend more time than you generally would in a face-to-face environment talking about what is typical and atypical across various cultural dimensions. Create the space for your new colleagues to ask about the way things are done as well."
7Use remote software to your advantage
Luckily, any in-person or virtual onboarding process can leverage technology! Remote software products are useful for automating administrative tasks, notifying new hires of things that they need to do, and keeping team resources organized. For example, DocuSign is great for collecting signatures on training, HR policies, or employment contracts. Fellow is also a tool that can help prepare new hires for their first few meetings so they don't feel overwhelmed. With Fellow, new hires can look at meeting agendas to see which topics will be discussed and access any relevant documentation to gain context on the project beforehand.
8Schedule regular check-ins 
When you're not working beside your employees, it can be easy to forget to gauge progress. Check-in meetings are helpful as they provide a dedicated time to align on the next steps and measure overall employee experience in the first few weeks. This type of meeting doesn't have to be long, either—check out Fellow's meeting agenda template to help you run a quick check-in meeting!
9Establish clear expectations 
You'll help a new employee settle in faster if you can provide them with clear expectations. Right from the first day, you can tell them what they're generally expected to do within the first few weeks. This makes upcoming milestones and additional support requirements needed to make the goals attainable clear to both you and your new hire. James M. Citrin and Darleen DeRosa explain,
"A new hire should have a clear picture of what success looks like for the first 100 days and beyond. New hires should recognize how their responsibilities fit into the overall success of the company."
10Send new employees company merchandise
Encourage new employees to represent your company! Not only does company merchandise work as a great welcome present for new hires, but it also gives them a sense of community. When everyone in the company is wearing the same merchandise, it increases team spirit!
As a secondary bonus, it improves your company's brand awareness with a bit of "free" advertising every time that merchandise is worn outside of the office.
How to effectively onboard virtual employees with Fellow
Fellow is a software where teams gather to have productive team meetings and meaningful 1:1s, build collaborative meeting agendas, record decisions, and keep each other accountable. One of the most-loved features for new hires is Streams, which acts like an online notebook—the feature is so useful that every new employee at Fellow uses this feature during their onboarding! Managers can easily upload documents ahead of the new hire's start date and then track progress in their first few weeks by assigning action items for new hires right within a dedicated stream. If managers need to assign action items to new hires following check-in meetings, they can quickly do so right in the meeting notes, which will merge the new tasks onto the existing to-do list.

As new hires join meetings, having collaborative meeting agendas allows them to review meeting topics in advance. Gaining this understanding can help them understand current projects faster, which gets them contributing faster too!
Free onboarding checklist
Check out this onboarding checklist for a more detailed look at your first week with a new hire!
Parting advice
Virtual onboarding is unique when compared to traditional in-person experiences because there is less organic opportunity for engagement. It's easy for a remote employee to feel left out or disconnected, which would lead to higher employee turnover. Instead, you can leverage remote software products like Fellow that empower new hires with all of the information they need to start contributing high-value work fast!