For some reason, a lot of us dread writing meeting minutes and putting them together. The reality is though, that they're extremely important and especially in project management. Writing meeting minutes is an essential part of meeting management. If you and your team learn to master meeting minutes, you'll find that you're more productive, effective and impactful in the work that you do.
Writing meeting minutes is important for all kinds of meetings including board meetings, more formal meetings, and even informal discussions. Many companies choose a meeting management software in order to make the process more seamless. In this article, we're going to cover why meeting minutes management is important, tips for managing them and what you should be looking for when you're choosing a meeting management software.
The importance of meeting minutes
Meeting minutes are important for several reasons. First, it's important to know which meeting action items need to be worked on by whom and by when. If you don't assign specific team members to your action items, no one is being held accountable and no one will assume responsibility to get the work done.
In assigning items, not only do you hold team members accountable but you also make it common knowledge who is working on what so that if someone manages their workload well, they can lend a hand to their colleague if they've got a lot on their plate.
Next, writing meeting minutes is going to generate essay-type follow-up notes of the meeting conversation that are detailed and give enough context to the situation. This is also going to highlight what the key conclusions of the meeting were so that you can properly understand the next steps which are required to progress the project further and attain the meeting goals.
6 Tips for Meeting Minutes Management
Now that we've outlined why meeting minutes management is so important, we're going to provide you with 6 great tips for managing your meeting minutes so that you and your team can get the most out of them every single time. You can also check out some of Fellow's meeting minutes templates for some more inspiration.
1 Plan out a detailed meeting structure
First and foremost, it's so important to plan out a detailed meeting structure. Without this level of organization, the meeting cannot be productive. You need to have a meeting goal that you can work towards and you also need to have a detailed meeting agenda that you use to guide your conversation.
Make sure to send your meeting agenda far in advance, so that you can ask for your teams' input on the agenda items and so that they can send you their suggestions. Allocate a specific amount of time to each agenda item, with more time to the items which may require more discussion. Make sure to leave some time at the end of the meeting to discuss action and issue items, space for questions, and further clarification. You can also evaluate if you and your team have attained the meeting goal that was initially set.
Meeting minutes example
2 Clarify meeting roles and expectations
Make sure that each person's role in the meeting is clearly defined and understood.
Each person attending the meeting should serve a specific purpose and should be a part of the decision-making process. If that's not the case for certain individuals, their attendance probably isn't necessary.
Be mindful of who you are inviting and who's time you are taking- we all know time is valuable. Your team members should understand what is expected of them and what is required of them in each meeting so that they can come feeling prepared and so that the meeting runs more productively. 
3 Record who is present at the meeting
It is the responsibility of the meeting organizer to assign someone to record each individual present at the meeting and otherwise, to record it themselves. This is another way that you can hold your team members accountable for their task assigned and ensure that if someone was not present in the meeting, that the key information (the meeting minutes) is passed along to them after the meeting.
This way, they don't miss anything and stay in the know on the progress of the project, the key decisions, outcomes and next steps. A quick way to record who is present at the meeting is to simply copy and paste the name in list form from the email invite and tick off names as people enter the room (whether this is in person or virtually).
4 Write minutes during the meeting
It's a good idea for whoever is writing the meeting minutes to write them down as the meeting unfolds. When you write your meeting minutes in real time, you're going to capture the most realistic representation of the meeting. Sometimes, it's difficult to recall everything that was discussed, the decisions that were made and the action items that need to be completed for the next meeting.
To avoid forgetting any important details, be sure to have your meeting minutes written while the discussion is taking place. This adds context and relevance to the meeting notes because the person writing the minutes can also ask for clarification on certain points, relative to which agenda item was being worked on, at which point in the meeting. Because these notes serve as a permanent record of the discussion and decisions that were made, it's important that as many details as possible are captured.

Pro tip
Use a meeting management tool like Fellow to record meeting minutes during the discussion and act as a source of truth for all of the attendees.
5 Track acceptance or amendments to previous minutes
Meeting minutes can be used to track the acceptance or amendments to previous meeting minutes. You can actually dedicate the first part of your meeting to going over the action items from the previous discussion in order to gain a clear understanding of the progress that has been made and where attention is still needed.
Where required, make modifications to the due dates of items, assignees and update tasks accordingly. If items have been completed, remove them from the action items and think about which task needs to be completed next and added to the list, along with a person assigned and a corresponding due date.
6 Record motions, votes, and action items
Where key decisions have been made, make sure that you record who made motions and which participants either seconded or voted for or against them. In order for progress to be made on your project, you need a majority vote and support for whatever actions and efforts are being brought forward. If a decision can't be made during the meeting due to time constraints or key players missing, it's that much more important to record the thoughts and opinions of others so that they can be revisited in the future. This way people's thoughts and opinions are captured and can be used to support or to perhaps oppose ideas being brought forward.
Productive meetings result in assigning action items to different team members. Record any decisions or action items as soon as they happen so that you can transcribe them with accuracy. This way, you can hold each other accountable for your responsibilities and support one another in getting tasks done that bring you closer to achieving your organizational goals.
What to look for when choosing a Meeting Minutes Management Software
Features
Make sure that the meeting agenda software that you choose has all of the features that you are looking for to boost your productivity and support time management. Think about the goal you are trying to achieve or the problem you are trying to resolve by implementing a meeting management software and ensure that your selected company provides a means to attain that goal or solve that problem.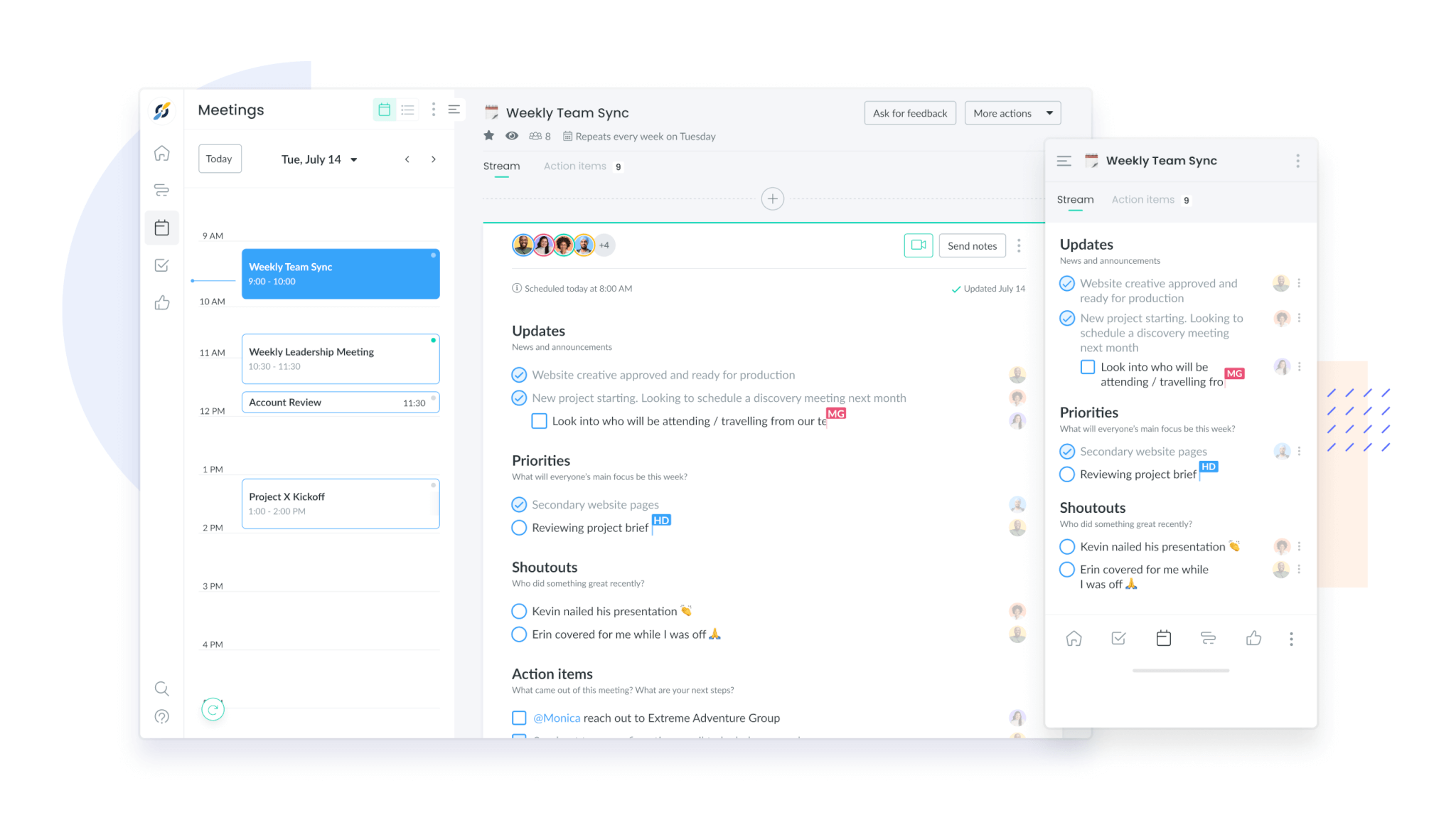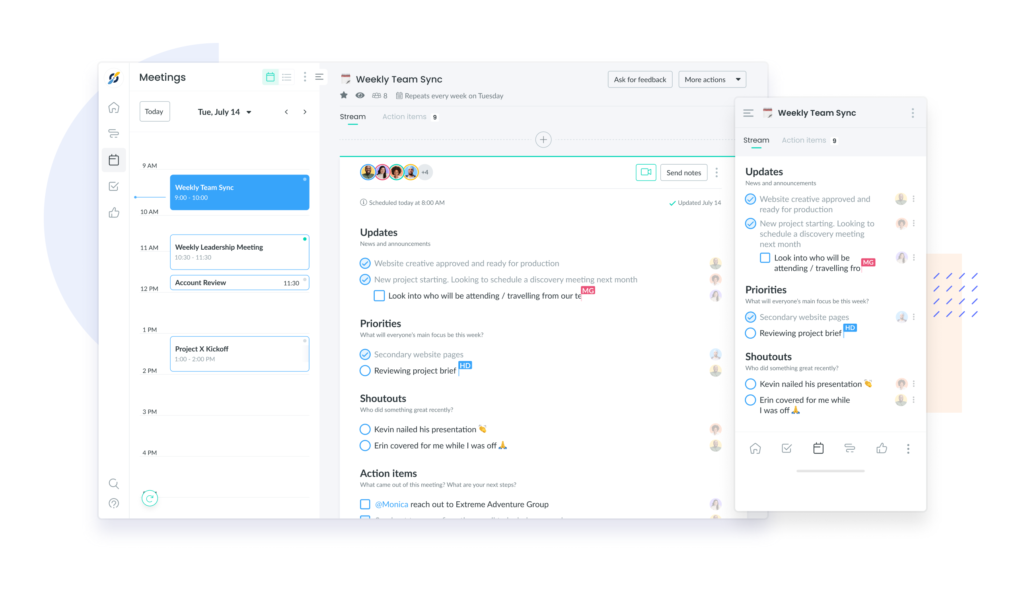 Learn more about the features in Fellow.app
Price
Obviously, price matters. Make sure you're paying for what you're getting in terms of quality, features, integrations and user- friendliness. Before you pay for the product, you can request a demo so that you can really get a feel for the meeting management software you're selecting. The demo is also a great opportunity to ask questions about pricing and billing cycle.
Integrations
You're going to want your meeting management software tool to integrate well with your existing systems and software in place. Be sure that you're to look for a tool that integrates with your workflows and therefore compliments what you already have in place. Make sure to also do your research in terms of reading reviews of which tools and softwares work best with the existing technologies and infrastructure that you have in place.
Check out Fellow's available integrations
Ease of use
At the end of the day, none of us want to use a new tool or software that requires constantly checking a thick manual or guide. The meeting management software is supposed to make yours and your team's lives easier- not complicate them! Look for a tool that is easy to learn, easy to navigate and easy to teach to other individuals. If it's too tough to use, adoption is going to be low and the tool won't be as successful as you were hoping for.
---
Parting advice
Understanding how to manage your meeting minutes is an important skill that is going to save you a lot of time and energy. Be sure to organize yourself well ahead of time by preparing a meeting agenda and overall meeting structure. Clarify meeting roles and expectations, record who is present at the meeting and write your minutes in real-time, during the meeting. Track acceptance or amendments to previous minutes and record motions, votes and action items. This is going to keep you and your team organized and prepared to continue working towards achieving your team goals.
Thanks for stopping by the Fellow blog today! We hope you enjoyed this article and we look forward to seeing you soon.