Your one-on-one meeting with your manager is your opportunity to get the information, skills, and support you need to develop professionally. Here are 5 types of questions to ask your manager in a one-on-one:
Clearly, asking every "question type" in a single meeting is impractical. Keep this list handy and refer to it to choose the right questions for your situation.
1 Questions to check-in on your manager's expectations
The most important thing you need to find out is what your manager thinks of your performance. If your performance does not meet your manager's expectations, you need to find out before your manager becomes frustrated and it ends up costing you your bonus, work happiness or even, your job! Here are some examples of what to ask your manager during one on one meetings to check in with their expectations:
What am I doing well and why?
What do I need to change? Why and how?
What I should stop doing? And Why?
Is it your manager's duty to give you regular performance communication and guidance? Of course! Is your manager giving you regular, frank performance guidance? Probably not as much as they should! Take personal responsibility and check how you are doing against your manager's expectations.

The best thing to happen to 1-on-1s since video chat
Use a meeting management tool like Fellow to collaboratively prepare for your 1-on-1s and document all action items.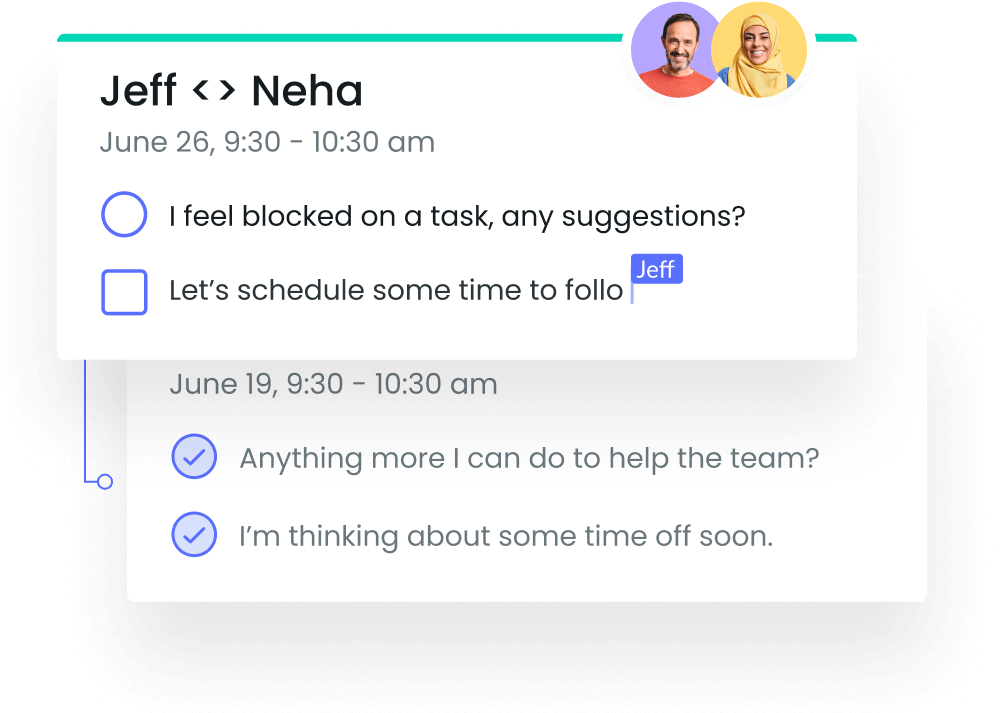 2 Questions about growth, personal development & career progression
No one wants to stay in a boring, stagnant job – and it's your responsibility to ensure you're growing, learning and have great prospects.
Some managers are experts at growing their employees, while others haven't got the slightest idea. Instead of leaving your future in your manager's hands, here are some ideas of what to ask your manager during one on one meetings to create a better future for yourself:
Given my skills, abilities & interests, what roles do you see as suitable for my future?
Which skills should I improve to do better in my job?
What skills do I need to develop for career growth?
Are there responsibilities I can take over for career development or network building?
I'd like to request that you give me the responsibility for X. Because: I think I am suited to it and it will help me develop my career.
Can you please help my development in X with coaching or training?
In your opinion, what is holding me back?
What do you think my blind spots are?
In your opinion, what are strengths that I should focus on?
Who should I develop a better working relationship with? Can you facilitate an introduction or co-working opportunity?
Pro Tip
If you want a particular job, start by asking for the individual responsibilities involved with that position. In this way you get to learn how to do the job and prove that you are the best person for it!
3 Questions to align your priorities with your manager's expectations
Your manager might have different priorities to what you think is important. What this means is you might be wasting your time by doing things your manager doesn't value. And you will miss important work your manager expects. Unless you regularly ask these questions:
What are your top priorities?
Looking at my to-do list, what is the higher/lower priority? Should anything be prioritized/delayed?
Pro Tip
Working harder, not smarter means working on what is most important and down prioritizing the rest.
4 Questions to ask your manager for help & resources
A key part of your conversation with your manager is asking for the resources you need to do your job well. This could be training, access, time, budget, team members etc. Don't expect your manager to know what you need or why.
To get what you need, you will have to ask your manager the following question, and explain the reasoning:
Can you please help to provide X? It will help me to deliver Y.
5 Questions to show your manager that you're a team player
In a healthy working environment, you and your manager are in a symbiotic partnership. Your success depends to a large part on your manager's success (and vice versa). Help your manager (and your team) succeed and show that you want to make a contribution by asking these questions:
What can I do to help you / the team?
Do you have any challenges I might be able to help with?
What are your goals and objectives and what is my role in delivering these?
Wrapping up: Don't blame your manager, choose personal responsibility 💪
Yes, there are many things your manager "should" tell you but the reality is your manager is only human and they face their own challenges, like a lack of time. When your manager doesn't tell you what you need to know, you can choose to blame them, but that's a novice move because it doesn't fix the problem. The pro move is to take personal responsibility for finding out what you need to know from your manager.
"Bring agendas to your 1-1s when you have things you need to talk about. When you want to work on projects, ask. Advocate for yourself … Seek out feedback, including constructive feedback on areas to improve … When you are persistently unhappy, say something. When you are stuck, ask for help. When you want a raise, ask for it. When you want a promotion, find out what you need to do to get it … Asking is not usually a fun or comfortable experience. However, it's the fastest way forward."

– Camille Fournier, The Manager's Path
Keep these one-on-one meeting questions as a handy reference for when you are preparing for your one-on-one meetings with your manager!
200 One-on-one meeting questions for managers
Do you manage a team? Here's a list of 200 one-on-one meeting questions you can use to have more meaningful conversations with employees.