When you think of the term team development, a few things probably come to mind. You likely think of how a team facilitates continuous growth, works to develop new skills, and improves performance. What if we told you that the way a team develops is similar to how humans evolve through different life stages? Like children, teams go through their developmental stages and can reach exciting milestones.
Read on to learn about the five different stages of team development, see how you can lead your team through the various stages, and explore how you can use Fellow to foster collaboration each day at work.
What are the stages of team development?
1Forming
The first stage of team development is the forming stage. During this stage, teammates are excited to join the team and eager to begin new tasks and projects. At stage one, employees have high expectations for themselves and their colleagues. They are driven to succeed, which may cause some anxiety as they get to know their peers and settle into the team's culture. Employees at this stage are curious and may outwardly showcase their enthusiasm and ask plenty of questions. As individuals become acclimated to their new environment, leaders should work to create a clear team structure so everyone has a good understanding of their roles. Managers should also set expectations for team communication at this time.
2Storming
Stage two is the storming stage. Once employees are accustomed to the dynamics of their new team, early excitement shifts to action. Some team members may realize that the team can't live up to their initial expectations and shift their focus to things they can change. As individuals become comfortable with their peers, some employees may express concerns or frustration with team processes. At this stage, it's common for members to push buttons to view how peers and leaders will handle conflict. Individuals may even question the goals developed during stage one. At this stage, leaders should aim to refocus the team's long-term vision, break down goals into smaller action items, and help employees work through any disappointment they're experiencing.

Run efficient meetings, come to a decision, and get back to work
Level up your meeting habits to boost engagement and productivity with a collaborative meeting agenda. Try a tool like Fellow!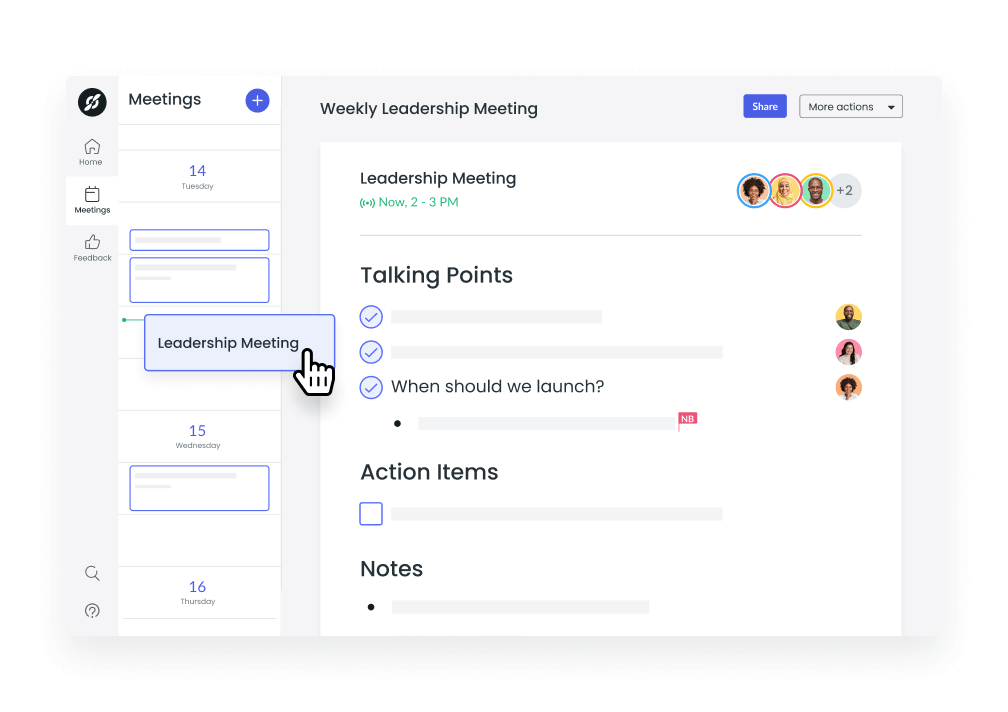 3Norming
At the norming stage, teams set norms and expectations for the group based on the team's true potential identified in stages one and two. Team members might feel more relaxed now that they understand their colleagues and their day-to-day work, and may be more willing to share their true thoughts and feelings. The norming stage is also when team members resolve any issues that surfaced in phase two. Leaders can capitalize on this new camaraderie within the team and use this stage to refocus on previously established priorities and processes. This is the ideal stage to set great team habits and deliver meaningful feedback so that everyone feels prepared to maximize their efficiency in stage four.
4Performing
Stage four is the performing stage. At this stage, teams solve pressing challenges, work through projects, and begin making significant strides towards their goals. Individuals may demonstrate a "can do" attitude and feel in sync with their peers the most during this time. The group should feel confident, determined, and productive. Employees should also have a good understanding of how their individual knowledge and skills can contribute to the group's overall success. Leaders can motivate employees in stage four by celebrating their accomplishments and tracking team progress.
5Adjourning
The final stage of team development is the adjourning stage. Not all teams stay together in the long run. Groups who were brought together to complete specific projects may begin to think about their next steps in stage five. Individuals may experience sadness or a sense of loss as their journey as a member of the team comes to an end. At the same time, stage five is a time for deep reflection. Employees should feel satisfied and accomplished but may find it difficult to concentrate as they transition into new roles or onto new teams. Managers should acknowledge the upcoming transitional phase facing their team and strive to keep the group motivated as they complete final tasks.
How to help your team through the stages of team development
1Meet to brainstorm, discuss, and establish team goals
At stage one, leaders should aim to set a mission or project goal and establish clear team roles and responsibilities. Create a mission statement with established ground rules that list the group's core values and explain what the team is striving to achieve. To eliminate confusion later on, assign clear roles and responsibilities. Schedule a team meeting and use a collaborative meeting agenda to which team members can contribute before and during the session.
2Take personality tests to learn about each other
Tensions may run high at stage two, so leaders can guide their team through this time by scheduling exciting team-building activities that foster understanding. During the storming stage, have employees take personality tests that recognize skills and identify shortcomings. Personality tests are one way that leaders can recognize employee motivations to build cohesive teams and improve corporate culture. By identifying personality differences early on, leaders can confront conflict proactively and with ease.
3Delegate responsibilities based on individual strengths
At stage three, leaders should delegate responsibilities based on each team member's strengths and encourage individuals to improve upon weaknesses. During the norming stage, leaders should have a solid understanding of who on their team are natural leaders and who have strong ideas and work ethics. Leaders can use this knowledge to assign tasks at which they know each employee will excel.
4Schedule regular one-on-ones
The performing stage offers the perfect opportunity to check in with each employee to work through roadblocks, give feedback, and discuss individual growth. At this stage, leaders should communicate regularly with each team member to ensure expectations are clear and to avoid slowing down their progress. During one-on-one meetings, determine what resources employees need to work efficiently and equip them with the necessary tools.
5Schedule a quarterly feedback meeting
Whether team members are transitioning out of their roles or into a different project, leaders can use the adjourning stage to gather feedback. Schedule team meetings every quarter or each time the group completes a major project. During these meetings, review the last weeks or months to celebrate team wins and take an honest look at what didn't go to plan. Pinpoint where the group can advance moving forward and create a plan of action to help employees improve in the future.
Read our blog post on how to facilitate an effective feedback meeting for more tips and tricks!
How to use Fellow to foster team development
Fellow is your one-stop shop for all things meetings! Using our tool, you and your employees can seamlessly work through the stages of team development through effective team meetings and one-on-ones, meaningful feedback, and progress tracking.
At the forming stage, use Fellow to plan for your team's future. Our 500+ ready-to-use meeting agenda templates make it easy to host project kickoff meetings, brainstorming sessions, and more. Share a collaborative meeting agenda with the group and take notes in real-time as you iron out big ideas.
Track objectives as part of your meeting workflow with our Objectives tool. Clearly record, define, track, and review the progress of your objectives during team meetings. In the third stage of team development, try Fellow's Feedback feature to deliver valuable positive and constructive feedback that empowers individuals to complete new tasks. Assign action items based on employee strengths and incorporate opportunities to give feedback into your team's day-to-day experience.
During the performing stage, schedule recurring check-ins with employees to discuss progress, work through roadblocks, and make adjustments to goals. Check out our e-book, The Art of The One-on-One Meeting, to see a detailed guide on how you can build a culture of trust with regular one-on-ones. At the final stage of team development, prioritize knowledge sharing. Encourage employees to share what they learned during their time as members of the team and discuss what can be improved in the future.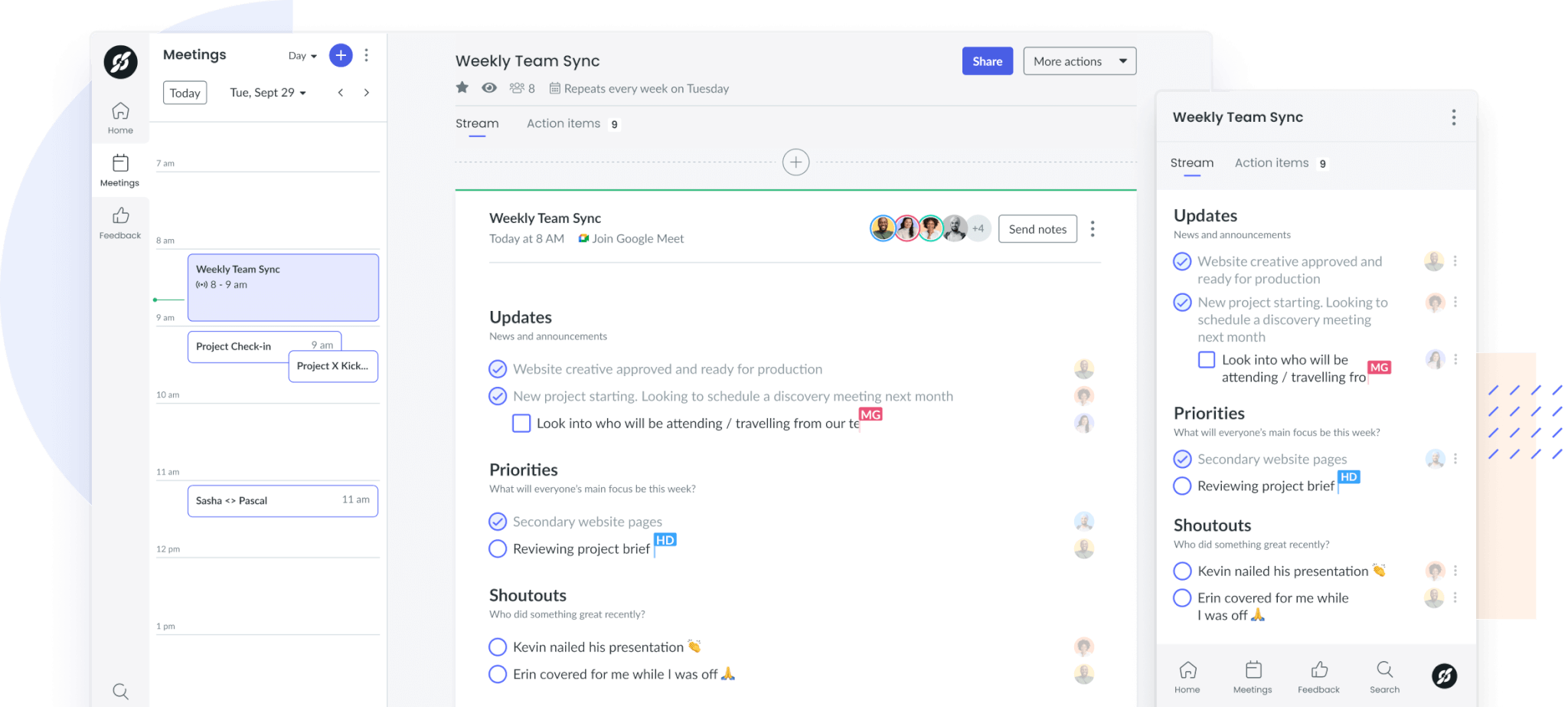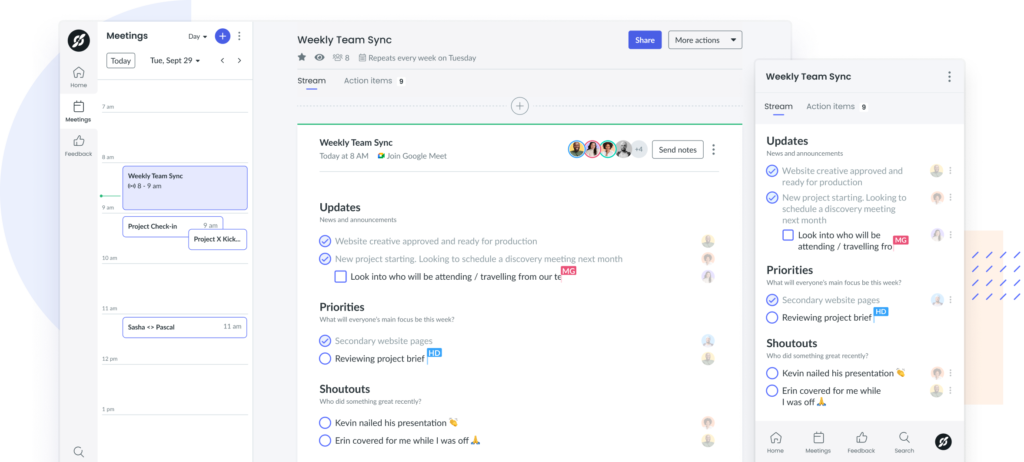 Parting advice
Team development is how teams come together and organize themselves to meet their goals. The five stages of team development outline how team dynamics shift as work progresses and define a path forward for leaders to support their employees. Review the five stages and our tips on fostering collaboration outlined in this article to bring out the best in your team during each phase. Better yet, use a collaborative meeting tool like Fellow to build a healthy team culture and organize your biggest ideas into actionable steps.