By far, executives are often one of the most overworked groups of employees in an organization. Hearing about how famous entrepreneurs like Jack Dorsey put in 8-hour days at each Twitter and Square (for a 16-hour day!) puts this into perspective. And when you're that busy, it's easy to forget what is going on in someone else's calendar, which risks you putting them in a situation where they're unprepared for or unable to attend an important meeting. To avoid this, it's good to refresh your calendar etiquette skills!
What is calendar etiquette?
Calendar etiquette is the practice of respecting other people's daily schedules and needs when you are booking meetings with them. How, when, and why you book meetings has a huge effect on how the people you work with spend their days, and can impact their routines outside of meetings, too. Understanding and respecting calendar etiquette helps your team come to meetings prepared, motivated, and aligned on why the meeting is occurring. Having good calendar etiquette can also go a long way to developing a company culture valuing transparency, constructive feedback, and work-life balance!
How to use and not use your calendar at work
Your calendar is an easy-to-access software that you're probably already checking in on a few times a day, at least. That makes it great to support a lot of your work, such as:
Scheduling events with teams
Sharing event information with your meeting participants
Keeping tabs on upcoming deadlines
Communicating availability with your colleagues
Blocking out deep-focus time
However, a calendar app isn't a catch-all for every one of your needs. Here are some things that you shouldn't rely on your calendar for:
Building a to-do list
Communicating back and forth with your team
Non-work–related tasks and reminders

Master calendar etiquette
Boost meeting preparation, productivity, and accountability with Fellow's Google Calendar integration. Access your meeting notes directly from Google Calendar events and stay organized.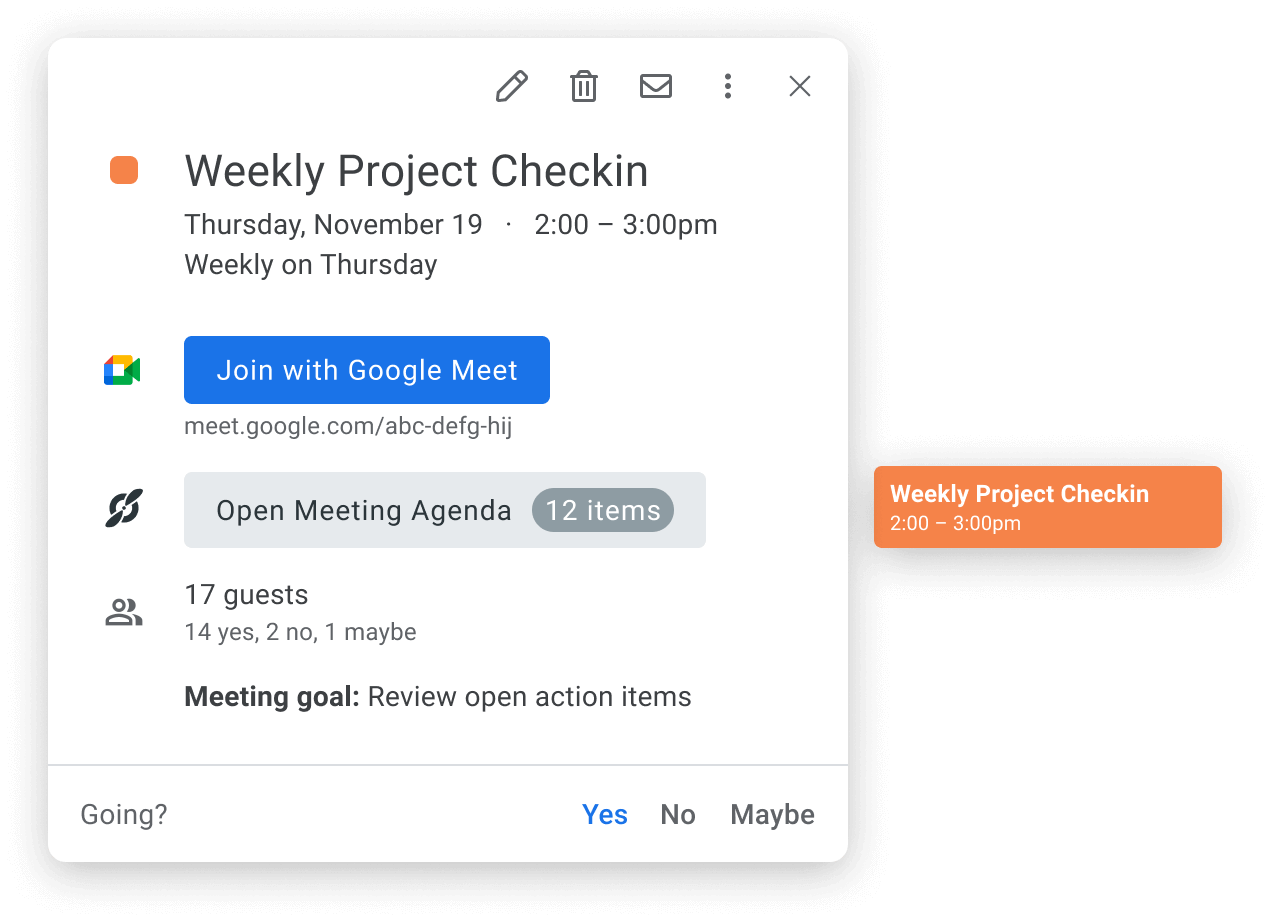 10 calendar etiquette tips
1Ensure every meeting has an agenda
A meeting agenda is a collaborative document that outlines the talking points for the meeting. As a best practice, it should be completed for every meeting and should be distributed to all attendees at least one business day in advance. This shows your participants that you understand their time is valuable, so you've gone ahead to prepare a guideline for the conversation to help it flow efficiently. With Fellow's Google Calendar integration, you can also access your meeting notes directly from Google Calendar events to stay organized and encourage everyone to contribute.
2Only invite attendees who provide value
The team members who are invited to the conversation have a direct impact on how valuable the conversation will be. For example, if you invite stakeholders who don't have knowledge of or concern about the meeting's topic, you risk spending more of your meeting time explaining the context than generating value out of those attendees. Instead, try to limit your attendance to those who will help you make necessary decisions. Any other employees who want to be informed of the meeting's outcome can receive a recording or the meeting minutes afterwards. This ensures that your participants know their time in the meeting with you will be spent wisely, and allows unneeded individuals to attend to other tasks on their calendars.
Fellow's Meeting Guidelines feature set helps you ensure only the most essential attendees are in your meetings. If a meeting has more than 7 attendees, Fellow will send the meeting organizer a prompt to remove additional attendees, or mark them as optional.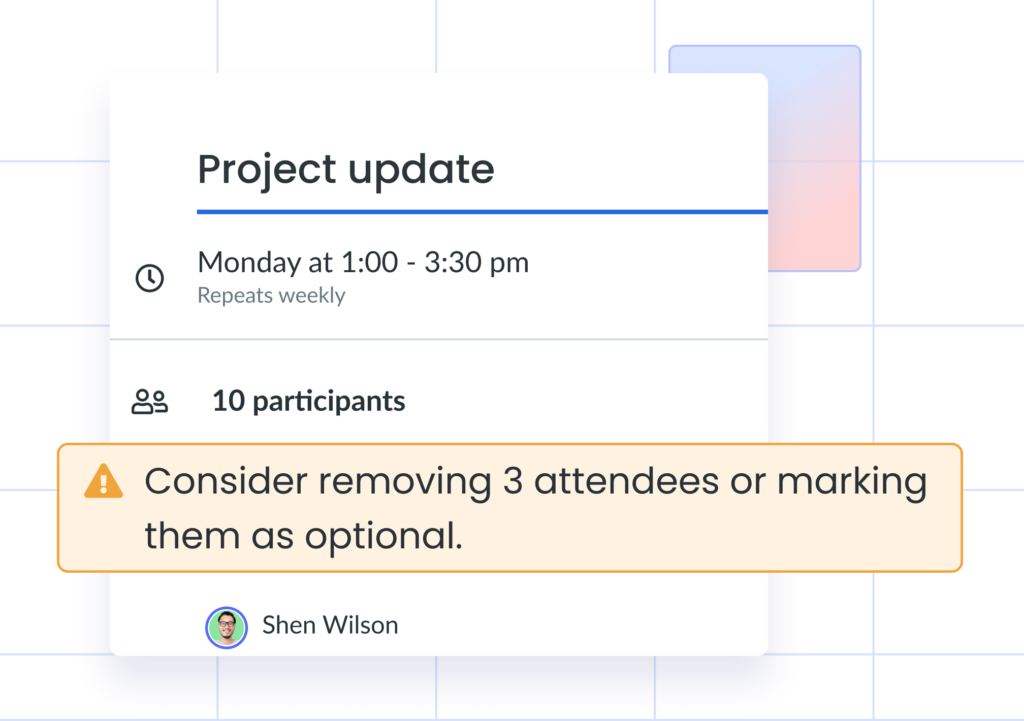 3Respect time zones
With more teams working distributed across the globe, it's more important than ever to keep time zones in mind when booking a meeting! If you have a role with a new person or group you've never met, you can also ask them where they're located to help ensure you book an appropriate meeting time. This is a simple yet easy way to show respect to another team member's calendar by not booking a super early or late meeting. If it's impossible to find a time that works for everyone, make sure to communicate your attempts and suggest another route—such as an asynchronous meeting!
4Use focus time
Incorporating focus time in your calendar helps you and your team be more productive! Focus time is a dedicated block in your schedule for tasks that take a little more independent brain power, such as tedious administrative tasks like budget planning. Critical strategic thinking like fiscal year planning can also be a great way to spend focus time. This time should be treated as a sacred time where meetings aren't scheduled, so if you see this in someone else's calendar, remember to respect that and avoid booking a meeting during that block of time!
5Communicate the purpose of the meeting
Telling your group about the purpose of the meeting helps them understand why it's needed and allows them an opportunity to determine whether the meeting is worthwhile. The meeting purpose should be defined in a meeting purpose statement that's shared as soon as the meeting is requested. It should be super easy to define your meeting's purpose in a short statement. If you're struggling to think of it, then it's best to hold off on booking the meeting for now. Your participants will thank you for being so intentional with their time!
6Include the location of the meeting
Since a lot of teams are working in hybrid work environments, adding the location of the meeting is now a critical part of modern calendar etiquette. Even remote teams should do so as there are plenty of different video conferencing platforms where you might choose to host the call. The location of the meeting should be shared as soon as the meeting is scheduled, including any necessary details about how to access the meeting room such as login passwords, software download instructions, or physical directions.
7Attach documents and resources that will be mentioned
A helpful way to enable your attendees to prepare for a meeting is by sharing any resources or documents that will be mentioned as early as possible. This can include anything from the budget that needs to be approved, past years' results, or even some inspirational posts to help get creative juices flowing before a brainstorming call. When you provide this content in advance, you can dive into your meeting's topic right away and spend less time reviewing those documents during the actual meeting time. Helping yourself and your team come prepared for the call is a great way to demonstrate that you recognize everyone's time is valuable—it also helps you avoid going over time and conflicting with other items on their calendars!
8Keep your calendar updated
Keeping your calendar up to date is a helpful practice in clear communication with your team. It should clearly mark any time that is busy, free, or even potentially blocked if you're waiting to hear back on another event. If you have in-person events, you'll also want to block off any commute time so that you're not accidentally booked for a meeting that conflicts with this time. Likewise, it's a good idea to ask your meeting participants if their calendars are up to date before scheduling a time to meet with them—this avoids any rescheduling issues and ultimately saves you both time!
9Consider people's time
Just as the time zone is important to consider in good calendar etiquette, you'll also want to spend an extra second reflecting on the actual time of day, too. Even the day of the week matters, as teams might be more tired by Friday. Often, the time and day that work best is heavily dependent on the type of meeting you're hosting. But as a safeguard, booking a mid-morning meeting between 10 am and 12 pm will support almost all meeting types!
10Make attendance optional
Unless there's a crisis ongoing with your team, it's unlikely that everyone must be in attendance. Making attendance optional helps reduce the risk of burnout that 1 in 5 employees are already facing. After the call, you can share the meeting notes or a recording to help them stay informed. If you're really in need of their participation, you can also ask them to submit a few ideas or talking points ahead of time or ask them to communicate through a representative on their behalf.
How to improve your calendar etiquette with Fellow
Busy executives can look to Fellow as a software that will save them time by automating a lot of calendar etiquette best practices. Fellow is a meeting management tool that helps with efficient scheduling by offering a few times that work for attendees. Then, it's easy to build a meeting agenda directly on the platform and share it with all participants ahead of time to ensure that everyone can show up prepared. Fellow will even send reminders in advance about the meeting's place, time, and purpose. After each meeting, Fellow can also automatically distribute feedback surveys and notify attendees of assigned action items from the call. This is an extra layer of communication with your team about the meeting's contents to ensure it was worthwhile and productive for everyone in attendance.
Parting advice
At the executive level, you have a lot of things to focus on already. Thinking about calendar etiquette for your team might feel like a small act compared to the budgets, plans, and growing success metrics that are already on your plate. But for your team, customers, and stakeholders, practicing healthy calendar habits is an important way to demonstrate respect, which in turn, helps your team grow, learn, and achieve goals even faster!