It's hard to believe this is the last newsletter of 2020. That's why, we decided to do something a bit different.
We're calling it the #2020Wrapped – Management Edition (yes, that's a reference to Spotify's campaign).
Scroll down to see Fellow's 10 most-read blog posts of the year (plus some of our favourite quotes from each article) 👇
TLDR: If you're looking to add a little bit of *magic* to your one-on-ones, this template is a great place to start. We've compiled a list of 10 questions – such as "do I give you enough feedback?" – to help you make the most of these meetings!
"The most precious resource you have is your own time and energy, and when you spend it on your team, it goes a long way toward building healthy relationships. This is why one-on-one meetings are such an important part of management."

– Julie Zhuo, author of The Making of a Manager
---
TLDR: Earlier this year, Fellow hosted a live AMA (ask-me-anything) with Gitlab's Head of Remote and the Shopify's Head of Revenue. From Gitlab's "handbook-first approach" to advice on how to define a work-life balance when working from home – you'll find everything you need to know about remote leadership in this post.
"We have transparency as one of our core values, and we actually have a key performance indicator where we, quarter over quarter, try to make sure that the percentage of Slack messages sent as private or direct messages actually goes down, and the ratio of the public messages sent go up. That helps more decisions be made in public."

– Darren Murph, Head of Remote at Gitlab
---
TLDR: Are weekly team meetings in your management toolbelt yet? Experts say that bringing your team together once a week is one of the best ways to celebrate wins, gather feedback, and check on people's mood. This post outlines 10 discussion topics that will help you make team meetings more fun and productive.
"The most important thing in growing a company or team is to, of course focus on getting things done. There is no doubt that a group of people not meeting will get a lot of stuff done. It can be said with equal confidence, however, that by not meeting the stuff that will get done will lack cohesiveness, quality, and a shared set of values… the wrong stuff."

– Steven Sinofsky, board partner at Andreessen Horowitz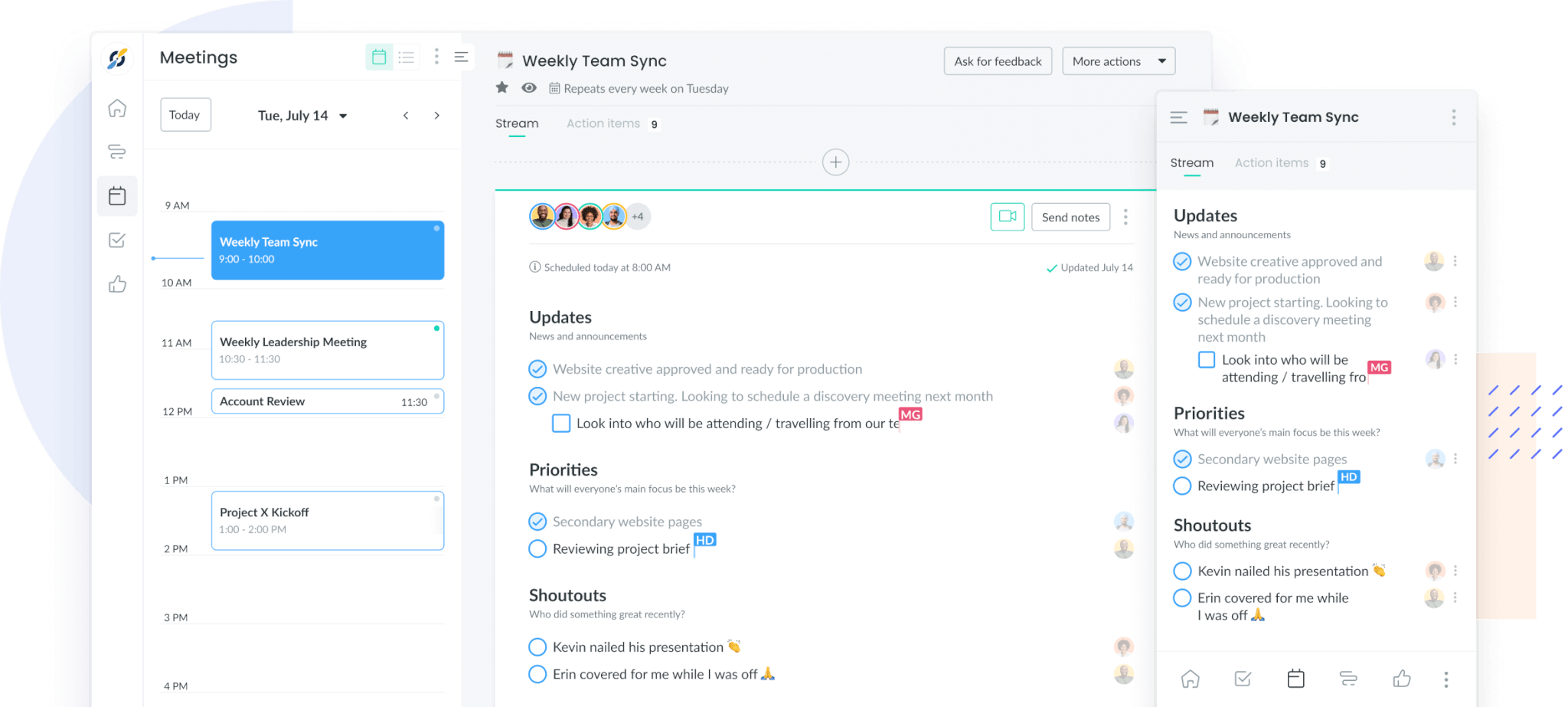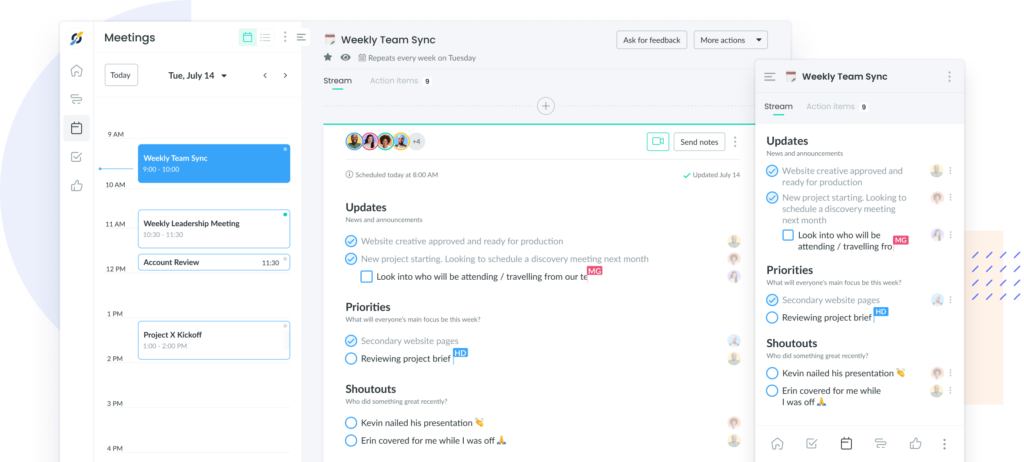 Here's what my team meeting agenda looks like in Fellow.app 👆
---
TLDR: In this exclusive interview, Nir Eyal (best-selling author of Hooked and Indistractable) reveals the psychology behind distraction, along with six best practices to increase your team's productivity. Definitely one of my favourite events of the year.
"If you want to beat your competition, if you want to be the best person in your workplace, I'm going to give you a competitive advantage. I'm going to give you the secret to getting ahead. Think. Make time to think. Do you know why? Because nobody's doing it."

– Nir Eyal, author of Indistractable
---
TLDR: One of the most important type of meetings you can have as a Director, VP, or CEO are one-on-ones with the people that report to your direct reports (aka skip-level meetings). This article includes expert advice on how to run skip-level 1:1s, plus a meeting agenda template so you don't have to start from scratch!
"When you get to a team size of 60, 70, or 80, people start to look more like pieces on a board rather than humans. You find yourself wanting to spend more time alone, away from people. And, while that might make your job feel easier, we have an obligation to never lose touch with the human cost of our decisions. Skip-level 1-1s kept me connected to my organization in ways that made me a better, more human leader."

– Jason Wong, leadership coach and former Senior Director of Engineering at Etsy
---
TLDR: Management isn't something that you receive a handbook for. In fact, becoming a manager is often something that you are thrown into and have to learn on the fly. We asked a panel of experts to share a few spooky management stories so you can avoid common management mistakes such as this one:
"A mistake I have made when setting goals in the past was to not communicate with enough clarity how individual projects tie back to the goals. Every member of your team should feel that what they're working on has a purpose, even the more granular tasks."

– Sara McGuire, Content Marketing Manager at Venngage
---
TLDR: One of our favourite posts in the Fellow blog, this article summarizes our top takeaways from The Making of a Manager, a book written by Julie Zhuo, Facebook's former VP of Product Design. This article has been read and shared by thousands of leaders in our community, so make sure to forward it to someone who might benefit from it!
"Be up front with people— especially your reports— about the kind of relationship you'd like to build and the kind of manager you want to be. Being a manager is a highly personal journey, and if you don't have a good handle on yourself, you won't have a good handle on how to best support your team"

– Julie Zhuo, author of The Making of a Manager
---
TLDR: Making the transition to becoming a manager is definitely exciting but it can also be daunting… Now that you have this added responsibility, how do you adopt the right management style and skills? To support you in your new managerial endeavours, we asked a panel of experts for their most valuable advice for new managers.
"I've been giving away legos that will help people grow or will give people more ownership over their work. It's hard, because the default thing to do is just give away responsibilities for what you don't like doing — it takes a lot of willpower to pass along the opportunities for things YOU love and are good at, but I wouldn't have it any other way."

– Alexandra Sunderland, Engineering Manager at Fellow.app
---
TLDR: The truth is, first impressions matter. If you're just joining a team, or you recently hired a new employee, one of the most important things you can do is schedule your first one-on-one. This meeting should be used to learn as much as you can about your new direct report, set clear expectations on how you'll communicate, and map out a plan for their first month.
"Over time, I've learned that getting some particular data during an initial 1:1 can be really helpful, as I can refer back to the answers as I need to give a person feedback, recognize them, and find creative ways to support them."

– Lara Hogan, author of Resilient Management
---
TLDR: Contrary to popular belief, leaders are made – not born. Great leaders (or what we like to call Supermanagers) are always looking for ways to learn and improve. In an effort to help you on your journey to becoming a Supermanager, we've curated 10 leadership lessons from our very own podcast in this post. Here's one of our favourite takeaways:
"25% of my time, I'm your boss, and I'll keep you accountable for big goals. 50% of my time, I'm your peer. And as a peer, I need you to brainstorm with me, I need you to bring challenges and questions. And then 25% of the time, I work for you. And in our one-on-ones, I expect you to bring homework assignments that I have to do on your behalf."

– Jean-Michel Lemieux, Chief Technology Officer at Shopify
---
… speaking of the Supermanagers podcast, here are three recent episodes you won't want to miss 🎧
New on the Supermanagers podcast
Diagnose the Question: Why Listening Is More Important Than Giving Advice with Sarah Milstein, Senior Director of Engineering at MailChimp
How to Stay Aligned in the Midst of a Collaboration Revolution with Bruce Tulgan, CEO of RainMakerThinking and author of "It's Okay to Be the Boss"
The Asynchronous Approach: Remote Management Tips from a Digital Nomad with Cate Huston, Engineering Director of Mobile at DuckDuckGo
---
I know this email was longer than usual, but I hope the content is helpful and inspiring! We'll be back in 2021 with more tips, interviews, and advice to help you be an awesome manager.
Thanks for being part of our community,
Manuela and the Fellow.app Team 👋
P.S. If you've enjoyed reading the Manager TLDR this year, we'd love it if you could post about it on social media! (make sure to tag @fellowapp (on Twitter) and Fellow.app on LinkedIn so we can see it. Until next time!