Back to Template Gallery

Skip-Level Meeting Agenda Template
Skip-Level Meeting Agenda with suggested questions from Jason Wong, former Senior Director of Engineering at Etsy, Kim Scott, author of Radical Candor and Camille Fournier, author of The Manager's Path.
Preview template
One of the main challenges of becoming a manager of managers is maintaining a human connection with each person on your team.
"When you get to a team size of 60, 70, or 80, people start to look more like pieces on a board rather than humans," says Jason Wong – a leadership coach and former senior director of engineering at Etsy. "You find yourself wanting to spend more time alone, away from people. And, while that might make your job feel easier, I think we have an obligation to never lose touch with the human cost of our decisions."
Skip-level one-on-one meetings are the best tool for senior managers, directors, VPs, and CEOs to understand the team's culture and get to know the people that work in the company.
What's inside this Skip-Level Meeting template:
Here are 7 questions that will help you connect with employees and learn how to better support their managers through skip-level one-on-one meetings:
1 Are you happy in your role? What could make it better for you?
Asking people this question shows that you care personally about them. As Russ Laraway, Chief People Officer at Qualtrics describes:
"One way to know if you're exhibiting service leadership is if the people under you are growing and developing."
---
Skip-level meetings are better in Fellow
Fellow is the meeting management app that companies like Shopify, Uber, and KeepTruckin use to run effective skip-level meetings.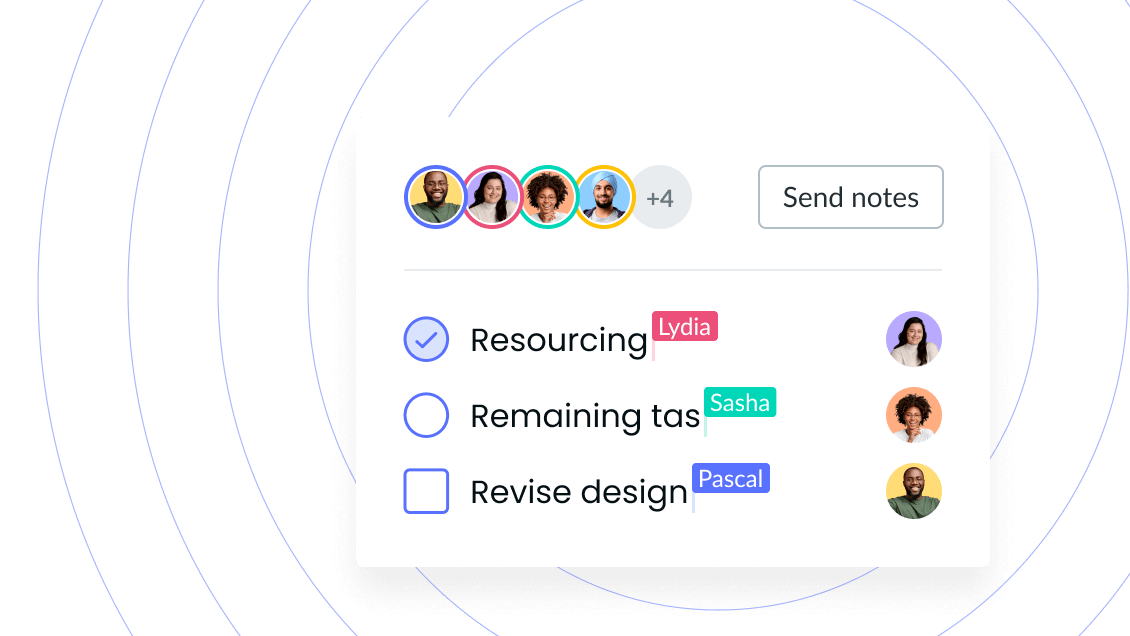 ---
2 When have you felt most proud about being a part of the company?
This question will help you understand what types of projects and work motivate each person. Asking about their "proud moments" is not only a great way to learn more about their interests but to thank them personally for their hard work.
"You will have a deeper familiarity with their work, interests, and ambitions," says Wong. "And, when stretch assignments or opportunities arise, you will have more information with which to make decisions and influence outcomes."
3 What's one thing we should start, stop, and continue doing as a team?
The truth is, when you are a senior manager, director, or CEO, people won't want to come to you with feedback or bad news. That's why, if you want to understand what needs to change in the company, you need to go outside your office and ask the team personally. Here are two similar questions that Camille Fournier suggests in The Manager's Path:
What changes do you think we could make to the product / team / company?
How do you think the organization is doing overall? Anything we could be doing better / more / less?
4 What do you find unclear about our strategy and vision?
Having a team strategy is essential to your success, but even more important than that is making sure that the team understands it. In the book The Ride of a Lifetime, Robert Iger (CEO of The Walt Disney Company) argues that conveying priorities clearly and repeatedly is what separates great leaders from the rest:
"If leaders don't articulate their priorities clearly, then the people around them don't know what their own priorities should be. Time, energy, and capital get wasted," says Iger.
5 What's the best part of working with <their manager>?
Now, before the meeting ends, make sure to ask a couple of questions about that person's manager (your direct report). According to Kim Scott, author of Radical Candor, the purpose of skip-level meetings is to create a culture where everyone feels comfortable giving feedback directly to their boss.
"This meeting is a step in that direction," says Scott. "Not a substitute for that goal."
Start by asking what they like about working with them – this will give you some great insights on that person's leadership abilities and strengths. If you hear something great, make sure to let your direct report know and congratulate them for their work.
6 What do you wish <their manager> would change/do more of?
Before asking for constructive criticism about their manager, let employees know that the meeting is "not for attribution." In other words:
"Everything of import will be shared with their boss, but not who said it," says Scott.
As feedback emerges, make sure to take note of what people say and encourage them to let you know if something you wrote seems inaccurate. According to Scott, this is the best way to catch misunderstandings.
Finally, thank people for the honesty and courage to criticize their boss, and coach them on how to address the feedback with their manager.
7 What's your favorite book, podcast, or movie?
Last but not least, end the discussion in a friendly manner.
You can do this by asking the employee something about their life outside of work, such as what they enjoy doing in their spare time, what book they are reading, or what type of podcasts they enjoy listening to. Use the last minutes of the meeting to get to know the person on a personal level and build rapport.
---
---
Skip-Level Meetings: Parting advice
Before you go and schedule those calendar events (which should last between 45-60 minutes), here's one last thing you need to do – tell your direct reports about this initiative:
"If you are conducting a skip level meeting, sit down with the manager of the team first," says Scott Boulton – an HR advisor. "Explain to them why you are looking to conduct the meeting, what you are going to ask and what you will do with the information you obtain. You need to get the manager's buy-in."
Once you let your managers know that the purpose of skip-level meetings is to open up the lines of communication within your department, the second step is to explain this new type of meeting to the entire team. You could do this by including a short description in the calendar event.
---
We hope that this skip-level meeting template curated by the Fellow.app team will spark great conversations with your team!