Back to Template Gallery
Project Review Meeting Agenda Template
Empower your team to reflect back on wins, challenges, and things that can be improved in the next project.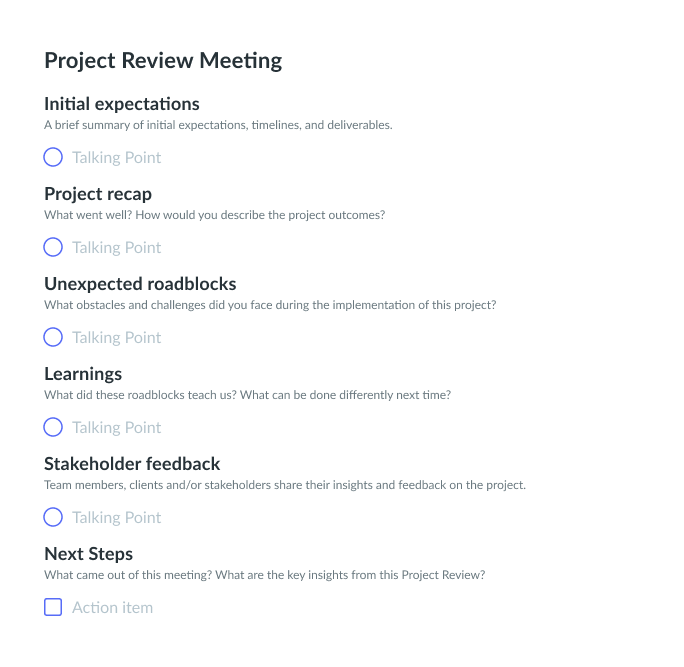 Preview template
What's inside this Project Review Meeting Template:
Project review meetings – also known as Retrospectives – are sessions where the team gathers to reflect back on the things that went well, as well as what could be improved for future projects. This could involve a conversation about processes, tools, and the way responsibilities are assigned.
This Fellow meeting template includes 6 sections to help your team reflect back on a recent project. In order to have a productive conversation, ask your team to populate sections 2-5 before the meeting:
1 Initial expectations
Start by thanking everyone for their work and effort in bringing the project to completion. Then, give a brief summary of initial expectations, timelines, and deliverables.
2 Project recap (and wins)
For this section of the meeting, ask your team to reflect on the following questions:
What went well?
How would you describe the project outcomes?
What aspect of this project are you proud of?
3 Unexpected roadblocks
The purpose of this conversation is to create an environment where people share their challenges, as well as giving you some ideas to think about and improve for future projects. The key question here is:
What obstacles and/or challenges did you face during the implementation of this project?
4 Learnings
It's important to use the project review meeting as an opportunity for learning and reflection. In this section of the meeting, the facilitator can ask the following questions:
What did these roadblocks teach us?
What can be done differently next time?
5 Stakeholder feedback
Sometimes, it might be a good idea to invite a client or external stakeholder to share their insights and feedback on the project. However, this doesn't have to happen during the meeting: one alternative would be to gather recent feedback from customers and discuss it with the team at the meeting.
6 Next Steps
Every great meeting ends with a clear recap. At the end of the project review meeting, make sure to ask the following questions to ensure that everyone is on the same page for future projects:
What came out of this meeting?
What are the key insights from this Project Review?